It's almost time to say goodbye to yet another doozy of a year for teachers. There's no denying 2021 had more than its fair share of stress, but we hope everyone was able to find some support, relief, or a few laughs along the way, too. With that in mind, we're looking back at all of the WeAreTeachers content that readers loved and engaged with the most. We're talking about articles that touched our hearts or struck a nerve—plus our favorite classroom books, supplies, accessories, and freebies.
From TikTok trends and silly memes to classroom resources and things we frankly just think are cute, let's take a walk down memory lane together.
(Just a heads up, WeAreTeachers may collect a share of sales from the links on this page. We only recommend items our team loves!)
Most Popular Articles
Scrolling through our most-read articles proves just how strange, tense, and uncertain the year has been. Thankfully, we still managed to find some bright spots.
We reached out to over 70 kindergarten teachers and asked, "What skills do you wish every incoming kindergartner would have mastered when they come to your classroom on the first day of school?" Only nine of them responded with something academic—all of the others listed life skills.
It's been another tough year with many teachers deciding to leave their classrooms for good. But in most cases, it's not because of the kids or the actual teaching. It's because of everything else. It's a feeling captured brilliantly in this Reddit user's "Door Principle."
A recent flood of #quittingteaching videos on TikTok shows teachers sharing the powerful reasons why they felt driven out of their schools. It's a trend we have no choice but to pay attention to, but it's also not a problem with easy solutions.
People had a lot of strong feelings about this one! But there are some pretty compelling reasons to keep this holiday tradition out of the classroom. For one: Heaven forbid someone accidentally touches or moves the Elf. Good luck getting through your math lesson when your students are crying because their Scout Elf lost its magic.
Expecting kids to do their homework. Read the instructions. Click "submit" on Google Classroom. Jeez. Could teachers be any meaner?
Once you've been teaching long enough, you're almost guaranteed to make at least one choice that some of your colleagues call into question. But like everything you do in your classroom, you have to go with what you know is best for kids.
Little things matter—especially during such a trying year. Teachers from our WeAreTeachers HELPLINE group on Facebook shared the things their principals do for them that really make an impact.
"Losing" stacks of papers that need grading, holding back a smile when a certain student is absent, sneaking a snack or drink when the kids aren't looking … How many teacher secrets do you feel #sorrynotsorry about?
Planning for inclusion around the holidays is great, but we rounded up the hard questions to ask yourself first—plus some tips for things you can do to make your classroom really feel more inclusive.
Building school spirit is important, but you might be sending the wrong message with Crazy Hair Day, Twins Day, Girls vs. Boys, and other common themes. Luckily, there are plenty of other fun ideas to try that can boost morale without offending anyone.
A bunch of these ideas can be repurposed to ring in the New Year after winter break! And many of them can work throughout the year, too.
There's no question that teaching requires hard work; it's rare that we end the day with every item crossed off our to-do list. But we need to accept that there is always going to be more that we can do. This is why so many of us sacrifice our physical and mental health and work well beyond our contract hours.
School leaders can make or break it for teachers. Many leave a school, district, or the profession altogether because of a toxic school culture and unsupportive or overbearing admin. But there are ways to make teachers feel seen, heard, and supported.
We all understand that parents have the best interest of their child at heart, but sometimes the things parents say are totally ridiculous. And it's really, really hard to compose a professional response, especially when we can't stop laughing.
Fair sticks are the go-to equal participation strategy (there's even an app!). But when they're not used thoughtfully, they are anything but fair. There are some of the common mistakes we make when we use them and some ways we can use them more fairly (or toss them out altogether).
The longer we spend in the classroom, the more we realize that some of the little things that felt so important early on just aren't worth our time and energy now.
Why is it that in schools across the country, what passes as "teacher appreciation" are pun-filled, high-fructose snack stations worthy of a five-year-old's birthday party? There are other, low-cost ways to say thank you that make a real difference to our working lives.
We've all been through so much over the past two years, so being recognized for all the ways we try to make a difference feels good. (Although we'd take a pay increase, better work-life boundaries, and more support from families and administrators, too.)
When one of the teachers in our WeAreTeacher HELPLINE group on Facebook posted the question: "What changes to your teaching/classroom from this crazy year will you as teachers continue after COVID?" we were eager to hear what everyone had to say.
People not familiar with TikTok may be shocked to learn just how quickly the troubling "devious licks" trend went viral. Schools all over the nation were dealing with student bathrooms that were missing all their soap and paper towel dispensers. Other thefts caused safety concerns—missing fire alarms and extinguishers. And others rapidly approached felony theft—items costing above $500 like expensive technology equipment or entire toilets and sinks.
We know there should really only be one answer to this: Pay teachers more! But given the financial reality so many teachers face, we wanted to share options of completely legitimate and creative ways to make extra money.
"Sometimes they even take things before I'm done working on them and then have the nerve to complain about quality. But they still take it. How should I address this? Should I?" See our advice for this frustrating situation and anonymously submit your own question on our advice column hub.
This story from 2017 clearly still resonates with teachers. It's one of those areas of education where we have to say—to each their own. But if you're like the author and dislike the blanket requirement of making classrooms pretty instead of educational, then you might understand the points outlined here.
According to the Department of Education, over 93 percent of educators report paying for their own school supplies. The average amount spent? $479! Many teachers feel that amount is far too high, and they've had enough.
We also tackle how to deal with class clowns, interviewing for a new job, and cliquey teachers in this popular advice column article.
Most Popular Books
Is a classroom really complete without a flowing library for students to choose from? This year, WeAreTeachers readers were especially focused on finding stories that help kids feel welcomed into the classroom.
Glowing review: "As a teacher myself, I could not have asked for a better book that represents our family at school. My students could relate to every page in this book. As we read about the different families, they thought of their own families. As we read about the classroom families, my student remembered how two of our friends had the same shirt, just like in the book. Also, they remembered how in our morning meetings, we talked about how mistakes help us grow, and they were excited to see that in the book. They kept saying, 'That's just like us!' This book also shows how important kindness is and how we showed that the entire year."
Glowing review: "As a first grade teacher of 30 years, reading this book brought tears to my eyes and goosebumps up and down my arms! Shannon Olsen has hit it OUT OF THE PARK AGAIN with this AMAZING book for kids! She has captured the heart of every teacher I know, and put into words what we all would like to say every day to the many students who share our classrooms with us. This will be one of those classroom read alouds that your students are going to want to hear over and over again … and you are going to be more than happy to oblige!"
Glowing review: "Love this book! I teach second grade, and I read this to my students when we learned about 'the power of yet' in our growth mindset work. Beautiful words and illustrations—top-notch literature."
Glowing review: "This book is a book that is needed in all classrooms. The message is beautiful as all students are encouraged to share their unique personalities and stories with others. 'The Day You Begin' is one of my new favorite picture books as it is incredibly touching, poignant, and just lovely."
Glowing review: "As a kindergarten teacher, I am usually the first teacher to make that impression on a student and learn their names. It is my job to make sure their name is said correctly. I've always celebrated names in my classroom, and now I have the perfect book to do so. The story is beautiful and the illustrations are magnificent … Every teacher needs this book, especially if you teach at a school that has many languages because often these students will have beautiful names that are from their specific cultures. These students might be embarrassed by their names, but this book shows that their name is meant to be a treasure, not something to hate."
Glowing review: "As an elementary/middle school art teacher, this book (and others in the series) was a favorite across the grades! These books are terrific because they challenge kids to observe and draw while breaking the image down into simple steps and give kids a sense of pride and accomplishment upon completing! We used these for early finishers and free draws … Even my older students loved these books, despite the target age group! They loved the basic drawing guide and then used their imaginations to expand on the drawing and make it their own. I noticed given the freedom to choose, most students sought after this book every week!"
Glowing review: "I love these books. They are a great writing prompt for students and also can be used for STEM prompts as well. So imaginative. Illustrations are dynamite! One of my favorite series of books to teach with."
Glowing review: "I love these books, and my students do as well! The pictures are adorable, and the biographies do an excellent job of sharing accessible information about these notable women. After receiving this book, I went back and purchased Little Dreamers: Visionary Women Around the World and Little Legends: Exceptional Men in Black History."
Glowing review: "I read this book to my third graders this week. It was very relatable, and it helps students understand that shouting out in class can be disruptive and rude. I used it to model making predictions. Since the main character's situation is pretty common in the primary grades, students were able to use clues from the text and their background knowledge to predict what might happen to the main character after his 'eruptions.' Great book overall for kids to learn about waiting for their turn to speak!"
Most Popular Teacher Tech
With classes still fully or partly virtual, technology is more important than ever—but the most popular tech for teachers by far? A classic electric pencil sharpener.
Glowing review: "Sixth grade teacher here, so I'm a power-user—dozens of pencils sharpened each day. Quick, no jamming, and gets them SHARP. The teacher next door had the older model that was the previous best … this is a little better. Highly recommended, especially for classrooms. Been teaching 11 years, I've tried a lot, this is my hands down #1. Only been two months, but I'm a believer."
Glowing review: "I am a high school math teacher, and I have finally found a pencil sharpener that will last more than a year. I purchased this pencil sharpener and have been using it in my classroom for the last two and a half school years. Currently, it is showing no signs of slowing down. In the past, I used to go through about one electric pencil sharpener a year, so I decided it would make more sense to get a good one."
Glowing review: "I really love this document camera! I was looking for something easy to use in my classroom that is lightweight and durable. This document camera is just that. The picture is very clear, the software is easy to download and use on my computer, and it's very easy to move the camera. Highly recommend for the classroom!"
Glowing review: "I bought this for my wife. We are both teachers, and the laminators in the library, big ones that cost several hundred dollars and no one is allowed to use without special training, are constantly out of commission for various reasons. My wife absolutely LOVES this one! The difference between this one and the $15-20 cheap ones, as noted by other reviewers, is the speed and jam prevention. I didn't want my wife frustrated, and she has been the opposite! Over the month we've had it, she and our teen daughter have run through about 300 sheets without a single jam or problem. Every time she uses it, my wife says, 'Have I told you enough how much I love this laminator?'"
Glowing review: "As a preschool teacher, I am using this in our classroom as an attention grabber to refocus when the class gets loud or wild. There are so many different tunes it plays. It works great. I super glued the clicker to a clothespin and have it on my lanyard. It plugs in and is loud enough to be heard. There is a volume control to make it a bit quieter if needed, which was nice."
Glowing review: "As an online teacher, I can't believe I taught without this for so long. I was constantly fighting the lighting in my office. I decided to try this little gadget to give some light to my webcam. The adjustable light is great, and it clips on my computer, so I don't have to take up any desk space. So far, the battery has held up pretty good."
Glowing review: "I was on the fence for a couple of years on whether or not to splurge on the Cricut. I am SO glad I made the purchase. The projects seem to be endless, and I have enjoyed making gifts for family and friends!"
Glowing review: "Makes it so much easier to iron-on the designs … it's great, you can set up the temperature and start the timer and get things done quickly! You can carry it anywhere."
Most Popular School Supplies
Flair Pens weren't the only writing utensils teachers picked up this year, along with a few other fun and necessary essentials for their students and classroom.
Glowing review: "I am a fifth grade teacher, and although each class is different, I have found for the past 30 years of teaching that both girls and boys like animal-shaped things like key chains, stuffed animals, and these animal erasers were a big hit!"
Glowing review: "I love little food erasers, and my students especially love to find them in their prize box. Since school has been canceled, I am adding one to each of their end-of-the-year goody bags! These are always a student fave!"
Glowing review: "Bought a few sets for my kindergarten classroom to help with pencil grip. Being back and forth with virtual learning, my students have been lacking on fine motor skills and pencil grip. These are great for their little fingers."
Glowing review: "I teach art to high school freshmen. These are the best portable pencil sharpeners I have encountered. Since we are hybrid and online (thanks COVID), I had to make each student a kit to take back and forth from home to school. After spending 10 weeks being lugged back and forth to school, smashed in backpacks, and rough-handled by freshmen … only ONE broke, and I think I could have given that particular student a cast-iron one, and he still would have broken it. They work. End of story."
Glowing review: "I've gone through so many packs of these! I use them to mark music scores, write out homework assignments, etc., for my kiddos. I think it catches their eyes better than writing with a regular pen or pencil. And I get to switch the colors up all the time! Nice variety of colors in this pack and good value."
Glowing review: "As a teacher, it's the little things in life that make us happy—and these pens are it! I fell in love with the way the ink flows so smoothly and without any skips. The colors are vibrant, yet do not bleed through the paper. You can write on both sides of a piece of paper, and it will still be legible. The pen's grip is comfortable, and I notice no wrist or finger fatigue. If you're a lefty, no worries, you do not have to fear smearing and smudges. The ink dries instantly. Go ahead and buy the pens, you won't be sorry."
Glowing review: "Love these colors! This was a great value, and the quality of Sharpie markers is wonderful. These markers are a must have for all teachers, crafters, and for anyone loving to doodle or color in high-end coloring books."
Glowing review: "The variety in this pack made this teacher very happy. I love that the ink does not smudge, and when I grade papers with them, students can clearly see my comments in bright, vivid colors."
Glowing review: "I am a teacher, so having pens that are reliable is an absolute MUST! I decided to try these pens because I like this style, and the price was right. I loved the colors, and they all write very well. I had a sad moment—I came to my desk to see that I accidentally left the lid off overnight. I was so excited that I didn't dry out! I love these pens so much that I bought the 48 pack because I just had to have more!"
Glowing review: "I'm a teacher and bought these as gifts for my 3rd graders. They were a huge hit! I was pleased that they seemed to work well. I didn't have any issues. I'll likely order these for my students again next year!"
Glowing review: "You can't go wrong with Expo Dry Erase markers. The colors are bold and vibrant, and the chiseled tip makes it easy to write beautifully in front of my students! The colors do not dry out easily, but the red one does seem to leave more shadow marks behind than the other colors. However, you can't beat this brand. I have tried many, many imitation brands, and they do not hold up to Expo! Expo brand markers are truly a teacher's dream!"
Glowing review: "I bought a pack of these for my classroom several months ago. I loved them so much, I bought two more packs. Some of my teacher friends also went and bought them."
Glowing review: "I always buy this glue throughout the school year. I am a teacher, and my students go through a lot of glue! They love the purple color, and it does dry clear! The adhesion is great ,and the glue is easy to use. You get a lot for your money, and this brand of glue generally goes on a really good sale on Amazon a couple of times a year and I make sure to pick up a few boxes!"
Glowing review: "This paper cutter is the greatest love of my life. I got it in September for my classroom. It's now May, and I can confidently give this five stars. It's exactly what I wanted, and other teachers borrow mine instead of the industrial workhorse in the art room, so that's definitely a compliment to this!"
Glowing review: "I am a preschool teacher, and I need to laminate things all the time. With our budget the way it is, I need something that I can buy myself and for a good price. 200 sheets at this cost is perfect for what I need. I am constantly using these for my teaching materials and for student work. It holds up well against the children and even does well with dry erase/wet erase markers. I recommend wet erase markers over dry erase, but that is just me. This lamination also does well with tape, velcro, or sticky tack without it falling off. It actually adheres to it pretty well. Love it!"
Most Popular Classroom Storage & Decor
Keeping a classroom in order can feel like an impossible task, but a few budget-friendly items helped teachers calm the clutter and chaos—and add some extra cuteness.
Glowing review: "I just received my bins for my classroom library. I love them! The plastic label on the purple bin was crooked and high, but I just removed myself and replaced how I wanted it. It adhered just fine. Best price for these bins that I have found so far!"
Glowing review: "I really loved this cart. I'm a teacher, and my fourth grade students helped to put it together. We have a handy indoor recess cart that they love. I am so happy with this product."
Glowing review: "I love this mini fridge! I am a teacher, and this is perfect to keep a few cold drinks on hand in my classroom. It gets drinks a lot colder than I expected."
Glowing review: "It's really cute and actually a nice piece of decor. I use it to try and remind myself in these times of those things I am grateful for."
Glowing review: "This border adds a perfect touch to my cactus-themed classroom."
Glowing review: "I absolutely loved these posters! They are so beautiful and fun and a great addition to my classroom. I did not expect them to be so large, but I am very happy that they were!"
Most Popular Educational Toys & Activities
Learning is always easier when you're having fun! Fidget toys, educational subscription boxes, and creative games were huge hits with our readers this year.
Glowing review: "​​My 7th grade students love them! They ask that we play often! The cards can be used as a way to aid in students getting to know each other, a way to motivate shy students to express themselves, and an excellent way for students to develop socially and emotionally."
Glowing review: "These fidgets and toys are awesome. I work in a special needs class at a high school, and I love the discretion (due to their size) of handing one of these to a student when inclusion classes bring on anxiety or become overwhelming. I will, without a doubt, be purchasing more in the future. I highly recommend them!"
Glowing review: "These are a favorite for my students who need a fidget to help focus them. The teachers like them, too. They are soft, squishy, and stretchy."
Glowing review: "My daughter is a new kindergarten teacher, and I purchased this for her sensory table. It is such a popular center that she has to use a timer for taking turns!"
Glowing review: "The projects are so well thought out, the materials are high quality, and the instructions are easy to follow."
Glowing review: "Simple instructions, kits come with all the pieces so there is no having to shop for things in stores, and it explains the science behind how the kit works."
Glowing review: "The boxes and themes are so cute, and it's great because the subscription means you don't have to worry about shopping or going to the store. I love that the boxes are also educational and teach kids about travel and other cultures!"
Most Popular Clothes & Accessories
From cute outfit staples to comfy shoes, teachers like to look and feel good in the classroom!
Glowing review: "These are the most comfortable shoes I've ever had! I walk a lot—miles actually—and often wear these. I'm talking about city walking. For that purpose, they are more comfortable than running shoes because they are so lightweight and not clunky. I also have washed them several times already because of the dust and dirt of city streets. They wash beautifully. Of course, I don't put them in the dryer! Just set them aside, and they'll be dry in a few hours. I have one pair in black and one in cream color. I will be buying more, believe me."
Glowing review: "My favorite masks anywhere! They are lightweight, breathable, comfortable on my ears, and love all the designs/colors."
Glowing review: "A must have! Quintessential piece! Super soft and can be used for multiple outfits! Absolutely love it!"
Glowing review: "This is the bag I never knew I needed, and now I don't know how I could live without it! As a teacher, I have the bad habit of hauling around way more than I need to. This bag gives everything a home and keeps me much more organized! It's also a great material and not too big to carry easily."
Glowing review: "I love Happy Planners because I can rearrange & add pages. I am a little OCD in the organization of my planner. Thanks to Happy Planner, I can organize to my heart's content."
Most Popular Freebies
The best things in life—and the classroom—are free! We love being able to provide teachers with resources they can actually use without worrying about it coming out of their own pocket.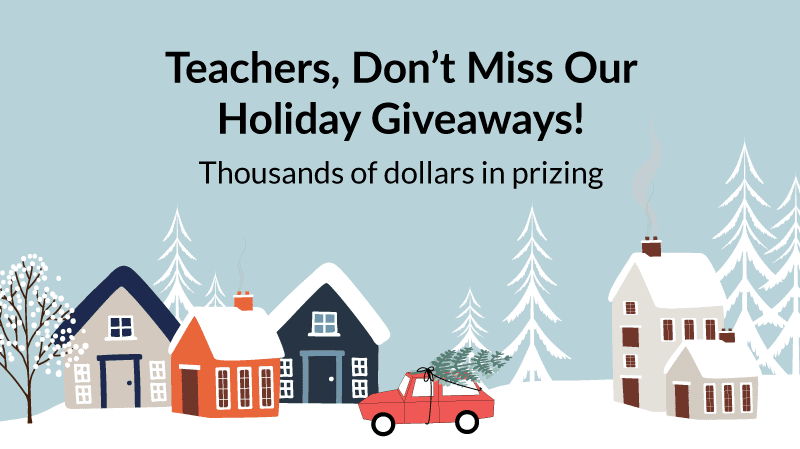 Win a cozy collection of SEL books for your library, EdTech tools for the entire school year, a $250 Target gift card, a huge bundle of educational toys, and more!
School spirit warms a school, makes everyone smile, and brings people together. There are so many ways that a student council can foster school spirit, whether it's through community service, school-wide initiatives, or just plain old fun.
Whether you are sending out resumes hoping to land your first teaching job or looking to shift to a new school or district, one fact remains the same: all the best credentials, experience, and passion will go unnoticed without a strong cover letter.
Progress report and report card comments should be accurate, specific, and personal. Unfortunately, it's not always easy to come up with fresh and positive ways of saying things. We're here to help!
With many schools relying on online learning these days, a digital whiteboard app like Google Jamboard makes collaboration easy, no matter where students and teachers are. We also rounded up 25 free Google Slide templates you can use in the classroom, too!
We asked our audience on Facebook and Instagram to share some of their favorite short stories for middle schoolers and gathered them in one easy spot to find online for free.
Poetry is the gateway to getting even your most word-resistant students to fall in love with words. Experienced teachers shared their favorite poems that always get a reaction, even from teens. You can also check out our list of 70 must-share poems for elementary school kids!
These prompts and questions for middle and high school students will help kids think about who they are and learn how to share their characteristics and thoughts with others. Be sure to also check out our SEL and service-learning hub for more lessons, printables, and ideas for developing personal and social responsibility.
Fourth grade is a time for students to continue to hone their writing chops as they put to use the skills they've learned and gain confidence in their abilities. These fourth grade writing prompts—including opinion, persuasive, informational, and narrative—will spur your students' imaginations and get them writing! (Psst: We have some great prompts for fifth graders, too.)
Who has the time to sift through zillions of resources available online to find the best ones that help teachers? Luckily, we do! We even found some great lesson plans and activities created by fellow educators—all free of charge.
Would you rather have a pool filled with chocolate milk or Jell-O? Would you rather have a personal jetpack or fly in an airplane with your friends? Use these clever ideas for debates, writing prompts, brain boosts, classroom discussions, lessons on comparisons, or even graph the results!
You don't have to spend money on toys and stickers to motivate or incentivize your students. Instead, use our printable classroom coupons! With so many choices, you'll have a coupon for any occasion.
Decorate your classroom or share these posters virtually to start conversations, inspire your students, and teach them about important Black scientists in history.
The New Year is a perfect time to encourage service learning in the classroom. It does more than benefit the community—it also has a positive impact on students in the form of improved leadership and communication skills, sense of social responsibility, and academic learning.
Goal-setting is another fitting lesson to kick off a fresh year! Encourage your students to think about the things they want to improve or learn this year. Then help them stick with those goals by reminding them frequently what their goals are.
You don't have to wait for the end of the school year to recognize your students with these cute awards! They reflect all kinds of skills and attributes, from athletes to authors … technology guru to future teacher.
These posters are perfect for your school hallways or classroom. Each one has an awesome message, reminding your students that mistakes are OK and hard work pays off.
Whether your students are learning in the classroom or completing activities at home for extra practice, these free printable world language labels help create a word-rich environment.
Germ education just got a whole lot more fun with these educational (and adorable) germ coloring pages. Each one features age-appropriate information on germs and the importance of handwashing.
Need to restock for the new semester? These lists are so easy to personalize and edit so that they work for you… and whatever your back to school looks like!
The checklist is divided into short 5-20 minute sections designed to help teachers check in with students quickly and effectively. Each section assesses reading skills like phonemic awareness, comprehension, and skill readiness.
Teen vaping use is at an all-time high, according to research from the National Institute of Health. Find information on free anti-vaping curriculum, facts about vaping every teacher should know, myths about vaping and how to respond, and classroom discussion questions.
Are you ready to help your students think BIG and solve real problems in their communities? These fun illustrations by best-selling artist Mike Lowery explain how each step of the engineering and design process works.
Educators know how important it is to make sure that all of our students from various cultures and backgrounds feel included and supported in our classroom, so they are ready to learn. These diversity and inclusion activities include books, lessons, and activities designed around the themes of identity, diversity, justice, and action.
In order for students to become confident, fluent readers, they need to be able to decode unfamiliar words when they come across them. This free poster features seven decoding strategies that are all grounded in the science of reading, orthographic mapping, and explicit phonics instruction.
Plus, embrace full hibernation mode over winter break with cozy wearable blankets!