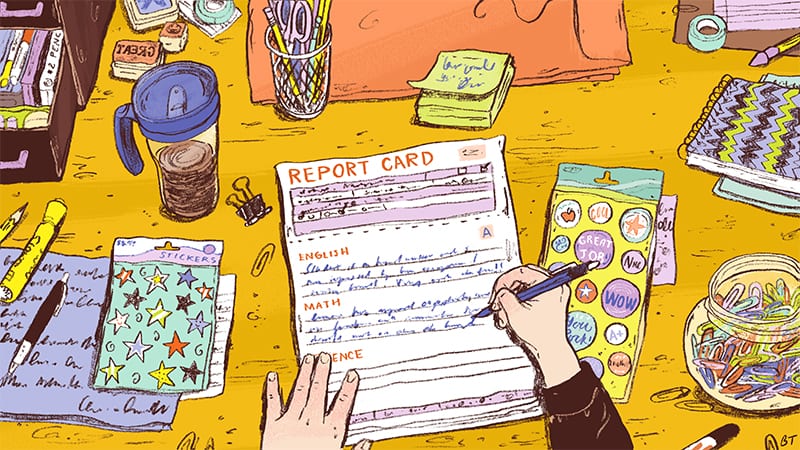 Effective parent-teacher communication is a cornerstone to effective parent involvement. Each progress report or report card provides an opportunity for teachers to give parents insight into their child's performance beyond a letter or numerical grade for conduct or academics.
Teachers can do their part by writing thoughtful, engaging comments. Yet, it can be difficult to come up with fresh and positive ways of saying things. So we're here to help! Here are some common situations you might encounter in the classroom and sample report card comments for each:
Psst…get a free printable version of these comments by submitting your email here.
When a child is doing their best, but the parents expect more …

It's important to focus on the child's efforts in the comments, framing the positive. Use comments like:
Your student comes to school each day prepared to work hard.
Your child exhibits exceptional focus and diligence in their work.
Your student is excellent at taking ownership of their learning.
Your student has a fantastic work ethic.
Your child is a role model in the classroom.
Your child exceeds expectations on a regular basis.
You could also write about your appreciation for the student to help the parents see the child's work through your eyes:
I love that your student does their best every single day.
I enjoy how invested your child is in their learning.
I appreciate your child's dedication to their studies in my class.
Not only is your student strong academically they are a leader in the classroom.
When a child has improved but is still behind …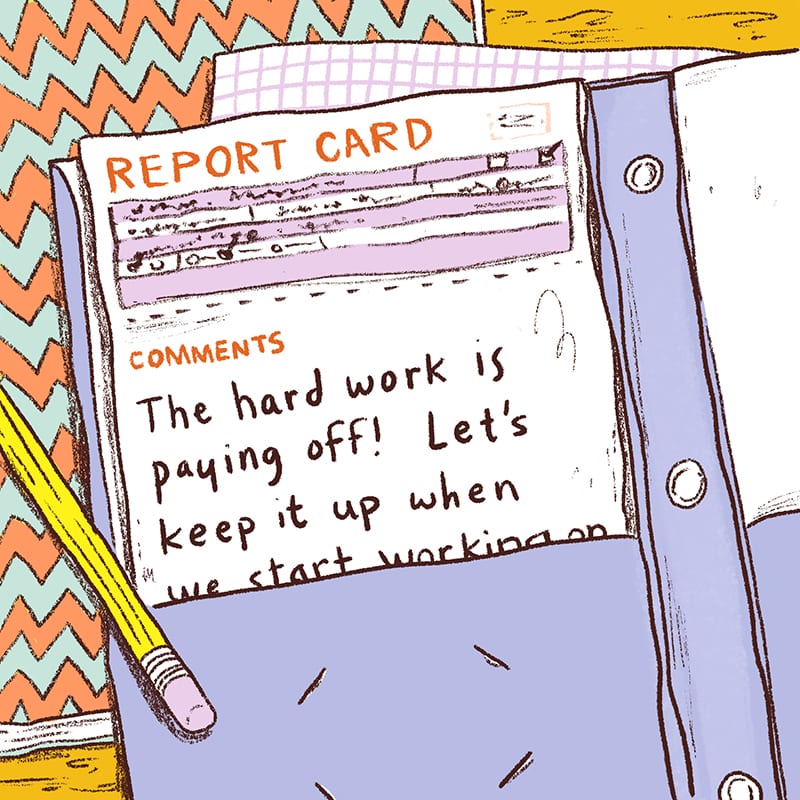 In instances like these, focus on the improvement while also providing suggestions to keep the momentum going. Try phrasing like:
Your student has come so far in [subject]! Focusing on [important skill] is the next step.
What progress your student has made! They still struggle with [important skill], so that should be our next focus.
If your student works as hard on [important skill] as they have worked on [improved subject], then they will be caught up in no time!
The hard work is paying off! Let's keep it up when we start working on [next skill]!
Your student's persistence is exemplary.
When a child is meeting standards but could be exceeding …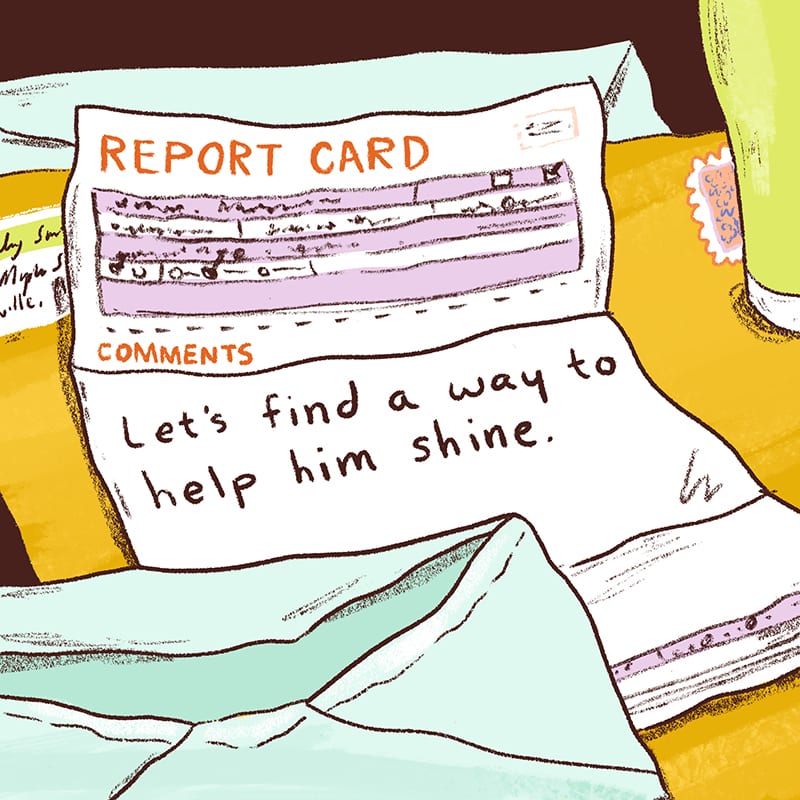 You want to stay positive yet still express higher expectations. Use comments like:
Your student understands the material well. Let's find a way to help them shine.
Your child has the potential to be at the top of the class.
With a little more effort, your child could move up to the advanced group in [the subject where effort is lacking].
Your child puts in great work in [preferred subject]! If they apply those skills to [non-preferred subject], there's no stopping them.
Let's work on motivating your student to reach their potential.
When a child is behind and is lacking in effort …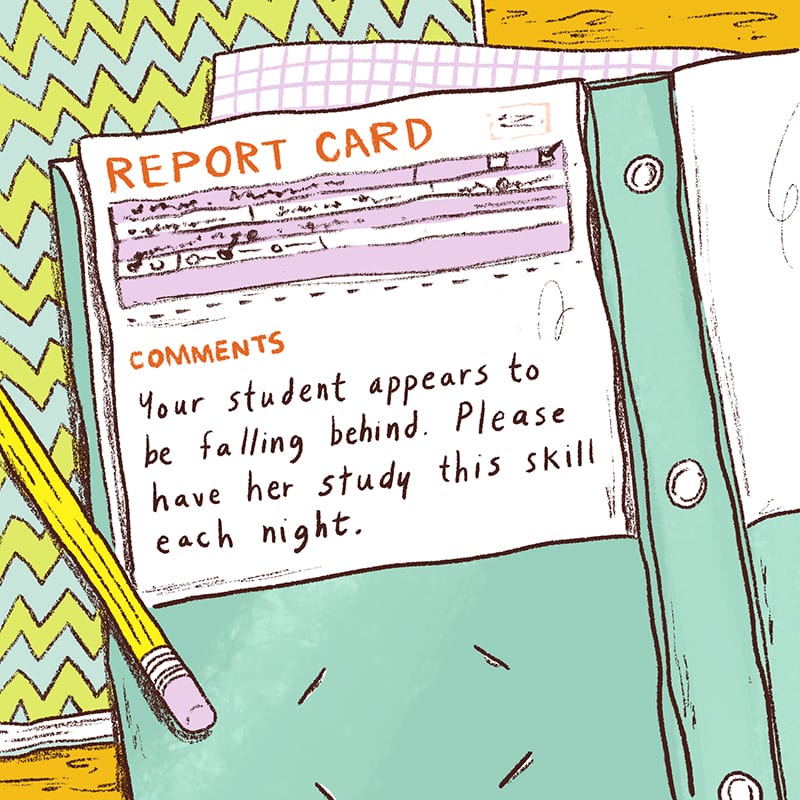 It's often difficult to tell cause and effect in these situations, but parents can often help you get to the bottom of it if you notify them. Be specific about areas of difficulty in these comments and don't be afraid to ask for a parent's help. Here are some ideas:
Your student appears to be falling behind in [subject]. Please have them study [skill] for [time] each night.
Your student did not master [specific skill]. Review sessions are available [time frame].
Your student may need additional assistance with [skill/subject]. Completing classwork and homework is the first step to improving.
Your student needs more practice with [specific skill]. Please check that they have completed their homework each evening.
We will continue focusing on reinforcing your student's positive efforts.
When the child isn't turning in work at all, and you're concerned …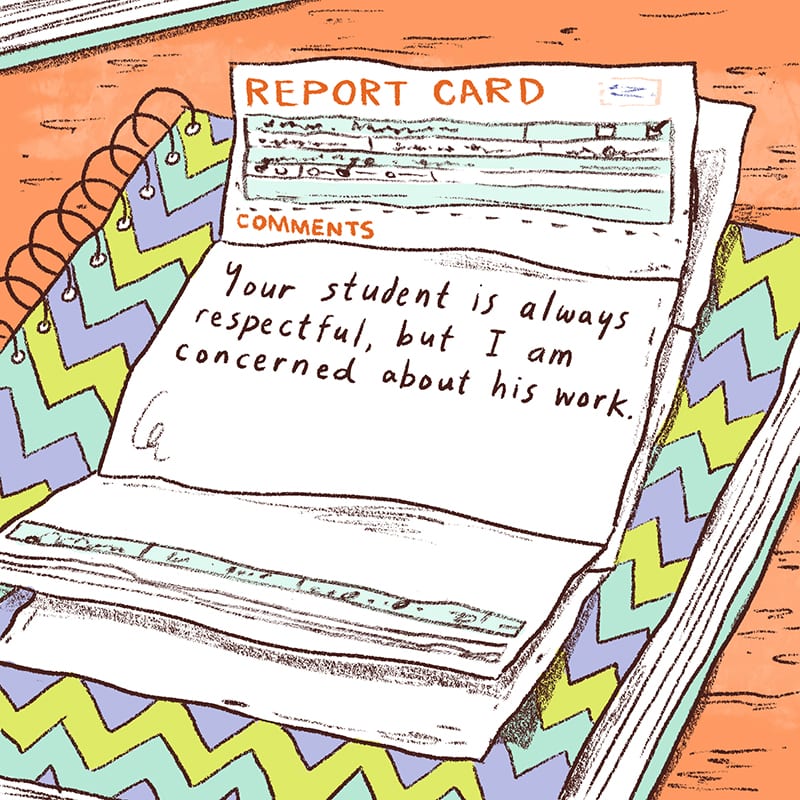 The utmost lack of effort is when a child doesn't turn in any work to be assessed. This situation is exceptionally difficult to handle with a report card comment. Write something positive about the child's personality while requesting a parent meeting or phone call. Some examples are:
Your student is always respectful, but I am concerned about their work. When can we meet?
Your child is inquisitive and engaged in class, but they have quite a bit of missing work. Please call me to discuss some strategies.
Your child has a wonderful sense of humor/is helpful/is kind but fails to turn in their assignments. Let's meet to come up with a plan to fix this.
Let's work on strategies that will help your student follow through on their assignments.
When you're having behavioral challenges and difficulties in the classroom …

Most parents want to know how their child has behaved, even if they are not surprised by the behavior. Behavior can be even more difficult to write about than academics. Be careful to word commentary so that it refrains from personal attacks or statements that can make the parent or child feel judged. For difficult behaviors, stick to statistics and/or basic descriptions. Try things like:
Your student struggles with [insert DESIRED behavior here]. We will continue to work on this behavior at school.
The primary behavior concern is when your student [insert UNDESIRABLE behavior here]. We will continue to reinforce appropriate behaviors.
Your student exhibited [UNDESIRABLE behavior] [this many] times this quarter. Let's work to reduce the incidence of this behavior to [goal] times.
When your student is focused, they are a pleasure to have in class. Let's meet to discuss strategies to keep them on track.
When you have wonderful, positive things to say …
Positive behaviors deserve just as much (if not more) attention as negative behaviors. These comments can be the most fun to write. One key feature is making the comment personal. You can begin with a simple stem and just fill in the personal details that will make the parent smile. Some example sentence starters are:
Teaching your child is always an adventure! I love it when they …
Your child makes the classroom a brighter place. They often …
Your student's conduct is exemplary. They …
It is a joy teaching your student! I can always count on …
Not only is your child a strong student, they are a wonderful human being.
While all of these comments can supplement the information grades on a report card provide, you don't have to wait to use them. Sending notes home between progress reports and report cards with little comments like these can bolster the parent-teacher relationship. Write them in communication folders or on postcards for that extra school-home connection.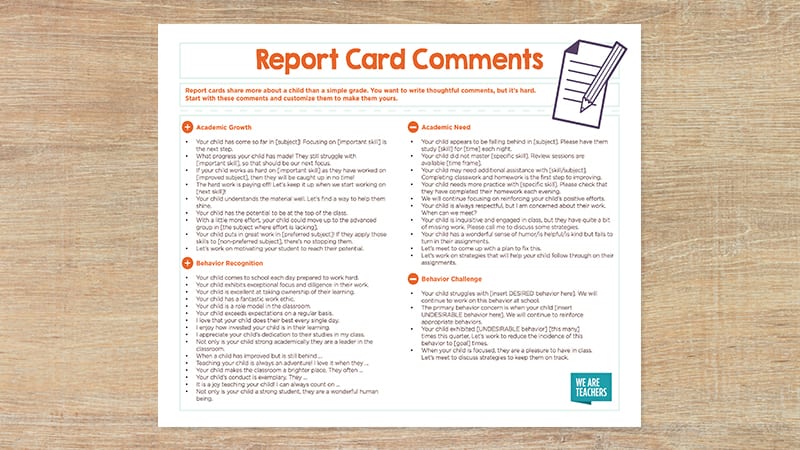 Get a Printable Version of These Comments Here
Do you have sample report card comments to share? Come and join the discussion our WeAreTeachers HELPLINE group on Facebook.
Plus, how to deal with helicopter parents.