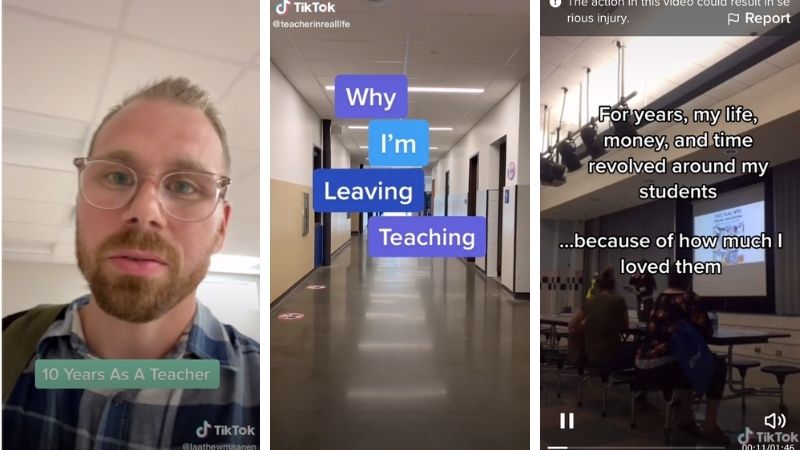 Staff shortages. Illness. Student behavior that is more challenging than ever. We all know the reasons why this has been one of the toughest teaching years ever—and now we're seeing the consequences, in the form of educators quitting mid-year. No teacher wants to leave their students in the middle of the year, but with little support from administration and parents, many colleagues are left feeling like they have no choice.
Recently, there's been a flood of #quittingteaching videos on TikTok, and users there are sharing the powerful reasons why they feel driven out. It's a trend we have no choice but to pay attention to, or else students will return from Thanksgiving and winter break to empty classrooms. Unfortunately, it's not a problem with easy solutions, either—teachers need more support, more planning time, more money, and all of that will only come with a serious reevaluation of schools.
Listen in as TikTok teachers share their stories:
"I have just been miserable"
"For years, my life, money, and time revolved around my students"
"The problem was never the students"
"I feel so guilty and like a failure"
"This is the most difficult decision I've ever made"
"The thought of going in another day made me feel physically sick"
"I don't even know where to start"
"We don't get paid enough to live"
"We had a lockdown every year"
@bethphilemon

Reply to @danigiggs on #leavingteaching for a reason I don't often discuss – I see you and encourage all to seek therapy on these experiences
"The stress is unbelievable"
We'd love to hear—have you had teachers leave your school or district? Would you ever share your quitting story on TikTok? Please share in the comments.