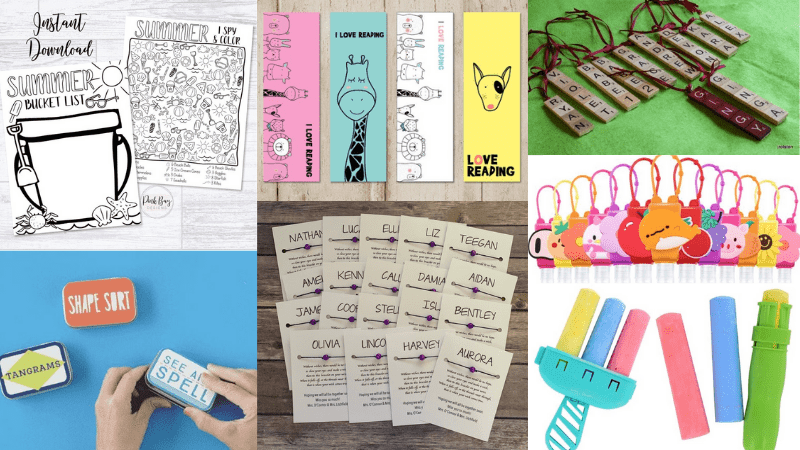 We made it through the chaos of the 2020-2021 school year, and it's time to celebrate the end of a very long school year! If you like to give small gifts to your students but feel overwhelmed at the expense of giving everyone something, we've got you covered! Find a wealth of ideas in this list of awesome, easy, and inexpensive gift ideas for students. Depending on your budget, many of these can be combined into a fun summer package.
Have students still in distance learning? Several of these can be mailed with a standard first class stamp. (Check out even more ideas you can mail here.) If you'd still like to give in person, consider doing a special teacher drive-by to say goodbye and drop off your presents. Either way, these inexpensive gift ideas for students are sure to please.
(Just a heads up, WeAreTeachers may collect a share of sales from the links on this page. We only recommend items our team loves!)
1. Fun Hand Sanitizer Bottles
Hand sanitizer continues to be a must-have, so give your students a fun way to carry theirs around. Grab a set of 24 different sleeves with empty bottles included for about a buck apiece here.
2. Hand Sanitizer Refillable Bracelets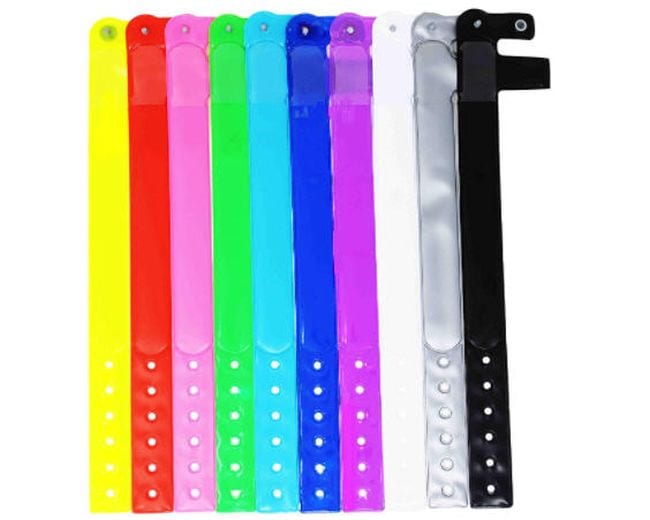 Here's a hand sanitizer gift you can drop in the mail! These bracelets each hold a couple of pumps' worth of sanitizer and ensure your students will always have some on hand. Buy a pack of 20 here.
3. Sunglasses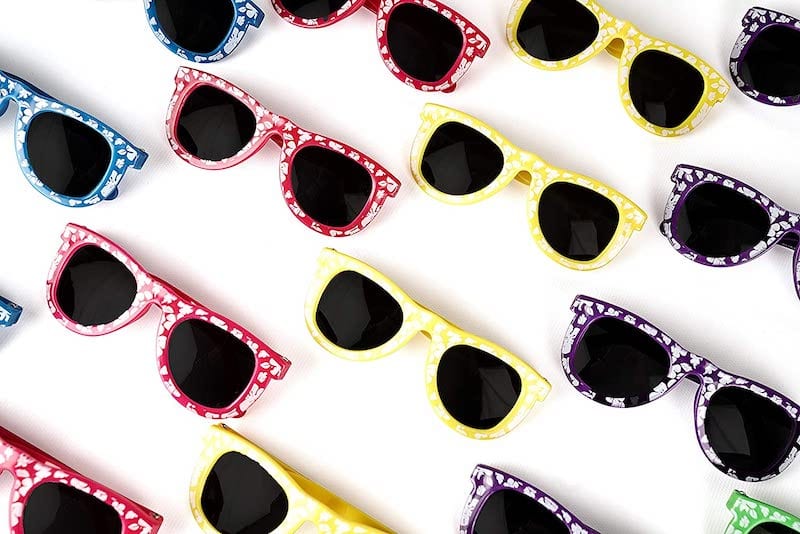 Protect little eyes from the summer sun! These adorable glasses are on less than $1 each on Amazon.
4. Bubble Wands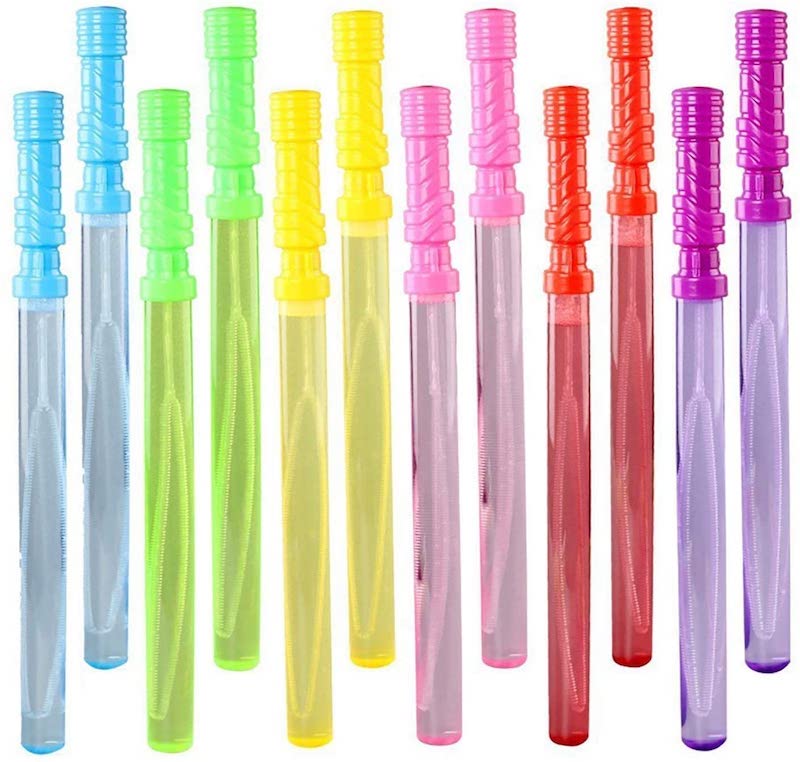 There's something special about blowing bubbles during summertime outdoors. These bubble wands are about $1 each on Amazon.
5. Bubble Trays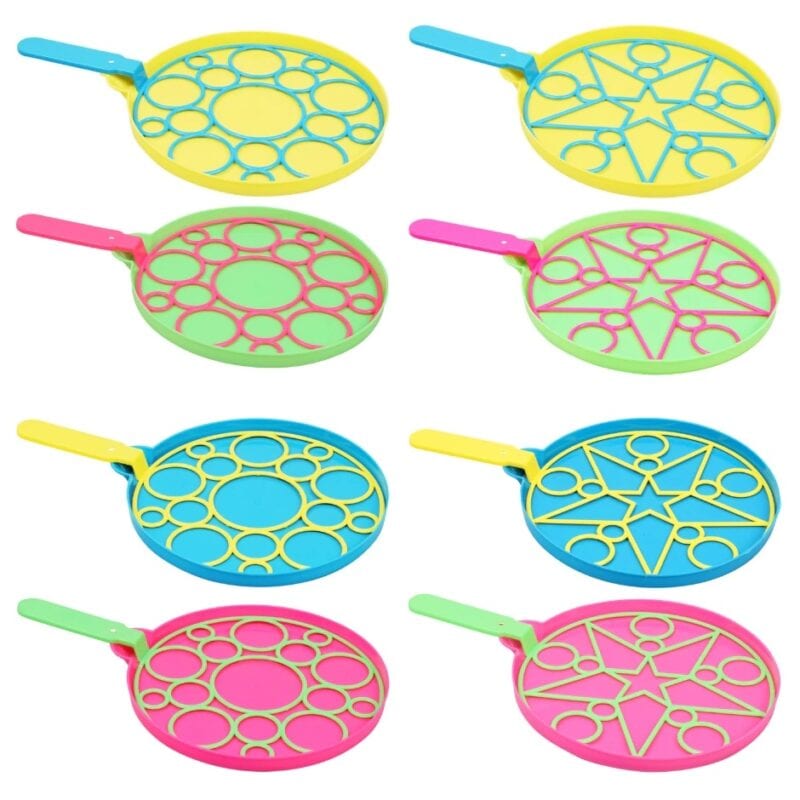 Create massive bubbles with a simple wave of the wand—hours of fun for everyone! Only $1 each at Dollar Tree.
6. Make-A-Face Sticker Sheets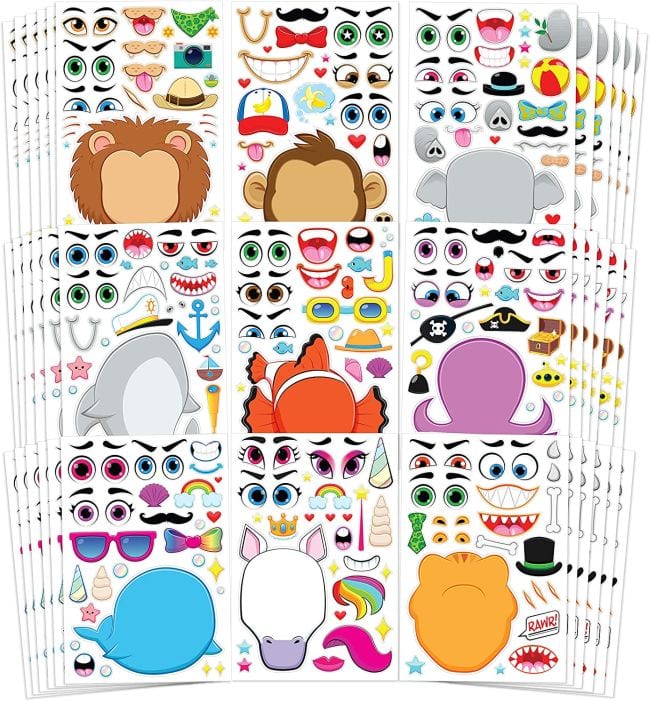 Mail your students a few of these sticker pages for fun activities that show off their creative side. Get a set of 36 here.
7. Puffy Stickers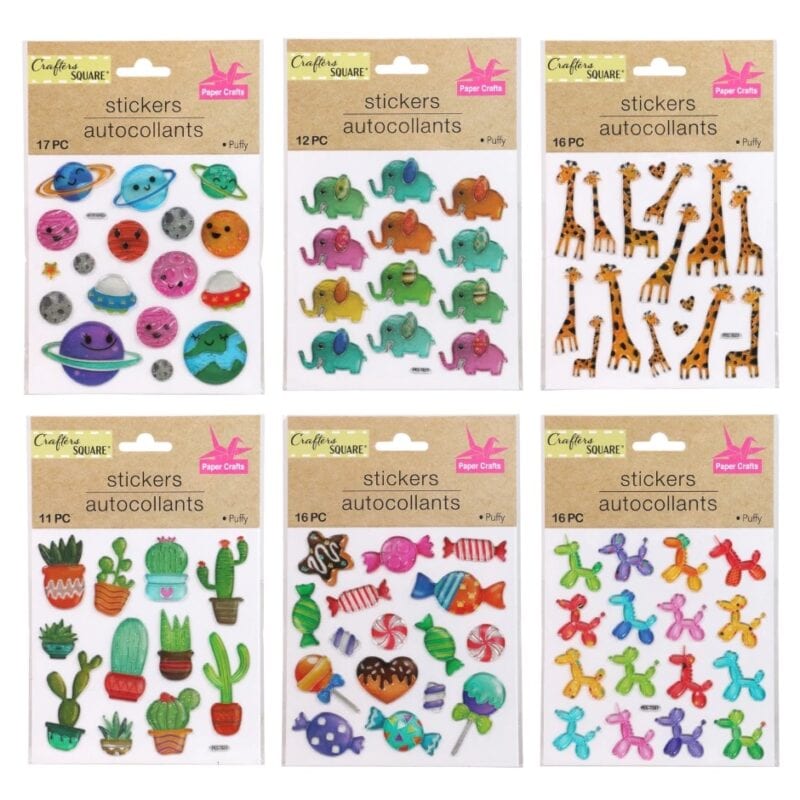 What student doesn't love puffy stickers? You'll get assorted designs that you can distribute to your students based on their preferences. Packs are only $1 each!
8. Printable Summer Stickers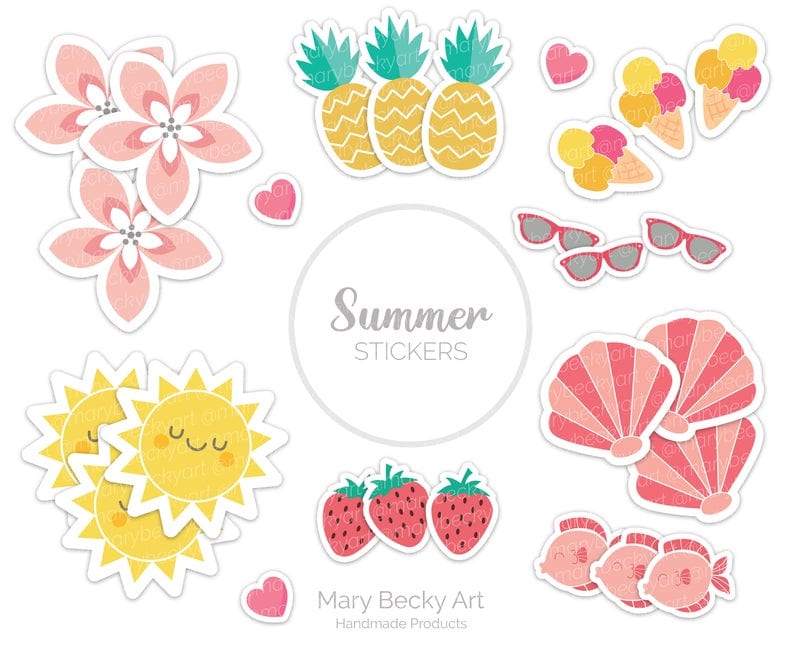 Download this adorable summer sticker set from Etsy for only $4. Then you can print as many stickers as you'd like and send to your students!
9. E-Books

Amazon has lots of terrific children's e-book options for a dollar or two each, and they make it easy to send a selection to a large group. Explore children's e-books here.
10. Reading Bookmarks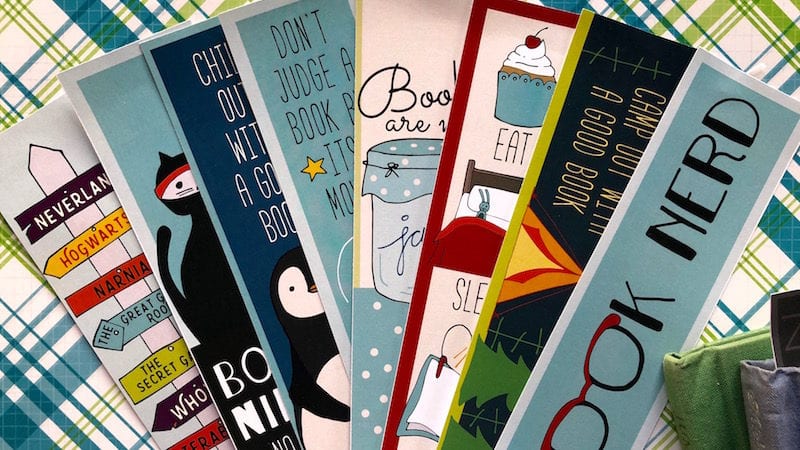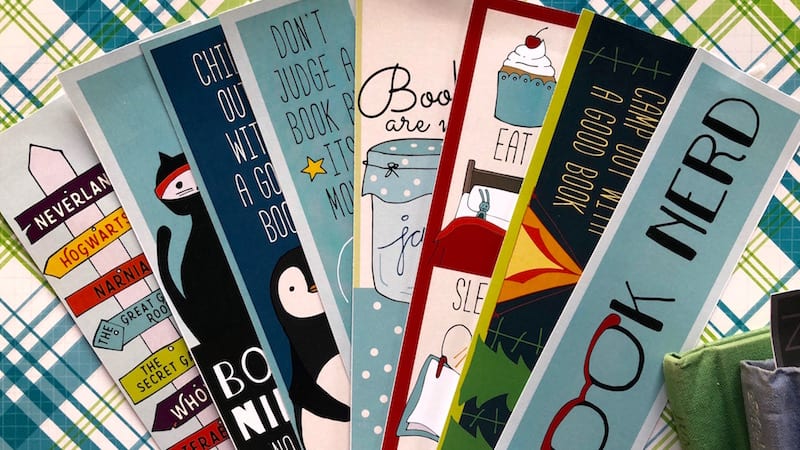 These printable (and mailable!) bookmarks are free, so all you need is a printer with colored ink. Get them here!
11. Mini Puzzle Books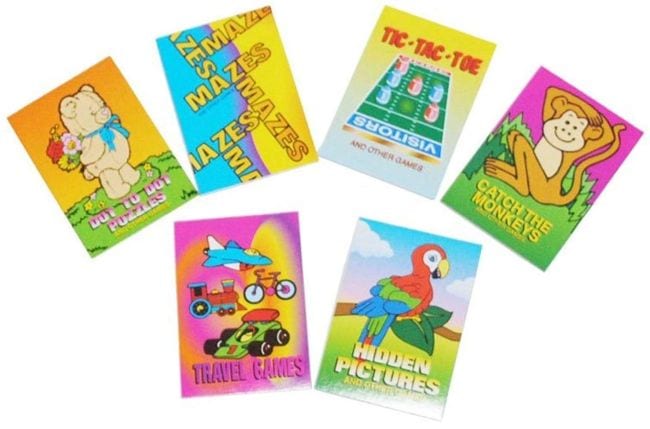 Keep students busy during the holiday break with these cute little puzzle books. Get a 12-pack for less than a dollar apiece here.
12. Motivational Cards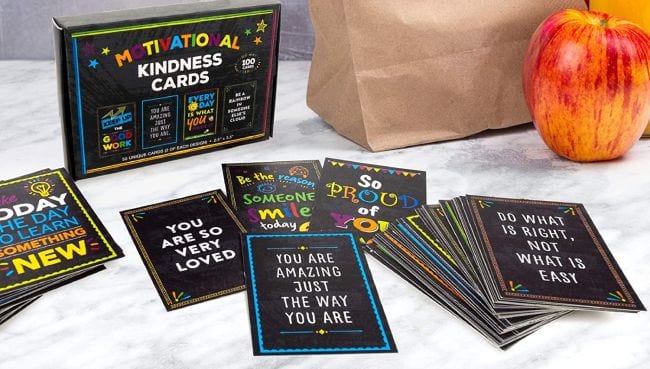 Sometimes all you need is a reminder that you're special to make the day better. Get 100 of these motivational cards for only pennies each.
13. Kindness Posters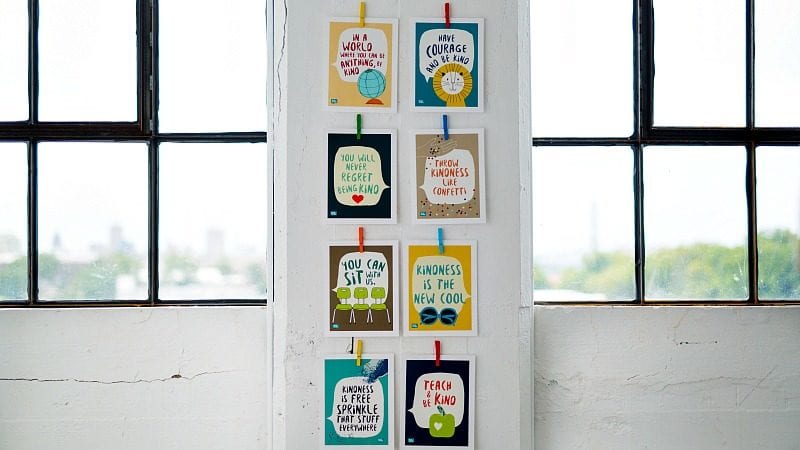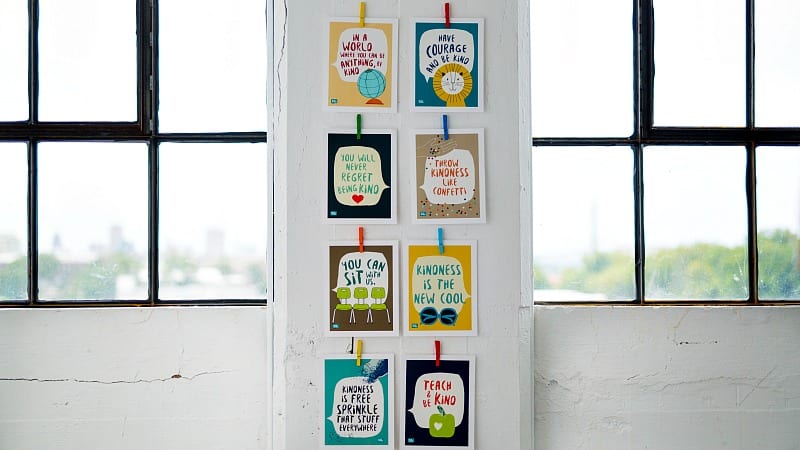 If you're looking for an even more inexpensive way to spread kindness, you'll love these free printable posters. Get the set here.
14. Animal Bookmarks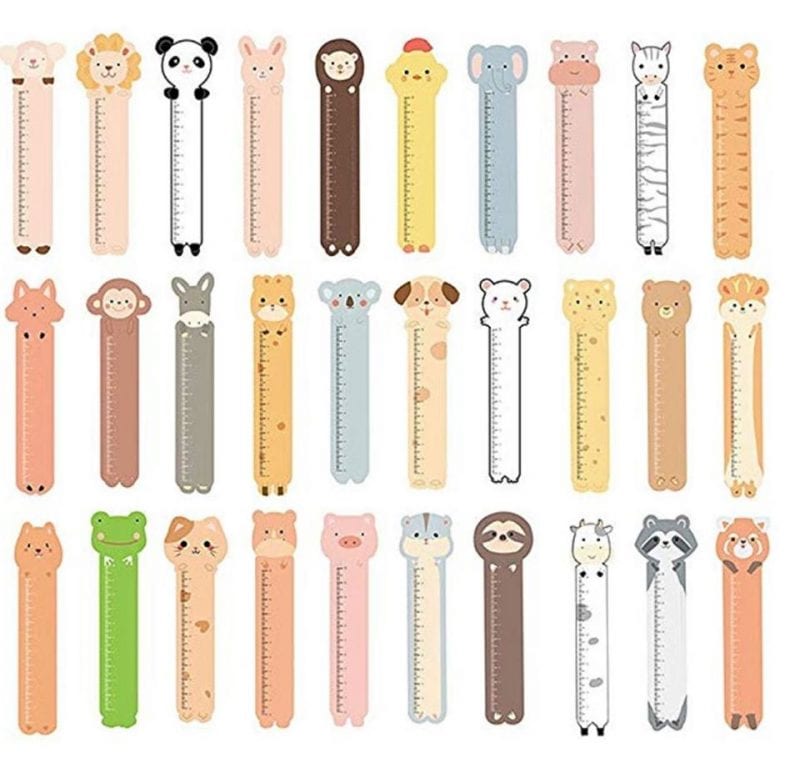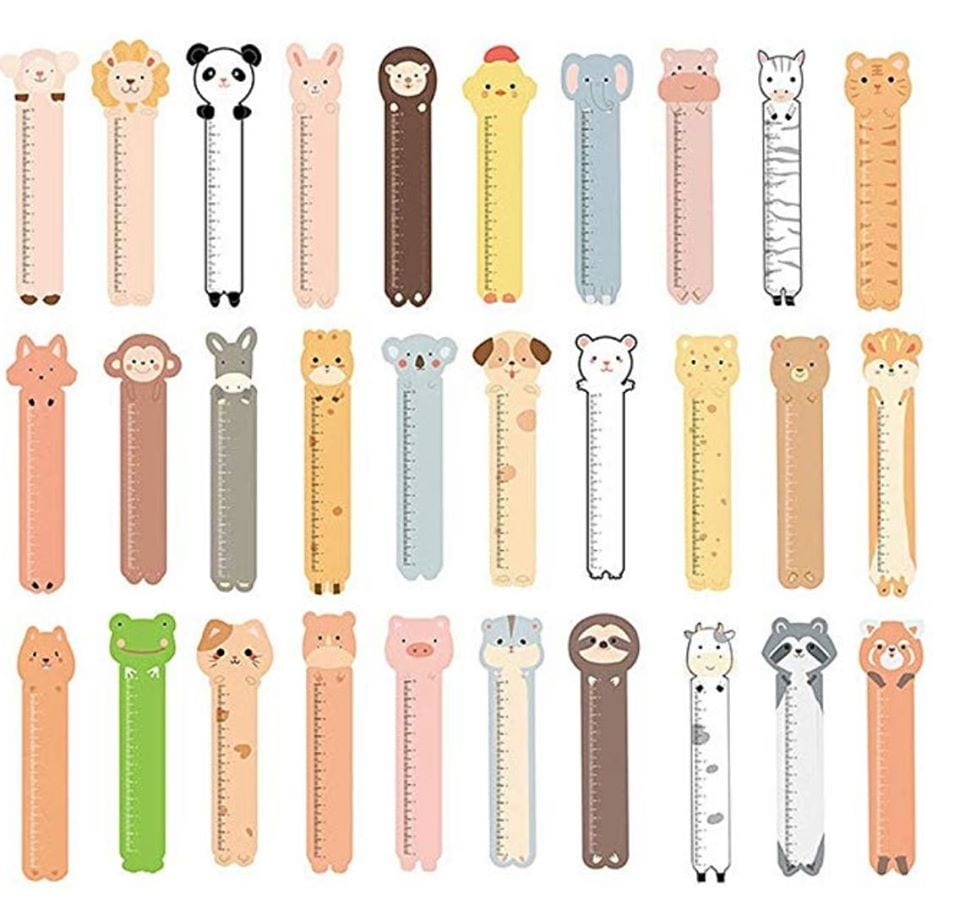 We love bookmarks, so we had to throw another option into the mix. You can get 30 animal bookmarks for a great price on Amazon.
15. Emoji Bookmarks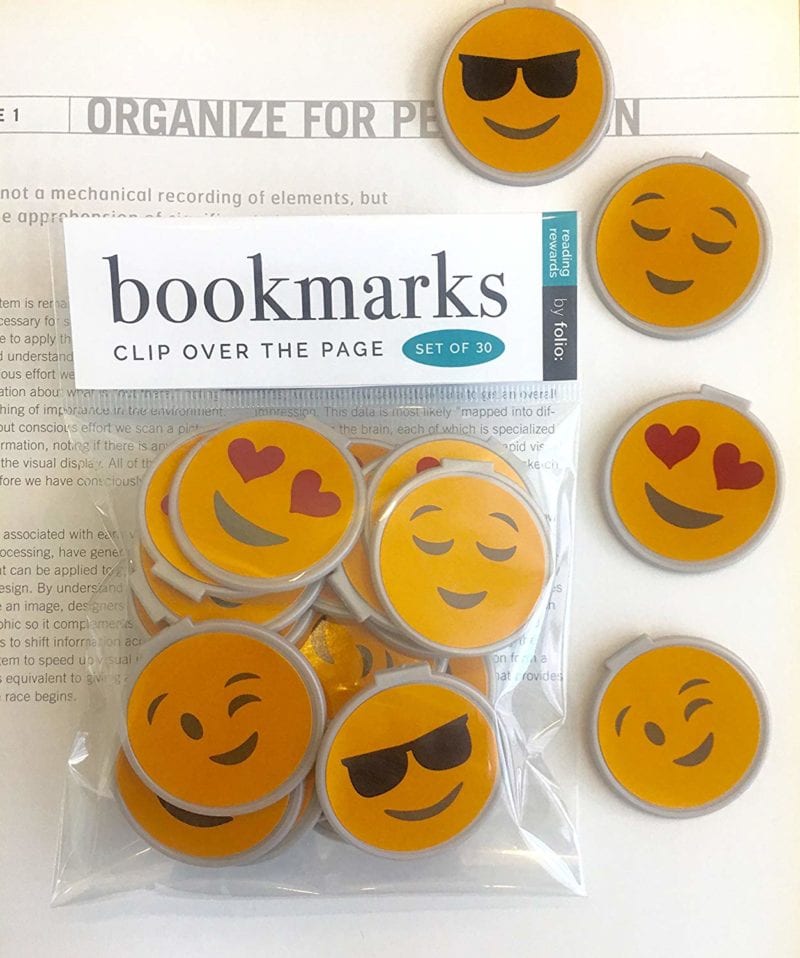 Yes, more bookmarks! They're such a good gift idea, and easy to mail. Get a set of 75 right here.
16. Printable Summer Bookmarks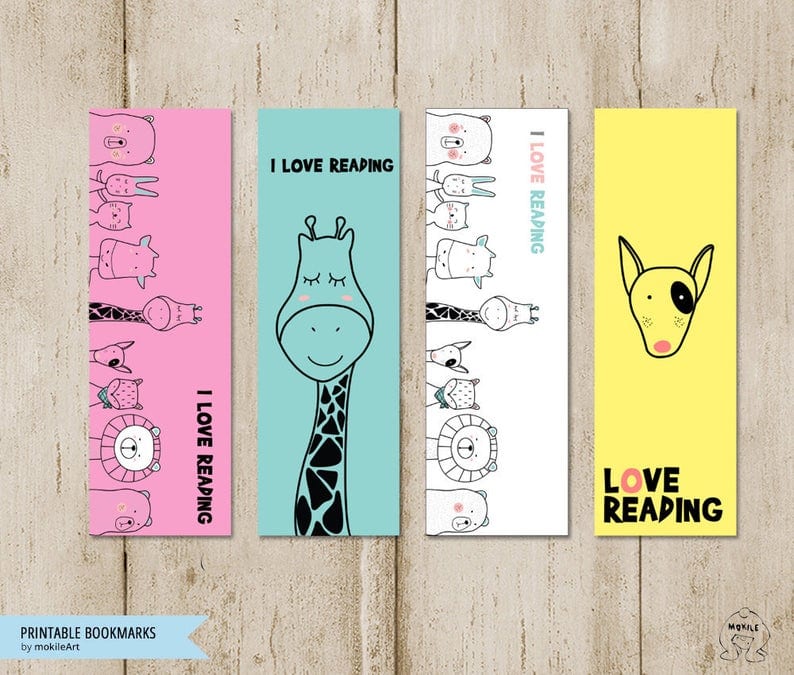 Want to save money? Buy this adorable summer reading bookmark template from Etsy for only $4. Print on colored stock paper, cut, and distribute to students or send to their homes!
17. Superhero Slap Bracelets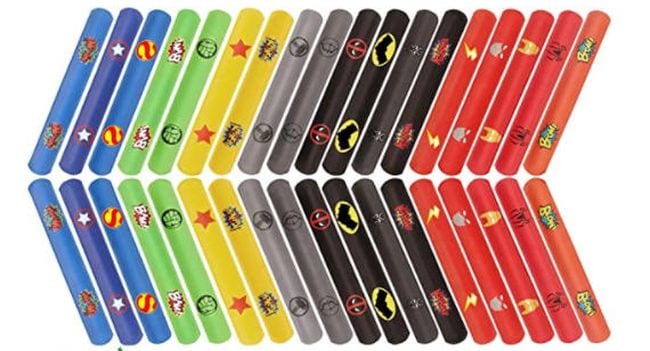 There are lots of slap bracelet options on Amazon, but these might be our favorite. You can get 38 of them for a really affordable price on Amazon.
18. Personalized Bracelets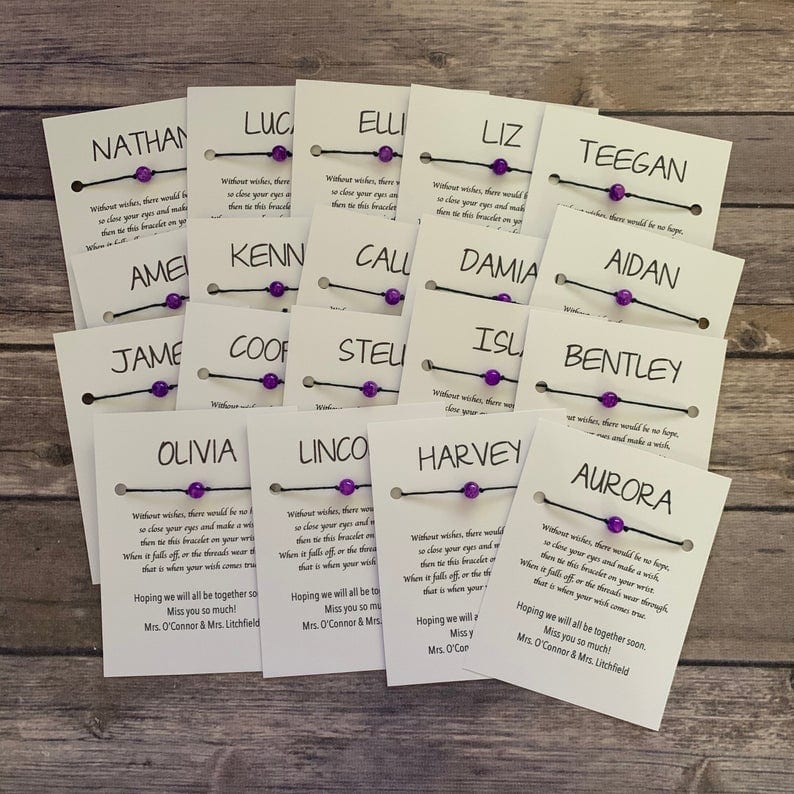 This option is a little more pricey, but they are so cute and only $2 each at Etsy.
19. Earbuds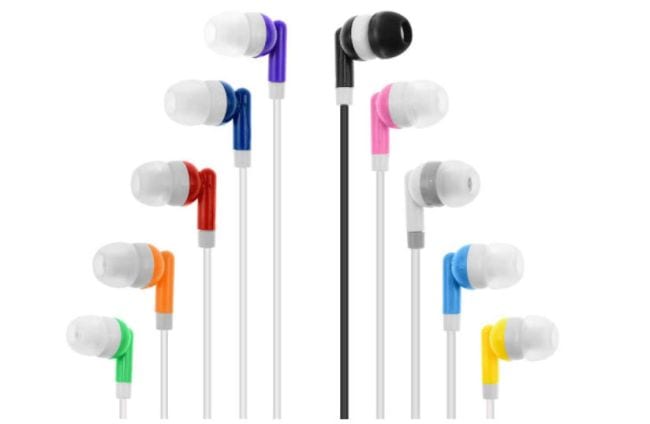 Speaking of earbuds, after a full semester of use, your students could probably use some new ones. Available in sets of 30 or 50 on Amazon for an unbelievable price.
20. Miniature Calm-Down Jars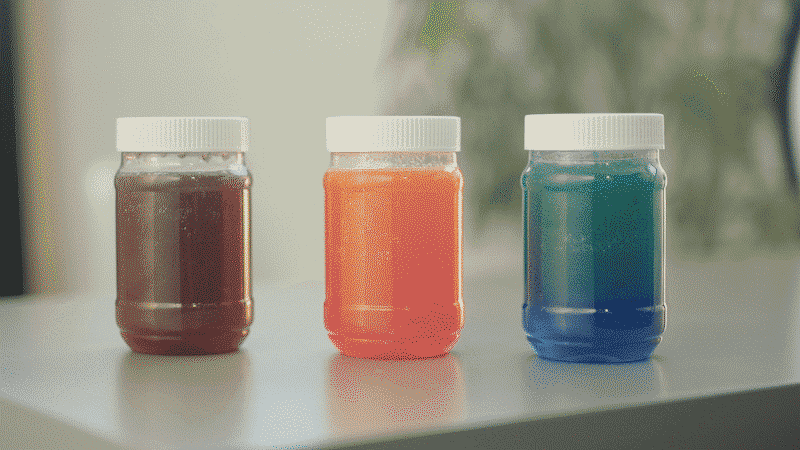 Have you seen our calm-down jars? These are such a good experiment, and they can also make a good gift for students. Just get miniature jars like these to save money!
21. Painted Rocks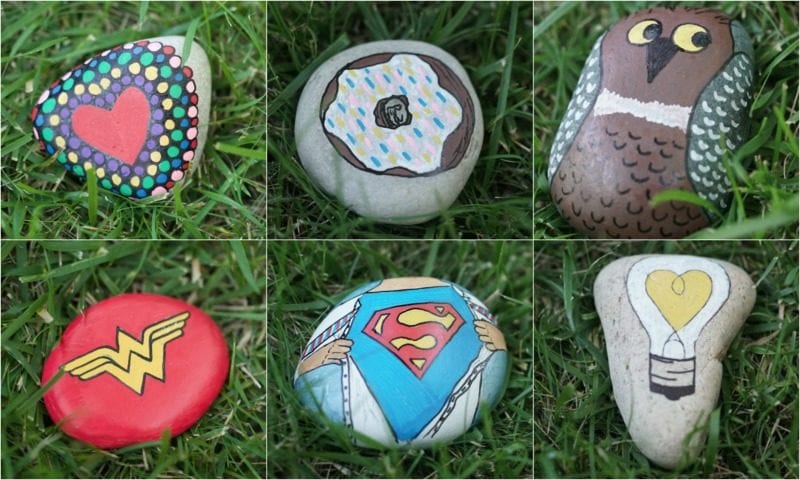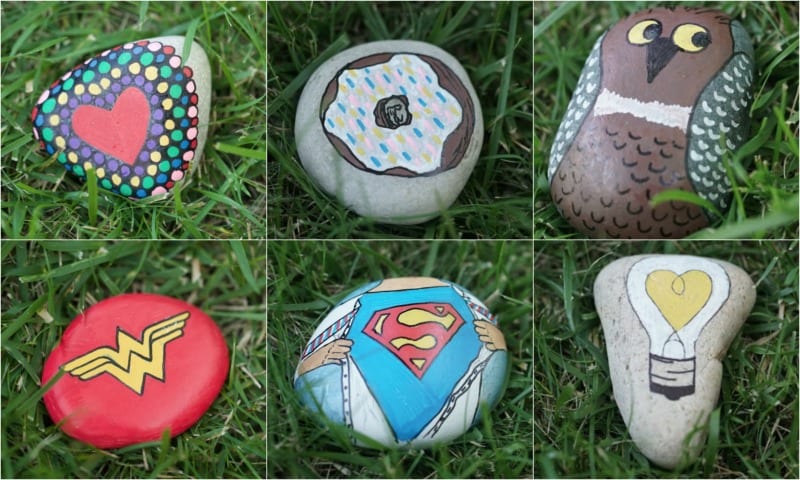 If you've got an artsy side, make personalized painted rocks for your students. Here are a few ideas we put together for inspiration. It's easy with this set of perfectly smooth stones and these acrylic paint pens made for rock painting.
22. Jump Ropes!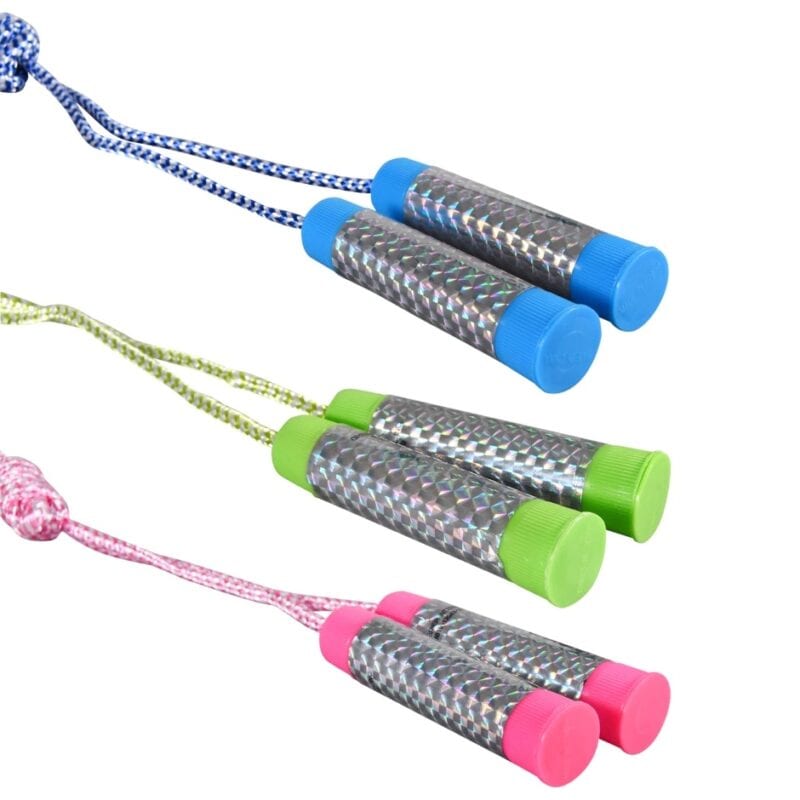 Another fun outdoor activity for summer, these jump ropes are available for $1 each at Dollar Tree.
23. Sidewalk Chalk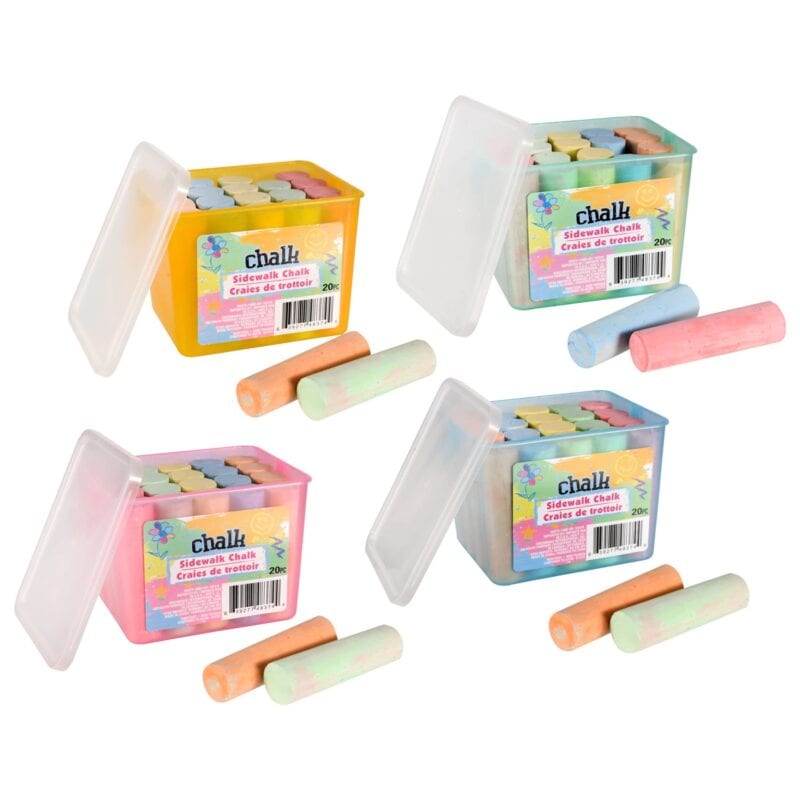 We have so many fun educational activities for sidewalk chalk. And you can buy an entire bucket of chalk for each student for only $1 each at Dollar Tree.
24. Sidewalk Chalk Holder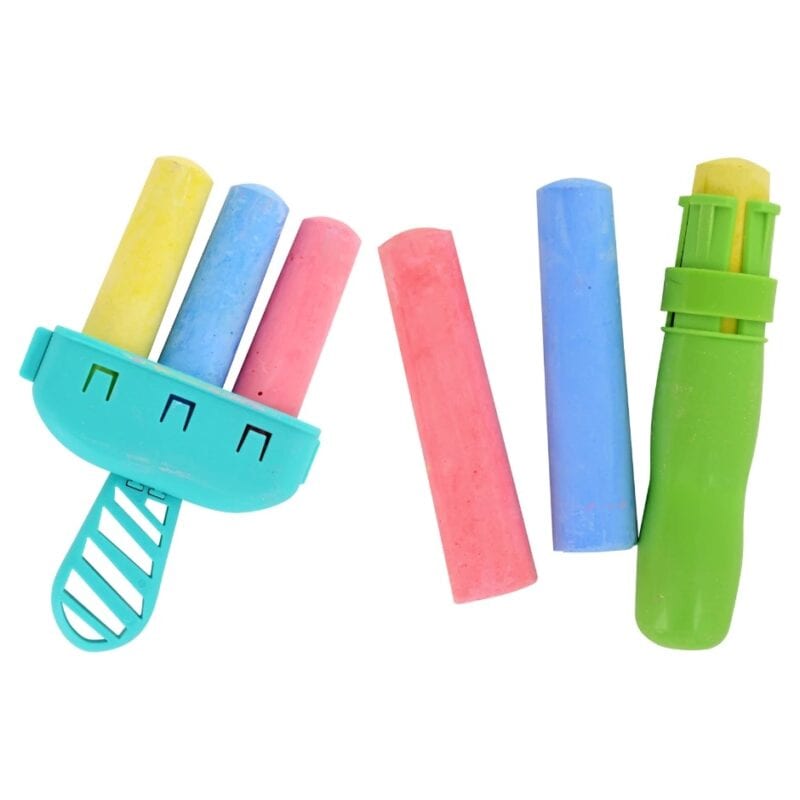 Extend the fun of sidewalk chalk with these bulk plastic holders! Parents will thank you for keeping little hands clean. Only $1 each from Dollar Tree.
25. Stress Balls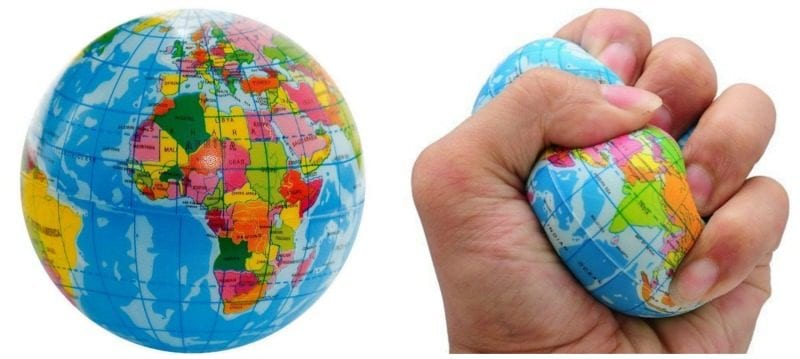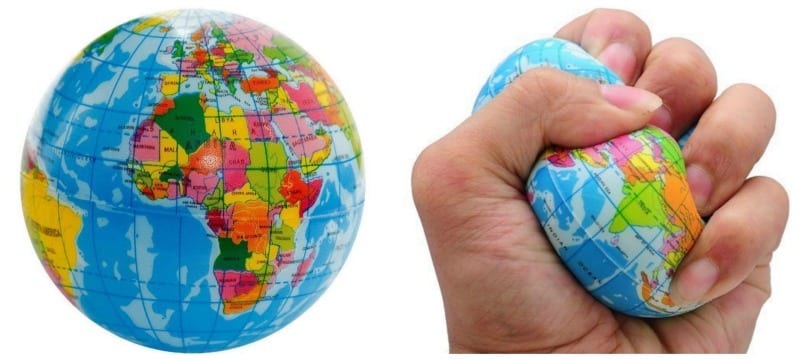 You can find lots of options for stress balls on Amazon, and these globes are some of our favorites. Get a 24-pack here.
26. Frisbees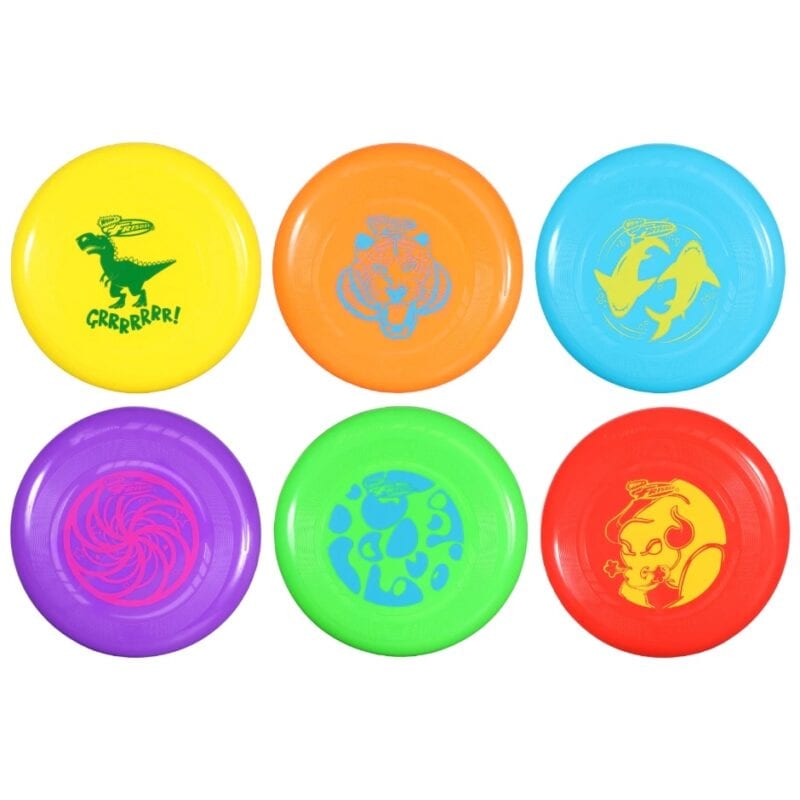 These flying discs will keep kids active and busy for hours! Only $1 for each frisbee at Dollar Tree.
27. Fidget Sticks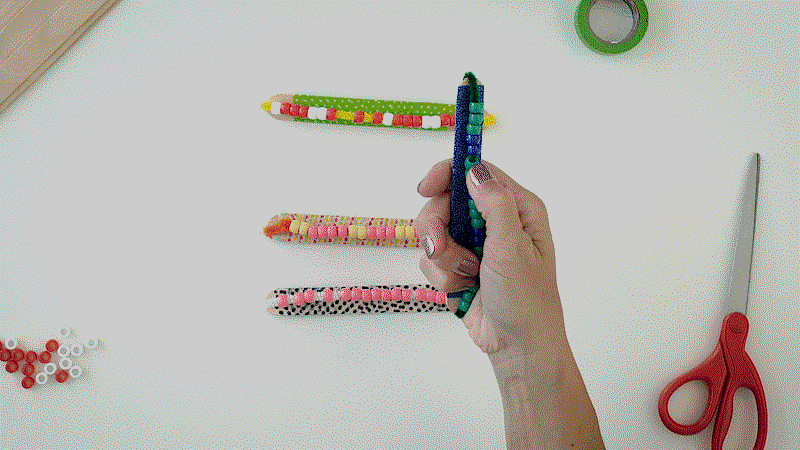 Fidget toys are always a hit with kids. Learn how to make DIY fidget sticks plus see a list of our favorites to buy here.
28. Game Boards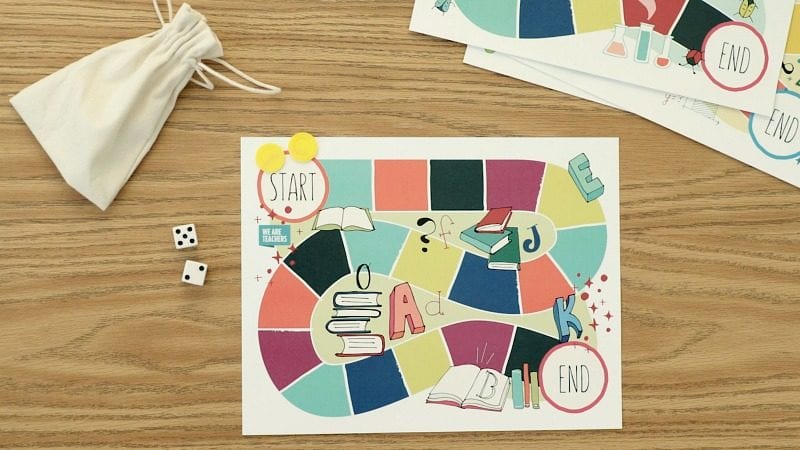 Grab our free printable game boards here and use them to create personalized games for your students. Pair them with some dice like these and you're ready to gift!
29. Glow Ring Toss Sets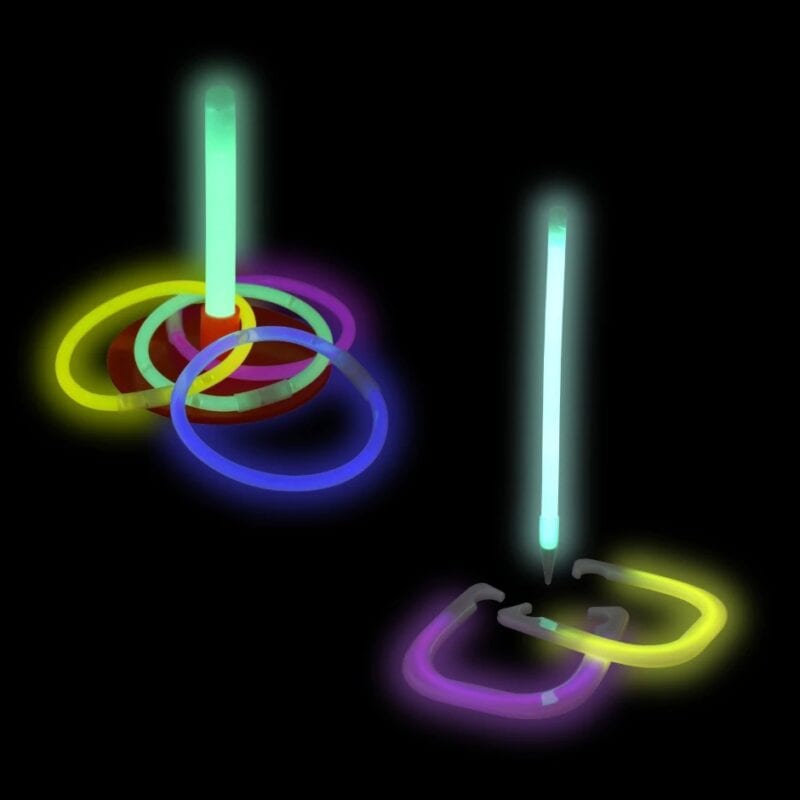 Get your students practicing their hand-eye coordination with these fun glow-in-the-dark ring toss sets! Only $1 each!
30. Sudoku Puzzles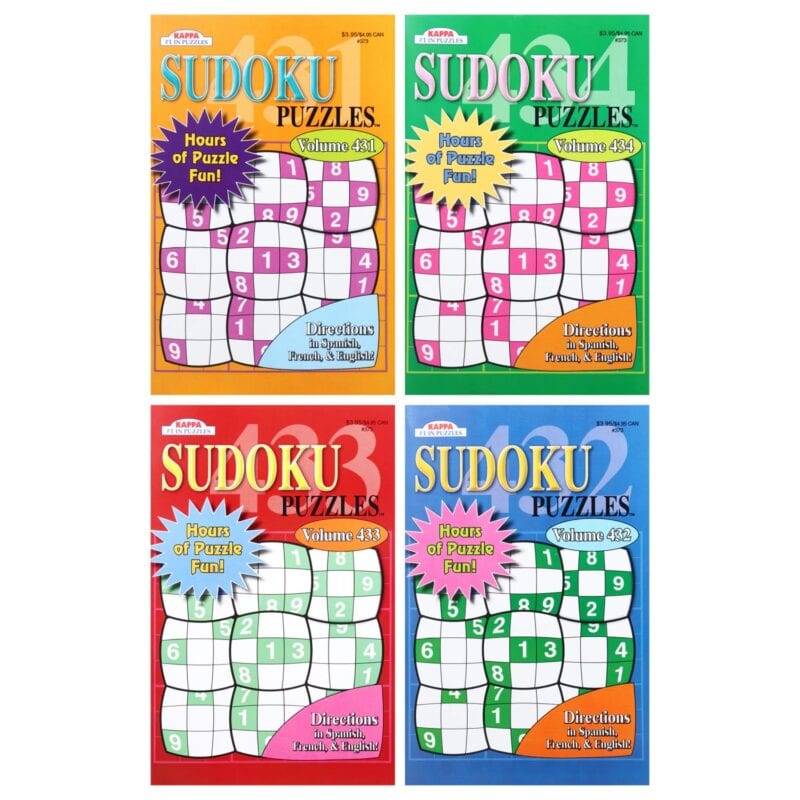 Sudoku puzzles are a great way to keep the mind engaged. Buy them for $1 each at Dollar Tree.
31. Summer Word Search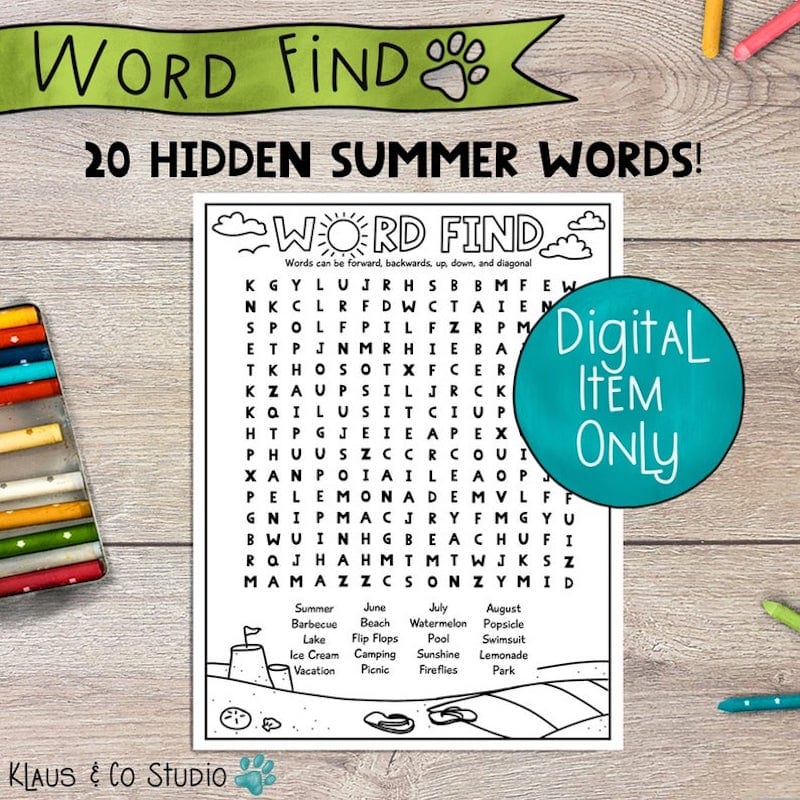 Get this summer word search file from Etsy for only $1.50. Then you can print to send home with your students for summer fun!
32. Dominoes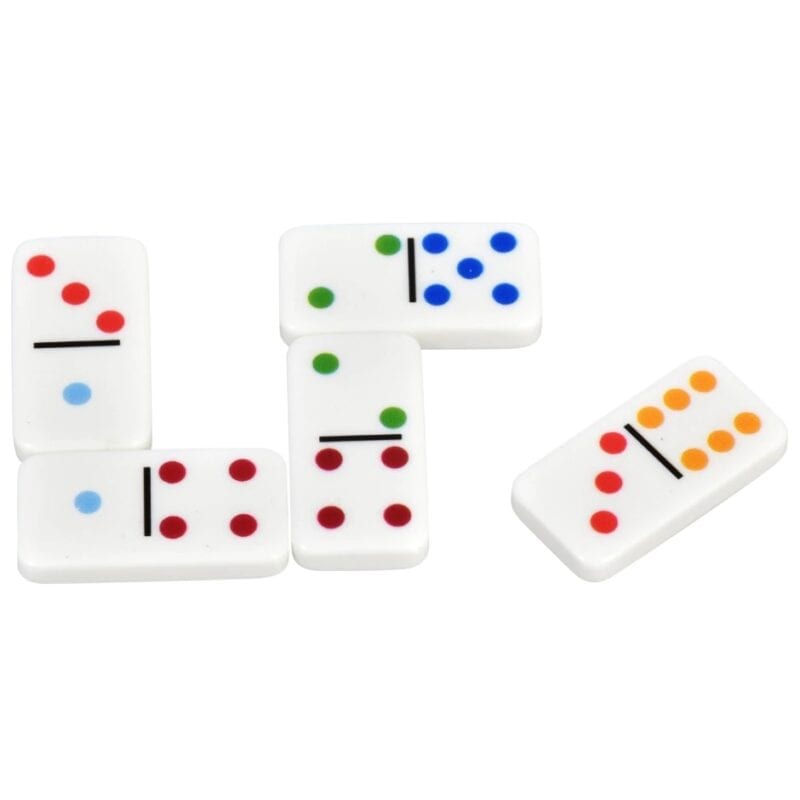 Part games, part building fun, part educational activities! Buy these domino sets for only $1 each at Dollar Tree.
33. Children's Books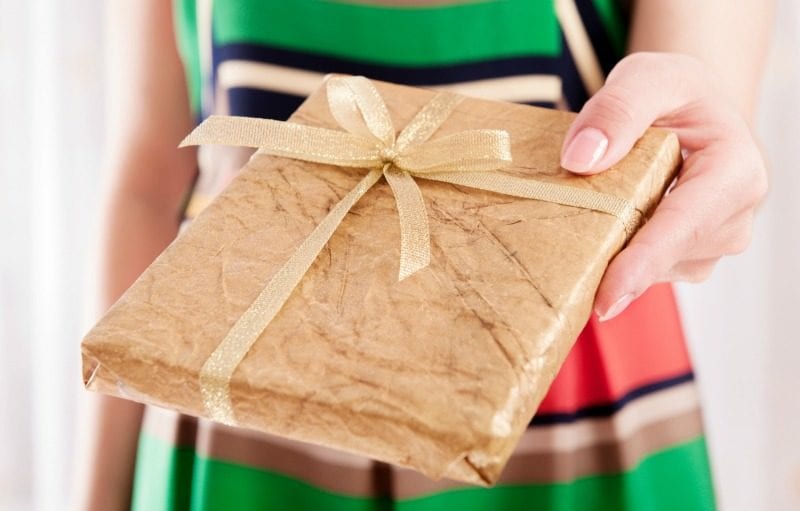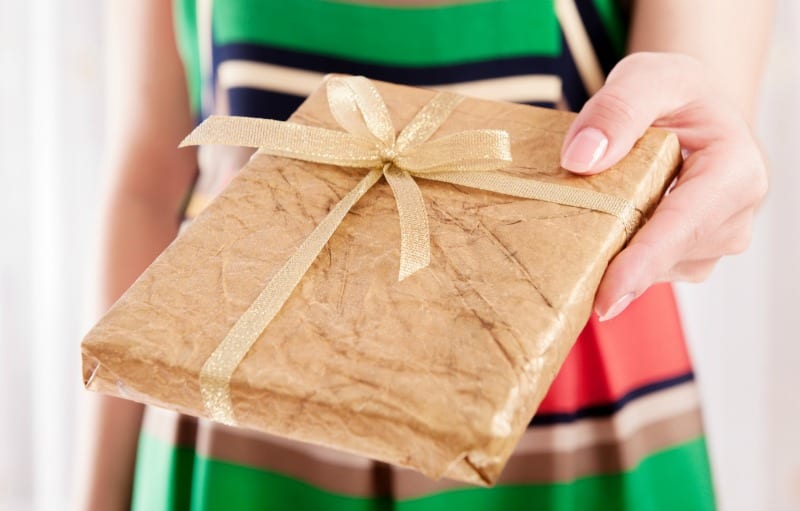 We mentioned e-books above, but if you'd like to give traditional books, there are all sorts of ways of finding them at affordable prices. Buy a set of fun fact books or classic fairytale books for $1 each from Dollar Tree.
34. Printable Journal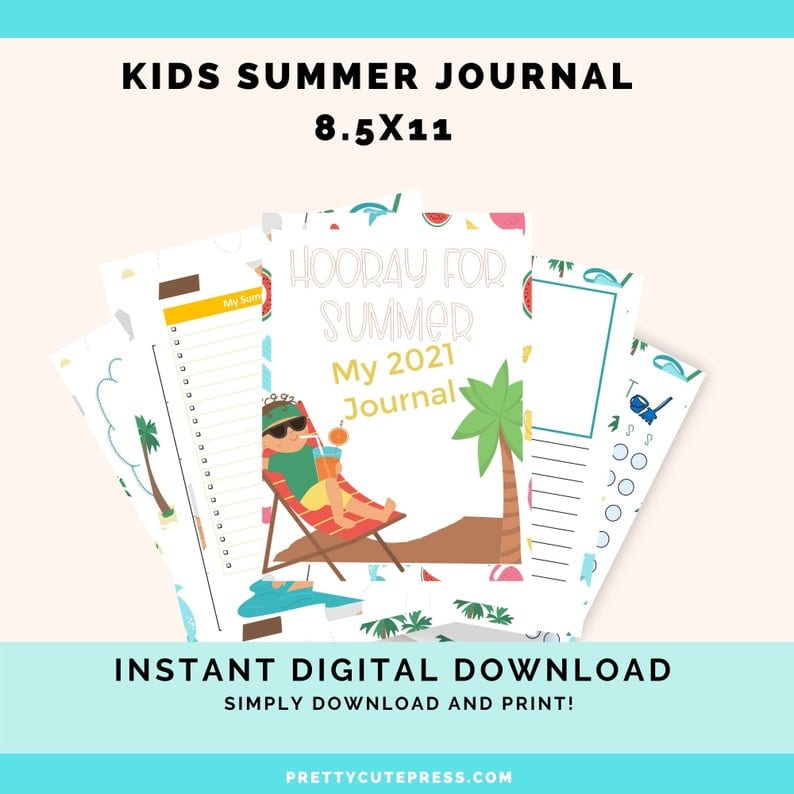 This fun summer journal will keep students busy all summer long! Download it once for $5.95 on Etsy, and print as many as you'd like. Or send to parents as a PDF to use at their leisure.
35. Summer Bucket List and Coloring Page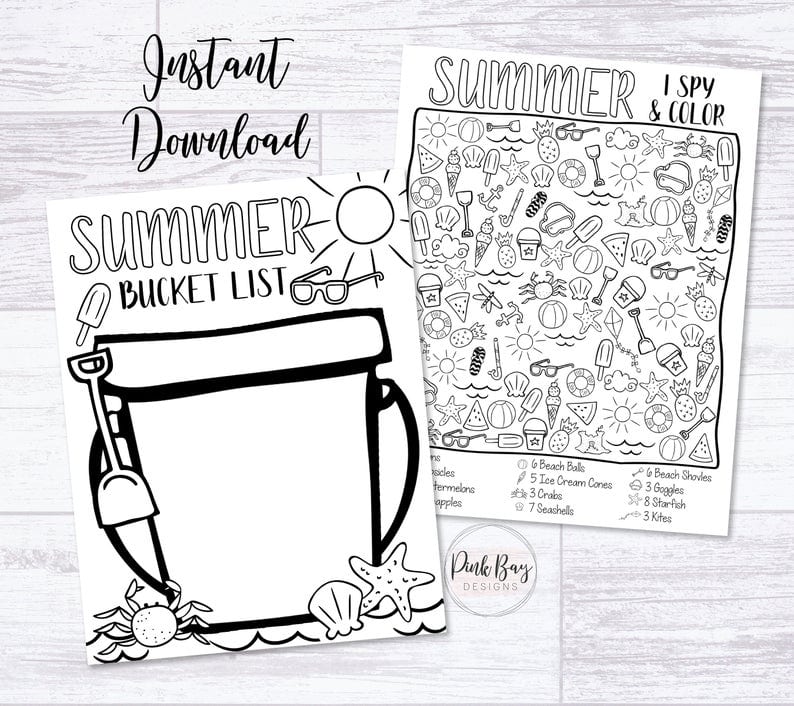 For only $2, you can get this amazing illustrated summer bucket list and coloring page for your students! Print as many copies as you'd like, or send it home to parents.
36. Printable Summer Bucket List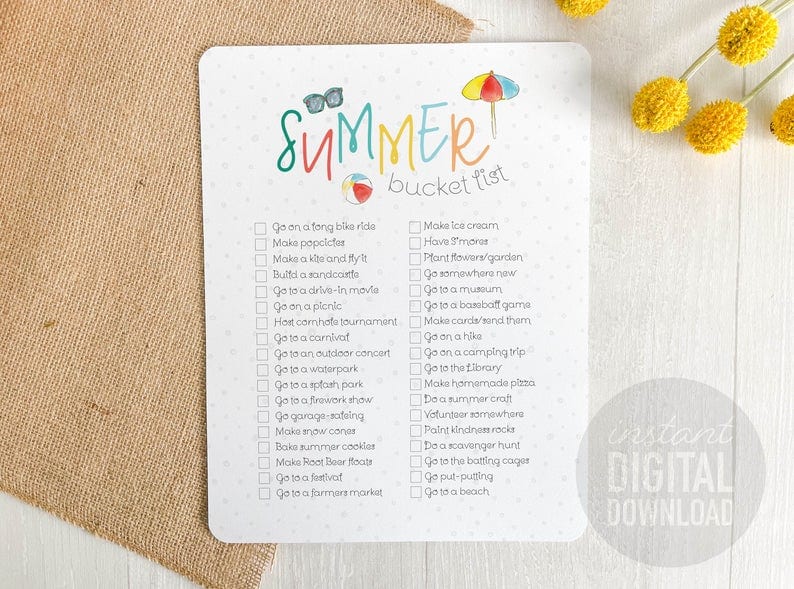 Another bucket list, this one is colorful and can be hung on your students' fridges all summer long. Only $5.00 from Etsy for the downloadable.
37. Kawaii Squishies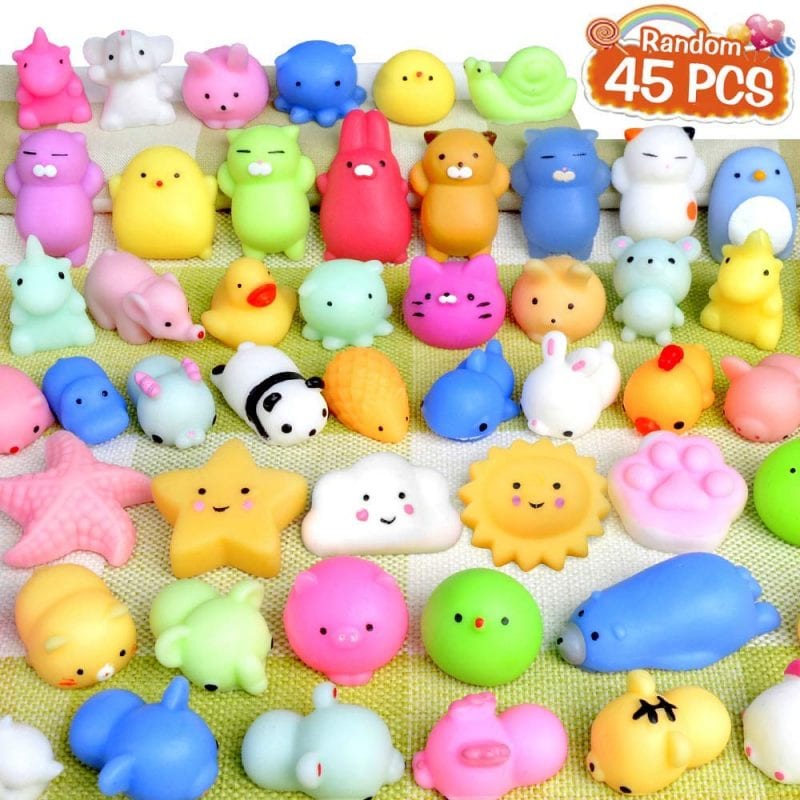 These are so popular with kids of all ages. Your students will love choosing one, or you can choose it for them along with a special note. Get a 45-pack on Amazon.
38. Six-Color Pens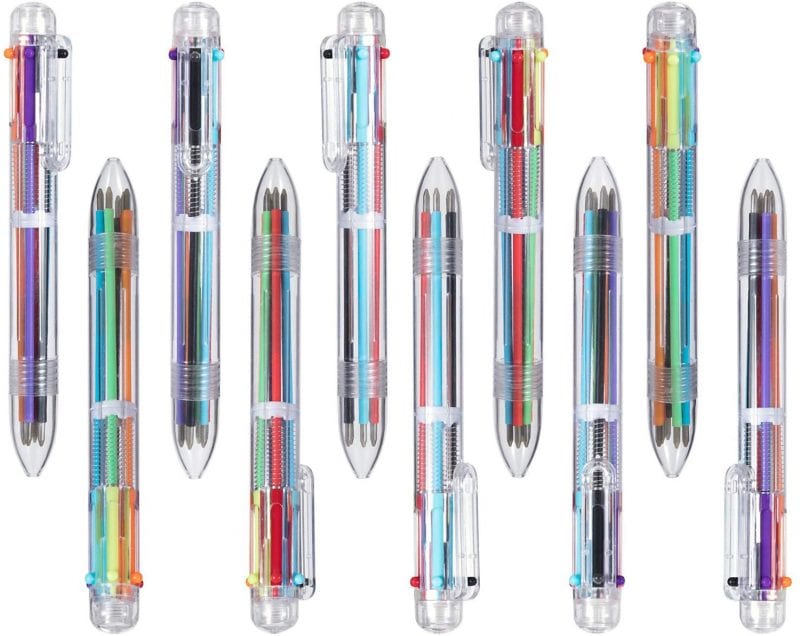 What's old is new again with these retractable pens with six colors of ink. They make great gifts, and they're affordable when you buy in bulk. Get them on Amazon.
39. Personalized Pencils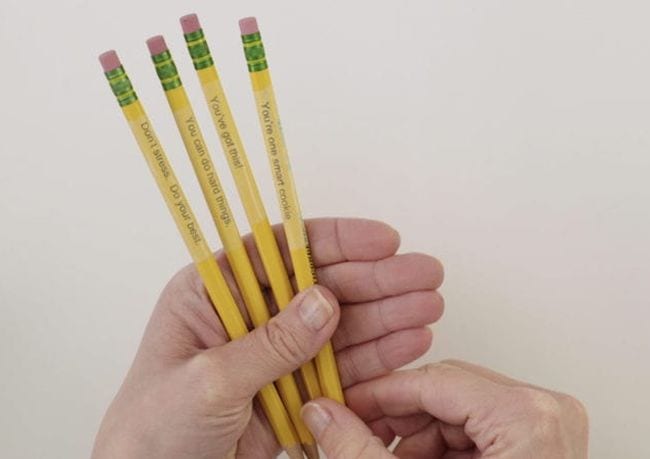 You can order personalized pencils from places like Amazon (we like this shiny rainbow option). If your budget is a little slimmer, learn how to make them yourself with a printer and clear tape. Then just a pack of neon pencils like these.
40. Pull-Apart Erasers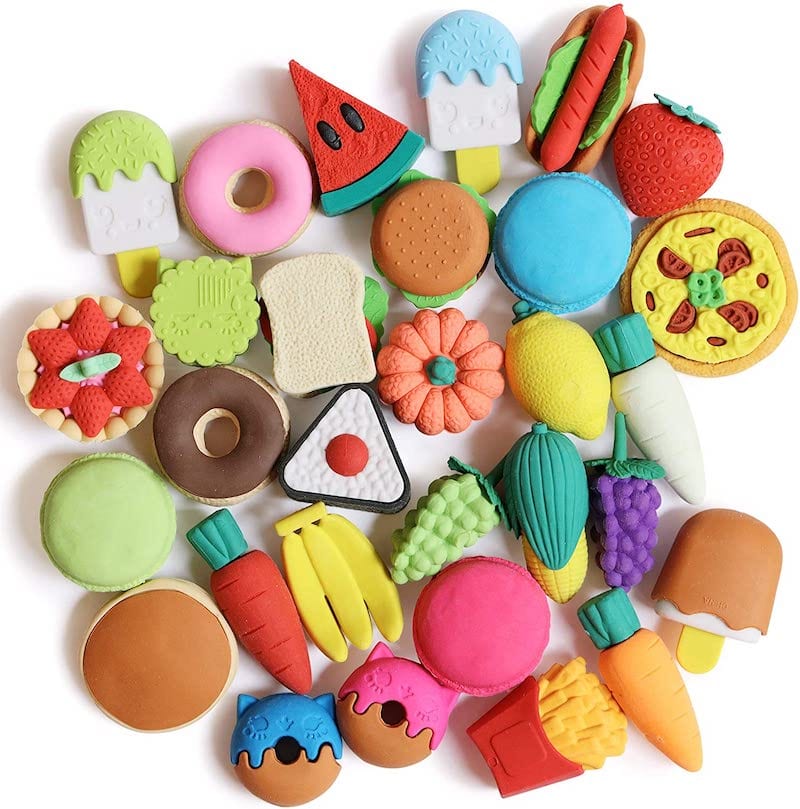 Along with fun pencils, you can send home these adorable food pull-apart erasers! Less than $9 for a pack of 30.
41. LEGO Brick Crayons
Have leftover crayons? Use this amazing mold to melt down crayons into LEGO brick shapes!
42. Scrabble Tile Names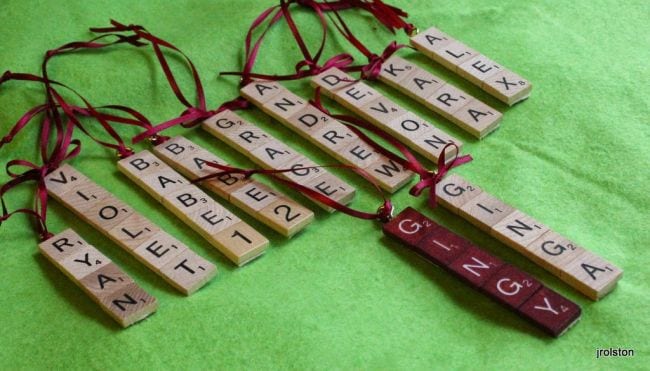 Make initial necklaces or create a nameplate students can use anywhere. They're surprisingly easy to make using wood craft sticks. Get 1,000 Scrabble letter tiles on Amazon.
43. Punch Balloons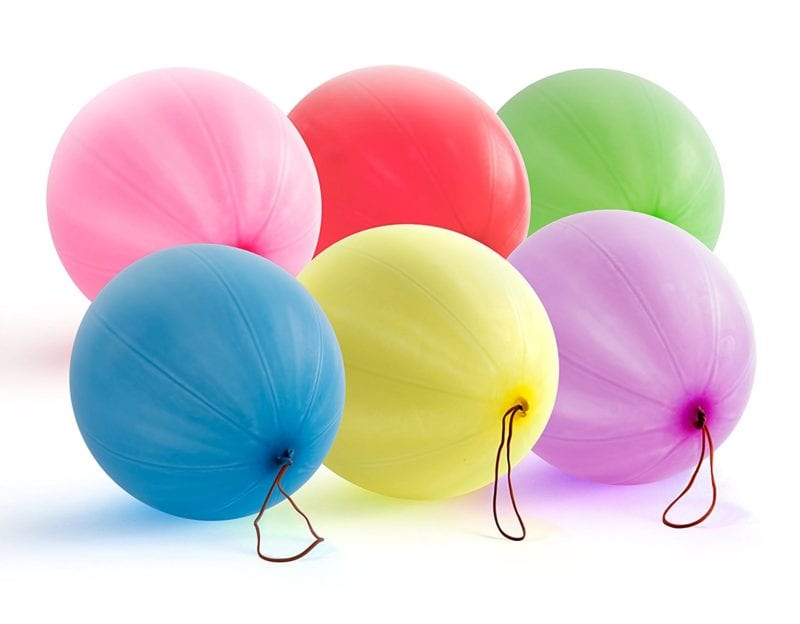 Give kids a way to work off some of their energy after sitting at a computer for hours each day. Here's a set of 30 on Amazon at a bargain price.
44. Beach Balls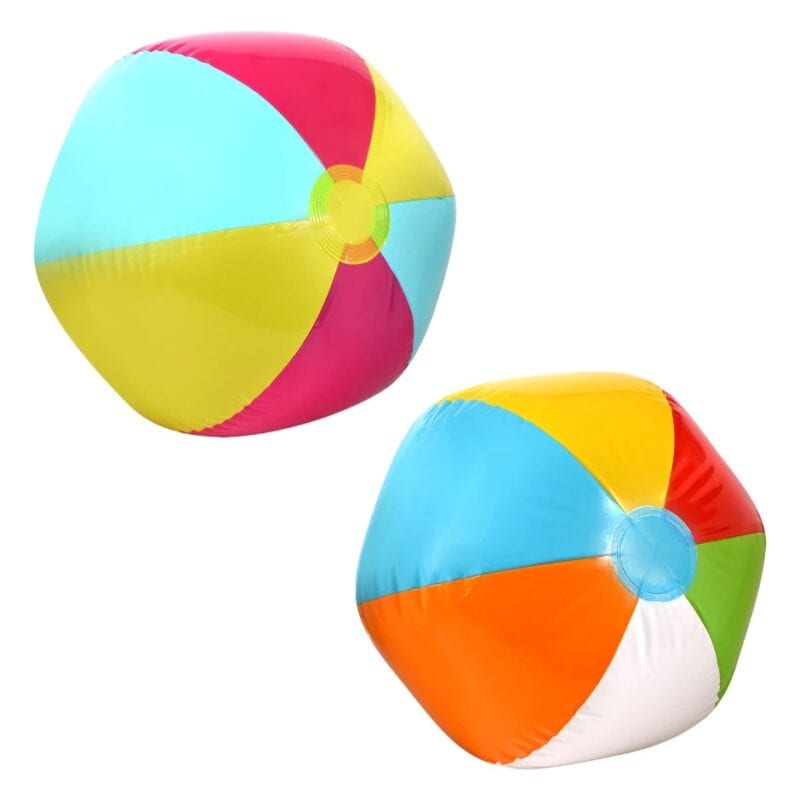 Easy to inflate. Perfect for the beach, a pool, or even just backyard fun! They will love getting active with these inexpensive gift ideas for students. Only $1 each in assorted colors.
45. Mini Building Block Sets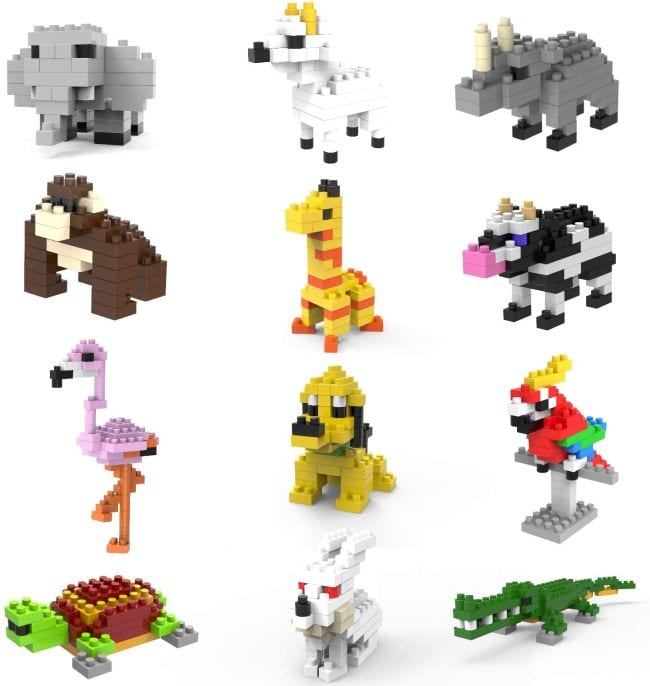 Have you met a kid yet who doesn't love LEGOs? These mini building block kits are basically the same thing, but you can get 12 of them for less than a couple of dollars apiece on Amazon.
46. Miniature Game Tins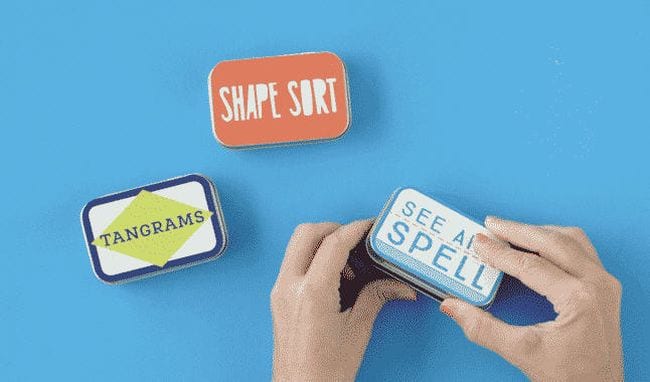 Save up those tins or just buy empty tins in bulk on Amazon. You can create the games we did here with these free printables.
47. Thank-You Notes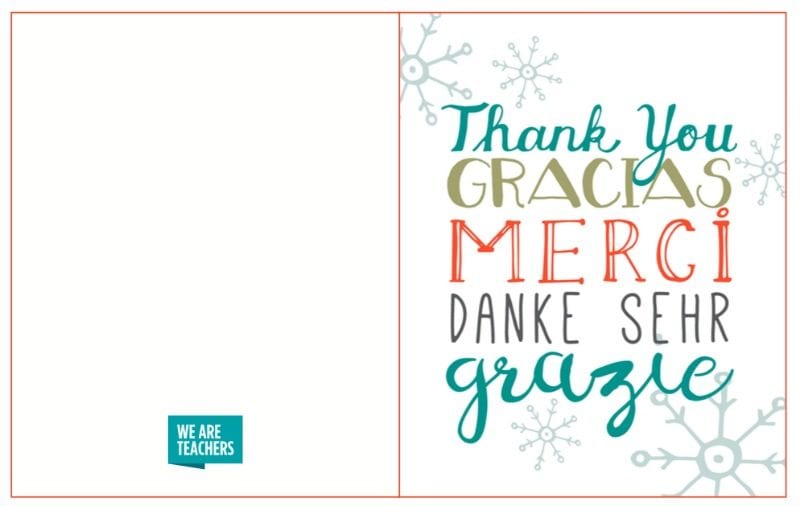 Knowing that their teacher sees them for who they are can make all the difference for some kids. Use our free printable thank-you cards to make sure yours do.
48. Mini Notepads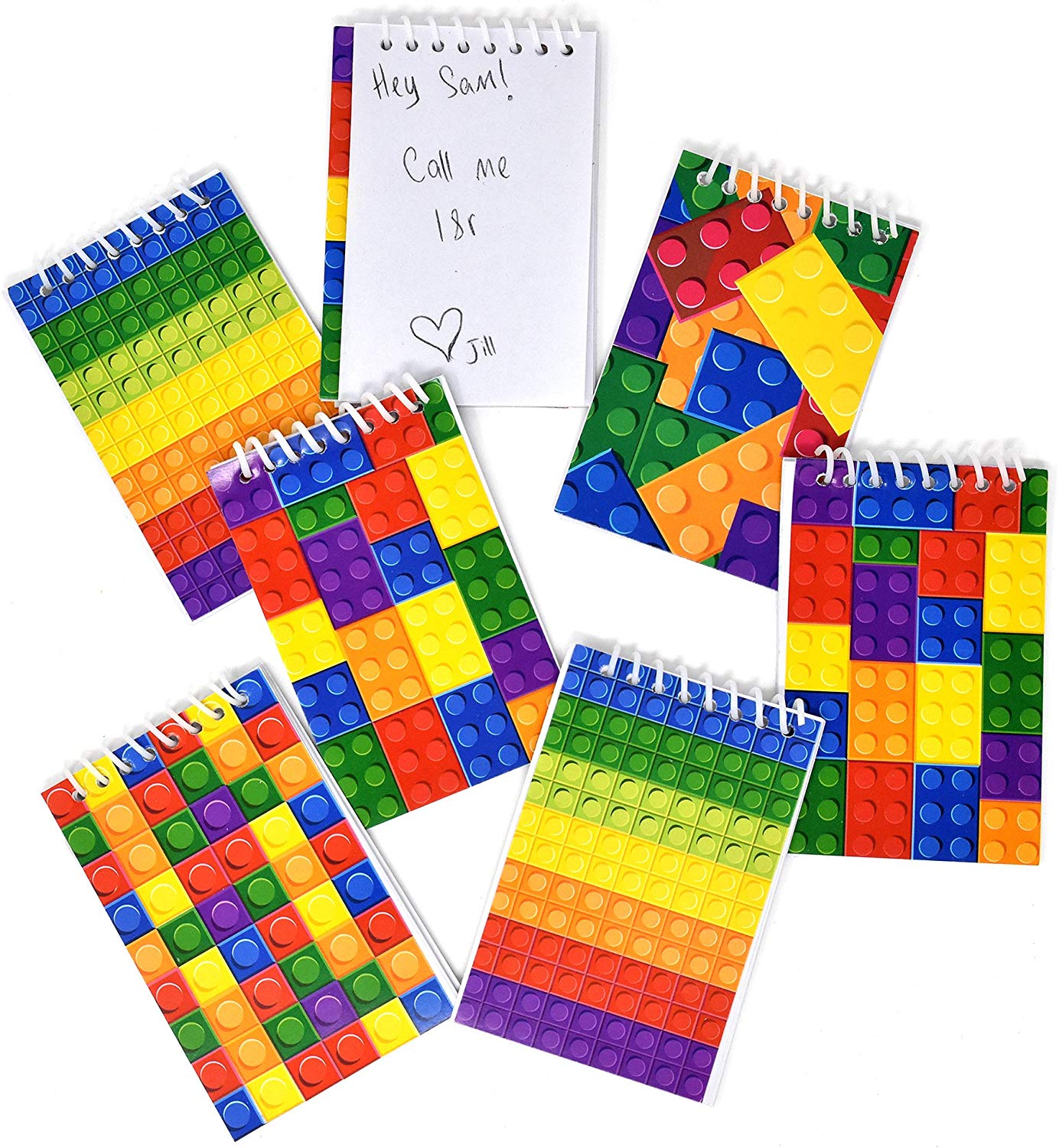 Colorful mini notepads make a practical, simple gift for kids of all ages. Get a 60-pack on Amazon here.
49. Slime Putty Unicorn Galaxy Eggs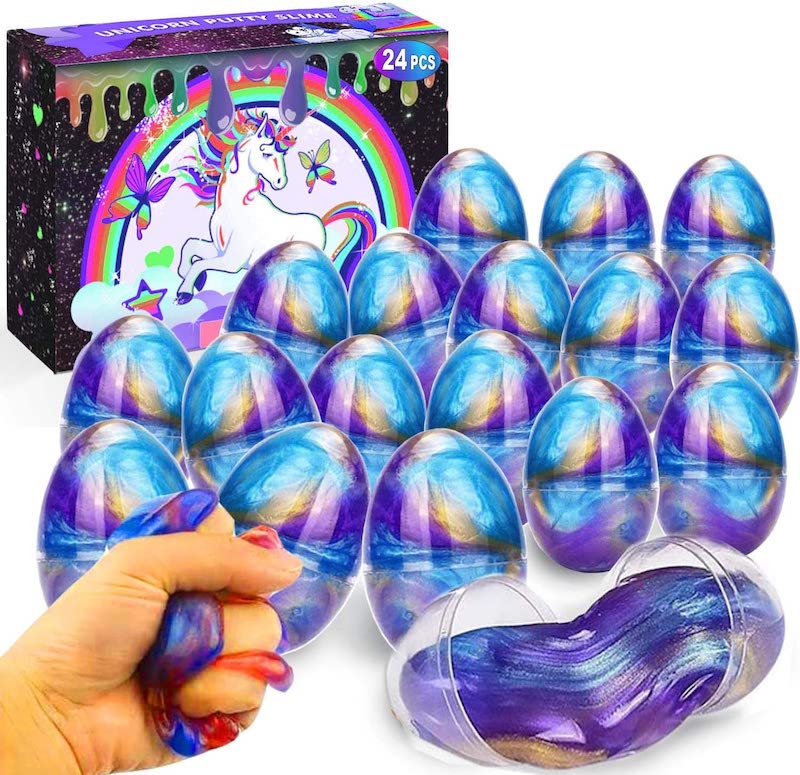 These vivid putty and slime eggs are surefire inexpensive gift ideas for students. Get 24 for a steal on Amazon.
50. Mini Rainbow Springs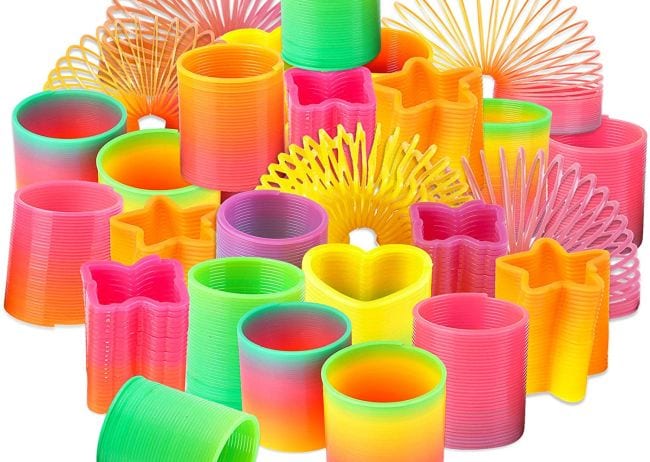 There's something irresistible about spring toys. Pick up a bulk pack of 50 on Amazon for pennies each.