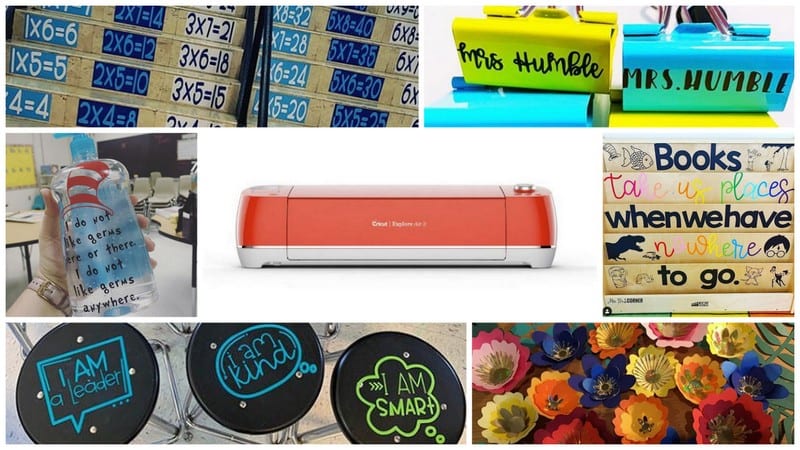 We know you've been eyeing a Cricut for a while now. You can do so many cool things with it, but can you really justify the investment? We can't make that decision for you, but this list of ways to use Cricut in the classroom might finally help you make up your mind.
Ready to buy? Here are some Cricut models to consider. (This post includes Amazon Affiliate links for your convenience.)
Cricut Explore Air 2: This is the go-to model that die-cuts a huge variety of materials, from paper and cardstock to vinyl, foil, and even faux leather. Add-on tools allow you to do machine-generated lettering too. For most teachers, this is the one to get.
Cricut Maker: The biggest advantage to this model is the ability to cut much thicker materials. It also uses rotary blades to cut fabric effortlessly. (See more comparisons here.) If you're into sewing or want the ability to cut tougher materials like wood, it might be worth the upgrade.
Cricut Easy Press: If you plan to make a lot of T-shirts or tote bags using iron-on vinyl, the Easy Press could be a useful add-on tool. It doesn't do die-cutting on its own, but it promises perfect vinyl transfers time after time.
OK, let's get on with the good stuff!
1. Welcome them.
Cricut in the classroom + Bitmoji = Teacher happiness
2. Post the date perfectly.
No worries about messy handwriting! Removable vinyl is perfect for whiteboards.
3. Personalize some pencils.
Kids are seriously going to love these.
4. Keep track of restroom visits.
So much more hygienic than a hall pass!
5. Organize your lost & found.
Anything that helps you manage a lost & found is totally worth it! (Find that amazing holographic adhesive vinyl here.)
6. Inspire them with lap desks.
This is how you do flexible seating!
7. Lay out the daily schedule.
The speech bubble for daily messages is an especially ingenious touch.
8. Take the lunch count.
Use Cricut in the classroom to simplify this daily chore.
9. Show off your classroom chemistry.
Creativity is one of our favorite elements!
10. Set up a supply station.
We especially love those separate bins for sharpened and unsharpened pencils.
11. Create a clock message.
Inspire them every time they check the time.
12. Prep their table supplies.
These handy bins are a great storage option for flexible seating or group work.
13. Turn tap lights into restroom trackers.
Such an easy way to make sure that there's only one student at a time headed to the restroom. (Grab some tap lights here.)
14. Bedizen your binder clips.
No one can steal them now!
15. Whip up adorable hall passes.
With any luck, your students might not even lose these for a week or two!
16. Dress up your desk.
So pretty … and practical!
17. Point the way for school visitors.
No more confused parents wandering the hallways.
18. Quiet your class with silent Skittles.
Positive reinforcement can work wonders.
19. Make a first day photo op.
What a precious way to capture their first-day-of-school smiles!
20. Turn building blocks into letter cubes.
So simple. So clever. Use permanent vinyl to ensure these hold up for years.
21. Help them modulate their voices.
So much easier than yelling, "Inside voices!" over and over again.
22. Use tap lights for volume control.
Tap lights help get their attention.
23. Decorate your hand sanitizer.
These would be amazing gifts for fellow teachers, right?
24. Offer them a morning greeting choice.
We love this morning classroom ritual!
25. Beautify your bookshelves.
Inspire the next generation of readers.
26. Label those precious EXPOs.
It's oh-so satisfying to watch that transfer paper peel.
27. Make the best teacher totes.
Iron-on vinyl has endless possibilities.
28. Put together number bond plates.
DIY math manipulatives at bargain-basement prices? Yes, please.
29. Spruce up a staircase.
This might be the most beautiful thing we've ever seen.
30. Adorn adorable aprons.
Your littles will look so sweet in these, and their clothes may actually stay clean.
31. Assemble letter lacing cards.
Use Cricut in the classroom to combine fine-motor-skill practice with letter recognition in a really fun way.
32. Gussy up an old globe.
Got an old globe that's past its prime? Paint it black and add an inspirational message for a spectacular classroom decoration.
33. Organize all the things.
This is simply Teacher Organization Perfection .
34. Renovate your rolling cart.
Teachers love these 3-tier rolling carts, and they're even better when they're personalized!
35. Put the focus on learning.
Let your students know what to expect from the week ahead. (Find those awesome giant googly eyes here.)
36. Lay out some line-up spots.
This will make getting into a single file line so much easier. (Got carpet? Make die-cut numbers for carpet spots instead.)
37. Establish a reward jar.
Using Blurt Beans or a similar form of behavior tracking? Use Cricut in the classroom to create the cutest reward jar.
38. Fashion the most beautiful bulletin boards ever.
Whoa. These paper flowers are absolutely stunning.
39. Personalize your clipboard.
Keep track of your clipboard wherever you go. (See all the reasons your classroom needs clipboards here.)
40. Clean up your classroom in style.
Kids will clamor to use these clever cleaning tools!
41. Hang student-name street signs.
Life is a highway, so fill it with personalized signs!
42. Produce pretty plant pots.
Use your classroom plant pots to teach on the sly!
43. Pretty up your classroom stools.
Use Cricut in the classroom to reinforce positive messages every day.
44. Turn today's date into a math lesson.
Take a few minutes each day to review important math concepts.
45. Pass out personalized bookmarks.
These would be such a sweet (and inexpensive!) end-of-year gift.
46. Craft some class cups.
Another clever and practical gift idea for your students.
47. Decorate a class Christmas tree.
This is a unique spin on ornament crafts, and so easy too!
48. Put together paper turkeys.
Use Cricut in the classroom to die-cut pieces in advance, then help your students assemble these cuties!
49. Enlist the Grammar Police.
We'd understand if you wanted to wear this uniform every day. Just sayin'.
50. Make the prettiest teacher gifts.
Paper flowers and adhesive vinyl turn a basic shadow box into something so much more.
51. Fashion incredible teacher T-shirts.
There's always room for another teacher T-shirt in your collection!
52. Make over-sized Scrabble tiles.
These would be so fun to use on the playground on a sunny afternoon.
53. Show the world your students are special.
Because we all believe the children are our future.
We'd love to see your incredible Cricut creations! Come share in our WeAreTeachers HELPLINE group on Facebook .
Plus, be sure to keep an eye on the WeAreTeachers Deals Facebook page, where we post deals on Cricut machines and other teacher must-haves every day.