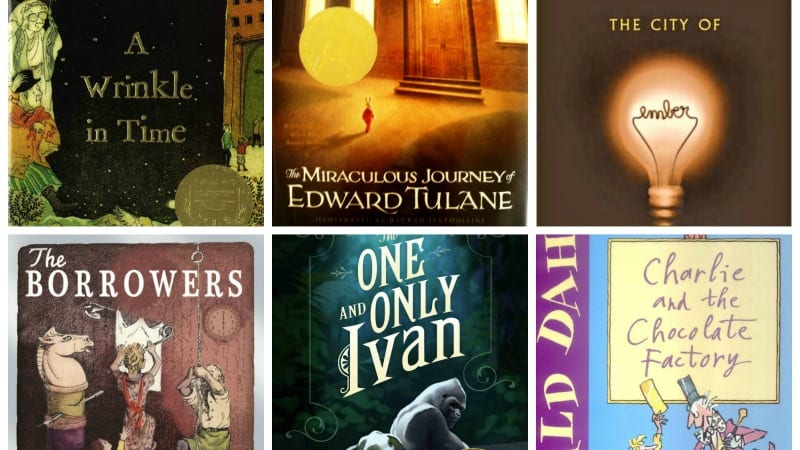 Jenni wrote to us at the WeAreTeachers HELPLINE: "I am looking for some new 3rd grade books to get me to the end of the year. Any suggestions? Thanks, everyone!"
Jenni, we're always looking for great, new books too. That's why we were delighted when our community of teachers chimed in with so many great suggestions for your third graders. Here's what they had to say, plus a few recommendations for 3rd grade books from our staff.
Editor's note: Please preview these books yourself before reading them aloud to your class. You know your students best!
We still talk about this book. Even as an adult, I could not stop reading the chapters as we followed the characters on their fascinating journey.—Emily R.
Wow. What a beautiful book and beautiful story. I read this out loud to my kids, and they became as engrossed in it as I did. —Dena B.
Love, love, love this book. My 3rd graders couldn't wait to get their hands on it and couldn't put it down. —Debbie G.
This is the first book in a series that tells the story of a young Afghan girl, Parvana, and the tragedies she and her family endure in a time of war. Absolutely amazing! —Corrine R.
We have a "Winn Dixie" party at the end of the year with dill pickles, egg salad sandwiches, and Litmus Lozenges (butterscotch candies). Our third grade teachers hang up dog pictures and lights and surprise the kids with the party. It's a great, fun way to end the year. —Pam L.
Loved this book as a child and I am so excited to share it with my students now.—Jenny P.
I especially love the story with Mrs. Gorf and the apple. I hold an apple while I read it and then take a huge bite! —Cheryl R. 
The silliness of how school works just seems to fit those end of the year blues so well. —Sara D.
Matilda is one of those books every child should read when they are in school. For me the book was required when I was in elementary school, and I loved it. You can never put the book down, and the movie based on this book is just as good. A book adults and children will both love. —Sadie J.
My third graders love anything Roald Dahl. They especially love the funny voices I use for the giants. —Jade M.
This story has wonderful word play. —Lissa M.
I always read Charlie and the Chocolate Factory. Then we watch both movies and compare and contrast them to the book and do other activities. —Eva T.
A thoroughly unique and mesmerizing story. I let my kids draw pictures of the story as they listen to incorporate their own creativity into the process! —Diana B.
We read this novel as part of a Greek study unit. The background knowledge of Greek gods combined with the exciting story of Percy Jackson kept my kids at the edge of their seats. —Suzanne S.
This book has literally turned non-readers in my classroom into voracious readers. And the best part is, this is only the first book in the series, so my students know they get to keep going. —Dianna B.
An oldie but a goodie. My students love this delightful story of tiny people living among us. —Jerri K.
I first learned about this book when my daughter's 3rd grade teacher read it aloud. My daughter loved the story so much I knew I had to try it out with my own class, and they loved it too. —Katie P.
We were running out of time before winter break and had to spend almost the entire last day reading because neither my third graders nor I could bear the thought of not finishing the story!—Elizabeth M.
A wonderful story on so many levels. This book has been a favorite in my class for more than 20 years. —Margaret W.  
If you loved The Invention of Hugo Cabret, you won't be able to put this one down! —Stacy N.
Do you have more suggestions for 3rd grade books? Add them to the comments! You might also want to check out our choices for best 3rd grade book series for reading, which will give you enough reading for the entire year!