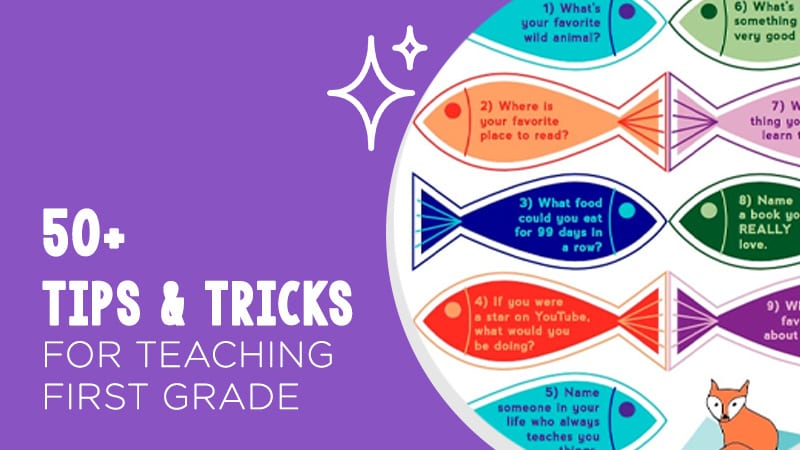 First grade is an exciting time of transition for your students! To help make it the best year ever, we've scoured our WeAreTeachers HELPLINE group on Facebook and the web for some of the best tips and ideas for teaching 1st grade. While it by no means covers every possible topic, we hope this list of gems will inspire you, whether you are a brand new teacher or a veteran. And, we've organized the list by topic to make it easy to cruise for ideas!
Getting Your Classroom Ready
1. Create an inviting classroom.
Need ideas? We've gathered real-life first grade classrooms for you to browse!
2. Gather all the supplies.
Not sure what exactly you need for the first grade classroom? Don't worry; we've got you covered with this list of essential first grade classroom supplies.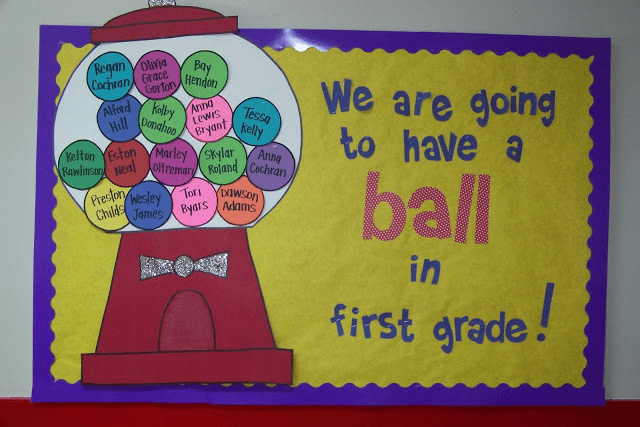 Source: Doodlebugs Teaching
Seeing their names up on the wall will help students instantly feel at home, and the bright colors will create a festive mood in the classroom.
4. Get a jump start on lessons.
In first grade, teacher planning and prep time are precious! It makes life a lot easier when you can purchase existing lessons, bundles, books, and pages. And why not support other teachers while you do it! Check out our favorite Teacher Pay Teachers sellers for first grade.
5. Put together an irresistible classroom reading nook.
Your first graders are well on their way to becoming readers, so make this time extra special for them by setting up one of these awesome reading nooks.
6. Fill your classroom library with these classic first grade books.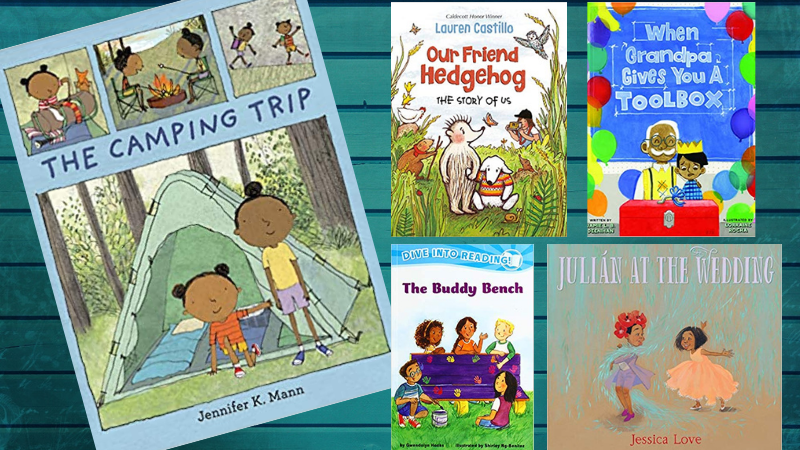 Here are 50 of our favorites.
7. Set up sensory tables.
Early childhood teachers know that hands-on learning is essential. Sensory play encourages open-ended thinking, language development, collaboration, and builds fine motor skills. Sensory materials are magically both engaging and calming. Here are our favorites!
The First Days of School
8. Introduce yourself creatively.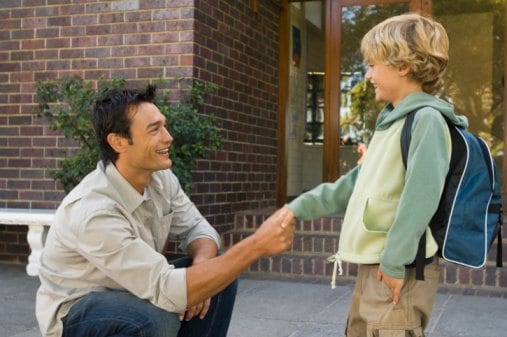 Source: Good Choices Good Life
If you're teaching 1st grade, you have the honor of being one of the first teachers a child will meet! Make day one memorable by introducing yourself in a creative way, such as sending postcards over the summer! For 10 creative ideas, click here- 10 Ways To Introduce Yourself.
9. Get to know each other with icebreakers.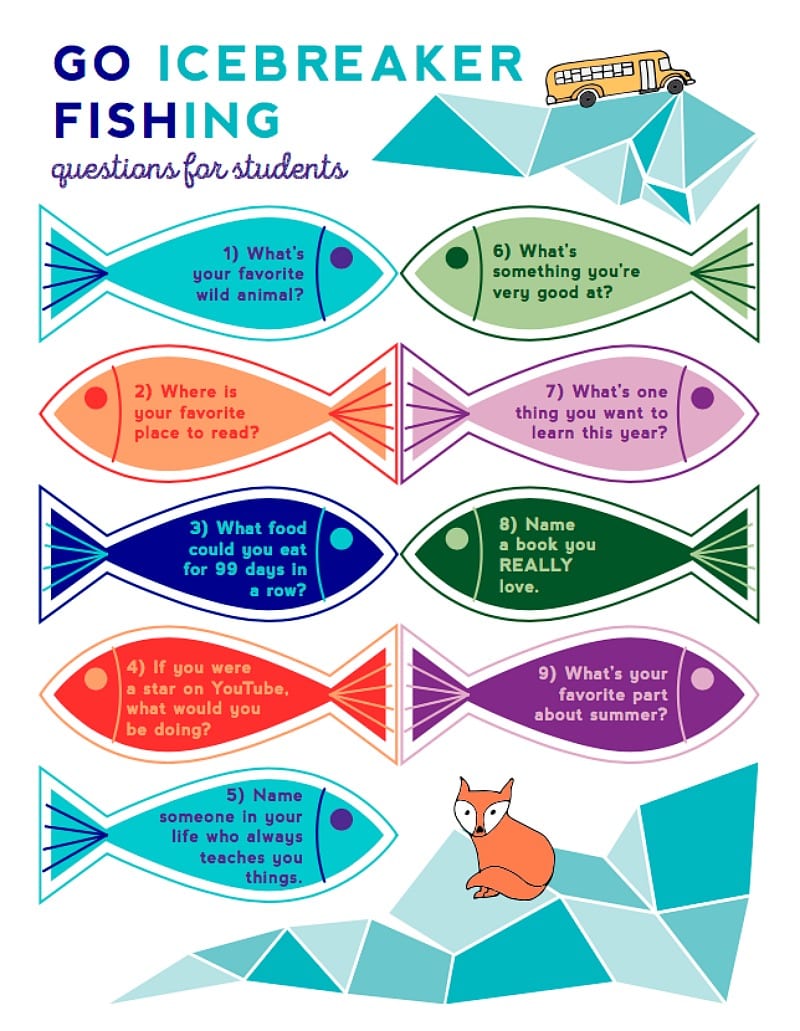 Get the kids mixing and moving as they get to know one another. Click here- for lots of great ideas, including a free download of this fun icebreaker activity.
Create a Classroom Community
10. Start the day with Morning Meeting.
Morning Meeting is an engaging way to connect with your students at the beginning of each day. An objectives and agenda board, along with a morning message, will help your students start off on the right track. For more on morning meetings, check out Responsive Classroom.
11. Establish a culture of kindness.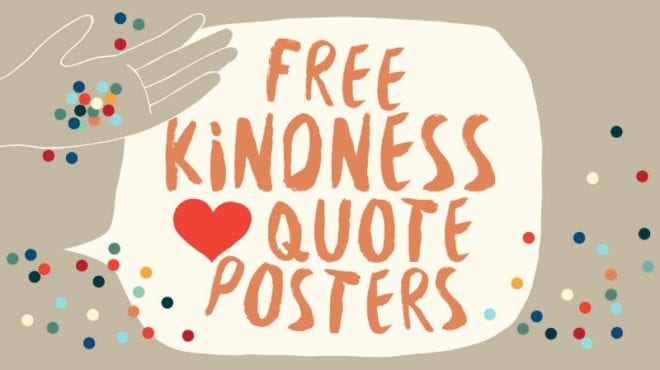 Print these free, downloadable posters to remind your students that kindness matters most of all.
12. Teach citizenship.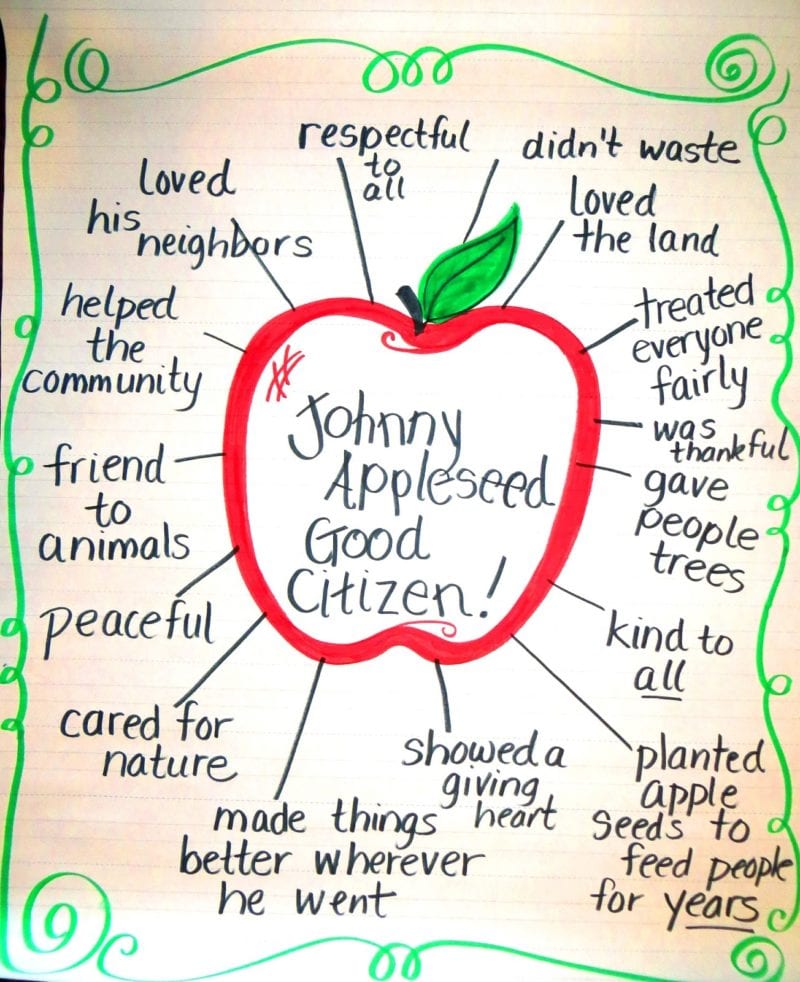 Source: First Grade Wow
Read the story of Johnny Appleseed with your students, then analyze the qualities that make Johnny a good citizen. Help students brainstorm ideas about how they might show these characteristics in the classroom and at home!
13. Teach the difference between reporting and tattling.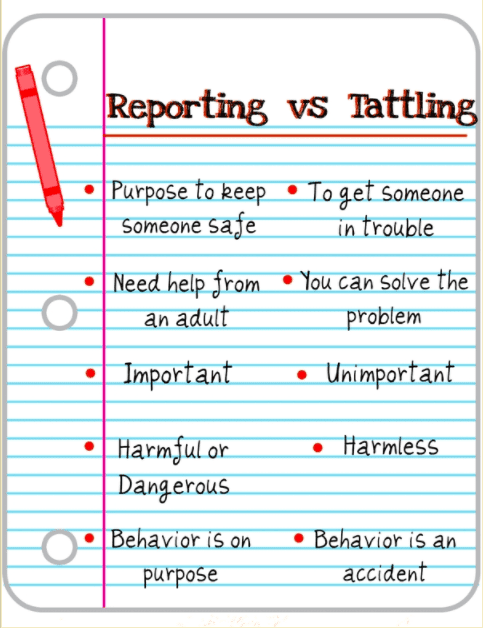 Source: Mrs. Warner's Fourth Grade Classroom
Save yourself a lot of headaches and teach your students the difference. Read Is it Tattling or Telling?
14. Assign jobs.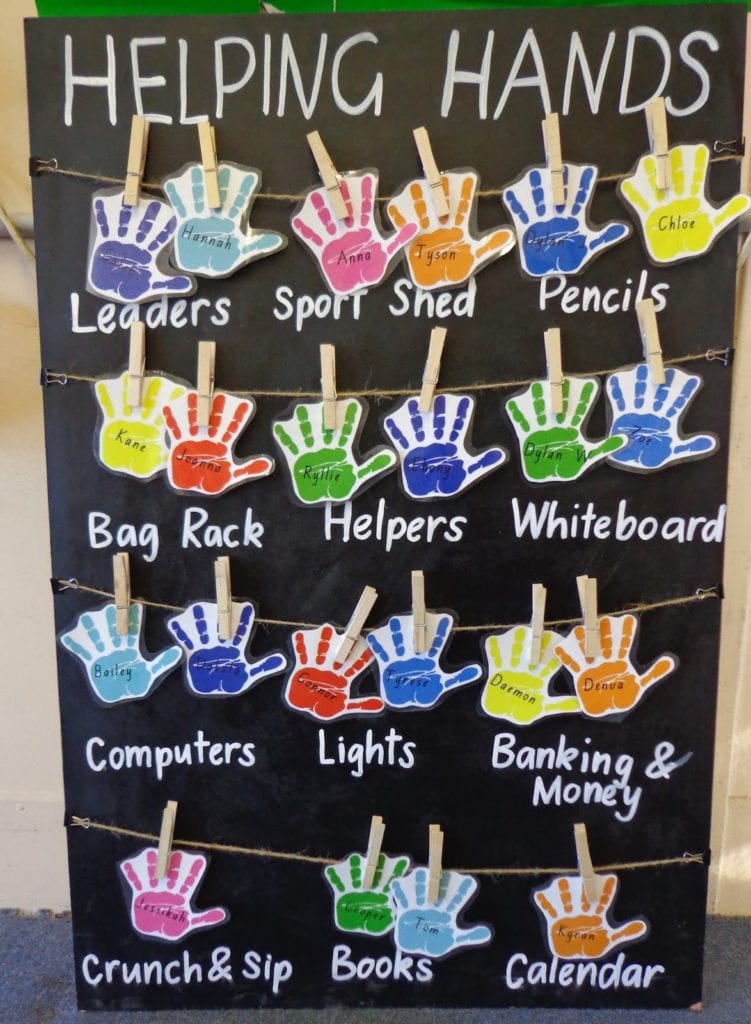 Give your students ownership of the classroom and teach responsibility by assigning jobs. Remember the saying: Many hands make light work! Here are 38 Flexible, Fun, and Free Classroom Job Charts to choose from.

Learning how to be in school and be a good friend are a huge part of being a first grader. Share stories that will not only teach lessons but start conversations.
Ideas for Language Arts
16. Incorporate daily writing prompts.
We've gathered 25 writing prompts that you can download and use to get your first graders practicing their writing skills.
17. Stock up on fun tools to use for guided reading.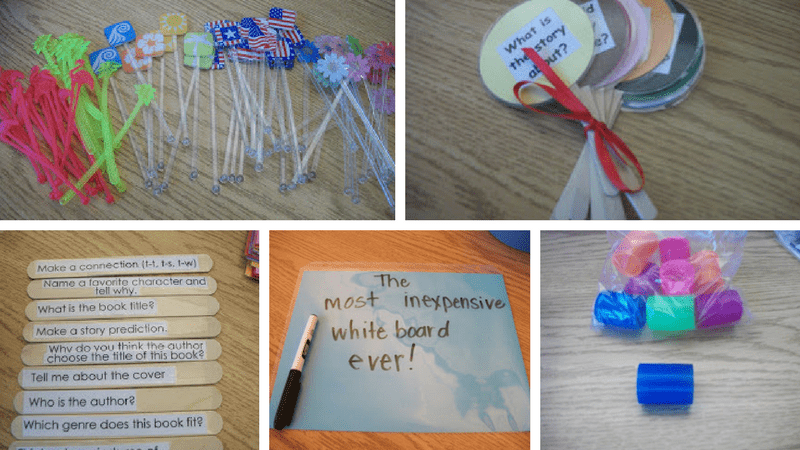 Source: Miss Van Maren's Fantastic First Grade
Learning to read is hard work! Make it as fun as you can with the great ideas found at the blog Guided Reading: A Little Novelty Goes a LONG Way.
18. Encourage critical thinking by giving your students writing prompts.
"I give students questions that take more thought than our simple carpet discussions—questions that they had to apply what they know to answer. It helps them get away from answering without thinking just to be first." —Heather M.
Here are 37 suggestions from Journal Buddies to get you started.
19. Differentiate reading instruction.
"Read Works is an incredible resource for teaching reading! At least once a week, I use a reading passage and question set in either the 'guided reading' or 'read to someone' for small group practice. I can easily differentiate because they provide the Lexile levels. I found this resource to be very helpful, especially with non-fiction to integrate science and social studies concepts into Daily 5." —Kellie P.
20. Have your students create personal word walls.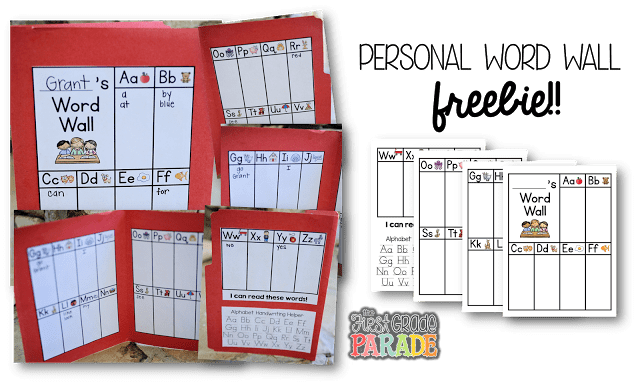 Source: First Grade Parade
Instead of having one massive class word wall, have students create and post their own personal word walls in your classroom. Your first graders will love showcasing their skills! Check out the First Grade Parade for a free personal word wall template.
21. Have fun with literacy centers.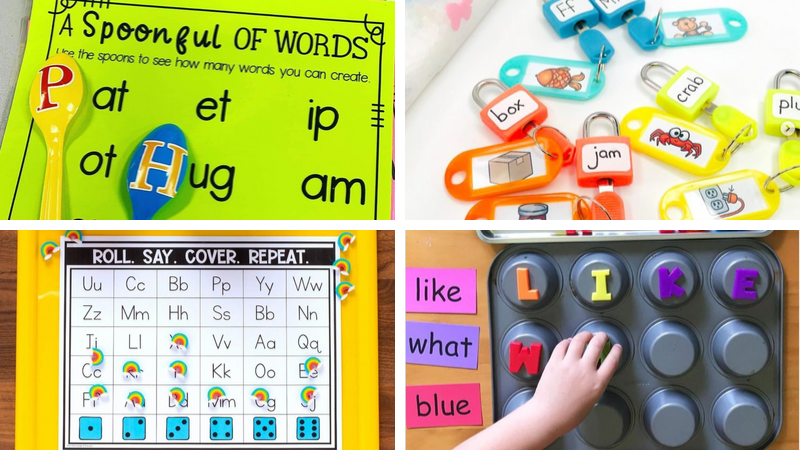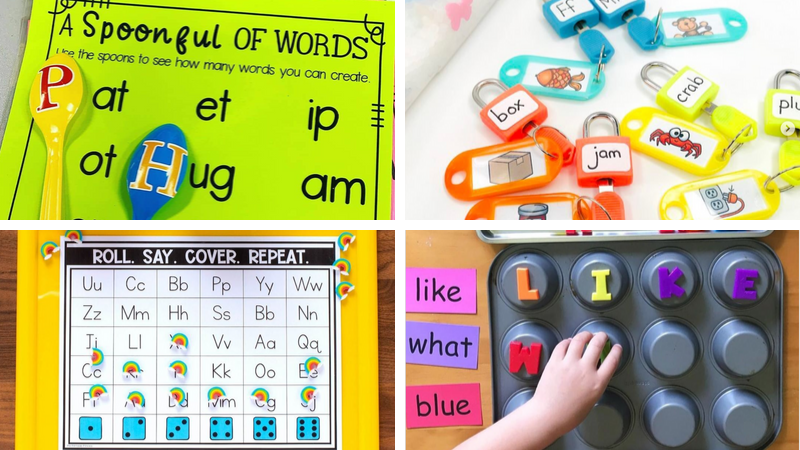 We love this big list of ideas for grades K-2.
22. Make things interesting with foldables.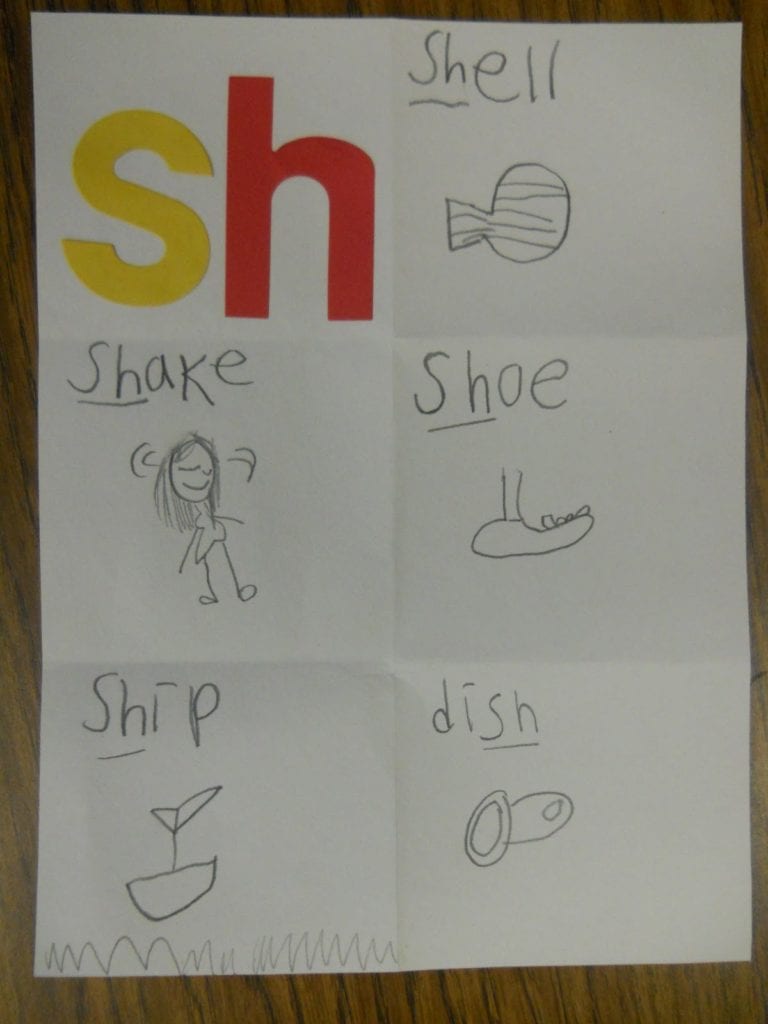 Source: Mrs. T's First Grade Class
Foldables are a great—and easy!—way to make any literacy activity more fun. The one above helps students group words with the same blend.
23. Teach them how to retell a story.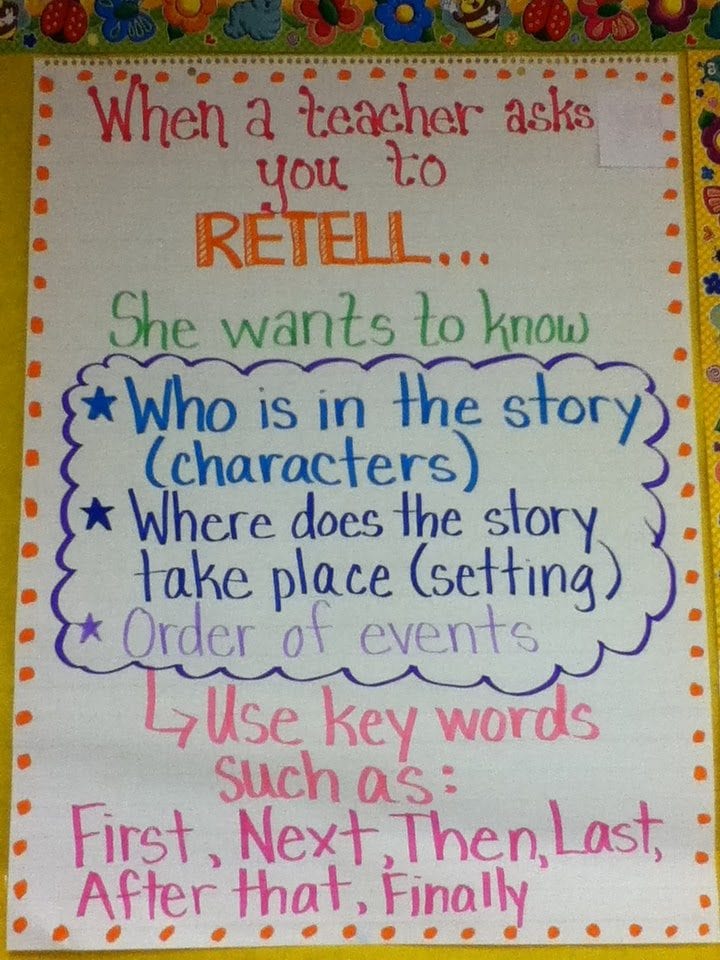 Use this reading comprehension anchor chart (1 of 25) to review stories with your first graders and strengthen their recall skills after reading.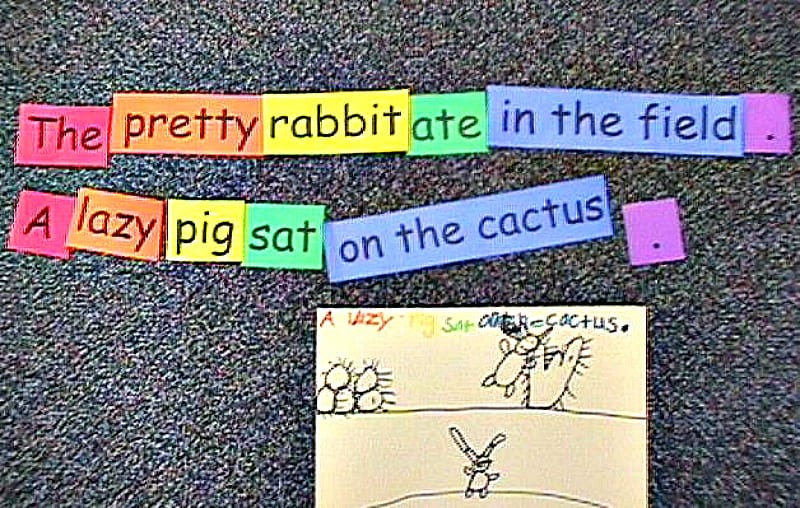 Source: DentonISD.org
Color-code parts of speech and sentence components and then have students create silly sentences to tell stories! Students can copy down their sentences and then illustrate them. And check out these other fun ways to use paint swatches!
25. Teach sight words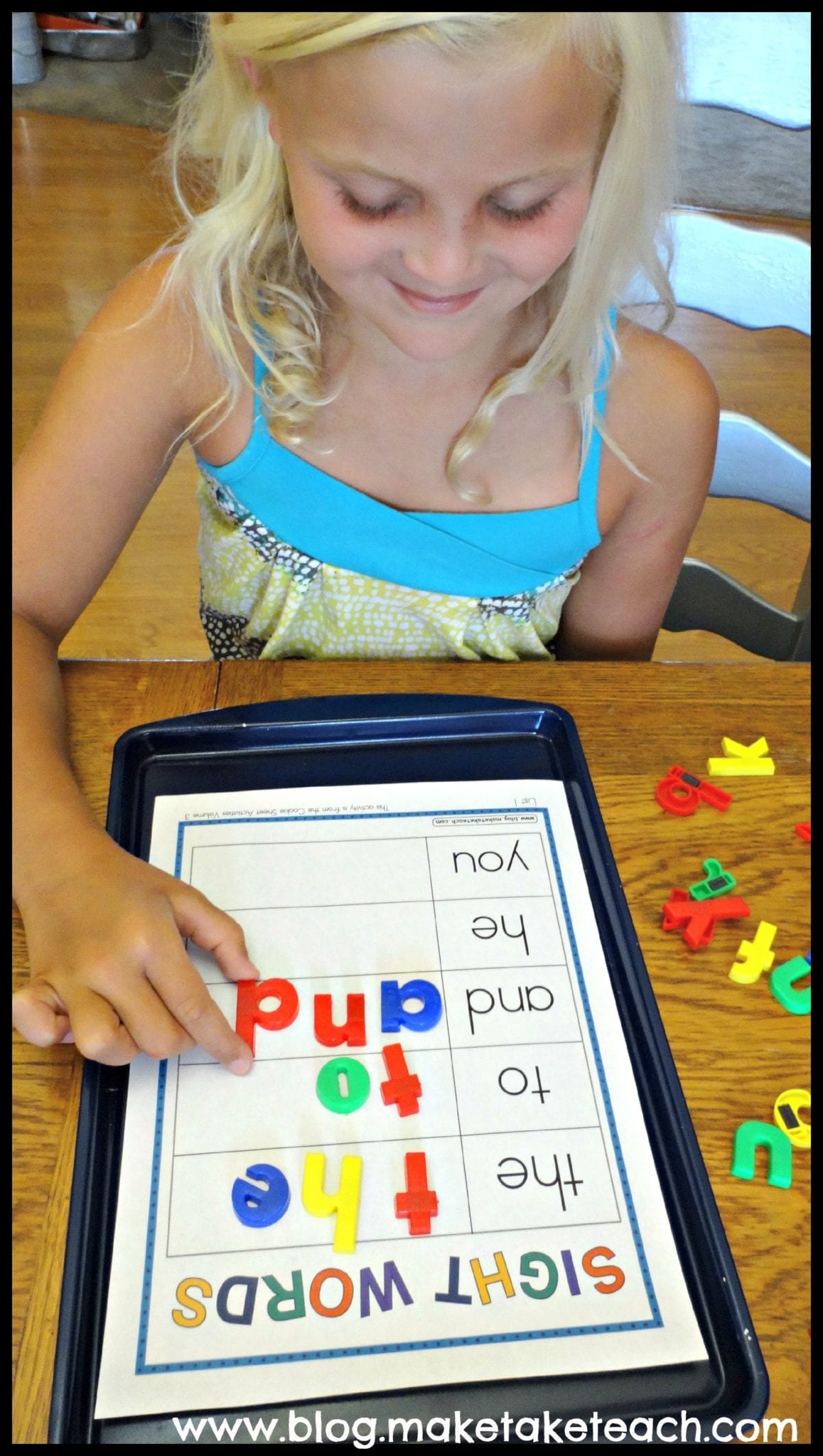 Source: Make, Take, and Teach
Check out these 43 sight word activities for the classroom!
26. Make phonics fun.
Phonics is the foundation for reading success. Breaking words into their constituent sounds helps kids understand and build their literacy skills, bit by bit. Check out these 20 phonics activities!
27. Use games to teach blends.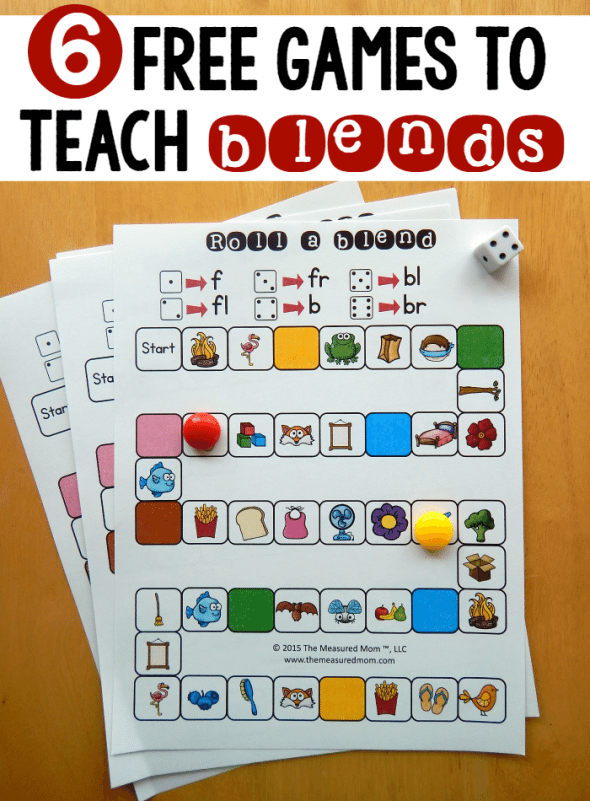 Source: The Measured Mom
Check out these six free, low-prep games for teaching blends.
28. Introduce interactive notebooks.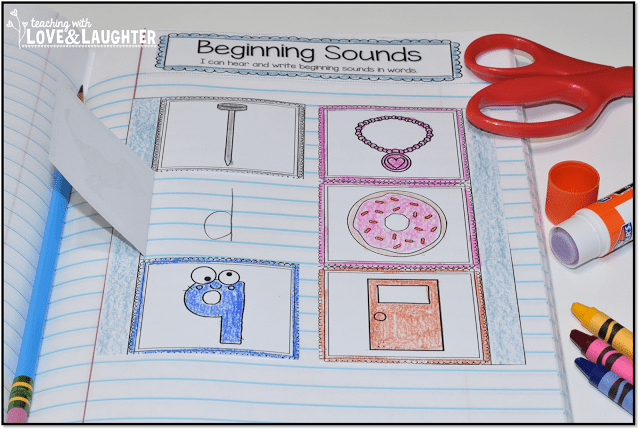 Source: Teaching with Love & Laughter
"Using interactive notebooks is a great way for children to learn and interact with new information, as well as review and practice skills already introduced. They really took pride in their notebooks and were very proud to share their work with others. Unlike completing worksheets or other printables, which go home right away, these books are always available to the children." —Lori
Ideas for Math
29. Keep your math manipulatives organized and easy to access.
"Use labels with words and pictures on bins. We take actual pictures of the materials." —Amy L.
"I give my kids the things they use the most, like counters and linking cubes, in a Ziploc baggie to keep in their desks. When we need them, I just tell them to take out their math tools. It saves a lot of time passing them out every time they are needed." —Diane D.
"I put my manipulatives into clear shoe boxes and label them with words and pictures. I have a set of shelves in my back room where the kids can access them." —Kelly H.
"Save baby wipe tubs and give each student their own set of place value books to keep in the desk." —Ann M.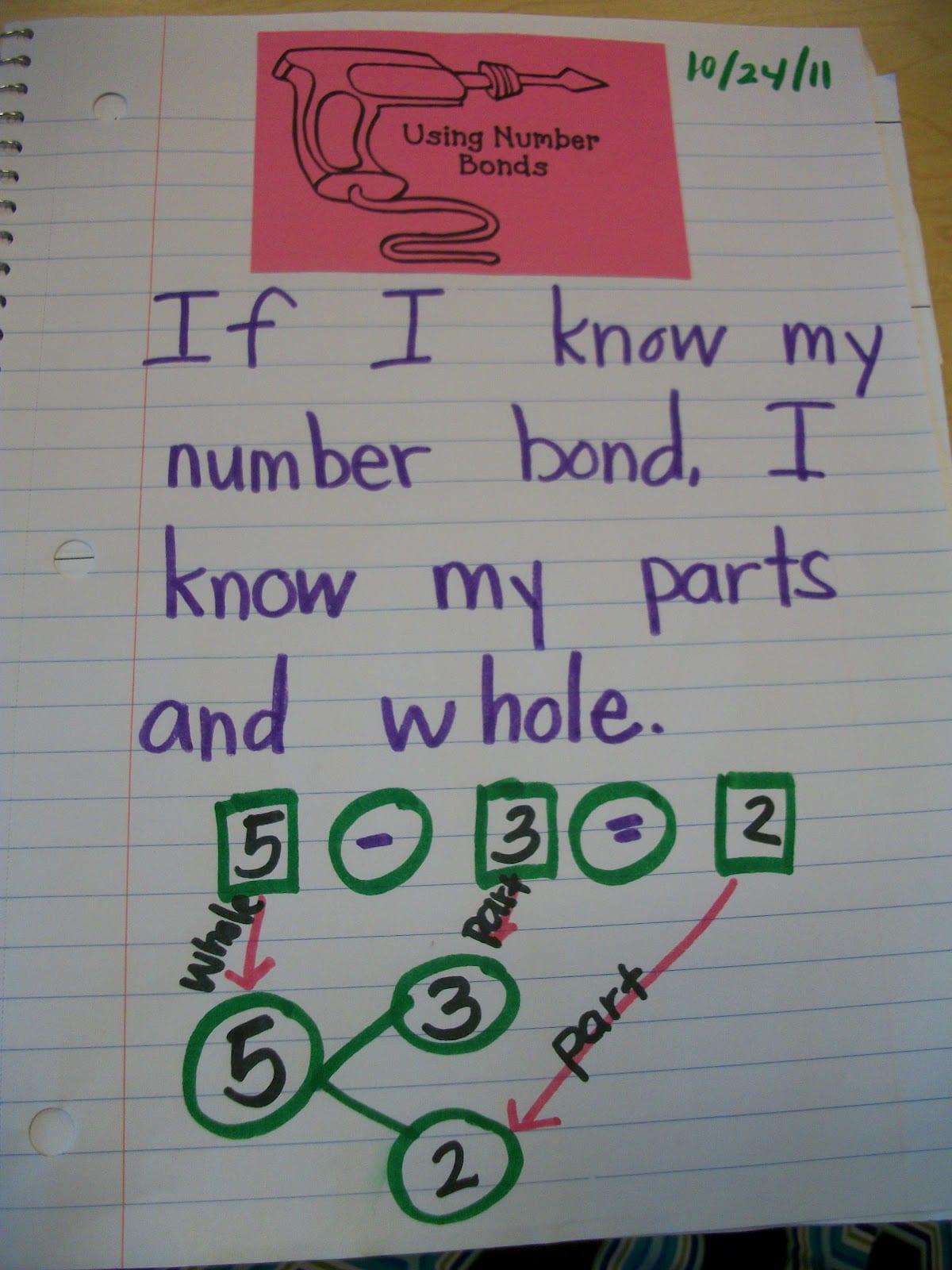 Making a chart that connects the numeral, word, and picture for each number will help reinforce number concepts with your little ones. Check out this blog for more great examples of how to use math journals!
31. Differentiate math work by using online resources.
There are tons of online resources for differentiating math work. For a huge list of suggestions, check out our best math websites for teaching and learning math.
32. Play math games.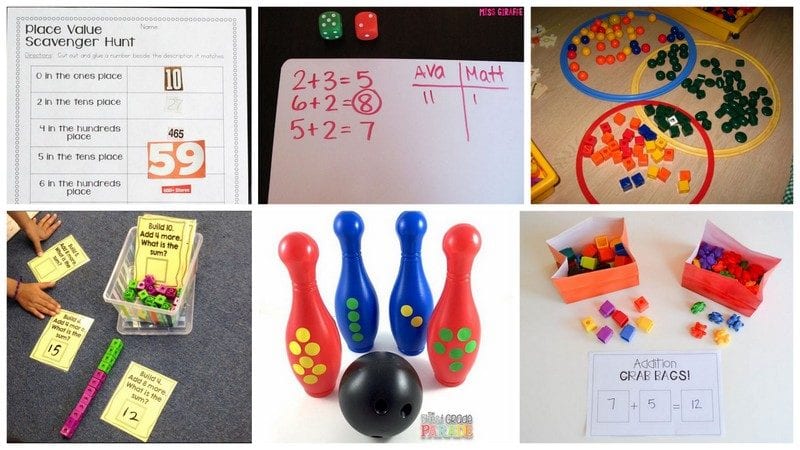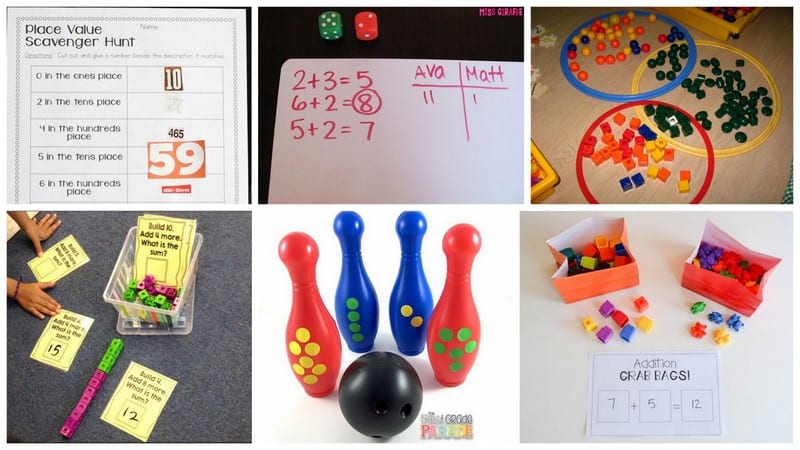 Here's a big list of math games that are just right for first grade.
33. Watch math videos!
Making math more engaging for kids can be difficult. But teaching math will be anything but boring when you introduce students to some of our favorite subtraction and addition videos on YouTube.
34. Teach shapes.
Learning shapes is one of the earliest concepts we teach kids. Shapes ready them for geometry in the years ahead, but it's also an important skill for learning how to write and draw. Get started with these activities.
35. Count the days of school and celebrate when you reach 100!
There are so many different fun ways to celebrate the 100th day of school. We've got a whole collection of activities for you!
36. Have "Number Talks."
You can build mental math and computation skills with Number Talks.
"Our students need to be able to explain their thinking on math assessments, so this is a perfect way to get them comfortable with reasoning aloud. They learn to explain clearly and logically. It also helps them to see their errors since you write down the problem exactly the way they explain it. If they can't see the errors, other students can help clarify. It also gives value to working problems in different ways. As children develop a deeper number sense, they decompose and manipulate numbers in more complex ways." —Stephanie W.
37. Get to know the hundreds chart with number puzzles.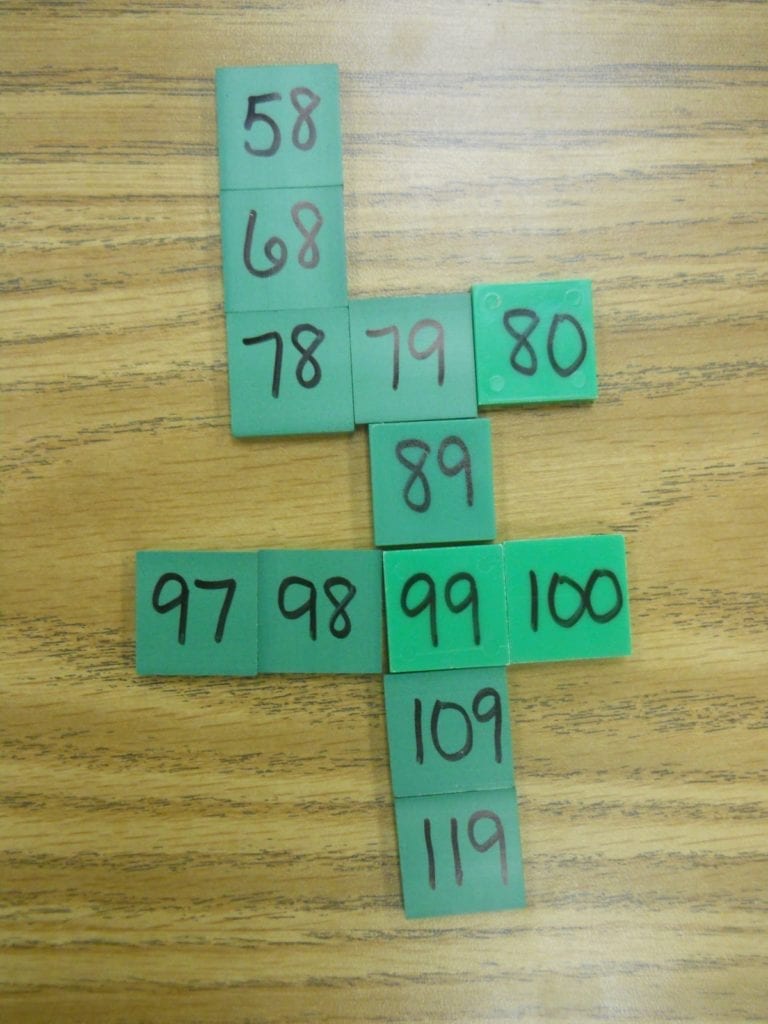 Source: Mrs. T's First Grade Class
These easy-to-make games will help students see what one more, ten more, one less, and ten less look like.
Ideas for Science
38. Create "apple eruptions."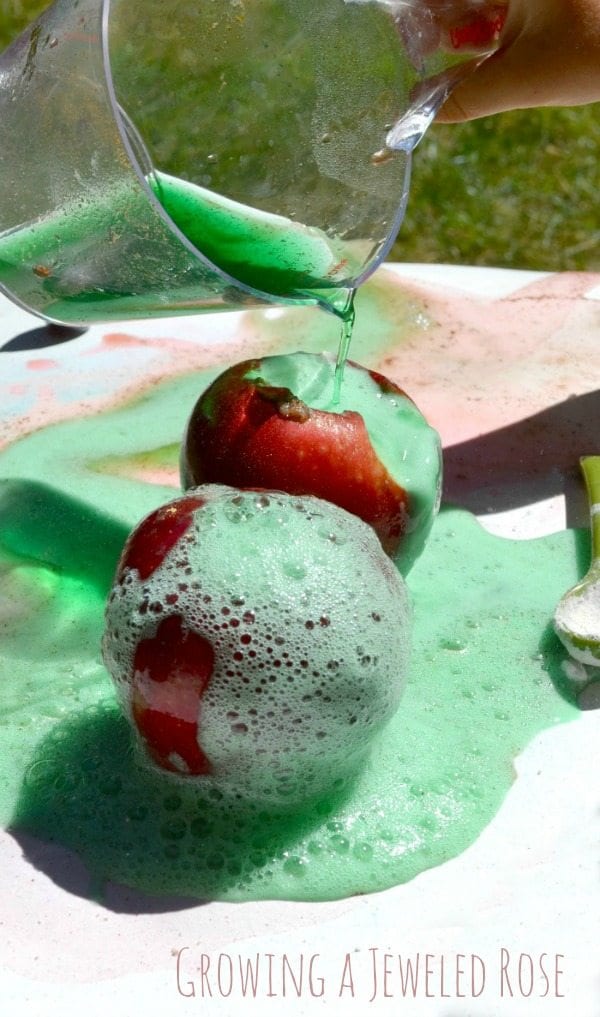 Source: Growing a Jeweled Rose
Conduct an apple-volcano science experiment. Fun and yum! Click here for step-by-step instructions. For more apple science activities, click here.
39. Get hands-on with science.
Science is the perfect subject for kids to get down and dirty. Try these 25 first grade science projects for inspiration.
40. Try daily STEM challenges.
These STEM challenges are designed with your first graders in mind. Try one each day or each week to get their minds thinking outside the box.
41. Use a science journal to teach the seasons.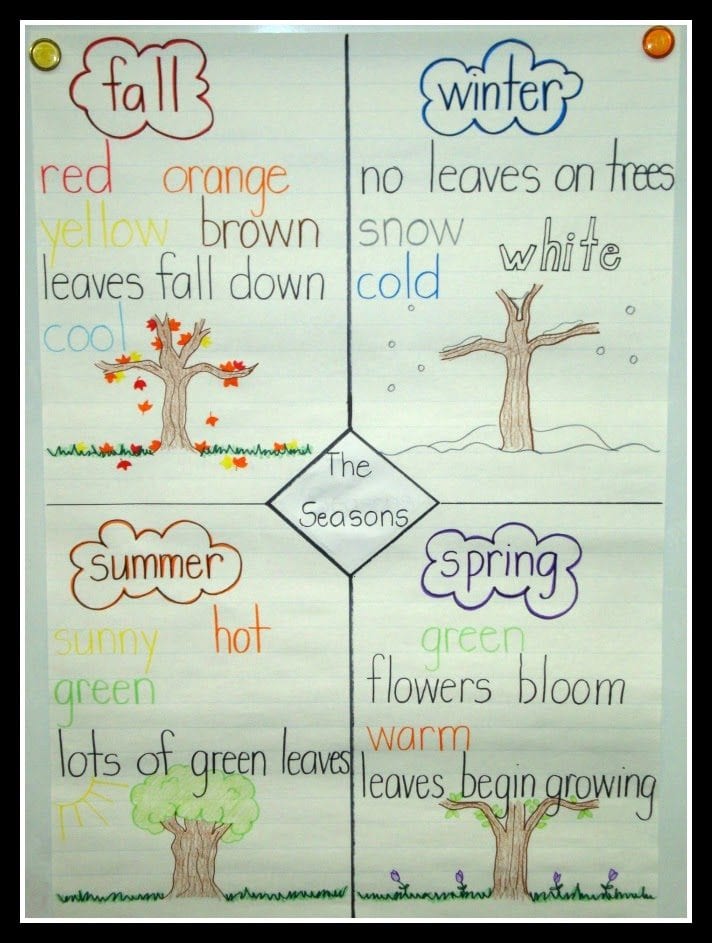 Source: Today … in First Grade
Students will draw trees in each season, describe what they wear during the different seasons, and journal about what makes winter, spring, summer, and fall different as they fill in this science journal.
42. Look for resources from an old friend.
Check out these awesome lesson plans for science in the kitchen, on the playground, and throughout the day from PBS Kids.
43. Take a field trip!
There's something about the first grade field trip that's so special. We've rounded up our favorite first grade field trips that students will remember forever.
Ideas for Classroom Organization
44. When it comes to decorating your classroom, less is more.
Anyone teaching 1st grade is going to have the urge to decorate, but check out these HELPLINE readers' thoughts on why simplicity rules.
"I have learned to start with a blank slate and let the students 'decorate' the classroom through the year with their work." —Sarah H.
"I made the mistake of covering every wall with decor and then had nowhere for anchor charts!" —Ann M.
"You will see people go overboard with themes. Don't bother! I saw the cutest classroom where the teacher had bought a pack of plain borders with various colors, and she just alternated the colors on the wall with alternating butcher paper. Go simple." —Suzanne H.
Check out our minimalist guide to classroom design.
45. Keep paperwork organized with labeled, three-drawer bins.
Source: Learning to Teach
No more messy piles everywhere. Hurrah! For more organization tips, read 10 Teaching Hacks That Make You Go Duh!
46. Create classroom mailboxes for students.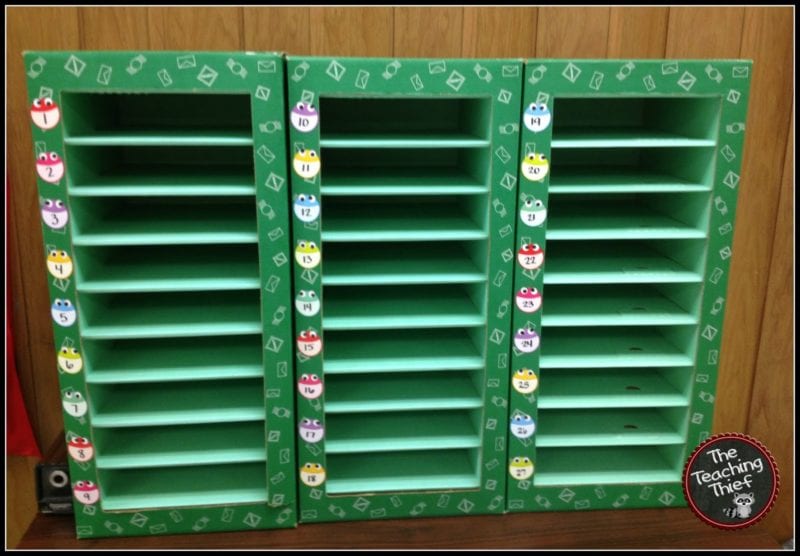 Source: The Teaching Thief
Use mailboxes to return work and have students write and deliver letters to each other! Personalize them to match your classroom decor.
47. Make space-saving seats for your centers.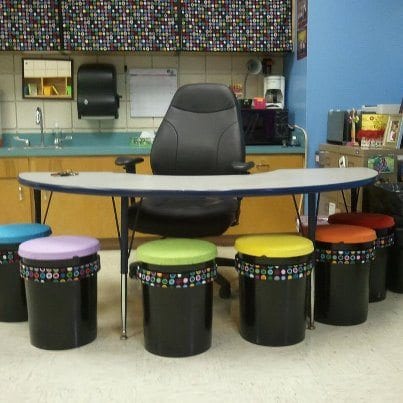 Source: DIY for Life
These adorable seats can double as buckets for easy materials storage.
48. Use "absent folders" to help students catch up when they return to school.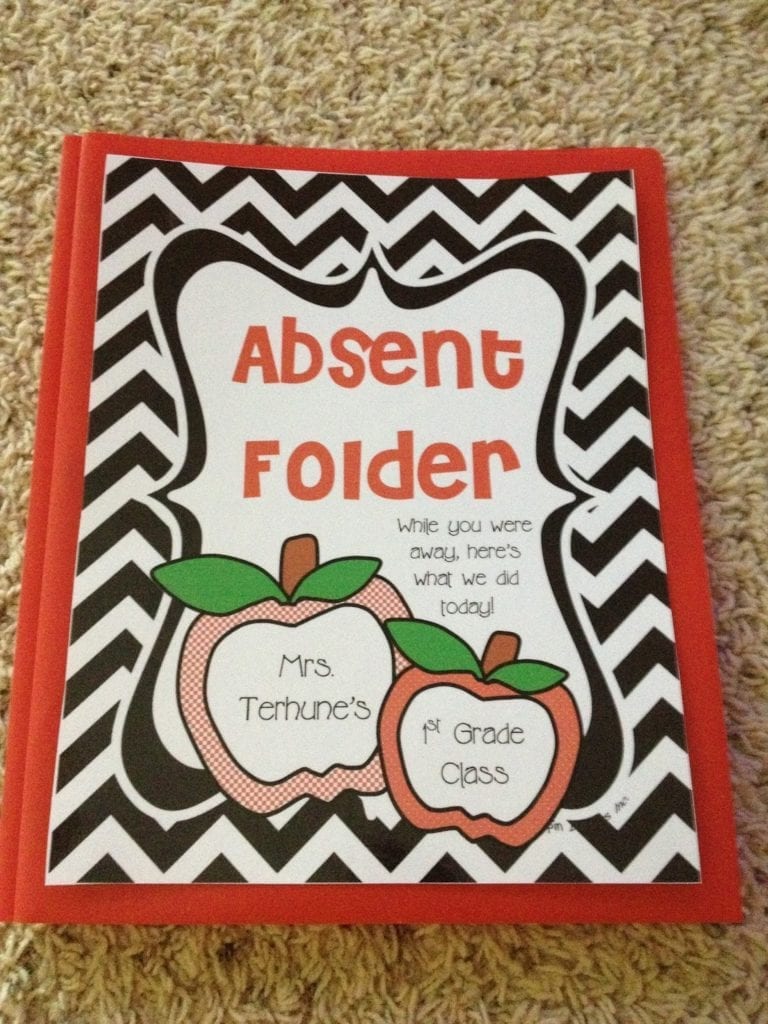 Source: Teaching with Terhune
Partner students at the beginning of the year. When one student is absent, have their partner put work in the Absent Folder for them. When the student returns to school, send the folder home. Total time-saver!
Ideas for Classroom Management
49. There's a chart for that.
These classroom management anchor charts tackle every possible issue.
50. Use a snappy call-and-response to get their attention.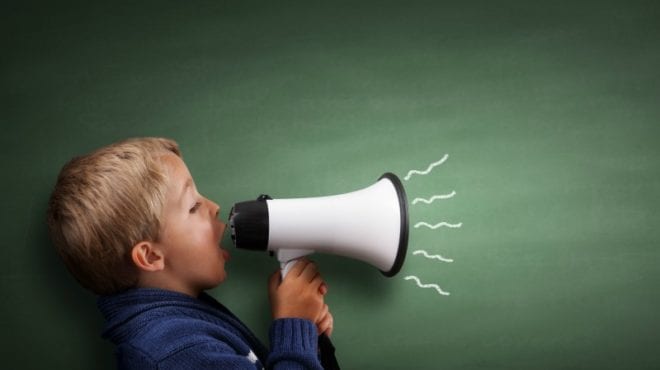 For 27 fun ideas for quieting a noisy class, click here- good attention grabbers.
51. Take a brain break.
Check out these 25 brain break videos, gathered just for your first graders.
52. Reduce stress during dismissal.
Dismissal time doesn't have to be chaotic! Check out these great tips on handling dismissal time.
53. Let students pick their own seats (carefully).
Teaching 1st grade is part of easing kids into the school experience. Let them practice their independence with these tips for letting students choose their seats.
54. Have students use colored sticky notes to communicate their understanding of a concept.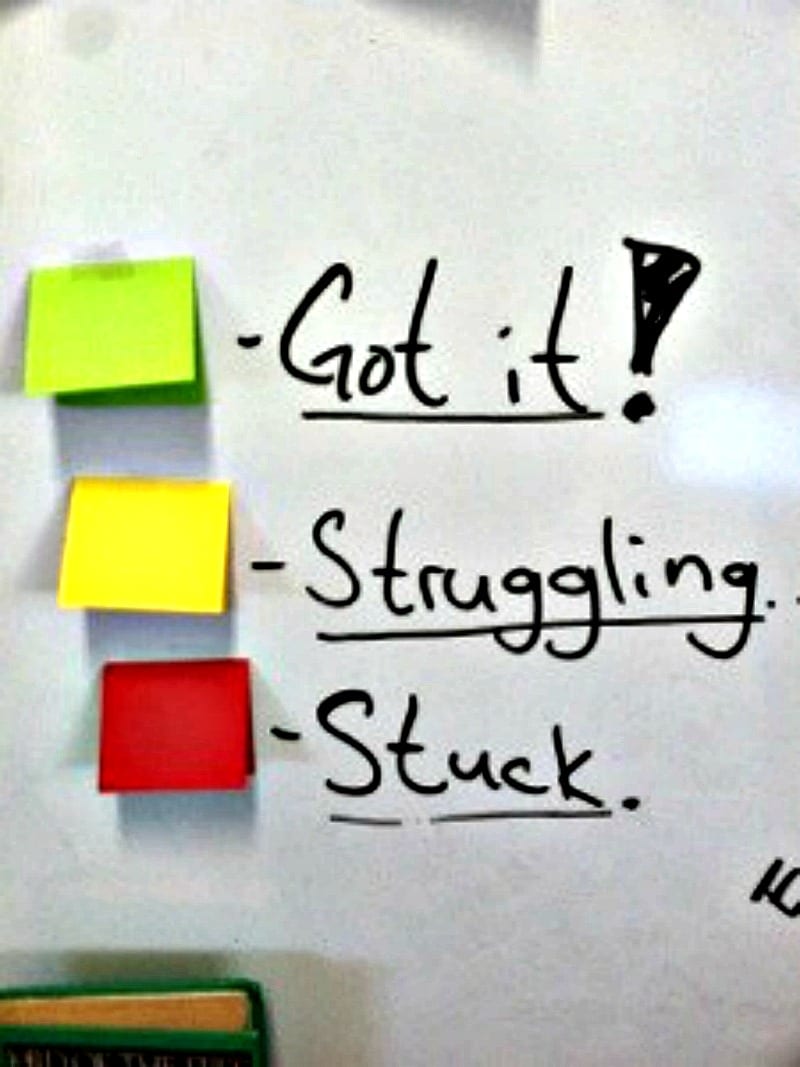 Source: Love, Teach, Inspire
Students signal if they're struggling, stuck, or solid on a concept they're learning! You can use sticky notes or colored index cards.
55. Stop the pencil-sharpening interruptions!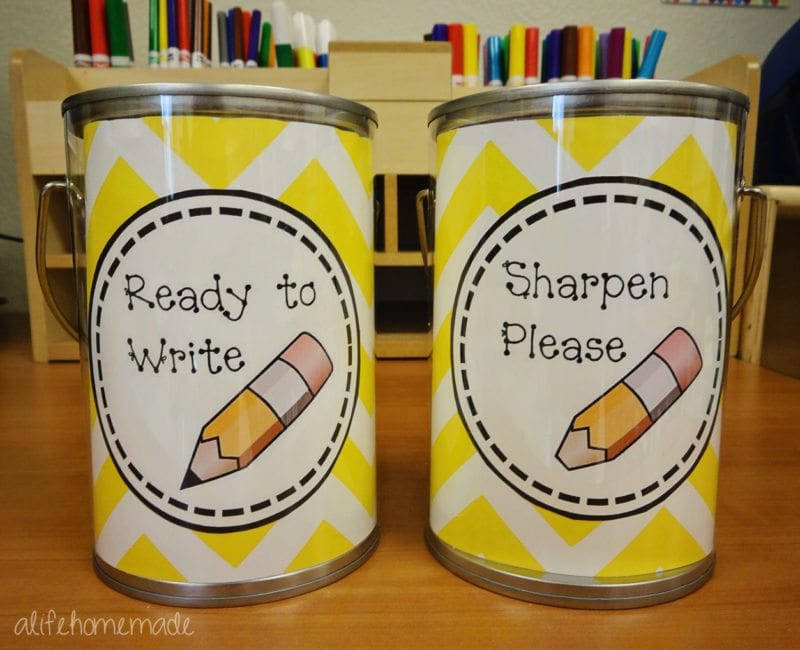 Source: A Life Homemade
Students can drop their dull pencils in the Sharpen Please tin and take a sharpened pencil from the Ready to Write tin. Add pencil sharpener to your list of classroom jobs, and lessons will never be interrupted by an errant sharpener again! —A Life Homemade
Other Ideas:
56. Use all the anchor charts.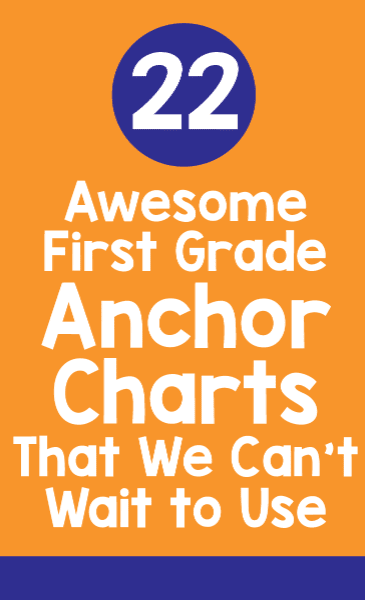 Here are 22 anchor charts just for first graders!
57. Build relationships with your students' parents.
Read 11 Teacher-Tested Ways to Make Your Classroom Parents Adore You.
58. Make art.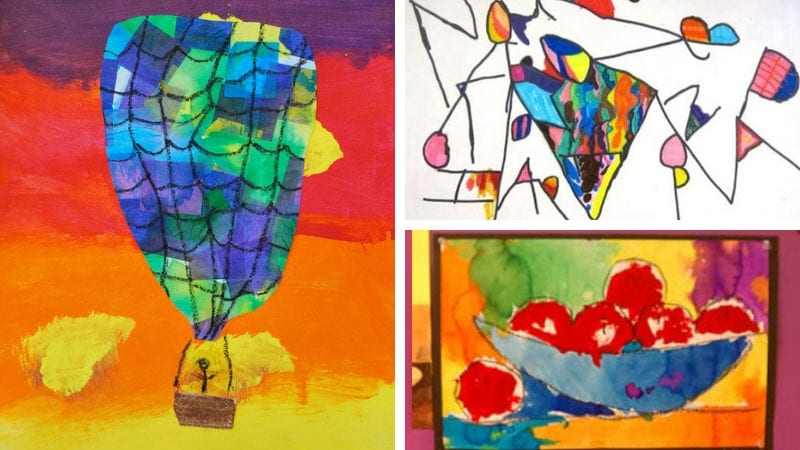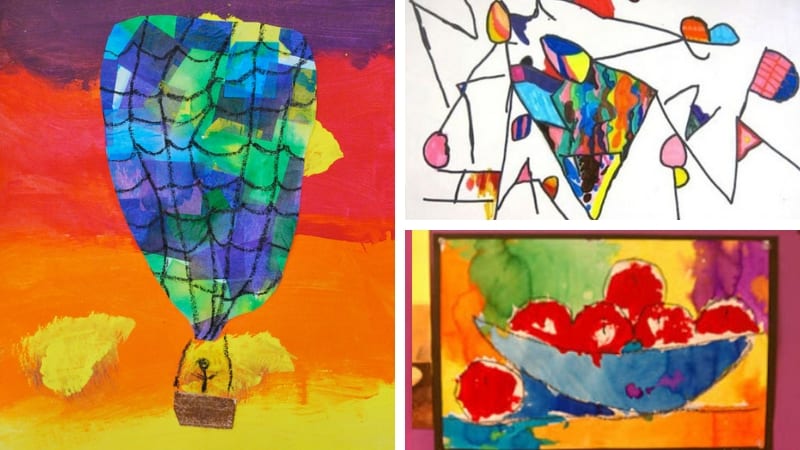 These 45 art projects are just right for first graders.
59. Set the tone for work time with background music.
From Piano Guys to Afrobeat to The Jingle Punks Hipster Orchestra, you can find a Pandora station for every occasion.
60. Play with your kids!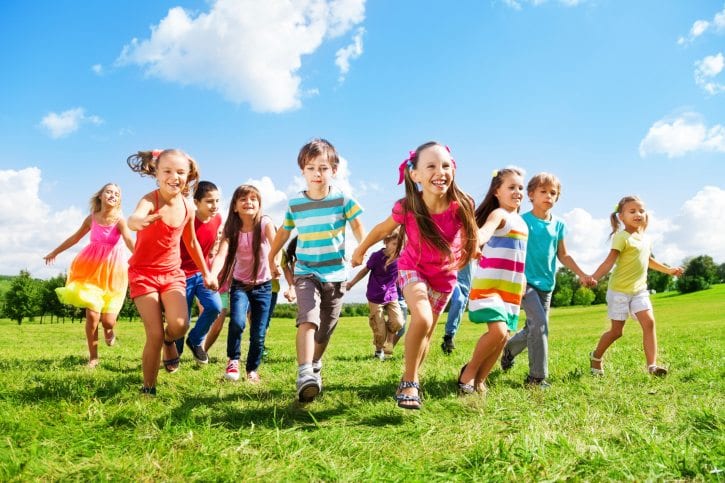 First graders are hilarious! Don't forget to have fun with them. Here are 17 old-school recess games you can teach your students.
What are your top tips for teaching 1st grade? Come in share in our WeAreTeachers HELPLINE group on Facebook.