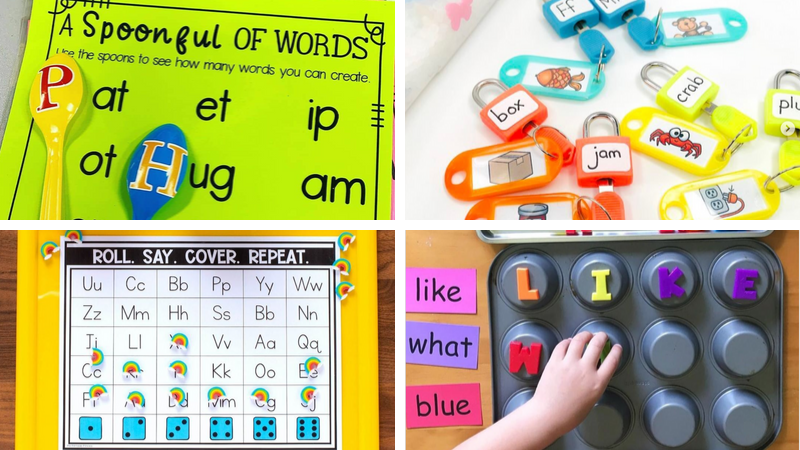 Having a cache of go-to literacy activities that are meaningful, flexible, and able to be completed by students independently is a teacher necessity. The best literacy centers build autonomy, help students practice key skills, and free you up to teach small groups or give support elsewhere. We've pulled together this long list so you can have plenty of simple options at your fingertips.
1. "Feed" the mini trash cans.
Whether you ask students to sight words, letters, pictures or words by phonetic pattern, there's just something about a trash can with a swinging lid that makes the task much more exciting!
2. Spell words with magnetic letters.
Yes, this is an old standby, but wait … a muffin tin?! So smart.
3. Write before-and-after reading sticky notes.
We love this idea for recording prior and new background knowledge on a topic, but it's easily adaptable to other comprehension strategies, too.
4. Roll. Say. Cover. Repeat.
Make it a race to see which column "wins" or make it a fill-the-board challenge. Here's another flexible upgrade to traditional bingo games.
5. Roll & read words.
For another low-prep center using dice, try this idea for word reading—nonsense or real! Just copy different lists on different paper colors to differentiate.
6. Read it and keep it.
Yet another take on a dice-rolling center, this one is so easy to prep and customize for different kiddos' needs.
7. Unlock learning with locks and keys.
What student wouldn't want the chance to open a bunch of padlocks?!
8. Find letters or words in a sensory bin.
Sensory bins are awesome for play, science, and more, but if you're struggling to fit them into your day, turning one into a search-and-find literacy center is a win-win option!
9. Race the fidget spinner.
Make fidget spinners work for you with this fun idea that's adaptable for any words.
10. Practice writing on magnetic drawing boards.
Whether your students need practice writing individual letters or words, adding guidelines with Sharpies is an amazing teacher hack!
11. Level up tic-tac-toe.
This spin on a classic partner game is adorable, effective, and so easy to prep!
12. Spoon up some phoneme manipulation.
Turns out a plastic spoon is perfectly sized and shaped to help little hands swap beginning letters!
13. Stack cups with a plan.
This would be perfect for synonyms or matching vocabulary words to pictures, too.
14. Take your word work to the wall.
This setup makes it super easy to update words as needed.
15. Solve a hands-on word scramble.
Magnetic letters are perfect for moving around while trying to solve a scrambled word. Having each word in its own box keeps it organized.
16. Play Snakes & Ladders.
You can't go wrong with this literacy-themed version of the classic board game.
17. Use a punctuation "surgery kit" to edit sentences.
Because healing erroneous sentences may help heal the world. (P.S. Including Band-Aids is the perfect touch!)
18. Read in different voices.
We love this idea for fluency practice with a familiar poem!
19. Follow a color code using dot paints.
Mess-free painting with a literacy twist? Sign us up.
20. Play Bear Cave.
You can't get much simpler than the setup of this crowd-pleasing partner game.
21. Respond to a book using loose parts.
Kids this age still need to play! Set out loose parts and mats for them to answer a reading response question creatively, like this one for "What do you love about fall?"
22. Use props to practice retelling a familiar story.
Support reading comprehension with a simple storytelling center tied to a classroom read aloud.
23. Read it and draw it.
Practice reading phonics-based or vocabulary words and emphasize meaning.
24. Find it and hole-punch it!
Find letters or words on a list and mark them with a tool that children love. (All that squeezing is great for building hand strength, too.)
25. Spell with nuts and bolts.
For another way to mix word work and strength building for little fingers, just hit the hardware store.
26. Mark answers with clothespins.
Clipping a clothespin to an answer on a card engages students, avoids a paper worksheet, and acts as yet another fine motor booster all at once!
27. Make word study magical with white crayons.
The simple thrill of writing words or word parts in white crayon and coloring to reveal the "magic" writing never gets old.
28. Label it.
Have students label the components of a picture while they work on invented spelling or, as above, using descriptive language.
29. Build words with pool noodle segments.
The laundry basket makes this a self-contained and portable activity.
30. Use sound knowledge to crack the code.
Secret codes make anything more fun. Leave messages in pictures for children to solve using their knowledge of letters and sounds.
31. Practice segmenting and blending with slinky sounds.
Use the analogy of the classic toy that grows and shrinks to help children practice stretching words to spell them or blending sounds to make words.
32. Drive through sounds.
This road tape is super cool, and the "driving" action really gets kids blending.
33. Build sentences at a pocket chart.
Including environmental print and picture cards allows even emergent readers to make interesting sentences!
34. Mix and fix sentences.
Work in your content area vocabulary for an extra boost of learning!
35. Build compound words with blocks.
Ask students to build real compound words and then challenge them to spell and draw the silliest made-up ones they can think of, too.
36. Or, use blocks to build contractions.
Clear up confusion on this tricky topic once and for all with a hands-on approach.
37. Play Vocabulary Pictionary.
This classic game works so well as a partner center.
38. Hunt for words in an authentic text.
Set out books, a piece of titled chart paper, and a stack of sticky notes, and you're good to go for an engaging and authentic center activity. To differentiate, offer a few different book choices.
What are your favorite literacy centers for K–2 students? Share them over at ourWeAreTeachers HELPLINE group on Facebook.
Also, don't miss: 40 Creative and Simple Sight Word Activities for the Classroom