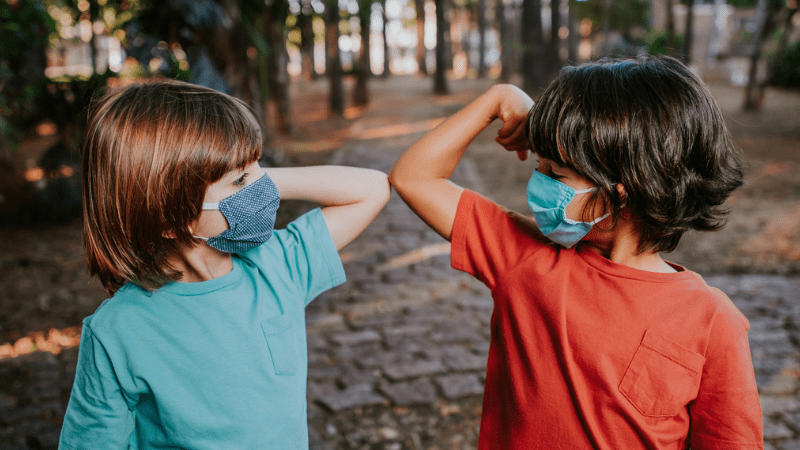 One of the most important lessons kids learn in elementary school is how to be a good friend. Here are 12 friendship videos that use compassion, wisdom, and humor to tackle what it means to be a good friend. Use them to jumpstart conversations with your students as you build your classroom community.
1. A Funny Video on Friendship by Laughter Chapter
Sometimes it's hard to be friends with someone when you're competing with them. Watch how these two funny animals figure out how to help one another, and in the process become friends. (2:35)
2. Friendship Soup by The NED Show
Kids learn about the most important ingredients (kindness, honesty, and respect, to name a few) that make up a tasty friendship. (3:13)
3. Elmo and Rosita Teach Friendship by Sesame Street
A fun video for little learners that tackles the basics of being a good friend. Elmo and Rosita list helping each other, sharing, doing things together, and (of course) being silly together. (2:45)
4. What Makes a Good Friend by Action for Children
This charming group of British schoolchildren shares their thoughts about the enduring characteristics of friendship. (2:01)
5. A Short Story about True Friendship by Toon Explainers
A young boy is left out on the basketball court and feels sad. But soon he finds a friend and together, they make their own fun. (1:07)
6. Kindness is a Muscle by UniversalKids
Sing along with this catchy tune that teaches about one of the key aspects of friendship: kindness. "Kindness is a muscle, work it out, gotta hustle. We kids will show you the way, gotta flex it every day." (2:54)
7. Kindness is Cooler, Mrs. Ruler by Best Friends Foundation
Your students will learn a valuable lesson about friendship with this read-aloud of Kindness is Cooler, Mrs. Ruler by Margery Cuyler. When five of Mrs. Ruler's students are caught being unkind to their classmates, they're kept in for recess. Their teacher assigns them five acts of kindness to share with the class. (9:25)
8. Use Polite Words by WonderGrove Kids
One of the best ways to make friends is to speak kindly and use your manners. This cute video includes sign language instruction to teach kids polite words. (2:54)
9. Friendship by Mountain Camp Woodside
Campers share inspiring thoughts about friendship, in their own words. (4:07)
10. How to Make Friends by The Learning Patch
Adorable preschoolers share words of wisdom about how to make friends. It's "kindness, empathy, compassion" and of course, sharing your Cheetos with everyone! (2:49)
11. Children Explain How You Make Friends by SWNS Digital
Kids explain the best ways to make a friend. Some of their advice? Start with a hello, smile, ask questions, listen, share, and more. (2:13)
12. Be a Good Friend by GoNoodle
This sweet video teaches kids that friendship is not about a big thing, it's about a million little things you can do every day. (1:37)
How do you teach kindness in your classroom? Do you incorporate friendship videos? Come share in our WeAreTeachers Helpline group on Facebook.
Also, check out 23 Must-Read Anti-Bullying Books for Kids.