Online timers are a valuable tool for keeping students on track. You can use them during work time, transitions, or just to give students a short break. We've rounded up 25 fun online timers for the classroom to try. Many come from sources that have different options available, including customizable time segments.
1. Baby Yoda
Why race against the clock when you can race against Baby Yoda?
2. Dancing Pirates
These sailors know how to get down. Great for motivating kids to keep it moving during transitions.
3. Teacher Mouse
This teacher mouse shows off his best happy dance as the clock ticks down.
4. Watchful Canine
This big guy keeps a close eye on students and lets them know with a bark when time's up.
5. Active Kids
Cruise around town with this countdown video and check out what all the people are doing.
6. Creative Cat
While your students get their work done, this creative cat works on his masterpiece. When the timer goes off, he reveals his painting.
7. Confetti Bomb
Cue the Mission Impossible music, then watch the fuse burn as the timer ticks down.
8. Puppies!
Awww.
9. Kittens!
But wait, there's more!
10. Minions!
Watch as those rascally Minions, Olaf the snowman, Sven and Kristoff, and other friends count down the time.
11. Live Aquarium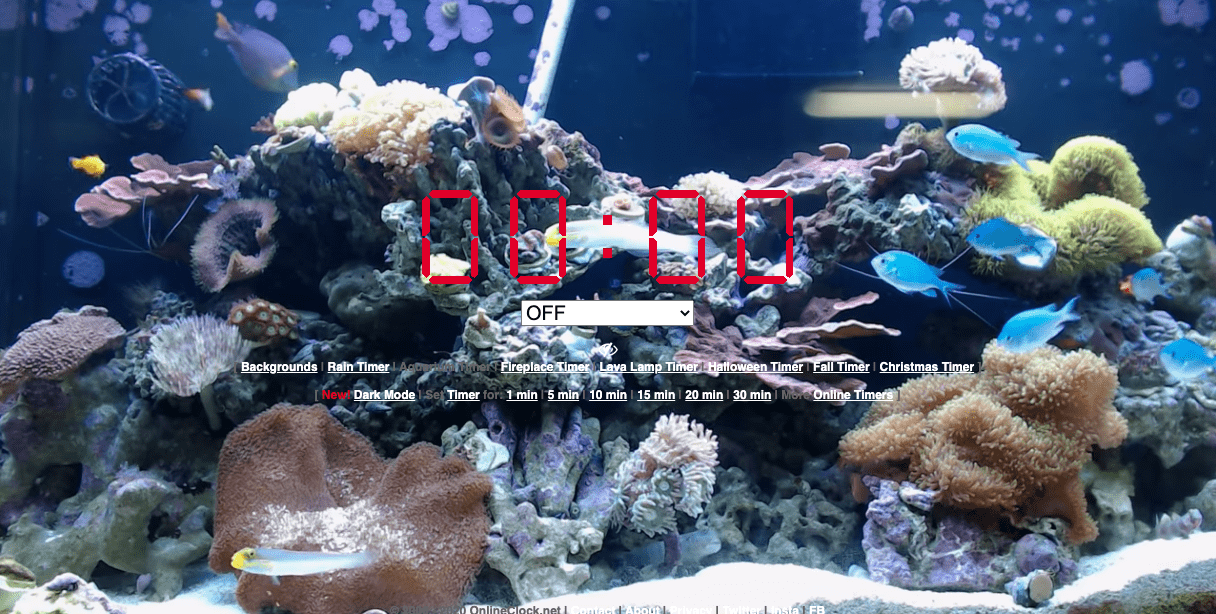 This timer from OnlineClock is customizable. It lets you choose your time period and change the background. After watching the fish for a while, try the lava lamp, fireplace, or rainy day.
12. Rollercoaster
Take your students on a wild ride with this thrilling online timer.
13. Signs of Autumn
Beautiful seasonal scenes- apples, pumpkins, and colorful fall trees- scroll across the screen.
14. Falling Leaves
Autumn trees lose their foliage as leaves flutter off the trees bit by bit. Time's up when the owls hoot.
15. Halloween Fun
Spooky music plays as Halloween scenes roll across the screen.
16. Trick or Treat
Trick or treaters in costume parade through town as the timer counts down.
17. Thanksgiving Day
The stage is set for Thanksgiving as the timer ticks toward zero and ends with a raucous turkey gobble.
18. Turkey Trot
Turkeys prance across the screen on their way to a Thanksgiving feast.
19. Winter Fun
As snowflakes fall, a playful snowman comes to life.
20. Snow Pup
Snow falls gently while a cute puppy entertains everyone with tricks.
21. Santa Dance
Your students will love watching the time go by as Santa and his elves boogie down.
22. Valentines Day Heart Race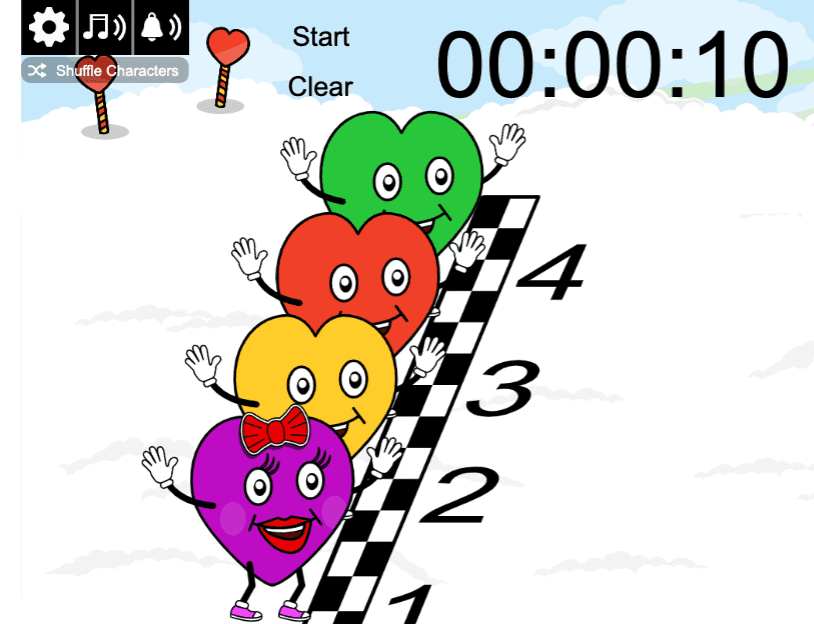 A customizable timer from Online Stopwatch. Customize racers' numbers and logos and even give them names. Set the timer for however long you need, and off they go!
23. Springtime Easter Egg Race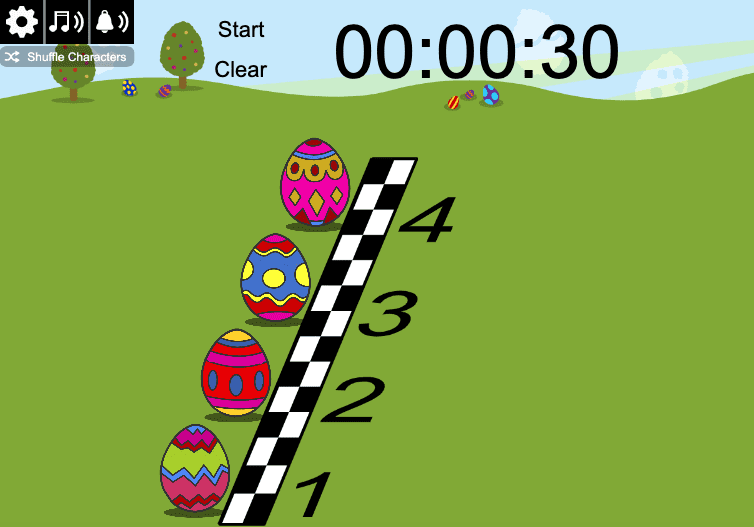 Also, from Online Stopwatch, this timer is a colorful race to the finish line. Also customizable for your needs.
24. Beach Vibes
Listen to the waves roll in with this beach-themed timer. When time's up, you'll hear the seagulls screech.
25. Ice Cream Truck
The ice cream truck chugs along as the timer counts down from one minute to zero.
What are your favorite online timers for the classroom? Please share in the comments! And for more teacher tips and tricks, be sure to subscribe to our newsletters.
Plus, our favorite GoNoodle Videos .