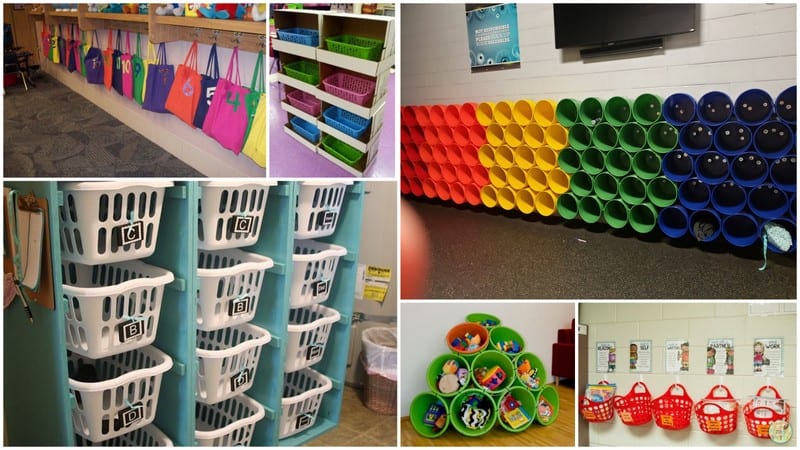 Looking for a way to organize your students' stuff? You can buy premade classroom cubbies and storage systems from a variety of places, but sometimes the cost is prohibitive or the options just don't fit your space. If that's the case, check out these creative classroom cubbies solutions instead. There are ideas to fit pretty much any budget and skill level, so your classroom will be Marie Kondo-ed in no time!
1. Build a bucket wall.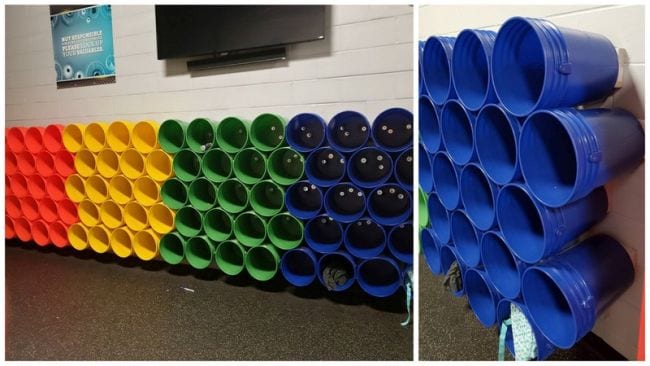 When Haley T. shared these classroom cubbies in a discussion on the WeAreTeachers HELPLINE Facebook group, other teachers were instantly intrigued. Colorful buckets mounted to the wall make sturdy storage spaces that will last for years.
Source: Haley T./WeAreTeachers HELPLINE on Facebook
2. Corral some crates into classroom cubbies.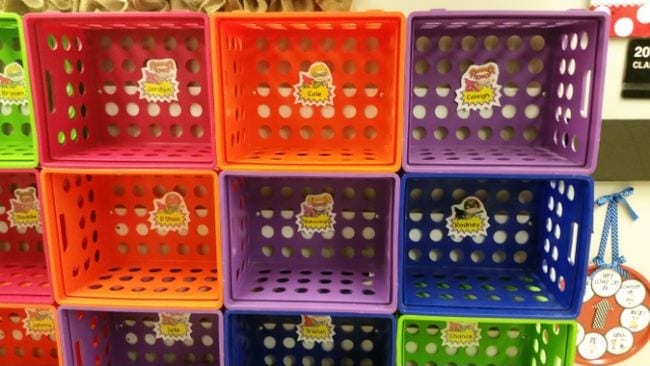 Milk crates are a popular and easy option for student storage. You may be able to get them for free, but if not, you'll find colorful options at the dollar store that work well too. Many teachers suggest using zip ties to hold them together for added stability. (Get more ideas for using milk crates in the classroom here.)
Source: The Coffee Crafted Teacher
3. Turn trash bans into stash bins.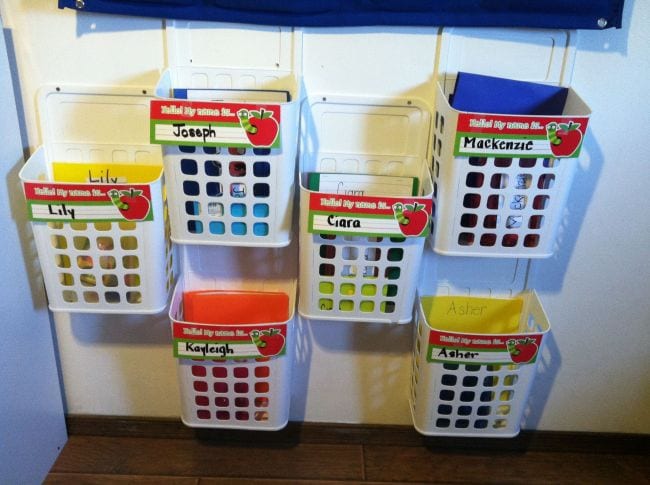 These inexpensive trash bins from IKEA are sturdy and easy to hang. At only a few dollars apiece, they're economical enough for an entire collection of classroom cubbies.
Source: Renee Freed/Pinterest
4. Hang up sturdy plastic totes.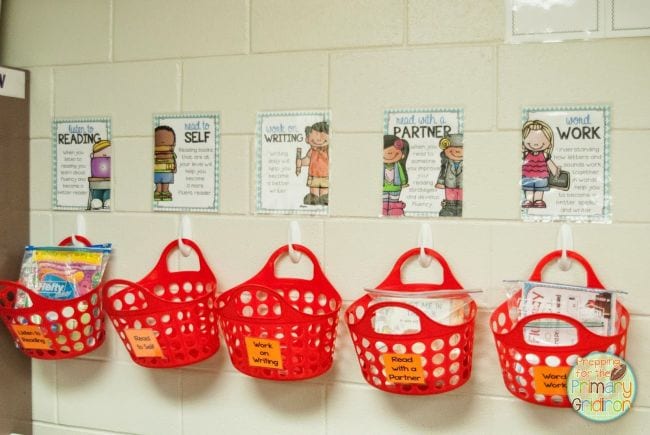 Plastic totes are usually available in a wide variety of colors and even sizes. If you mount them on hooks, kids can easily take them down to root through and find what they're looking for.
Source: Prepping for the Primary Gridiron/Pinterest
5. Fasten plastic baskets to the wall.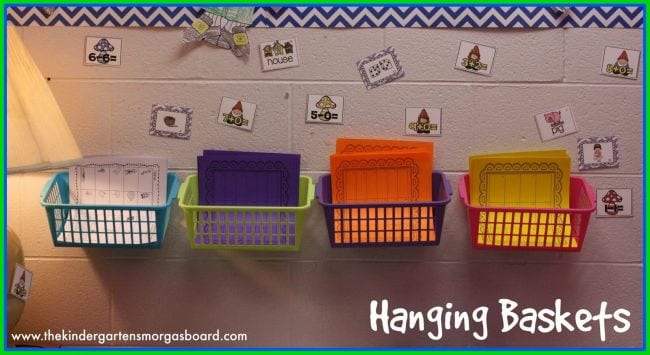 You can get a whole bunch of colorful plastic baskets for very little money. Mount them to the wall to save space or try attaching them under individual chairs, using zip ties .
Source: The Kindergarten Smorgasboard
6. See why teachers love Trofast.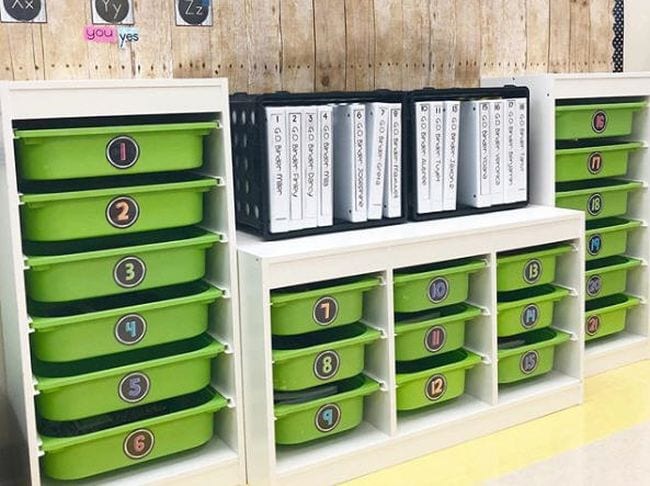 If you're looking to buy something already made, a trip to IKEA may be in order. The Trofast storage system is a perennial favorite of teachers, because the bins come in bright colors and a variety of interchangeable sizes. Since they're from IKEA, they're pretty affordable too.
Source: WeHeartTeaching/Instagram
7. Craft a laundry basket dresser.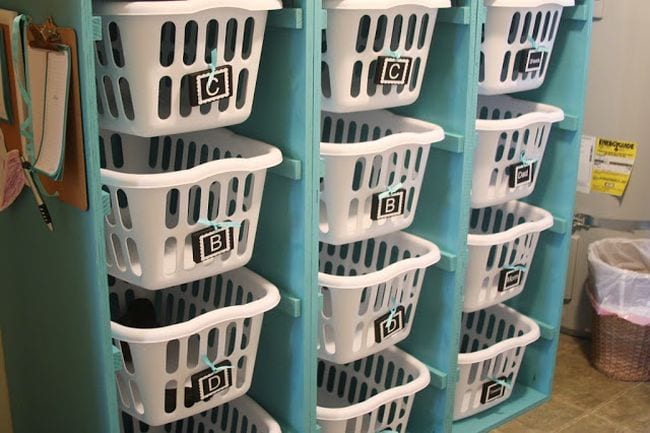 These ingenious dressers are similar to the IKEA Trofast system mentioned above, but you can save some dough by DIY-ing it instead. Get the full instructions at the link below.
Source: Ana White
8. Assemble a bucket tower.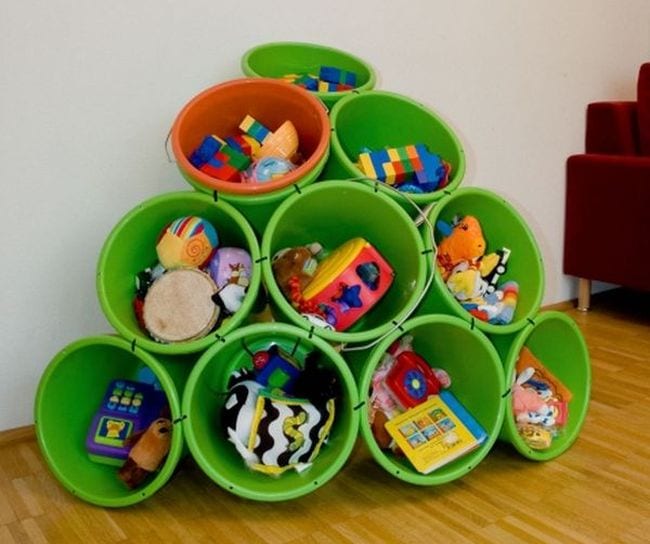 A stack of big buckets and a handful of zip ties are all you need to create this storage tower! This is easy enough for anyone to assemble—and lightweight, so you can move it around the classroom as needed.
Source: Homedit
9. Convert tote bags into hanging storage.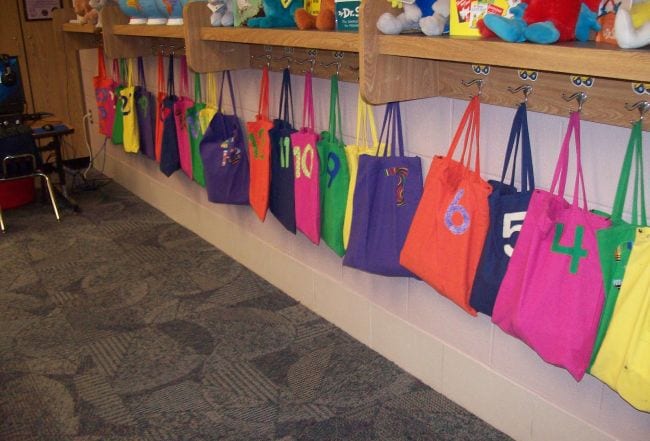 If you've got a row of coat hooks but no classroom cubbies, try hanging inexpensive totes from them instead. Kids can stash whatever they need inside, and hang their coats on top.
Source: Teaching With Terhune
10. Put together a PVC frame for plastic totes.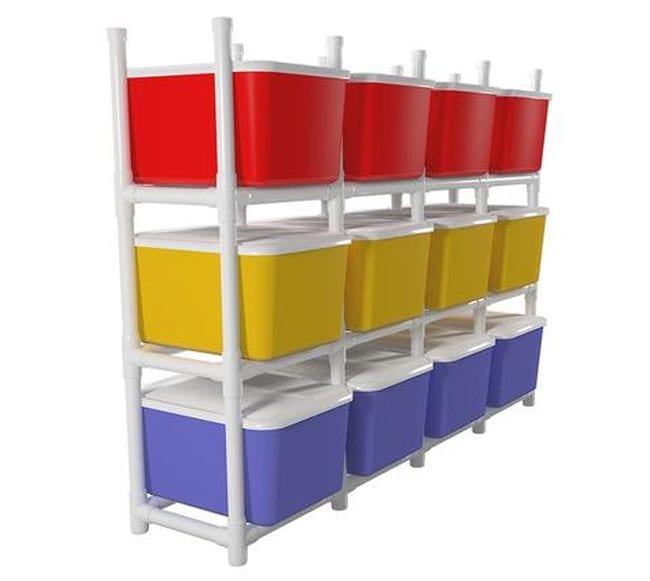 PVC pipe is relatively inexpensive and easy to work with. (Pro tip: Many home improvement stores will cut the pipe to size for you!) Build a rack to hold individual totes for each student.
Source: Formufit
11. Create milk crate storage seats.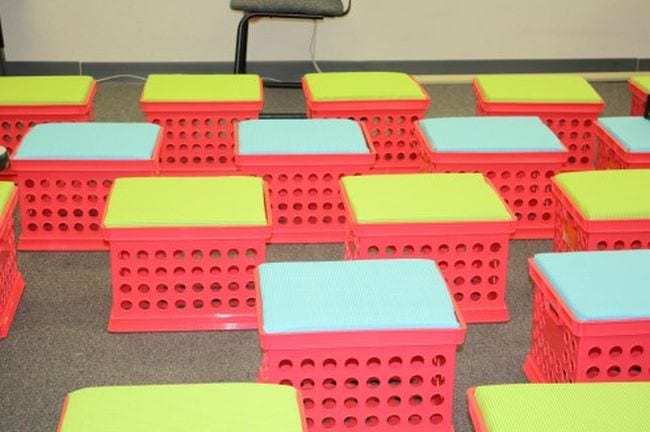 Rather than a row of classroom cubbies on a wall, why not give each student room to store what they need right at their seats? Get the how-to for this popular craft at the link below.
Source: Wholesome Mommy
12. Stow lightweight stuff in hanging organizers.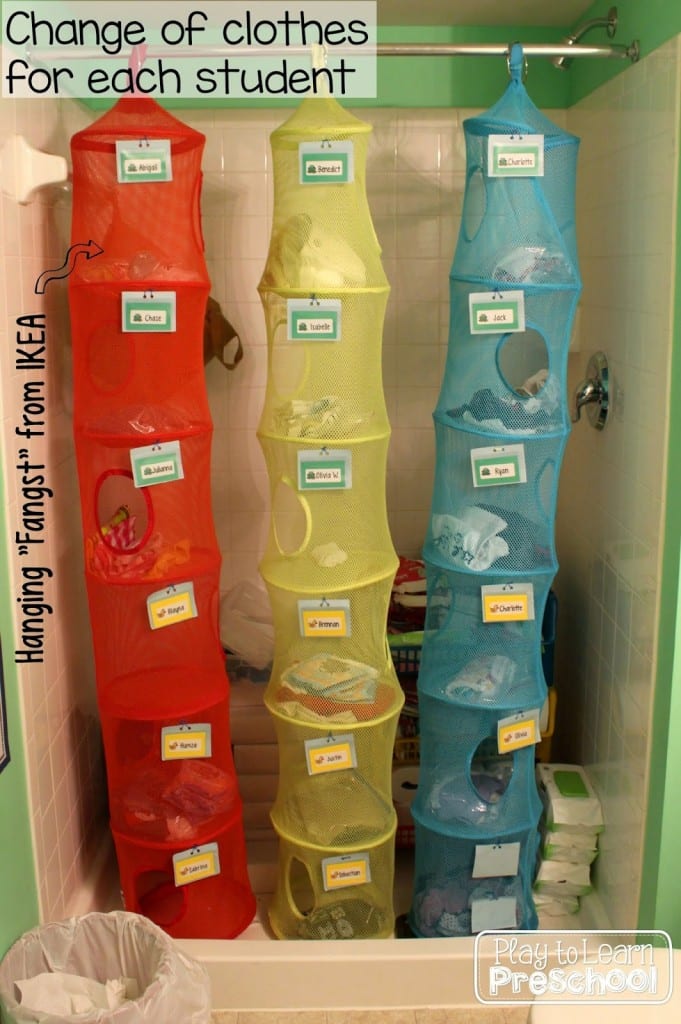 Hanging closet organizers are easy to find and don't take up much space. They're best for lightweight items rather than books, though.
Source: Play to Learn Preschool
13. DIY a set of rolling wooden cubbies.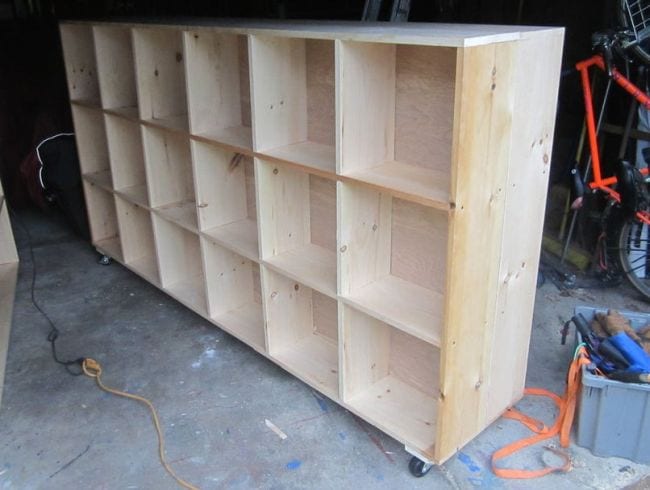 It's usually less expensive to build your own instead of buy. If you're going that route, try this plan for student cubbies, which has lockable wheels. That way, you can easily move them around your classroom.
Source: Instructables
14. Save money with cardboard boxes.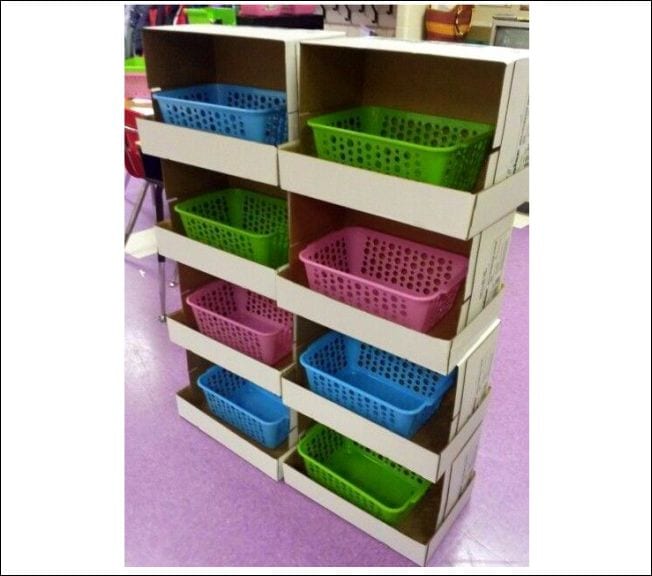 It's not the fanciest option, but cardboard boxes with plastic baskets tucked away inside will certainly do in a pinch. Cover the boxes in wrapping paper or contact paper to dress them up.
Source: Pinterest
15. Adjust existing shelves to cubbies.
If you have units with adjustable shelves, this is an easy way to make room for coats, backpacks, books, and more. Remove a couple of shelves and add some adhesive hooks, and you're done!
Source: Elle Cherie
16. Upcycle plastic litter containers into classroom cubbies.
Got cats? Save your plastic litter containers and stack them for student cubbies. The lids can even serve as "doors."
Source: Susan Basye/Pinterest
Come share your ideas for classroom cubbies in our WeAreTeachers HELPLINE group on Facebook.
Need more classroom storage ideas? Check out these teacher-approved options for every kind of classroom.