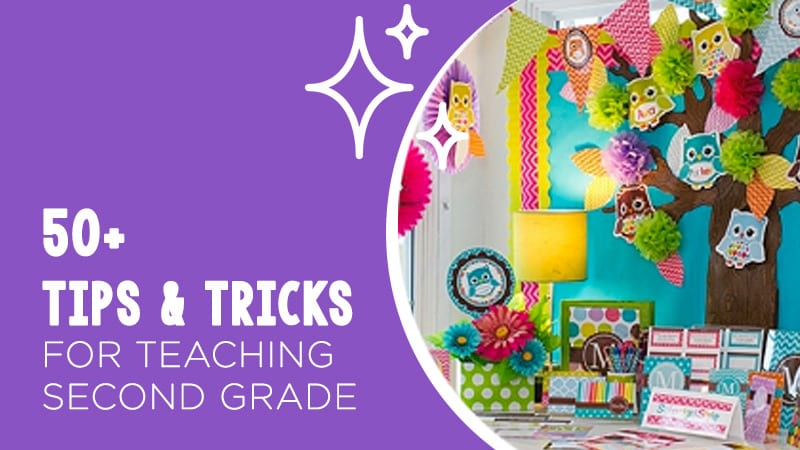 Whether you're teaching 2nd grade for the first time or you're a longtime vet, we've collected the best tricks and tips for teaching 2nd grade to make this year an even better one. Find resources from our teacher friends in our HELPLINE Facebook group, our favorite bloggers, and inspiring articles on this site. If you need ideas for your second grade classroom, you're in the right place!
Getting Your Classroom Ready
1. Create an inviting classroom.
Need ideas to take your classroom to the next level? We've gathered real-life second grade classrooms for you to browse!
2. Gather all the supplies.
Not sure what supplies you need for your second grade classroom? Don't worry; we've got you covered with this list of essential second grade classroom supplies.
3. Pick an inspiring theme for your classroom.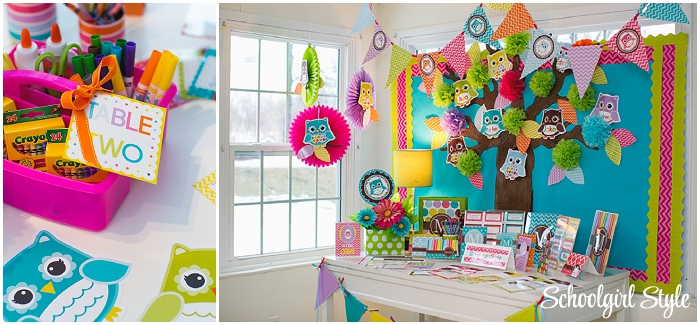 Source: Schoolgirl Style
Themes our second grade teachers love include: butterflies, black paper with polka dots, chevron, sock monkeys, owls, orange and teal, minions, and superheroes.
4. Find teacher deals on the cheap.
Stores with serious discounts on classroom items recommended by our Facebook followers include Target, dollar stores, Mardel, Walmart, local teacher supply stores, Staples, Michael's, Jo-Ann, Oriental Trading, Amazon, NAEIR.org, NationalSchoolProducts.com, and TeachersPayTeachers.com.
"Office Depot will match prices plus give an additional discount." —Kitty R.
"Don't be afraid of seeking donations. I once got a case of copy paper donated by a grocery store." —Carmen B.
"Yard sales are a great place for prize-box toys and for games for your rainy day closet." —Sandie N.
Be sure to check out 100+ Brilliant Dollar Store Hacks for the Classroom.
5. Try different classroom layouts.
Long gone are the days of straight rows of desks lining the classroom. Throw out your seating chart and try one of these ideas instead.
6. Put together an irresistible classroom reading nook.
Your second graders are well on their way to becoming readers, so make this time extra special for them by setting up one of these awesome reading nooks.
7. Fill your classroom library with these classic second grade books.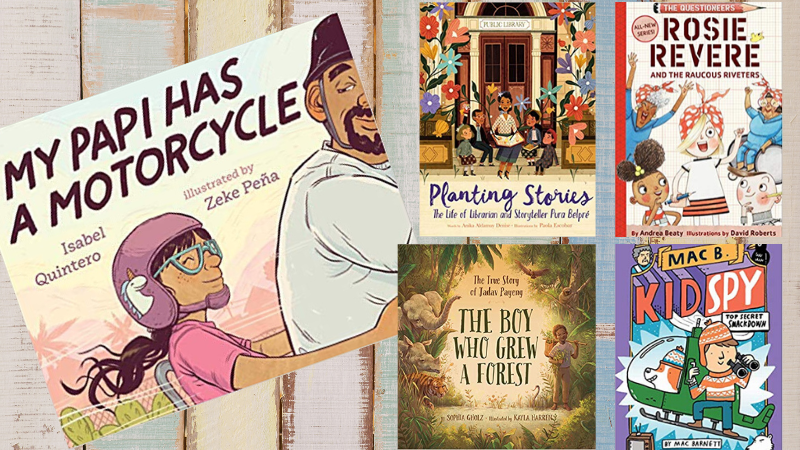 Teaching 2nd grade involves a lot of reading! Here are 50 of our favorites.
8. Get a jump start on lessons.
Teacher planning and prep time are precious! It makes life a lot easier when you can purchase existing lessons, bundles, books, and pages. And why not support other teachers while you do it! Check out our favorite Teacher Pay Teachers sellers for second grade.
The First Days of School
9. Introduce yourself creatively.
Make day one memorable by introducing yourself in a creative way, such as sending postcards over the summer! For 10 creative ideas, click here.
10. Get to know each other with icebreakers.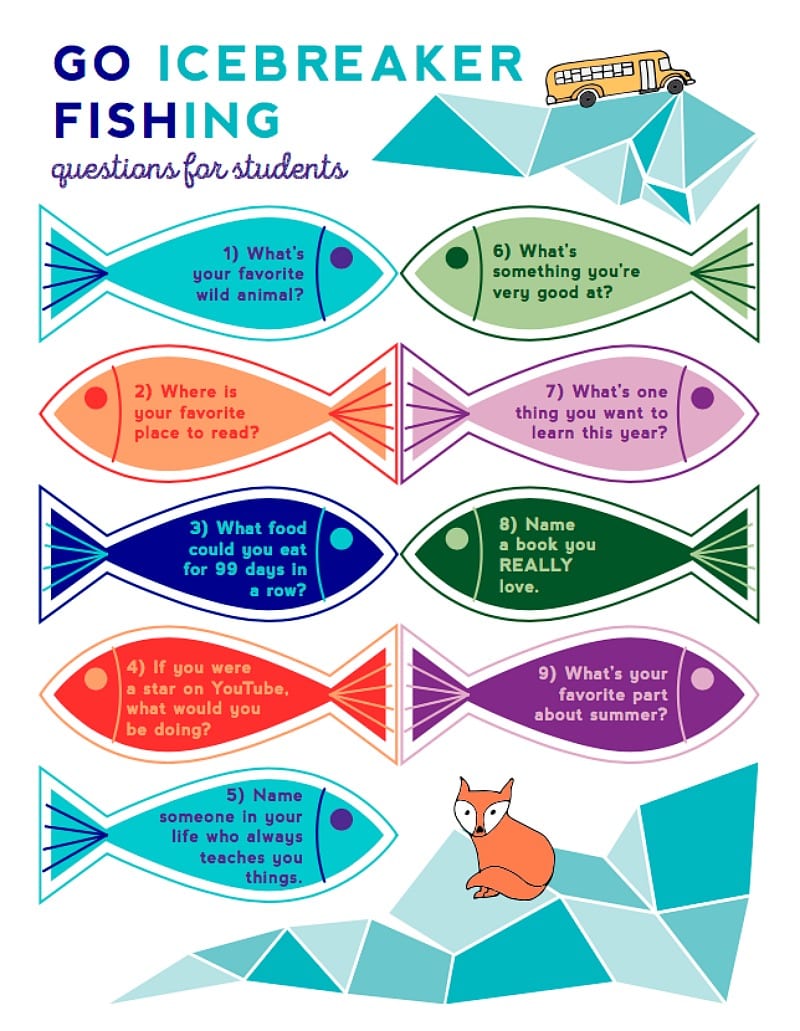 Get the kids mixing and moving as they get to know one another. Click here for lots of great ideas, including a free download of this fun icebreaker activity.
Create a Classroom Community
11. Draft a class constitution.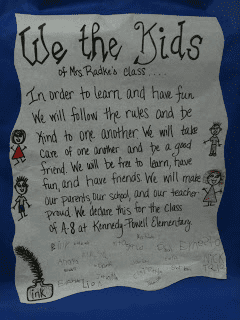 Source: Kreative in Life
After learning about the Constitution, students can apply their knowledge by creating their own class constitution called "We the Kids!"
12. Establish a culture of kindness.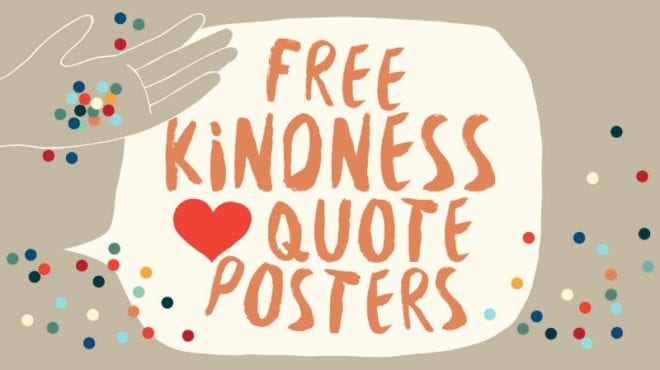 Print these free, downloadable posters to remind your students that kindness matters most of all.
13. Build your students' social-emotional skills.
Teaching 2nd grade means building SEL skills. Use these read-alouds to talk about everything from kindness to courage to trying your best.
14. What does a "model citizen" look like?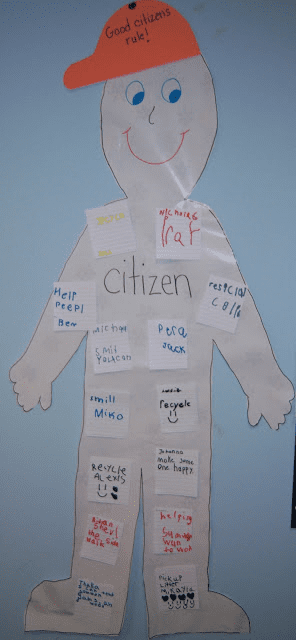 Source: K–2 is Splendid
After discussing what makes a good citizen, construct a "model citizen" on poster paper for your classroom. Students can write their ideas about the great qualities a model citizen should have and stick them on the poster to complete the picture.
15. Encourage good behavior—without giving out treats.
Set your expectations very clearly from the start. Start off by reading about classroom management, dive into our second grade classroom management tips, and then check out these fun ideas for keeping your students on track without breaking the bank.
Ideas for Language Arts
16. Incorporate daily writing prompts.
We've gathered 25 writing prompts that you can download and use to have your second graders practice their writing skills.
17. Use anchor charts to teach reading comprehension.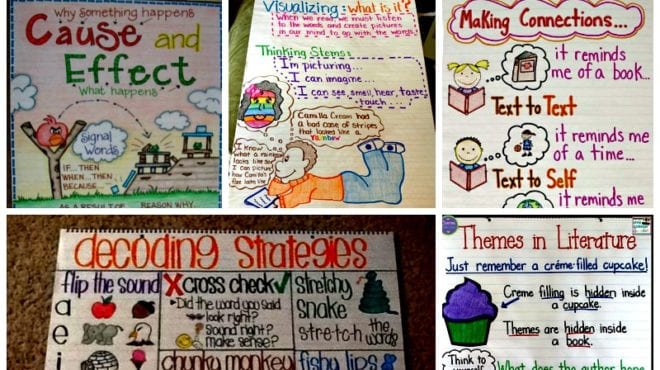 Check out 25 of our favorites here.
18. Fire up your little storytellers' imaginations.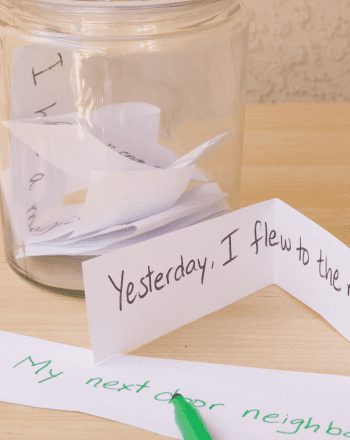 Source: Education.com Strips
Create a story jar and let their imaginations roam.
19. Introduce your second graders to small-moment narratives.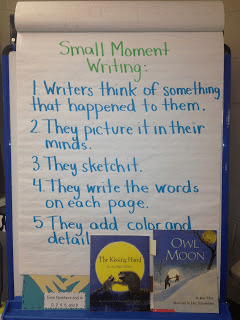 Source: Buggy for Second Grade
Break down the process with this handy anchor chart and then watch them go to town writing.
20. Teach annotation with "thinkmarks."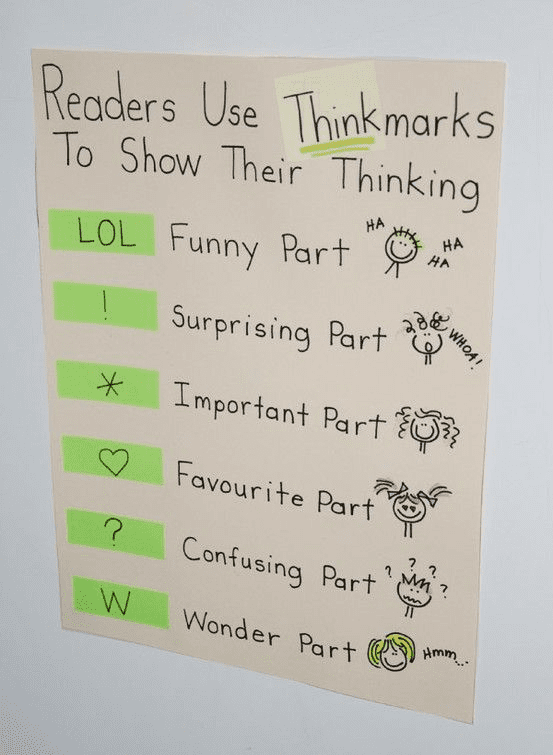 Source: Simply 2nd Resources
Encourage students to actively engage as readers by printing or having students create "thinkmarks" they can use to annotate text as they read.
21. Make alphabet picture books.
Different editions could include parts of speech, antonyms, synonyms, and homophones, etc. Create a class library of these! It's a great way to showcase student learning. —Swimming into Second
22. Have fun with literacy centers.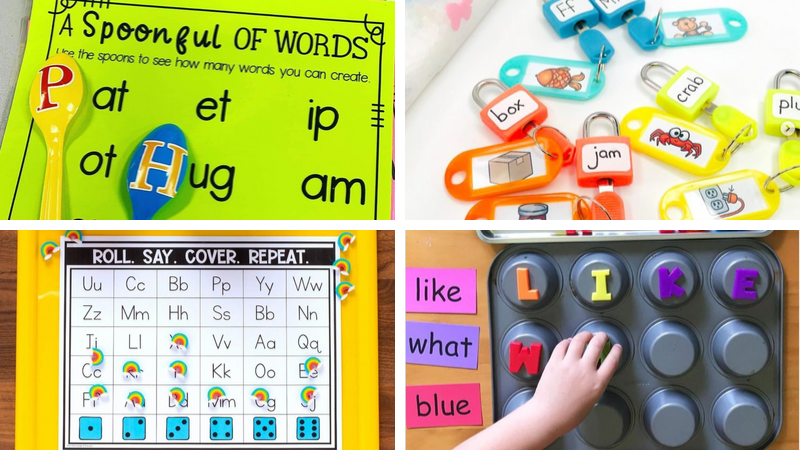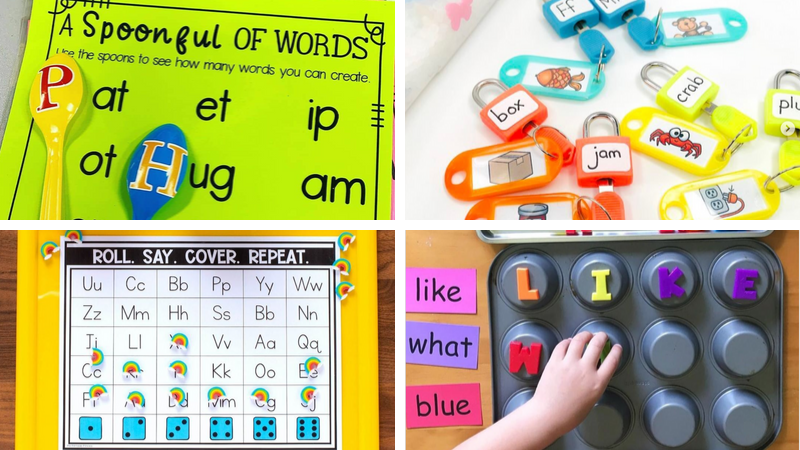 We love this big list of ideas for grades K-2.
23. Make phonics fun.
Phonics is the foundation for reading success. Breaking words into their constituent sounds helps kids understand and build their literacy skills, bit by bit. Check out these 20 phonics activities!
Ideas for Math
24. Creatively teach time.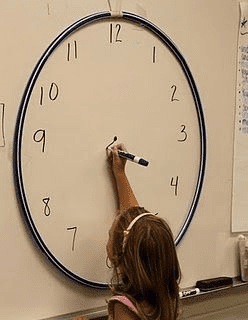 Source: Elementary Nest
Students can draw different times on a dry-erase clock—just a hula hoop taped on your whiteboard. Or try one of these other 15 methods for teaching how to tell time.
25. Build a number of the day.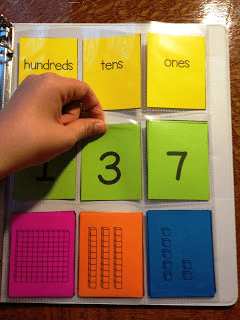 Source: Turnstall's Teaching Tidbits
Students can build the number of the day by selecting the correct numerals, words, and units.
26. Play math games.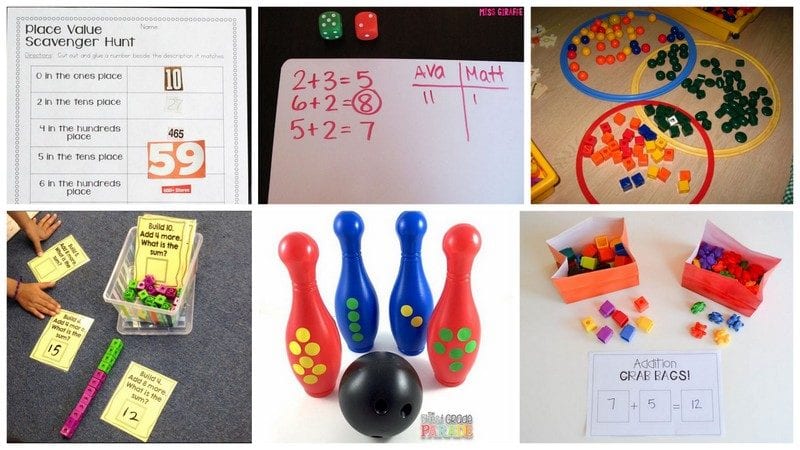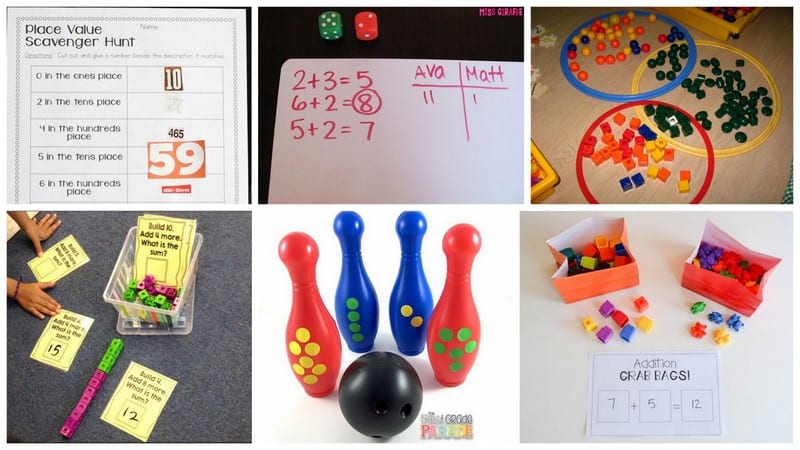 Here's a big list of math games that are just right for second grade.
27. Watch math videos!
Making math more engaging for kids can be difficult. But teaching math will be anything but boring when you introduce students to some of our favorite subtraction and addition videos on YouTube.
28. Teach shapes.
Learning shapes is one of the earliest concepts we teach kids. Shapes ready them for geometry in the years ahead, but it's also an important skill for learning how to write and draw. Get started with these activities.
29. Let your students lead.
"I give my kiddos about 10 minutes to complete morning math problems. Then I choose a student to come up to 'teach' the first problem by sharing strategies and solutions. That student asks if everyone agrees or disagrees and chooses another student for the next problem, if everyone agrees. If there is disagreement with his answer, they discuss alternatives. The students are in charge for the first 30–45 minutes of the day! My favorite time of the day!" —Stacey S.
30. Write in math journals every day.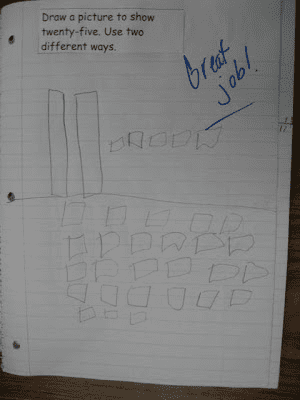 Source: Smiling & Shining in Second Grade
With math journals, students learn to solve mathematical problems using pictures and words. Check out free entry examples on the blog.
Ideas for Science
31. Get hands-on with science.
Science is the perfect subject for kids to get down and dirty. Try these 25 second grade science projects for inspiration.
32. Try daily STEM challenges.
These STEM challenges are designed with your second graders in mind. Try one each day or each week to get their minds thinking outside the box.
33. Teach the plant life cycle!
Plant life cycle is always a fun science unit. You get to talk about growing, planting, and nature. Plus, students love digging in and getting their hands dirty when they plant a seed themselves.
34. Teach states of matter with this simple demonstration.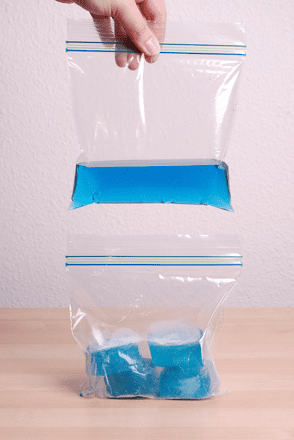 Source: Education.com
Conduct this hands-on experiment to help students recognize and understand the different states of matter.
35. Conduct gummy bear experiments.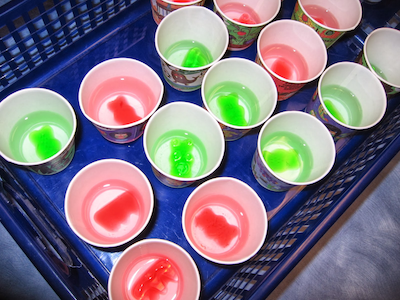 In the category of snackable tips for teaching 2nd grade … watch what happens when you soak gummy bears in liquid over a period of days. Find the full experiment—complete with freebie handout—on this blog.
Ideas for Social Studies
36. Teach an early lesson on economics.
"Set up a classroom economy! I give my students plastic 'banks' from the dollar store. They earn money for specific things throughout the day: one penny for copying down homework, 10 cents here and there. Just keep it consistent and don't overuse it. Otherwise, they'll be ungrateful for those random dimes and want quarters instead. On Fridays, they get to go shopping!" —Jacqueline Q.
"My Classroom Economy is a great resource for help getting started." —Renee J.
37. Introduce your second graders to American symbols.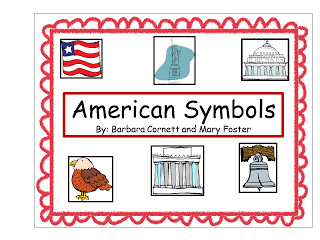 This awesome mini-book is FREE!
38. Learn about heroes.
Read biographies about famous people in history. Match books to holidays, like Presidents' Day or Black History Month.
Ideas for Classroom Organization
39. Rock your teacher planner.
Read these tips for keeping your day, week, and year beautifully organized.
40. Manage work submissions with clothespins.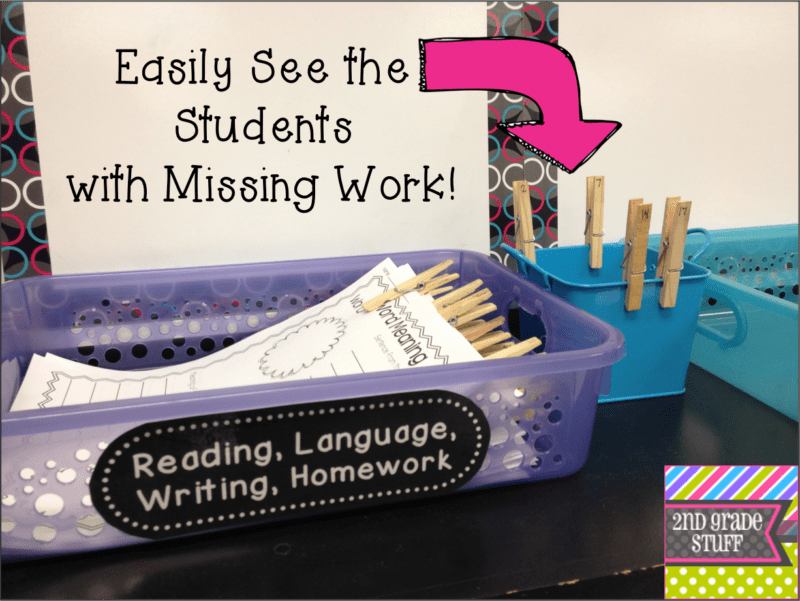 Source: 2nd Grade Stuff
Having students clip their papers will help quickly distinguish whose handed in homework and who hasn't.
41. Use an uncommon organizing method for the Common Core!
Create separately labeled folders for each standard then file activities that align with each standard in the appropriate folders. Genius!
Source: Teaching in Oz
42. Avoid nameless homework.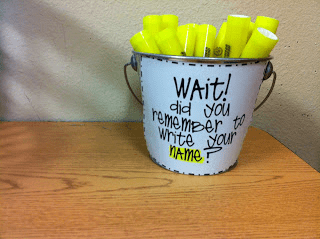 Source: Spectacular 2nd Grade
When students highlight their names before handing in work, you'll never receive a name-free paper again!
43. Make informal assessments easy with these exit slips.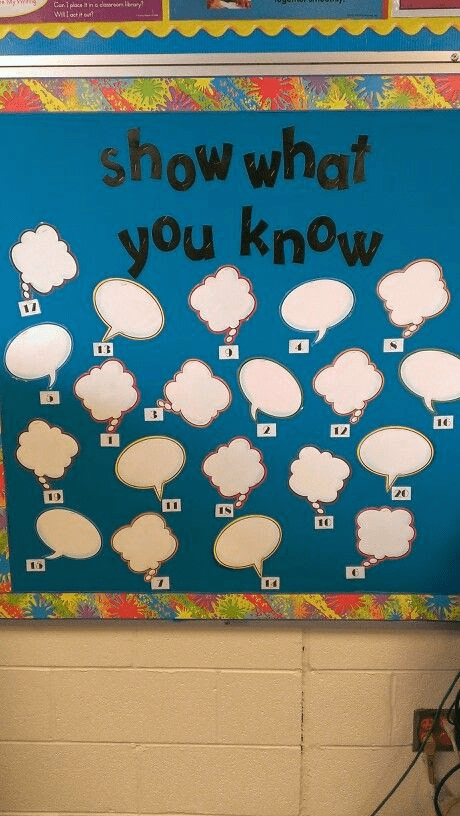 Source: First Grade Nest
Create a Show What You Know board. Use speech-bubble-shaped whiteboards for kids to write their lesson takeaways on or have them write on sticky notes and stick them on their designated bubbles. As a follow-up class activity, students can look at everything their classmates learned!
Ideas for Classroom Management
44. Have a procedure for everything.
"It's really important, in second grade, that you have procedures for everything! My first year, I had procedures for the big things but not the smaller things, and that was a mistake. Tattling and drama were big in my class. Not starting off with a policy and procedure for addressing it took from instructional time initially." —Donella H.
45. Post your students' morning routine.
Having a routine posted that is illustrated and easy to see will help your second graders remember how to start each day independently.
46. Set up cues to keep class noise down to a low roar.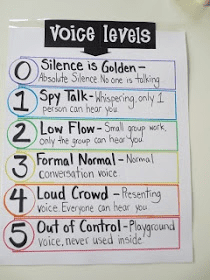 Source: First Grade and Flip Flops
Use a chart like this to help students understand when to use different voice levels. Use cues like "spy talk" to signal when voices are getting too loud. Make a class goal of going from a five to a three. For more great ideas, read 27 Good Attention-Getters for Quieting a Noisy Classroom.
47. Get the wiggles out.
Even grown-ups can't sit still and listen all day! Get your kids up and moving with awesome second grade brain breaks.
Music is a great way to mark transitions, teach multiplication facts, or set the tone for quiet reading time. Check out these kid-friendly Pandora stations.
Other Ideas
49. Build positive relationships with parents.
Here are ten tips for making working with parents the easiest part of your job.
50. Have students write this fun Who Am I? paragraph for Back to School Night.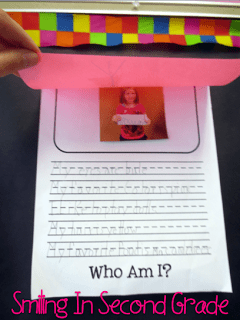 Source: Smiling in Second Grade
Students can describe and draw themselves. Then parents can guess which child is theirs during Back to School Night festivities. Lifting the drawing will reveal a picture of the student holding their name.
What are your top tips for teaching 2nd grade? Come in share in our WeAreTeachers HELPLINE group on Facebook. WeAreTeachers HELPLINE is a place for teachers to ask and respond
to questions on classroom challenges, collaboration, and advice.