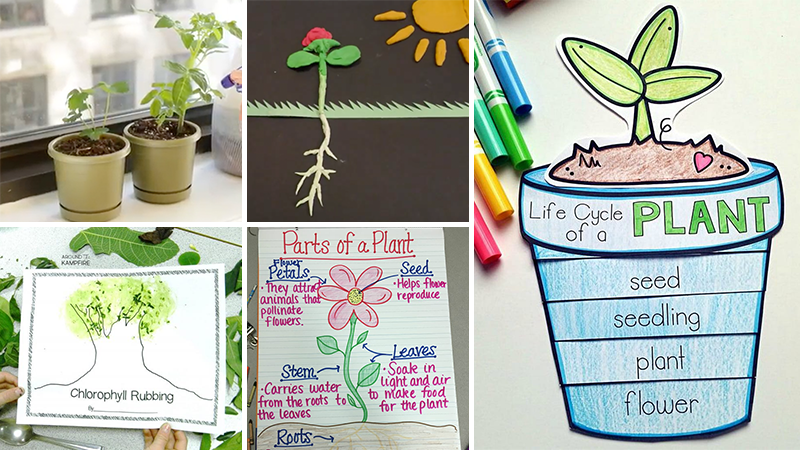 Plant life cycle is always a fun science unit. You get to talk about growing, planting, and nature. Plus, students love digging in and getting their hands dirty when they plant a seed themselves. Here are our favorite plant life cycle activities, projects, and videos to really engage your students and make this lesson fun.
1. Try this window-watching experiment.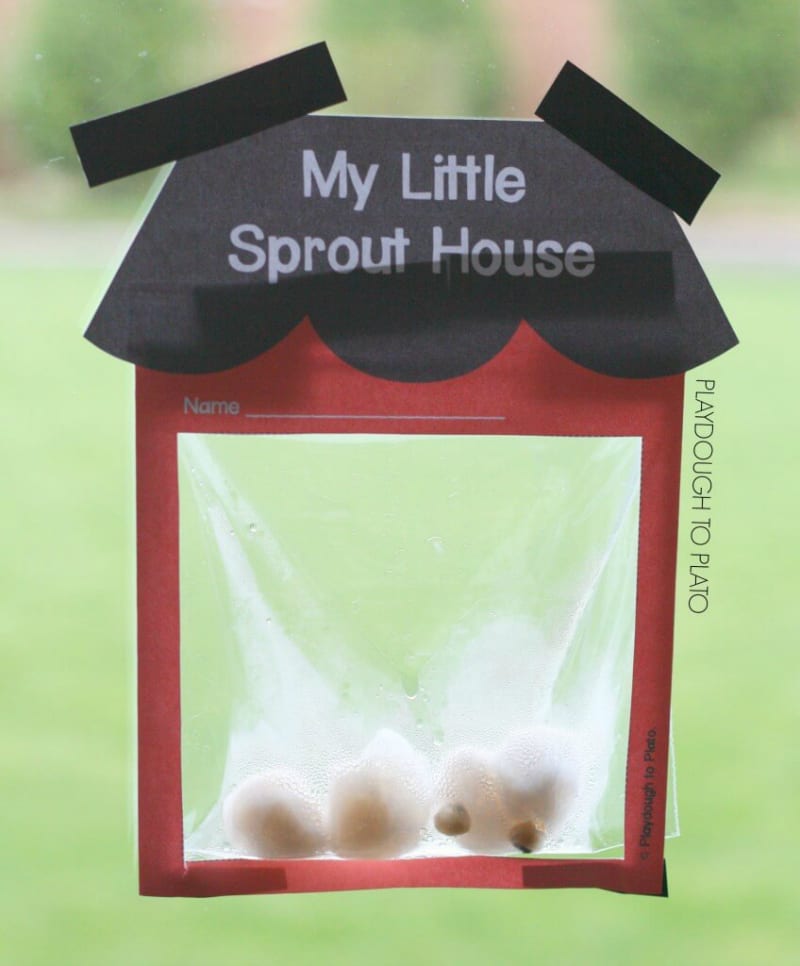 SOURCE: Playdough to Plato
If you have great windows and light, then this is an awesome idea. Your students will love watching the progress each day.
2. Teach the basics parts of a plant.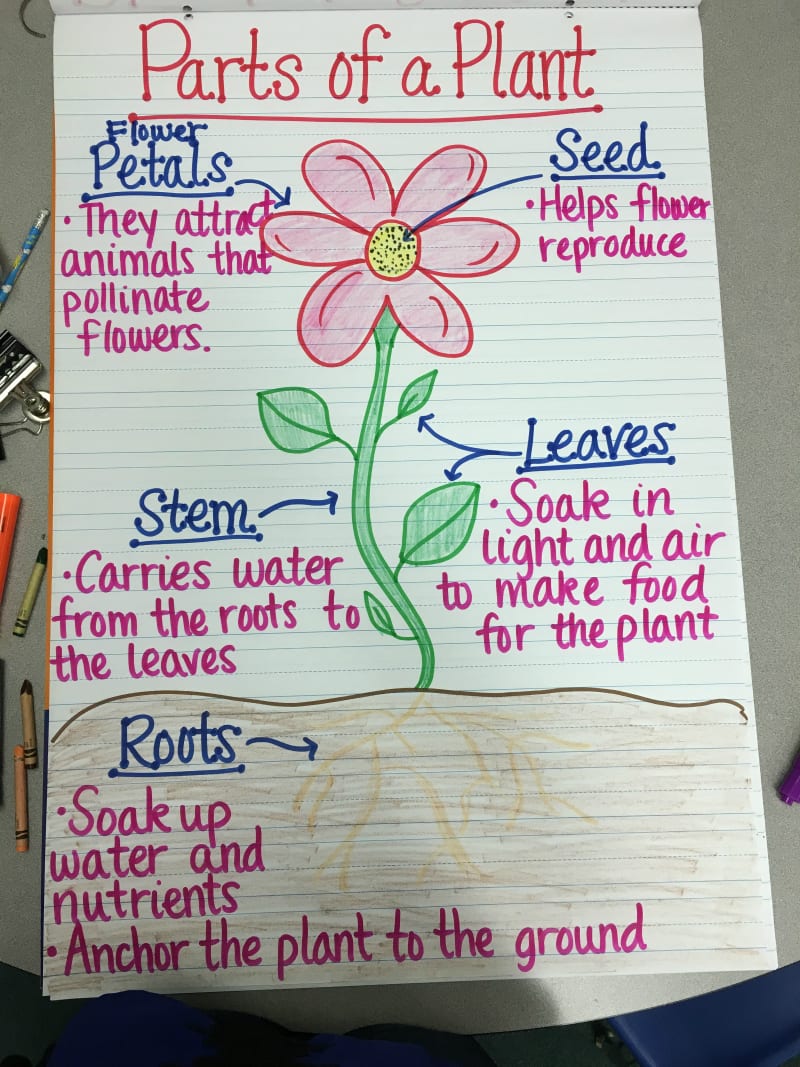 Source: Unknown
It's up to you how involved you want to get on this lesson. This anchor chart is simple, focusing on terms for younger learners. But you can get more detailed with your labels. This really is a lesson you can teach to students from ages from four to 14.
3. Watch it grow in slow-mo.
WeAreTeachers created this time-lapse video, showing the fabulous details of how a plant's root system grows quickly over the course of a few days. Wow! This will really make you want to grab a bean and try it yourself!
4. Create your own printable flowers.

SOURCE: Teaching Momster
This project is an awesome printable where students can create a flower while also learning the different cycles of a plant. You can find it on Teachers Pay Teachers (but it is FREE)!
5. Learn about the life cycle of all different plants.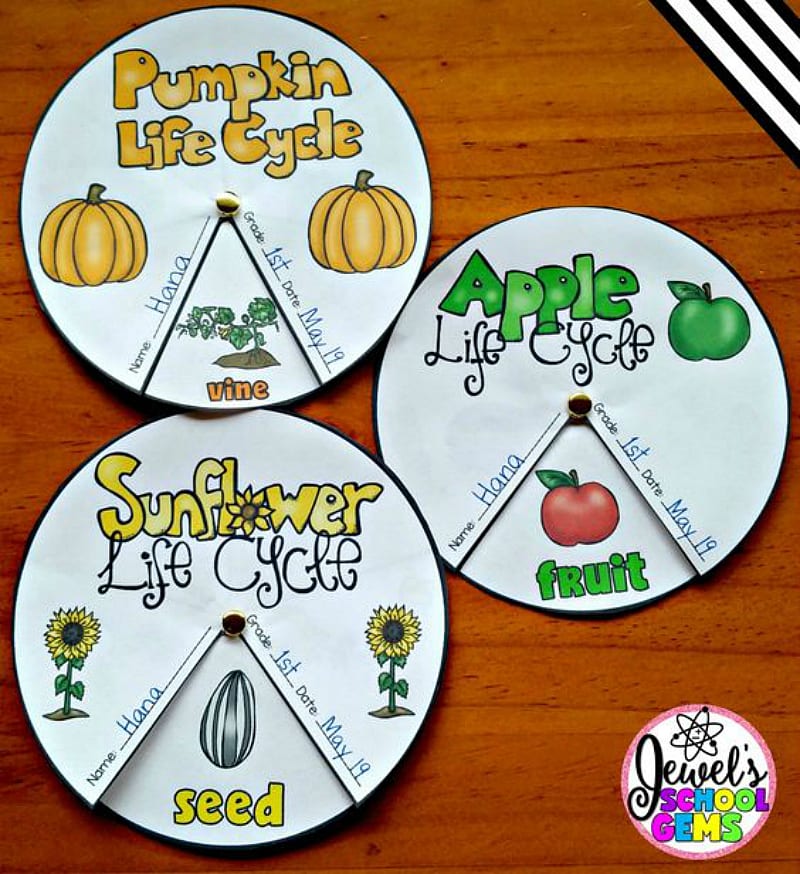 SOURCE: Jewel's School Gems
This printable is fabulous because it doesn't just lump all plants and seeds together. It shows the plant life cycle of an apple, pumpkin, and sunflower. It is a Teachers Pay Teachers item, but we think it's totally worth it!
6. Teach about the link between plants, animals, and CO2.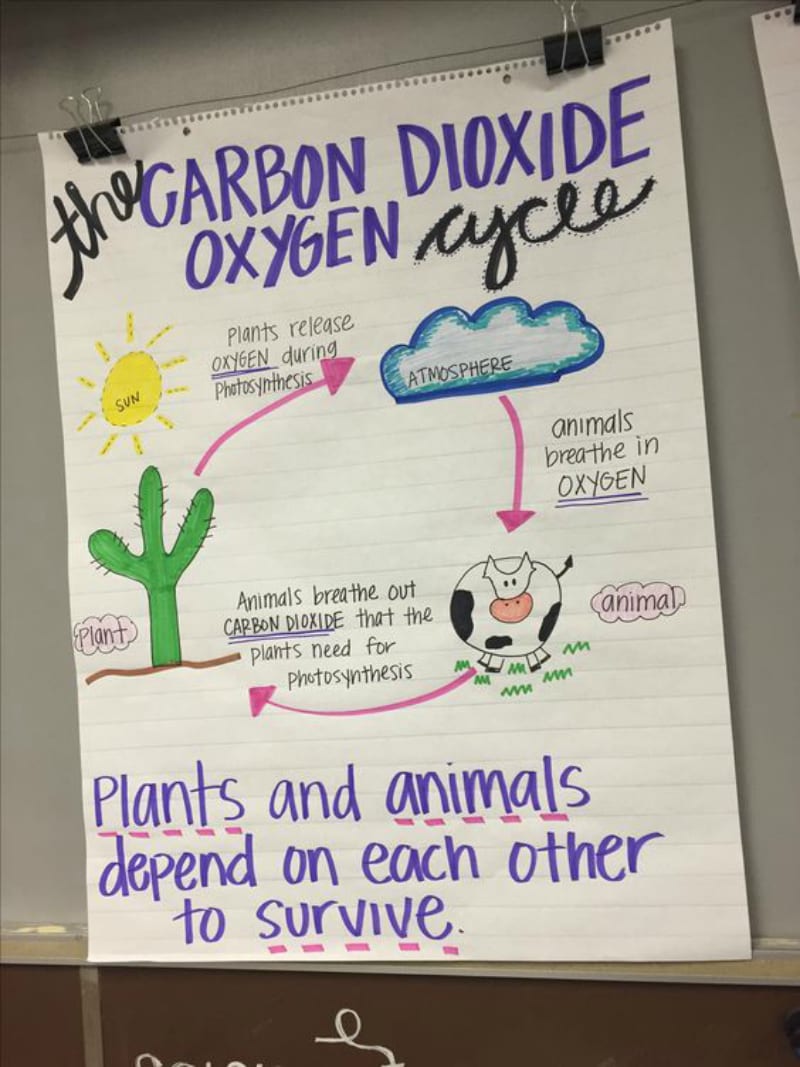 Source: Unknown
This anchor chart takes the life cycle concept one step further, showing how plants and animals depend on one another for survival.
7. Add in a vocabulary lesson with cootie catchers.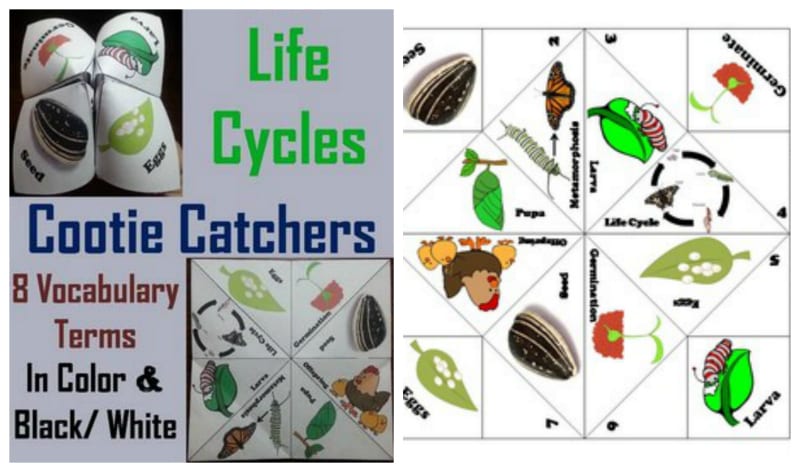 SOURCE: Science Spot
The good ole cootie catcher never gets old, and this one is a really cute option from the Teachers Pay Teachers store Science Spot.
8. Break down the life cycle with an anchor chart.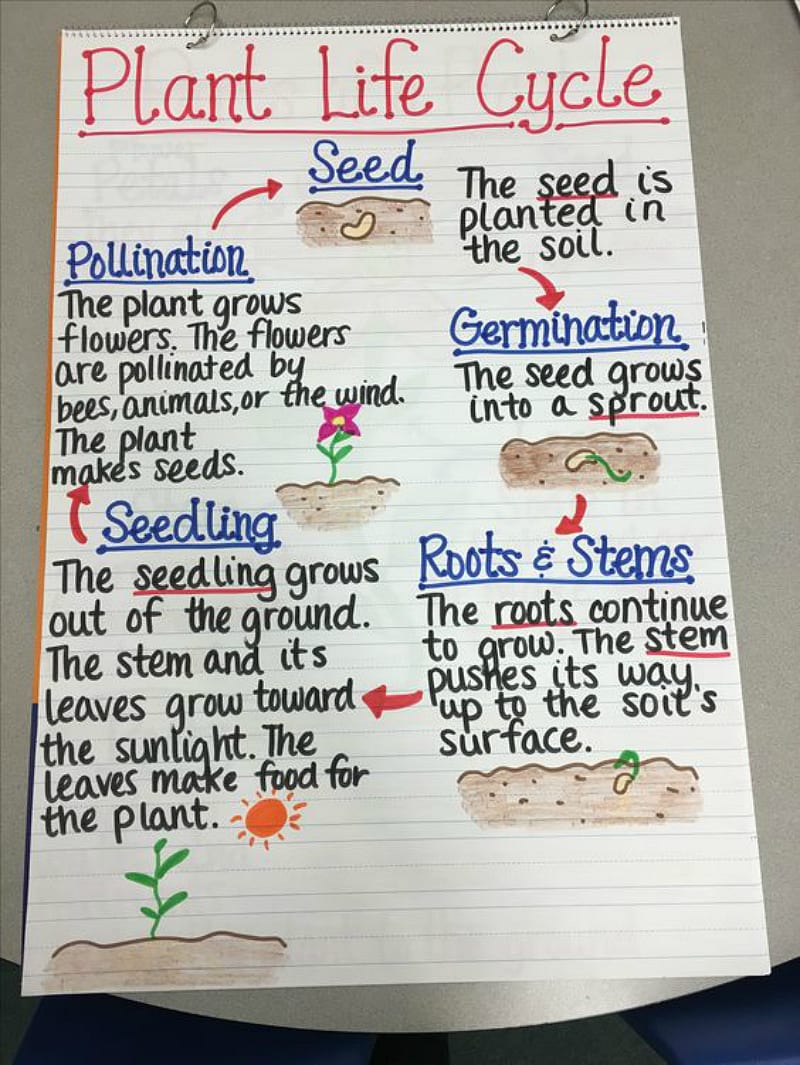 Source: Unknown
This anchor chart breaks down the plant life cycle in an easy-to-understand diagram, focusing on key vocabulary words, like germination and pollination. Make this with your students as you go over each step.
9. Let Sci Show inspire a lesson.
We love Sci Show! They regularly post great content. If you need a strong video to kick off a lesson about seeds or the life cycle, then this is a good place to start.
10. Use a flip book to teach the life cycle.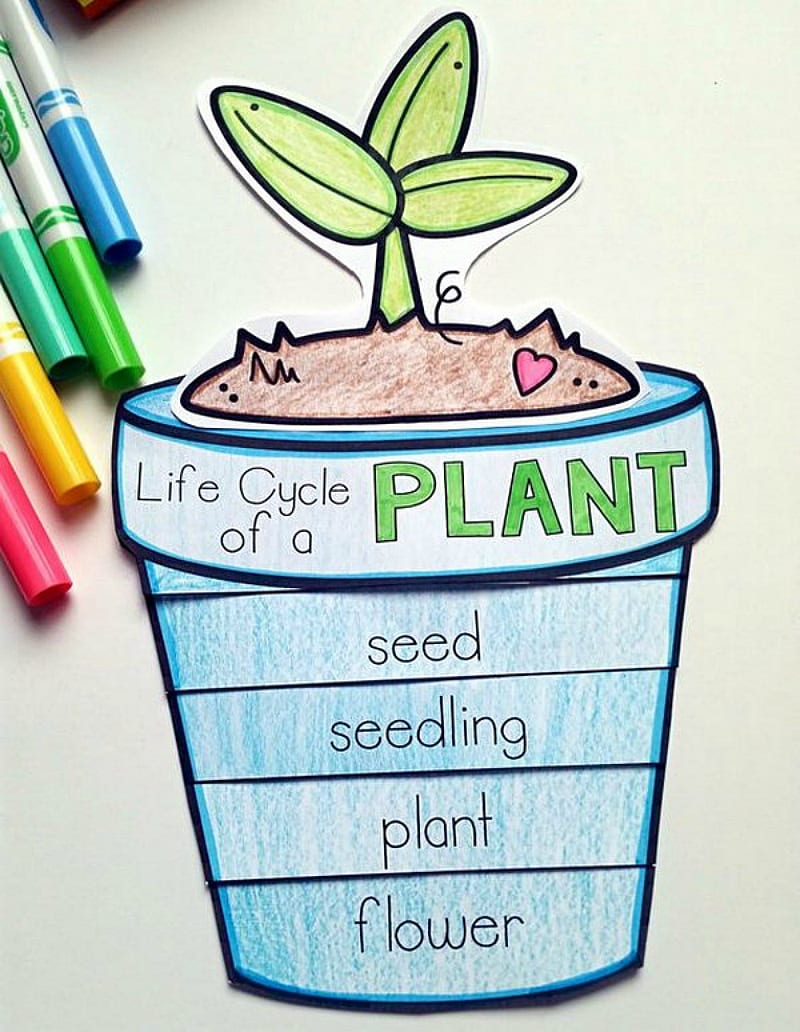 Source: Karen Jones
This Teachers Pay Teachers project is a mix of art and science, and we think it's well worth the $3! The project is designed to "flip," revealing additional information beneath each section.
11. Learning about tiny seeds via Eric Carle.
This YouTube video is a reading of The Tiny Seed by Eric Carle. It would be great for your storytime. Just play it on your Smartboard, and you're all set!
12. Create an amazing bulletin board.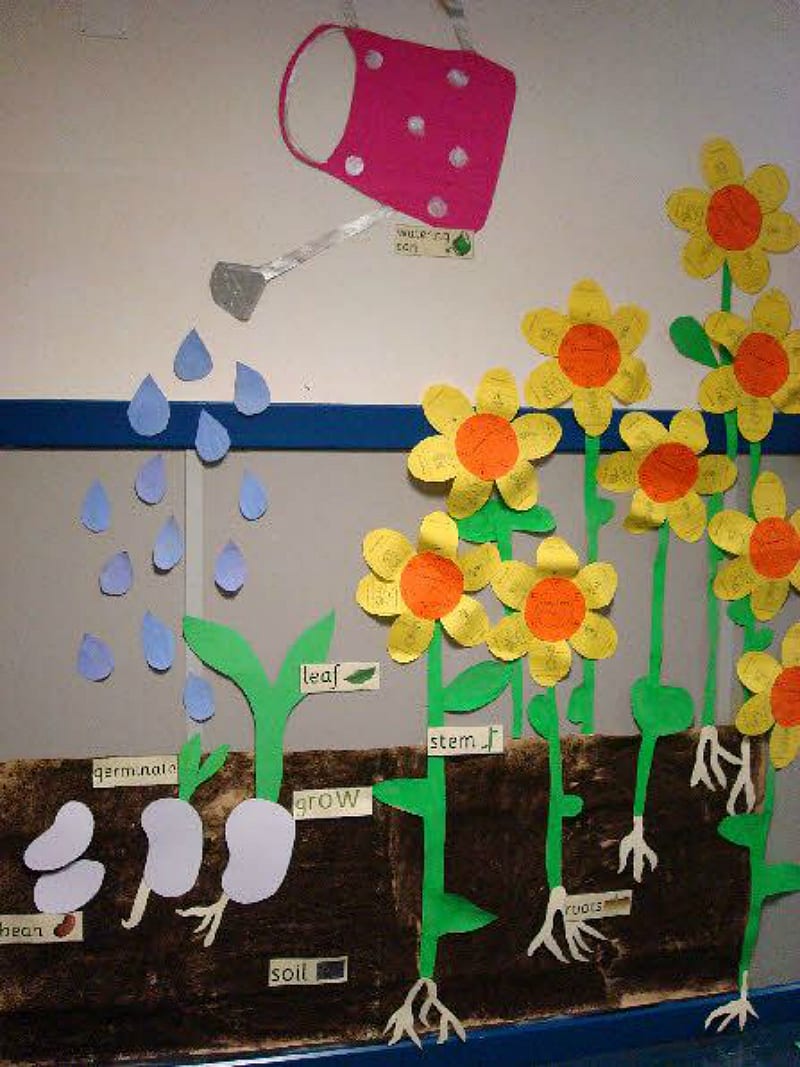 Source: Unknown
This bulletin board is a great idea starter of what you could do on a much bigger scale. Have your students define what they want to label and feature on the board and then get them involved in creating it!
13. Write about plants.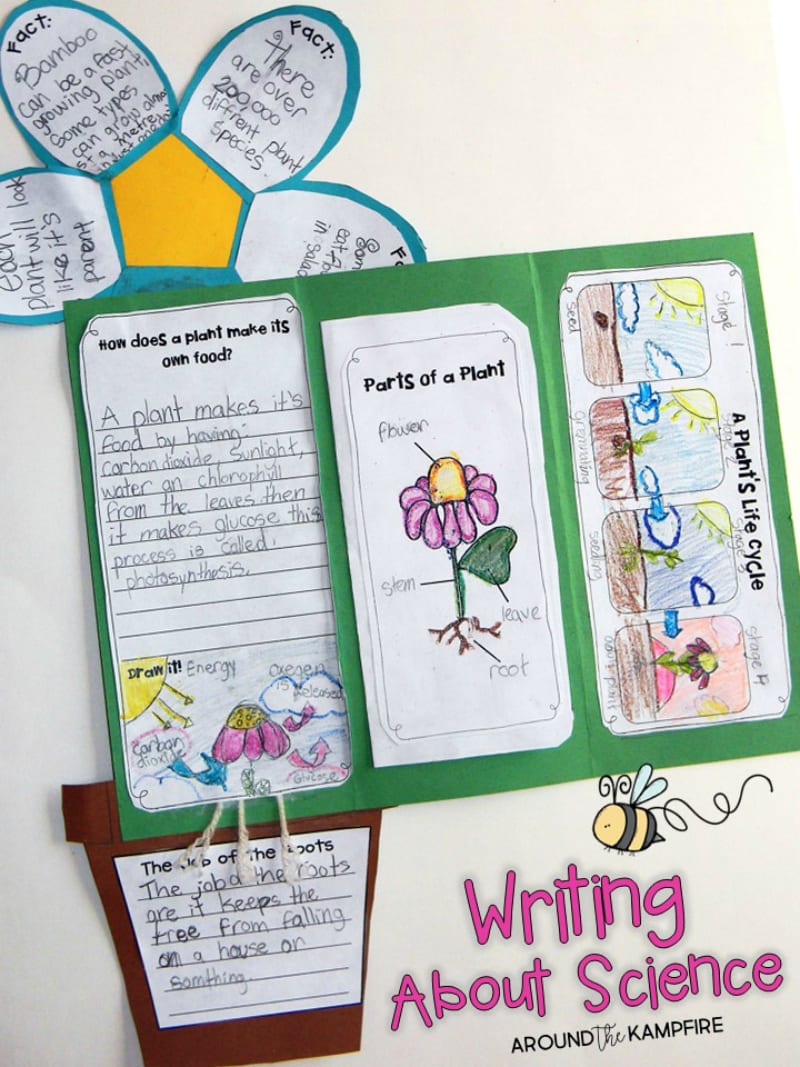 If you want a one-stop shop, you must check out Around the Kampfire's collection. She is a second grade teacher and has put together a great set of resources all on this topic, including tips for getting your students to write about plants. There are so many good options to choose from!
14. Let Claymation inspire your learning.
Another YouTube video with learning about seeds to flowers, this time in Claymation!
15. Paint with plants!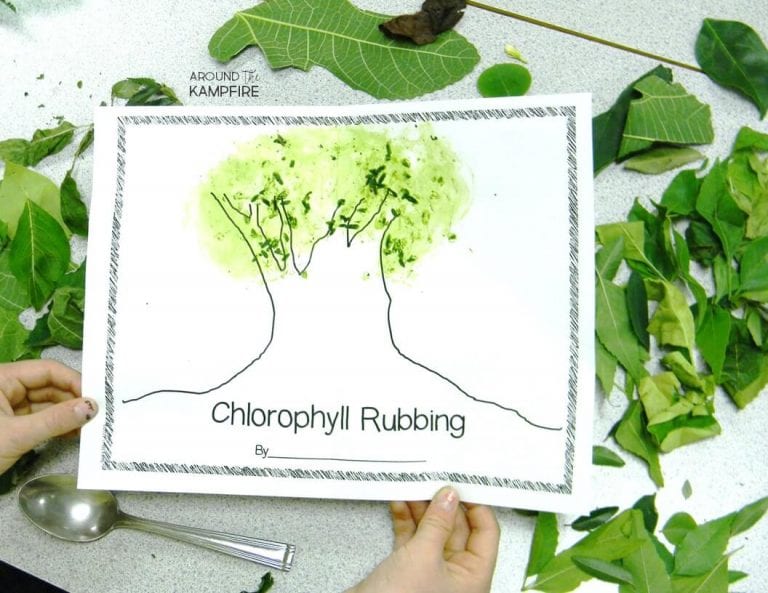 This isn't life cycle exactly, but you can use it to work into your overall lesson. We love the creative idea of making chlorophyll rubbings, as seen here from Around the Kampfire.
16. Learn how seeds get from one place to the next.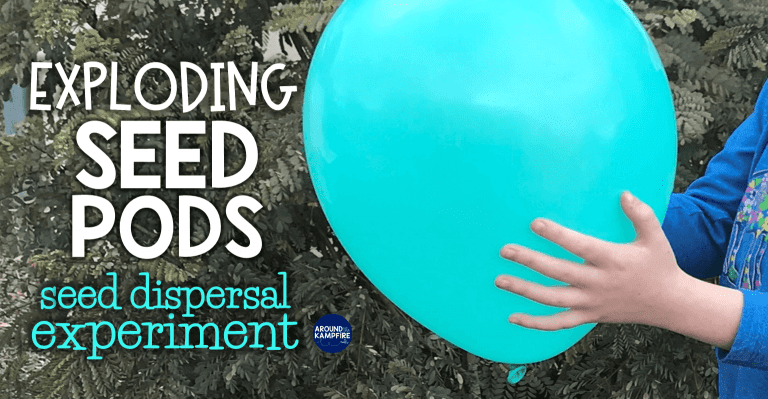 Here's one more from Around the Kampfire. In this one, students learn about seed dispersal. This is a great lesson to tackle during the fall. So many plants and flowers dry up and drop seeds in the fall. It's a hands-on lesson your students will definitely remember.
17. Regrow kitchen scraps.
You might have life cycle learning opportunities right in your compost bin. Check out this video for info on how to regrow plants. The success rate might be so-so, depending on growing conditions in your classroom. But your students will definitely have fun trying it out!
Check out some of our favorite classroom gardening ideas right here.