Yet another school year is almost in the books! But before you think about summer vacation, why not consider giving the teachers in your life end-of-year teacher gifts? They deserve it! Whether you're a room parent, a fellow teacher, or a parent looking for ideas, we've gathered a variety of end-of-year teacher gifts that fit every budget.
(Just a heads up, WeAreTeachers may collect a share of sales from the links on this page. We only recommend items our team loves!)
1. Thank-You Note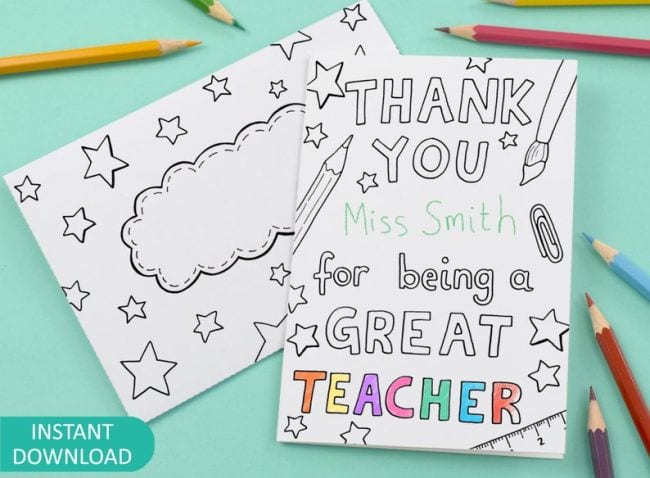 Never underestimate the importance of a heartfelt thank-you note! Students can create their own, or you can buy this printable card that lets them add color and add their own message.
Buy it: Colorable Teacher Thank-You Card at Etsy
2. Gift Cards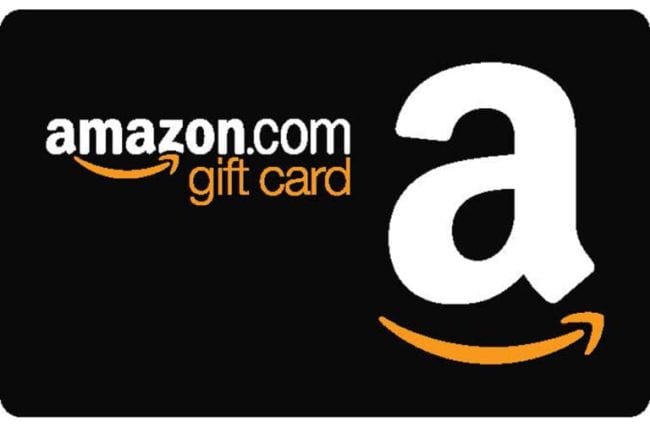 Gift cards are one of the best end-of-year teacher gifts because the teacher can choose whatever they need or want. Amazon and Target are reliable choices, plus check out our full list of favorite gift cards here.
3. Crumbl Cookies
If I see a pink box on the workroom table, I stop whatever it is I'm doing and search for a piece of a cinnamon roll cookie. These cookies are delicious and this sugar fix can make the whole teaching team smile.
Buy it: Crumbl Cookies at Crumbl Cookies
4. Why You're the Best Teacher Ever Journal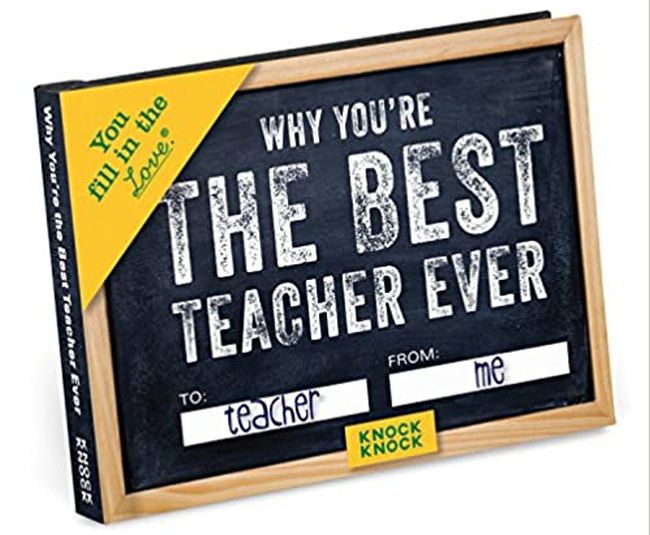 You can also take your thank-you note a bit further with this sweet fill-in-the-blank book. Your child can fill it out on their own, adding illustrations if they like. Or for a truly special teacher gift, coordinate with other parents to have each kid in the class contribute a page. That's a keepsake that a teacher will treasure forever!
Buy it: Why You're the Best Teacher Ever Journal at Amazon
5. "Amazing Teacher" Jewelry
The perfect sentiment for 2023. It's simple and classy to fit any teacher's wardrobe.
Buy it: "Amazing Teacher" Jewelry at Etsy
6. Shop Local
Support your local businesses! Look for stores with unique gift items. Some gifts to look for: a book from your local bookstore, a handmade soap, a candle from your local boutique, or a gift card to your favorite ice cream shop.
7. Easy-Care Plants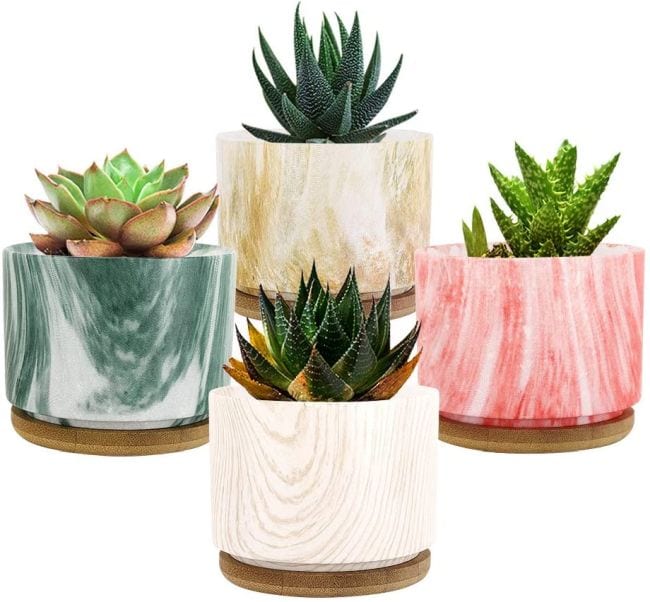 I don't know about you, but I love plants around the home! These are perfect for summer, and then teachers can bring them to school to decorate their desk come fall. For more ideas, see our favorite plants for the classroom here.
Buy it: Lewondr Succulent Pots, Set of 4 at Amazon
8. A Tote Bag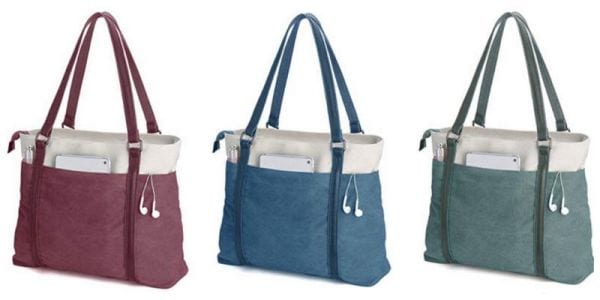 Teachers carry a LOT of stuff back and forth from school to home. Help them pack up their classroom in style with this basic tote that has lots of external pockets. It comes in several colors, and multiple teachers gave it 5-star reviews. Find 40 more teacher tote ideas here.
Buy it: Tote Bag at Amazon
9. Customized Keychain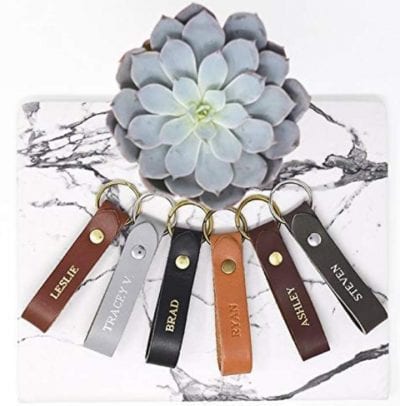 Teachers are never far from their set of keys! This handmade leather option, customized with their name, is a perfect end-of-year teacher gift.
Buy it: Keychain at Amazon
10. A Teachers Pay Teachers Gift Card
Even if it is the end of the year, teachers will always appreciate the ability to add to their arsenal of resources with this handy gift!
Buy it: TPT Gift Card at TPT
11. Five-Minute Journal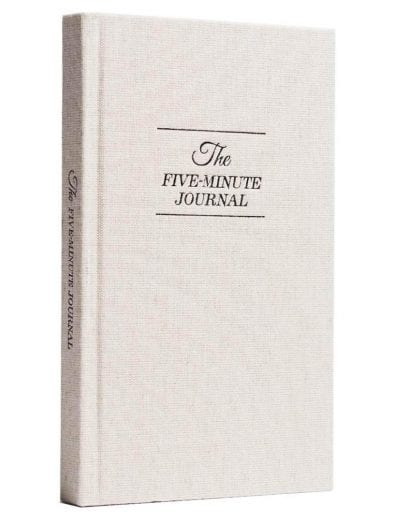 This reflective journal is perfect for teachers. In only five minutes a day, they can start to think beyond the chaos of the year and reflect on all that's happened.
Buy it: Journal at Amazon
12. Customized Notepads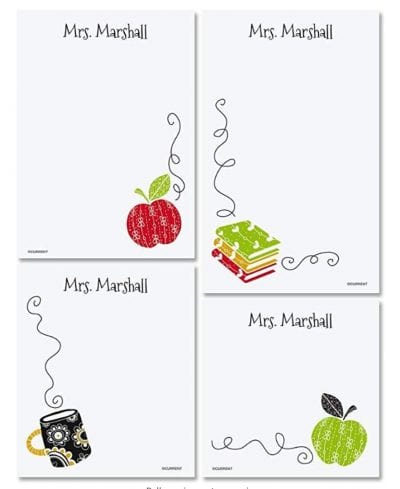 Personalize this set of four notepads for your teacher so they can jot down reminders and ideas with a personal touch.
Buy it: Notepads at Amazon
13. Custom Video Montage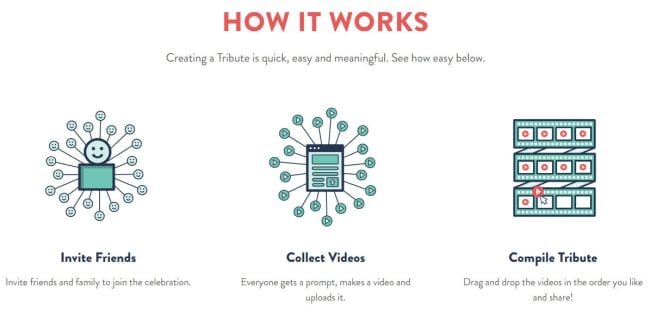 Another one of the best end-of-year teacher gifts. Assemble a video montage with Tribute! Their easy-to-use tools allow you to do it yourself, or you can pay a little more and have a professional put together something spectacular.
Buy it: Tribute Video Montage
14. Photo Keepsake
Got classroom photos? Why not make them into a custom photo keepsake for your teacher? It's like a Zoom session for the wall!
Buy it: Photo Heart at Minted
15. Teacher Pens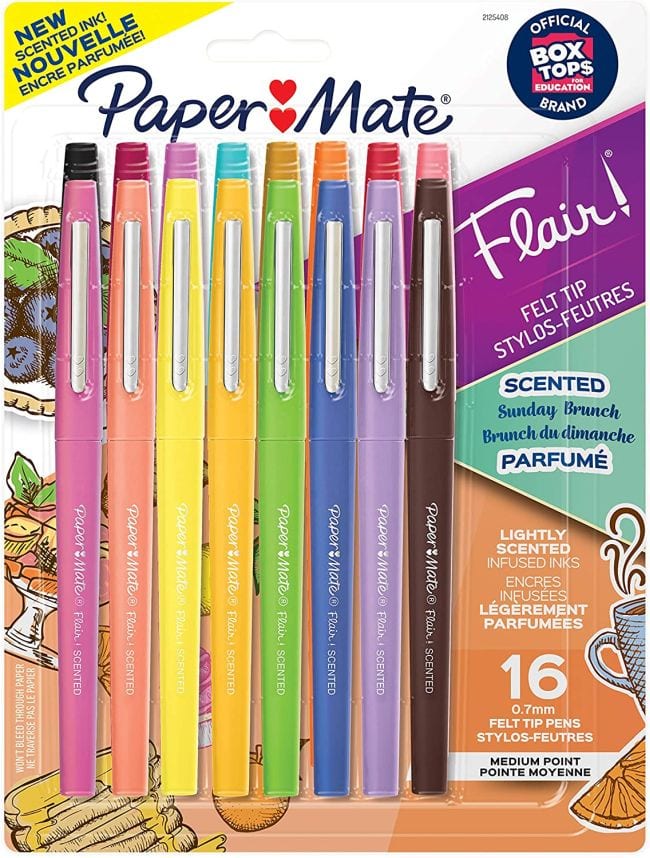 Teachers LOVE pens, and for most, Flair pens top the list. This set comes in cool colors and yummy scents, and they'll use them all summer long. Find more favorite teacher pens here.
Buy it: Paper Mate Flair Scented Felt-Tip Pens at Amazon
16. Fidget Desk Toy
I have students come up to my desk just to chat or ask a question and they always end up grabbing my pencils or pens or flipping through sticky notes. I know I'd appreciate a fidget toy that I could set on my desk and have it be useful and enjoyed by my students.
Buy it: Fidget Toy at Amazon
17. Personalized Teacher Library Stamp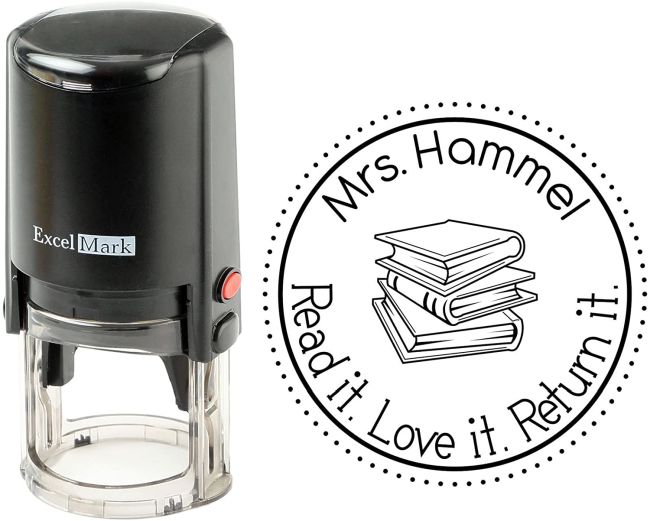 Teachers build their classroom libraries with loving care. Help them keep their selections from disappearing with a personalized stamp like this one. (See more teacher stamps we love here.)
Buy it: Self-Inking Teacher Library Stamp at Amazon
18. Mug Warmer
We never suggest a teacher mug (teachers have plenty of them!), but this one allows all those mugs to be put to use. They can keep their morning coffee and tea hot all summer long.
Buy it: Mr. Coffee Mug Warmer at Amazon
19. Bouquet of Blooms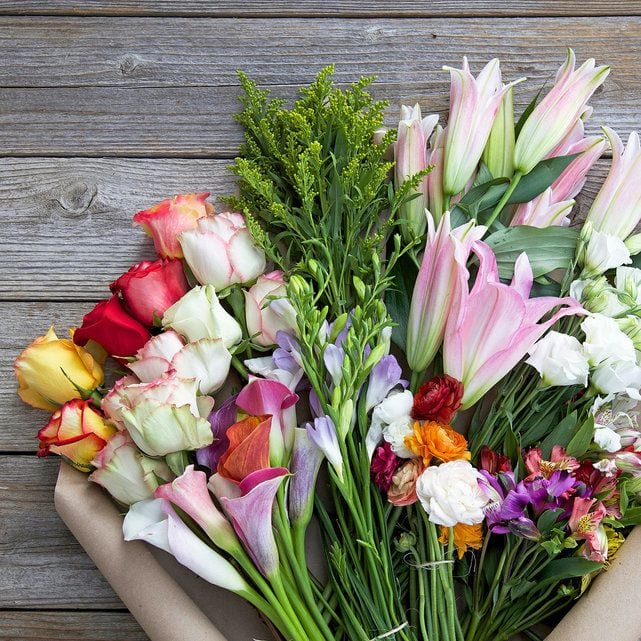 Start the summer off right with beautiful blooms from Bouqs. These flowers are sourced directly from farmers who use sustainable growing practices like minimizing waste and recycling water.
Buy it: Farmers Choice Bouquet at Bouqs
20. Desk Charging Station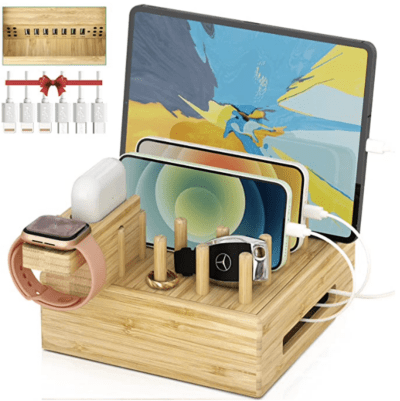 Sometimes a teacher needs to keep their items organized! Cords for a phone, tablet, watch, headphones, and more can easily become a mess, making this one of the best end-of-year teacher gifts. This desktop organizer is so helpful and convenient.
Buy it: Desk Charging Station at Amazon
21. Kindle Paperwhite or Fire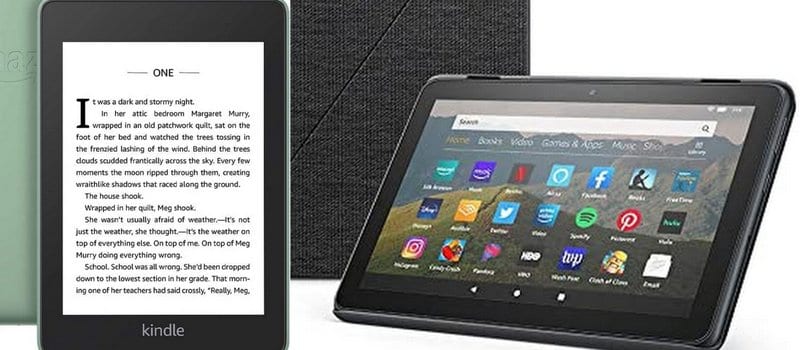 If you're looking to splurge or for a gift from the whole class, the Kindle or Fire from Amazon is perfect for teachers. If your teacher already has one, consider a Kindle Unlimited membership.
Buy it: Kindle Paperwhite or Fire HD 8 Tablet at Amazon
22. Amazon Echo Dot Smart Speaker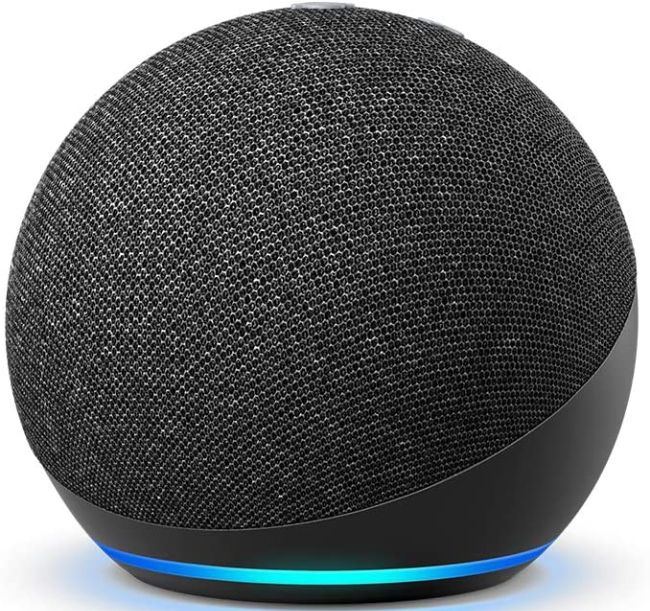 Smart speakers with voice search built in have so many uses in the classroom. These little gems are so affordable now that they make great gifts for teachers. The Amazon Echo Dot is one of our favorites, since it's so easy to use and coordinates with other Amazon products.
Buy it: Amazon Echo Dot at Amazon
23. Treat Them to Dinner

A gift card to go out to eat would be a delightful treat for an exhausted teacher. Give them a gift card like this that allows them to pick and choose what fits their preferences and what may be convenient to them.
Buy it: Gift Card at Amazon
24. Scalp Massager
This scalp massager has been a viral sensation. Allow your child's teacher to pamper themselves with a little scalp massager. Pair with a shower steamer or some cozy slippers and this gift would be a welcomed relaxation basket.
Buy it: Scalp Massager at Amazon
25. Sunglasses
Sunglasses can be one of the great end-of-year teacher gifts! Give them some shades as they prepare to catch some rays outside and take in their summer vacation. Pair these with a book and they are set for the season!
Buy it: Sunglasses at Amazon
26. A Good Book
Teachers read professional development books and stacks of papers all year. Sometimes it can be challenging for them to carve out reading for pleasure. Atomic Habits has been on my TBR stack for a while now. If not this one, find one you think would fit your child's teacher. Maybe even include a handwritten note on the inside!
Buy it: Atomic Habits at Amazon
27. Capri Candle
This candle has stood the test of time. Every time I've been in a store where they are burning a Capri candle, I ask someone what kind of candle I am smelling. Treat your teacher to a sweet-smelling retreat.
Buy it: Capri Candle at Amazon
28. Earrings
This classic set of earrings will make your teacher smile. They are lightweight, have great reviews, and go with anything!
Buy it: Gold Earrings at Amazon
29. Beach Bag
It's the end of the school year, so let your teacher trade in their tote bags for a beach bag! This one has great reviews on Amazon. It comes in many different colors and is perfect for them to tote a towel and book to the water. Help them get their summer started!
Buy it: Beach Bag at Amazon
30. Golf Balls
Does your teacher like to hit the links in the summer? I choose my golf balls based on their color, and I chose these because they're fun. Buy your golf-loving-teacher some fun golf balls for their summer.
Buy it: Golf Balls at Amazon
31. Teacher Mug
This English Teacher mug will make your teacher smile and look forward to keeping it for years to come. It's witty and simple and thoughtful.
Buy it: English Teacher Mug at Etsy
32. A Giveaway Gift
Give your teacher the gift of travel by purchasing an AirBnb gift card! This can be used to go toward a giveaway, or look for a particular staycation like a fun tree house or cabin in the woods or a lake house near you and set the amount. This would be on the pricier end of gift-giving but would be a welcomed surprise!
Buy it: AirBnB Gift Card at Amazon
33. Cloud Mug
These cloud mugs are adorably invading the internet! I can picture an art teacher loving one of these mugs. They are so cute and fun! Pair with their favorite tea or K-Cup.
Buy it: Cloud Mug at Amazon
34. Simple Modern Water Bottle
Get your teacher a water bottle that has 5 stars on Amazon with glowing reviews. They can take this with them on their adventures throughout the summer and bring it back with them in the fall to start another year.
Buy it: Simple Modern Water Bottle at Amazon
35. 100 Hikes of a Lifetime: The World's Ultimate Scenic Trails
For your adventure-prone teacher, get them an inspirational gift like this book, 100 Hikes of a Lifetime: The World's Ultimate Scenic Trails by National Geographic. They can pick and choose hikes to pursue and use their summer crossing hikes off their list. They'll never forget the student who got them such a thoughtful and long-lasting gift.
Buy it: 100 Hikes of a Lifetime at Amazon
Need more ideas? Try these articles.
What are your favorite end-of-year teacher gifts? Share in the comments below!