If you teach elementary school, chances are pretty good that you love a good teacher stamp. Not only are they adorable, they can make grading go faster, too. Here are some of our the best teacher stamps we've found online.
Just a heads up, WeAreTeachers may collect a share of sales from the links on this page. We only recommend items our team loves!
1. Say goodbye to messy hands with these self-inking, interchangeable stamps!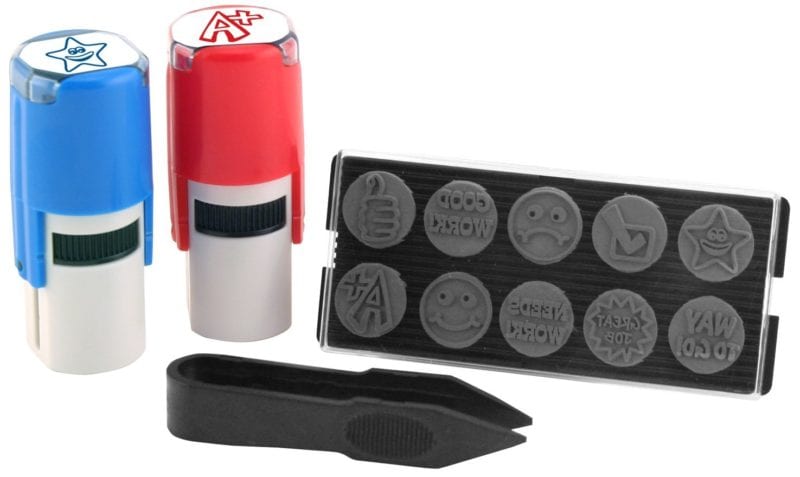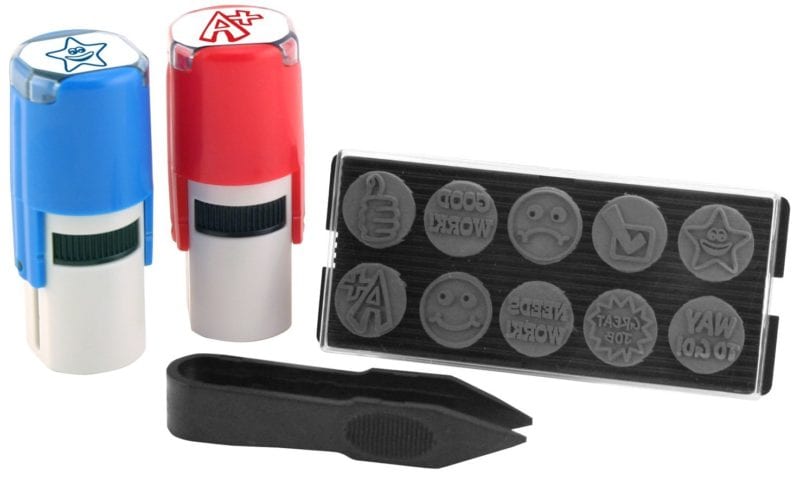 These self-inking stamps will stay moist, so you won't have to worry about your ink pads drying out mid-year. Use the included tweezers to change out the rubber stamps. Each set comes with two stampers and ten rubber stamps plus the tweezers.
$13
2. Show off your love of social media.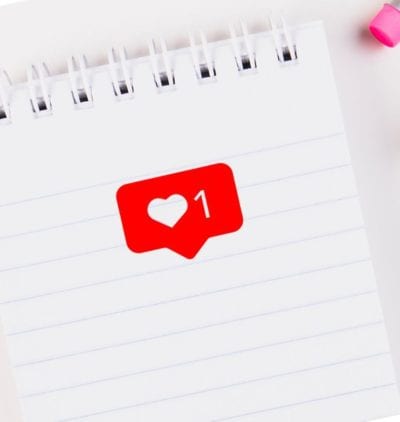 Your students aren't the only ones who love social media! Show off your funny side and make their day with this heart-shaped "like" emoji.
$18
3. Let your students know you're proud of their good work.

Who doesn't love a good pun? This "Taco 'Bout Great Work" will make your students giggle.
$12
4. Melissa and Doug to the rescue!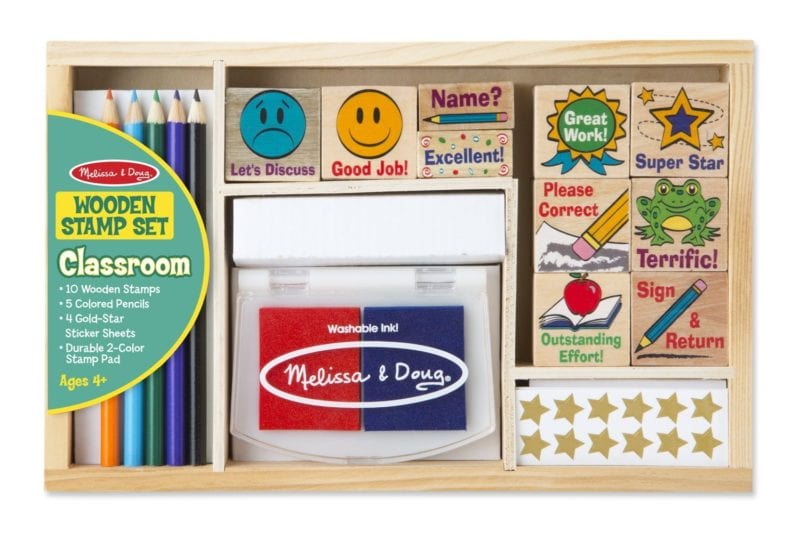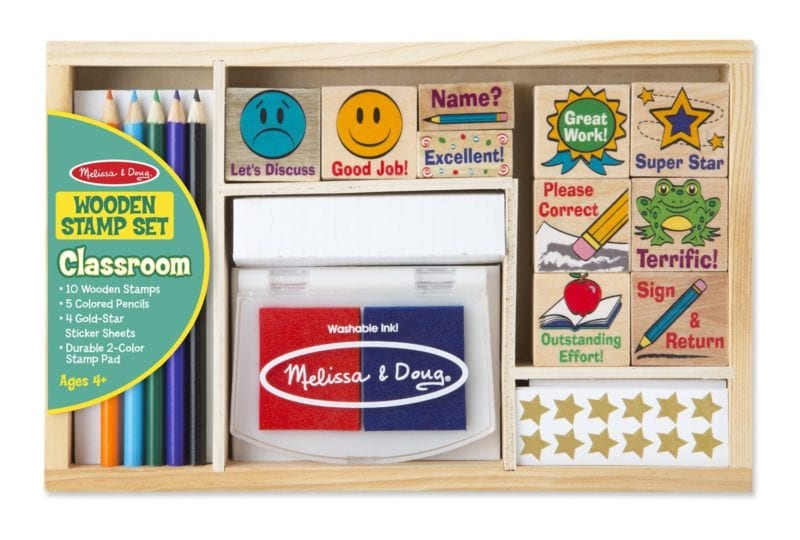 What's not to love about this kit? We especially love the Name ? stamp, as forgetting to write their name on assignments is a particular struggle for students during the beginning of the school year. The kit comes with washable ink (yay!), gold stars, ten stamps, and colored pencils.
$13
5. Make a "super" impression with these customizable stamps.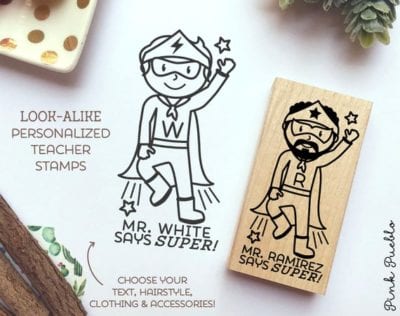 If you're doing a superhero theme (or even if you're not), you need this stamp. Customize everything from the hair, facial hair, mask, cape, and name!
$27 with free shipping and an ink pad in the color of your choice
Superteacher Male Stamp (Psst! Ladies, you can find your super stamp here.)
6. Stamps can be great for centers, too.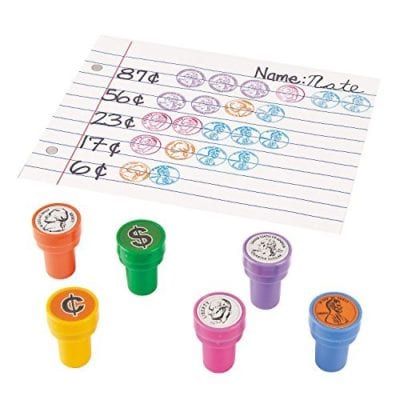 If you're teaching coins or money math this year, these stamps will add flair to your lessons. You can even quickly give each student their own customized quiz or worksheet!
$8
7. Periodic personalization.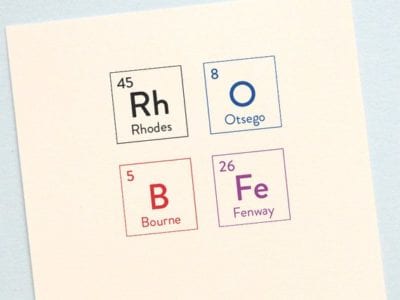 Channel the periodic table with these personalized name stamps. Great for your class library, resource books, or stationary!
$23
8. Let your inner Disney fan shine.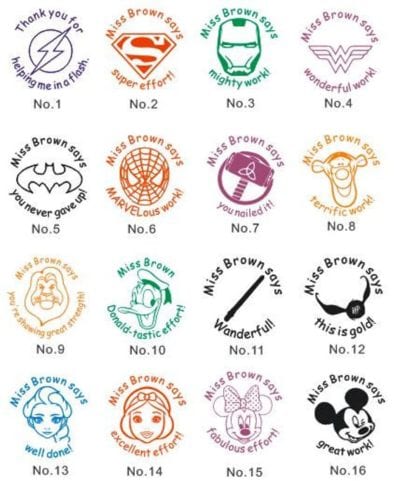 Do you love Minnie or Mickey? What about Elsa or Tigger? iTeacherStuff creates customized Disney character stamps as well as DC and Marvel character stamps. The only question is how many will you get?
$11
9. The stamp collection to end all stamp collections.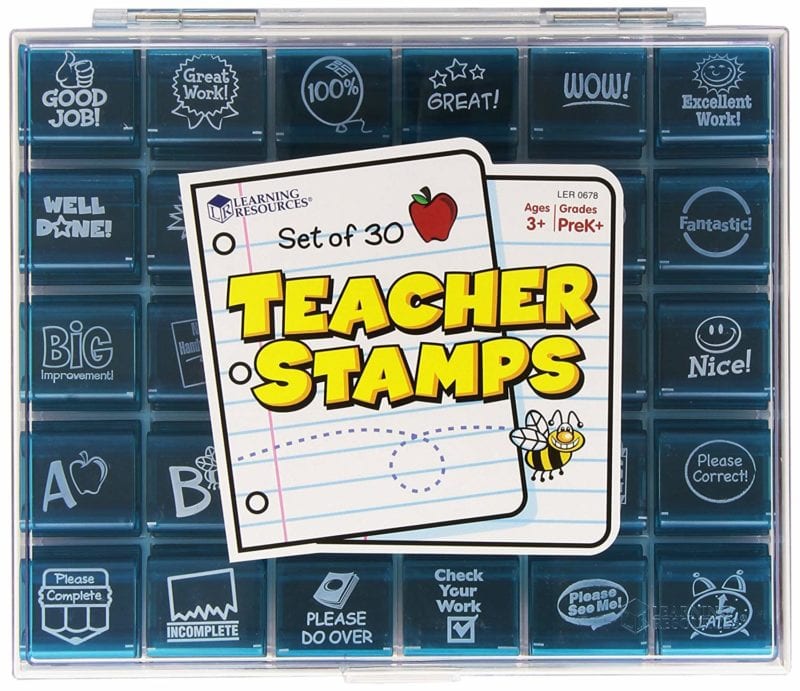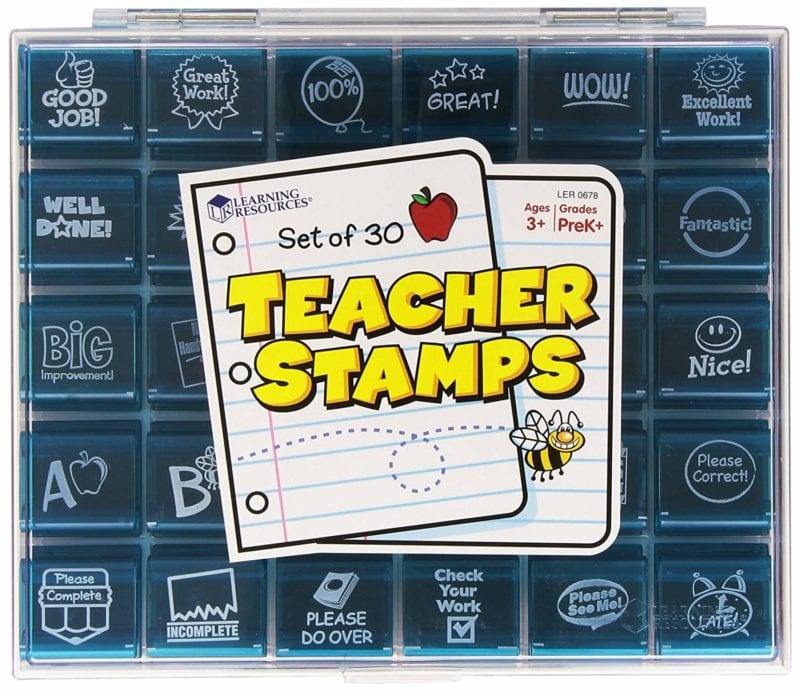 This set covers almost any comment you'd want to make when grading homework and papers. From incomplete reminders to grade stamps to late reminders, this set of thirty stamps will take you far!
$13
10. Stamps + Emojis? Yes, please!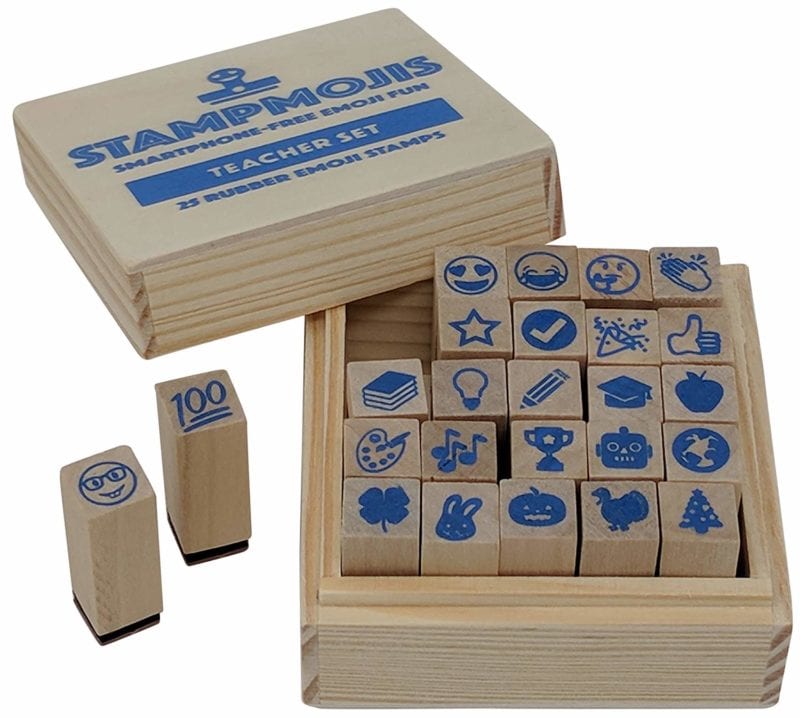 This set of 25 stampmojis is sure to make your students smile.
$14
11. Don't forget the ink!

We love this rainbow stamp pad to brighten up students' work. Choose just one color or dip your rubber stamp into multiple ink pads to create a rainbow effect! Available in eight different palettes.
$13
12. Encourage at-home reading with this cute raccoon stamp.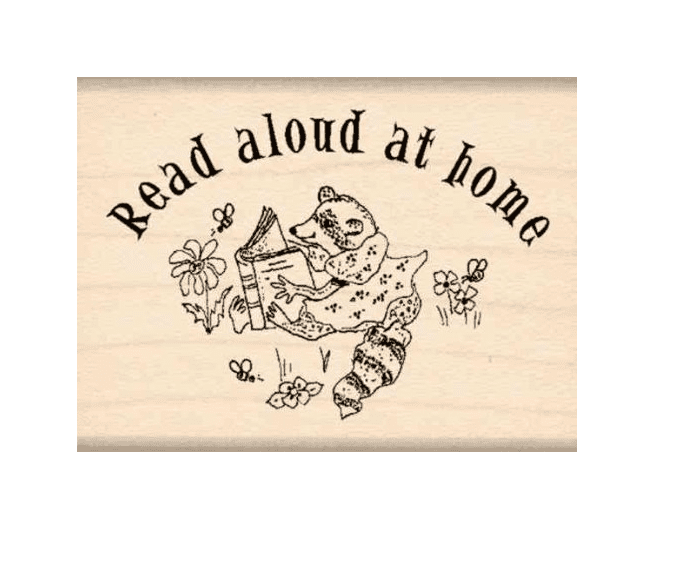 This is seriously one cute little forest critter. Use this stamp to encourage reading books or poems out loud at home.
$10
13. Celebrate success in Spanish.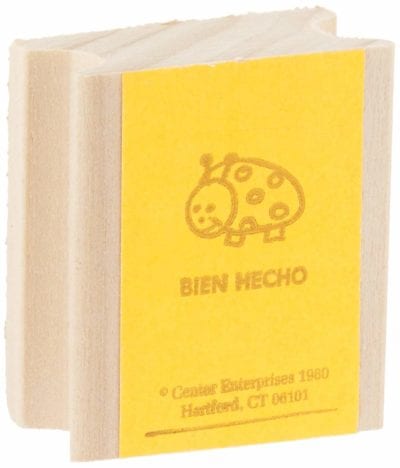 What's more exciting the Bien Hecho Lady Bug? This stamp is also available in Excelente, Está Perfecto, and Continuar A Tratar.
$8
14. Make your student's day.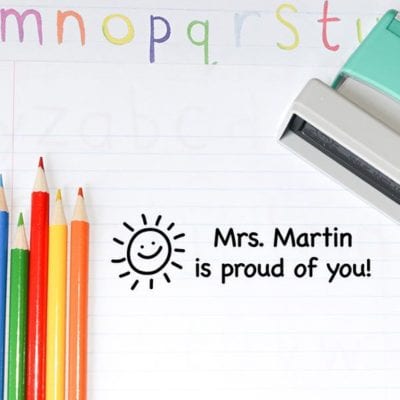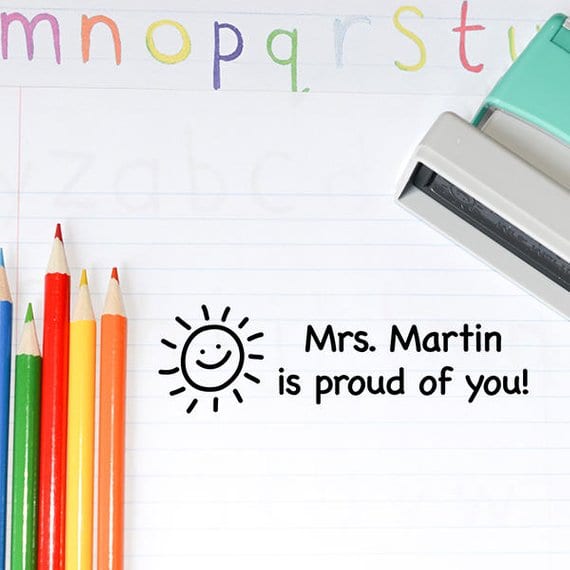 Words are powerful tools, and there is nothing quite like a "I'm proud of you" message to make a child's day!
$12
15. Use this stamp as a hall pass.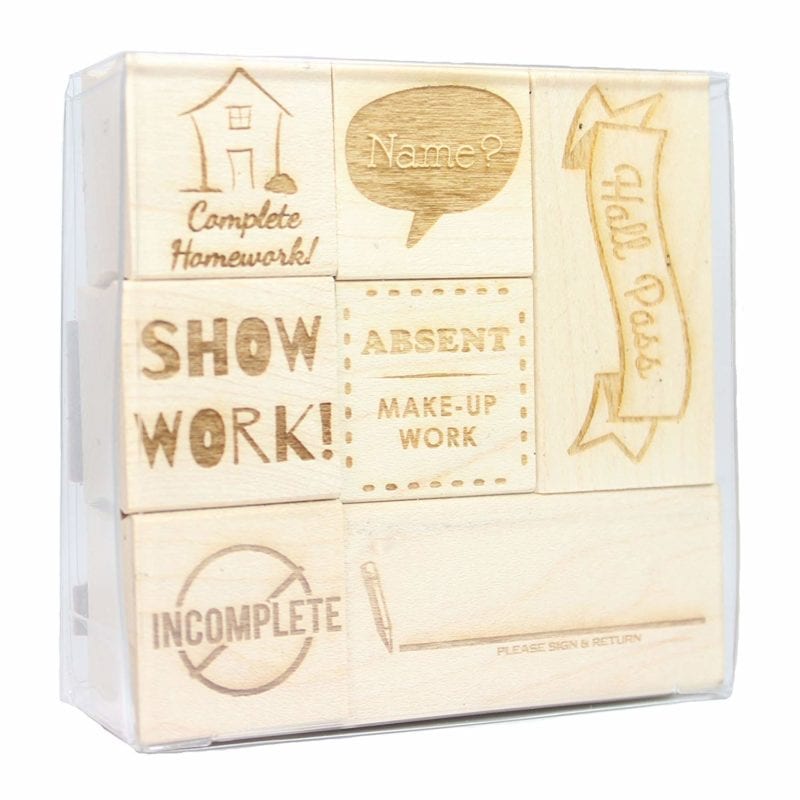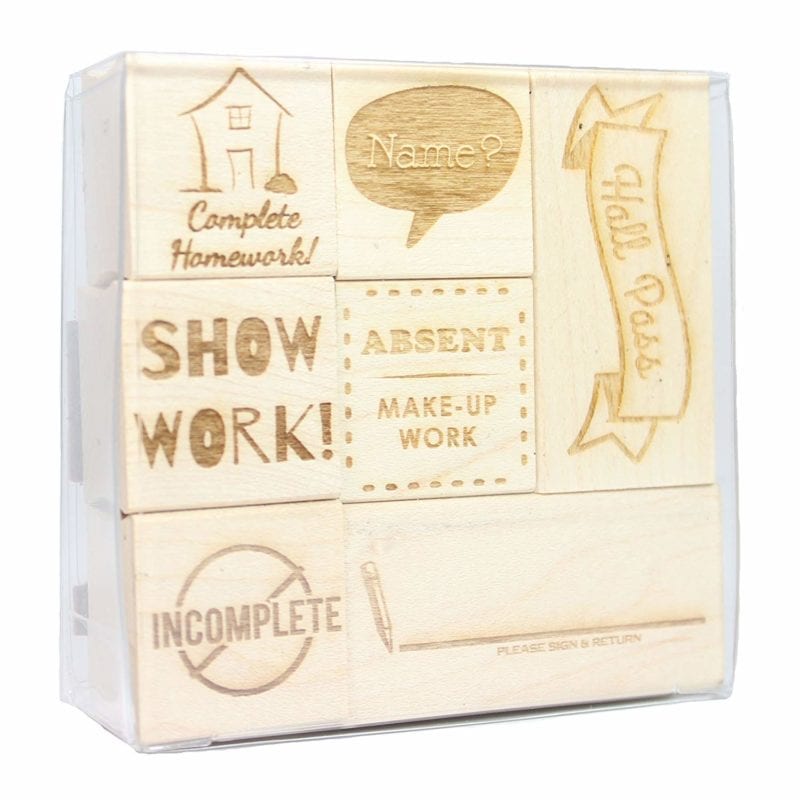 These engraved wooden stamps are neat, well made, and fulfill a teacher's basic stamp needs. But there is one stamp in particular that makes this set stand out: the hall pass. What a great idea! Grab a nontoxic ink pad and stamp the hall pass right on your students' hands. No more germy hall passes that end up tossed on the bathroom floor!
$15
16. Keep things confidential.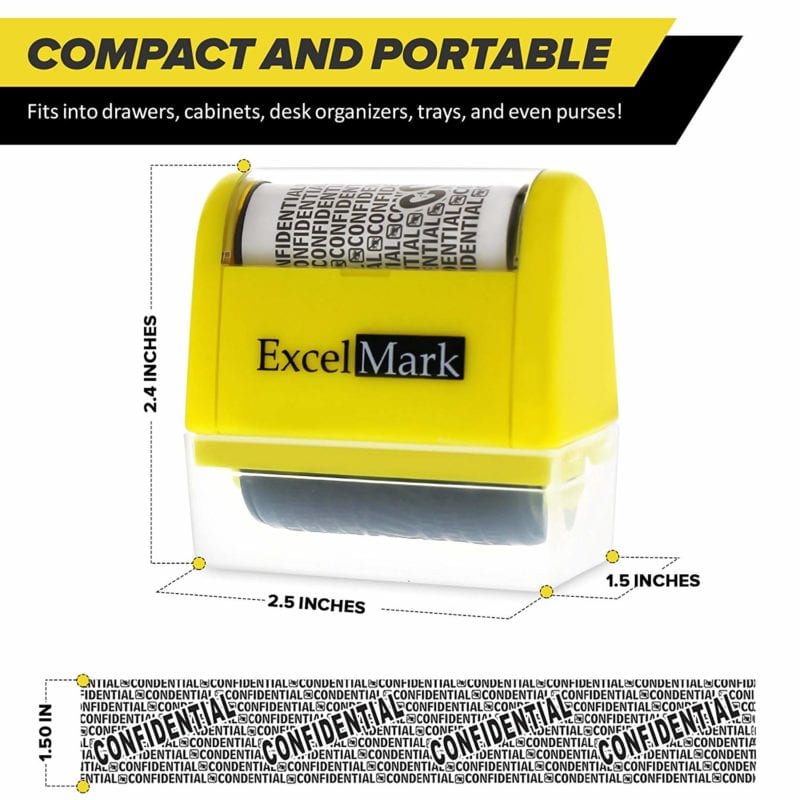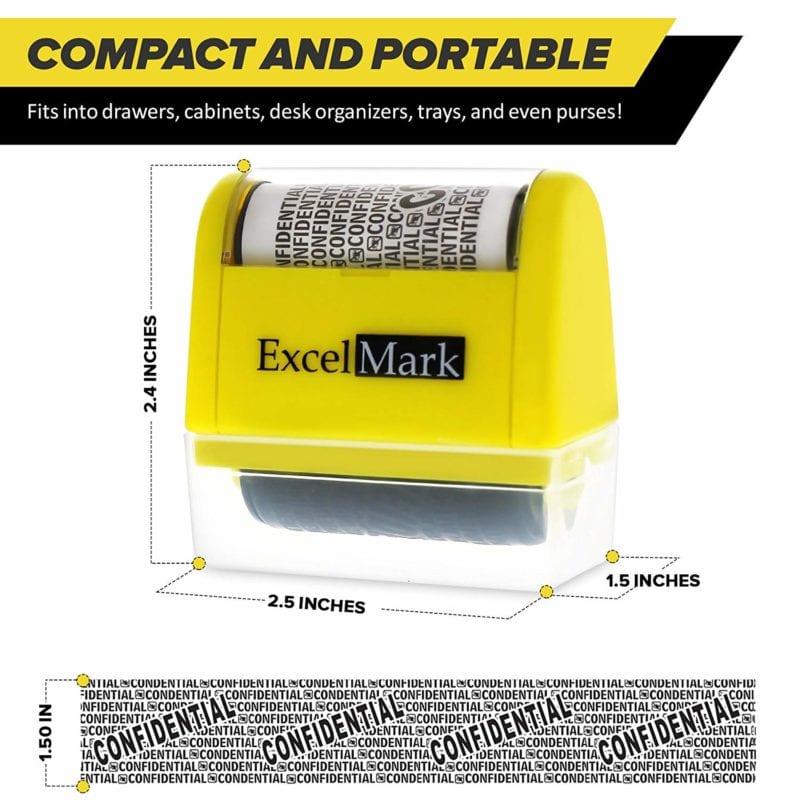 This stamp is great for sensitive student information, or for when you want to keep work anonymous.
$8
17. Personalize your classroom library.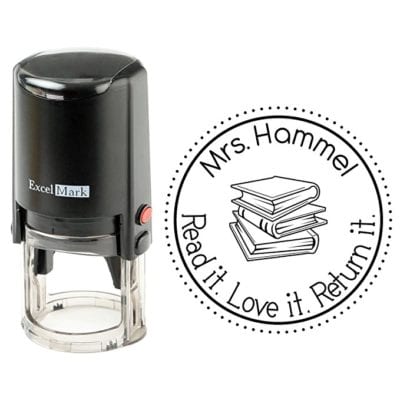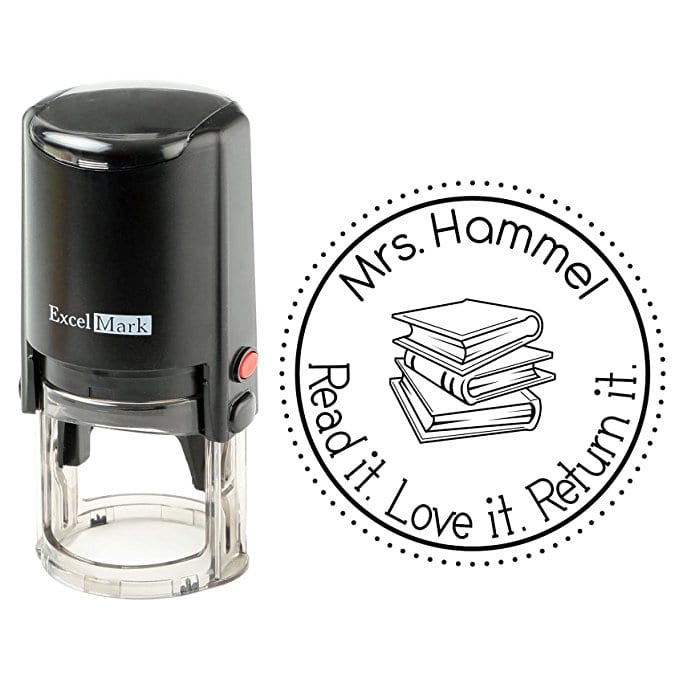 Use this stamp, and your students will never have to wonder if the book in their backpack belongs to your classroom library or the school library. Available in four different designs.
$18
18. Get work turned in on time.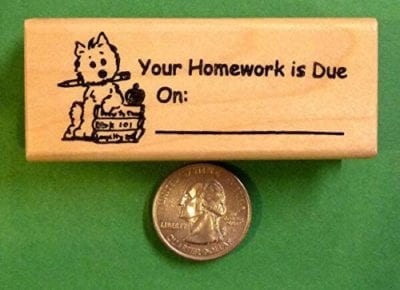 Use this stamp to help your students keep on top of homework deadlines.
$15.30
19. Teaching math? Grab one of these base-10 stamps.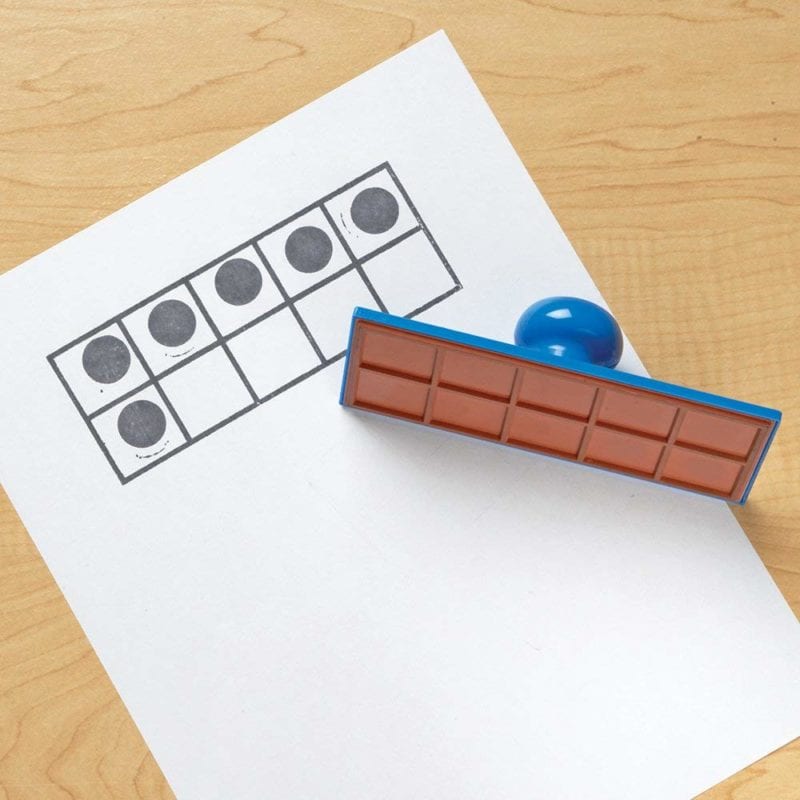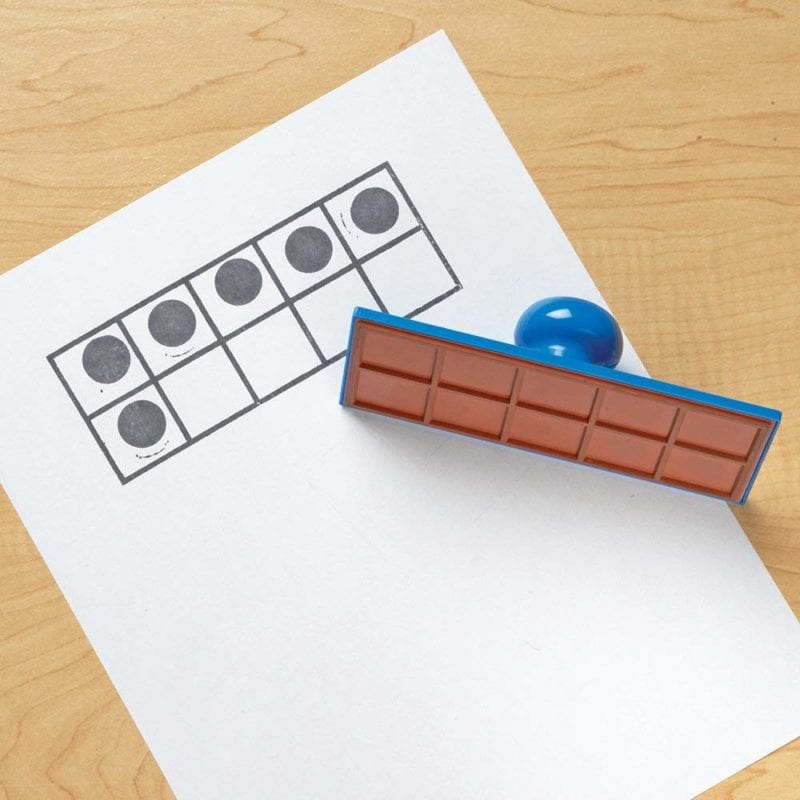 Quickly stamp a ten frame and have your students fill in the each square. The two-piece set includes the ten frame and the dot stamp. This can also be used to help students learn how to count by tens.
$8
20. Explore the world in your social studies class.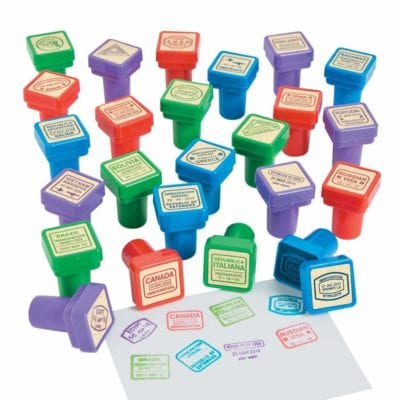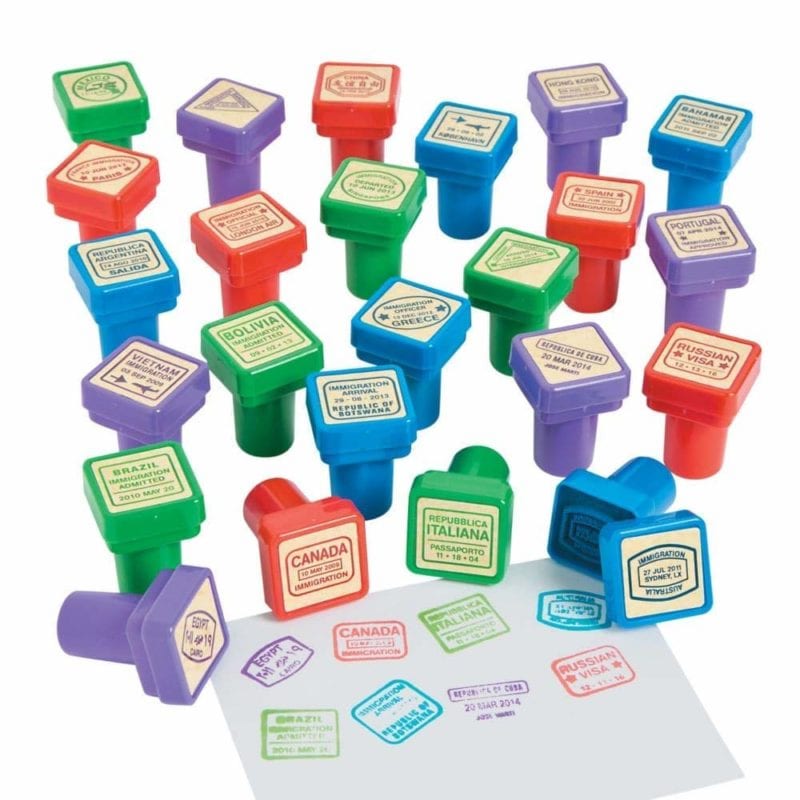 Spice up your social studies class and take your students on a trip around the world. Grab a few blank passports and use these stamps (all 24 of them) to teach your class about other cultures and countries.
$9
21. Let your bitmoji praise your students!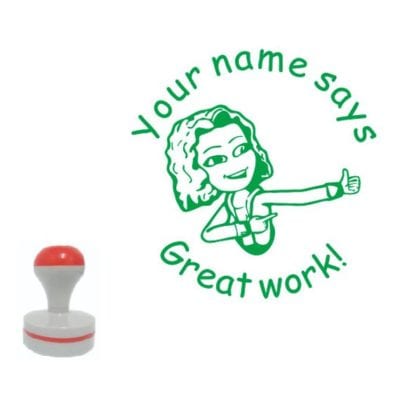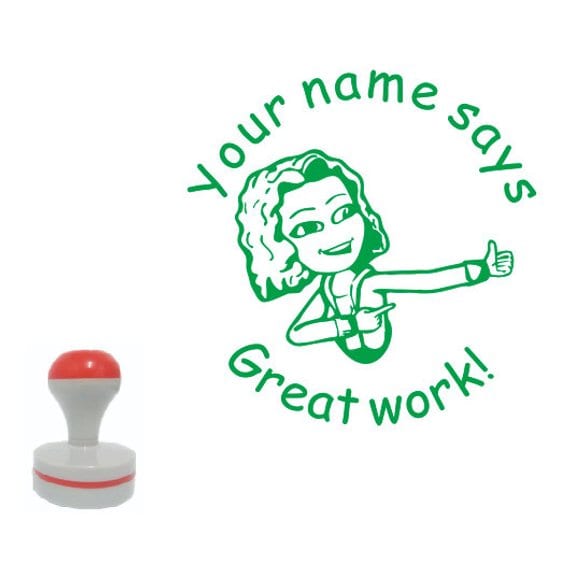 Personalize your own 40 mm bitmoji stamp! Each stamp purchase comes with your own ink pad, available in eight colors.
$13
22. Jump on the unicorn train.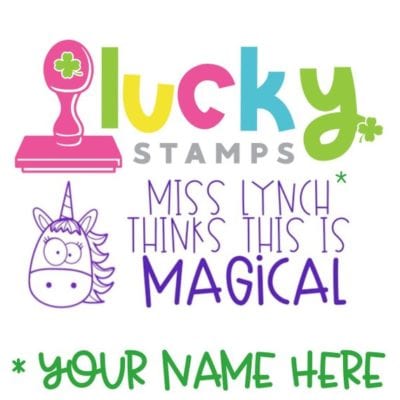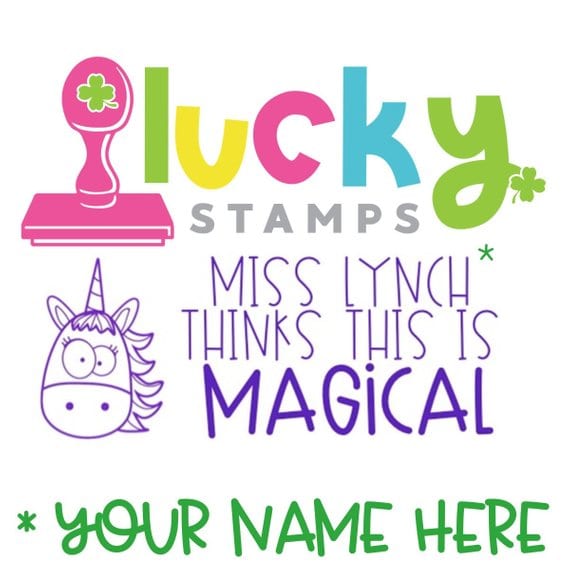 Did your students create magical work? Let them know! This personalized unicorn stamp is too cute not to use!
$21
23. Point out students' smarts.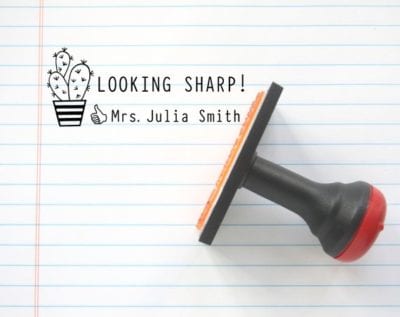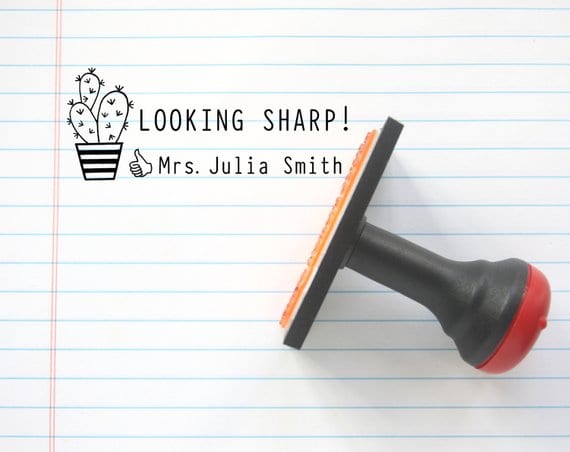 A cactus pun and a Facebook "like" all in one stamp? Yes please!
$10
24. A personalized stamp for Spanish teachers, too.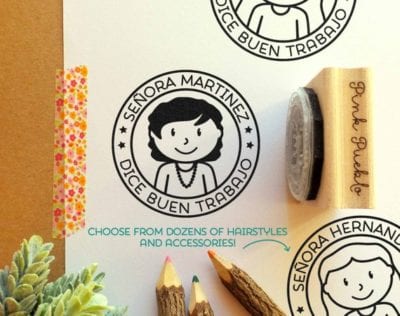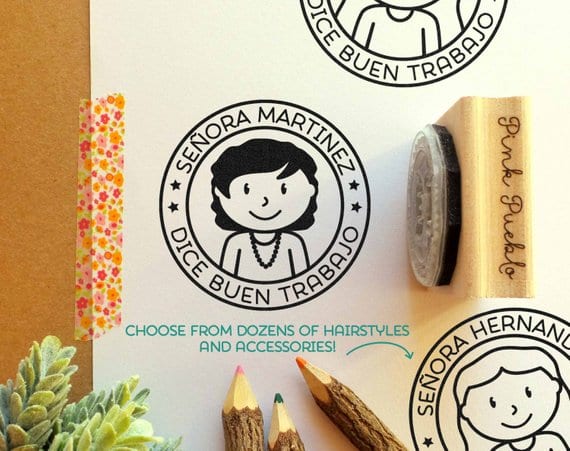 Fully customizable and a great way to "dice buen trabajo."
$27 plus free shipping
Personalized Spanish Teacher Stamp
What are your favorite teacher stamps? Come share in our WeAreTeachers HELPLINEgroup on Facebook.
Plus, check out our favorite teacher bags.