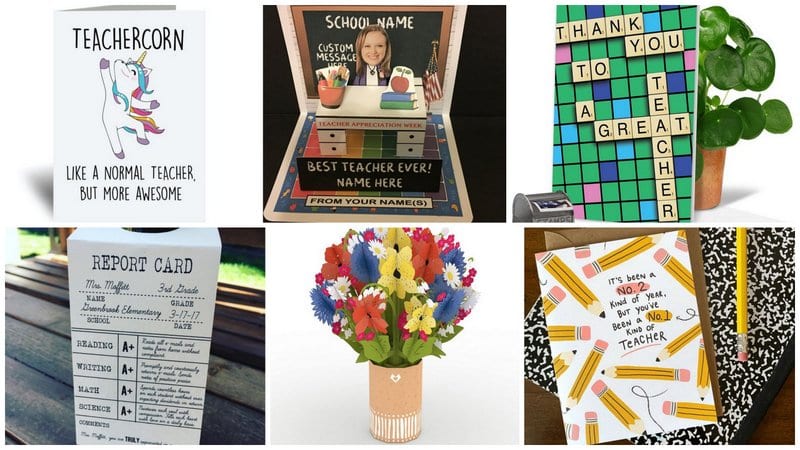 Whether you're looking to celebrate a teacher's birthday or thank them for all their hard work, a thoughtful card with a handwritten message is always appreciated. We've rounded up a selection of our favorite greeting cards for teachers, so you can send one that suits their personality!
(Just a heads up, WeAreTeachers may collect a share of sales from the links on this page. We only recommend items our team loves!)
1. Scrabble Thank You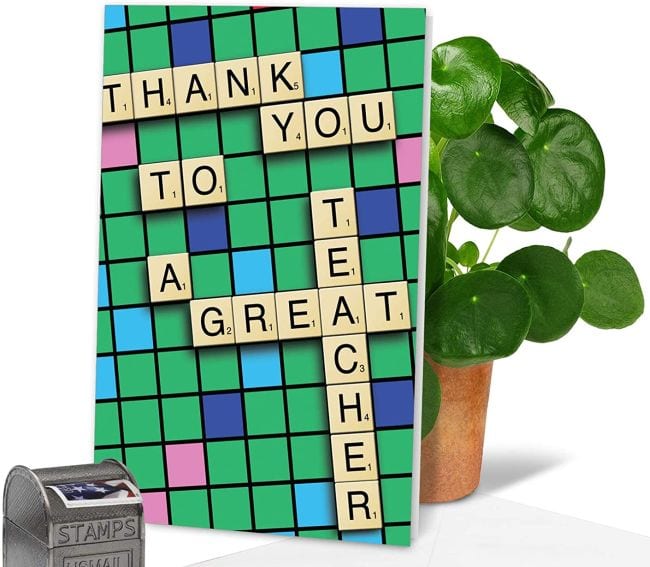 Word-loving teachers will appreciate this clever card. The inside spells out, "You're The Best," with plenty of room for your own words of thanks.
Buy it: Scrabble Thank You Card/Amazon
2. Yoda Best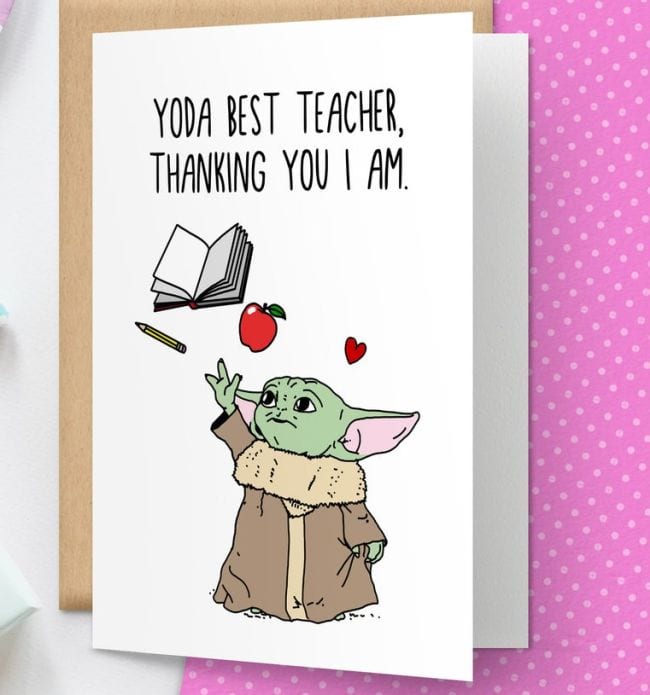 Any Baby Yoda fans out there? Or diehard fans who insist on calling him Grogu? Either way, this card is for them!
Buy it: Yoda Best Card/Etsy
3. Bobblehead Teacher Card
This has to be one of the cutest cards for teachers we've ever seen. This Etsy artist will make a pop-up card featuring your very own favorite educator!
Buy it: Bobblehead Card/Etsy
4. Lovepop Bouquet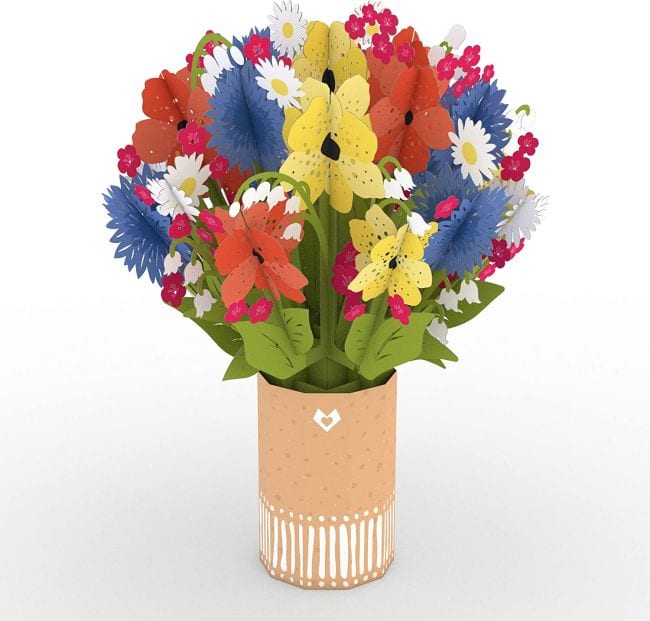 Lovepop makes incredibly cool 3-D cards. They're all beautifully detailed, but we especially love the flower bouquet options. Such a nice way to have flowers on your desk without needing to worry about caring for them.
Buy it: Lovepop Bouquet Card/Amazon
5. Gift Cards Are Better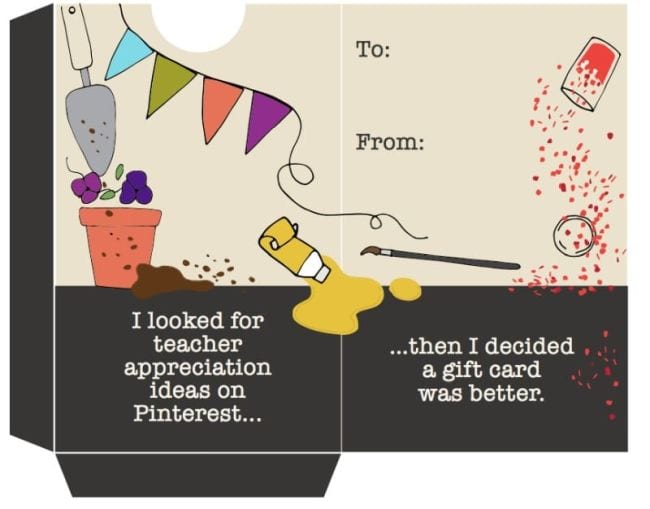 Looking for some free printables so you can spend your cash on a present or gift card instead? We've got you covered! Find 12 free printable appreciation cards for teachers in a variety of styles here.
6. Teachercorn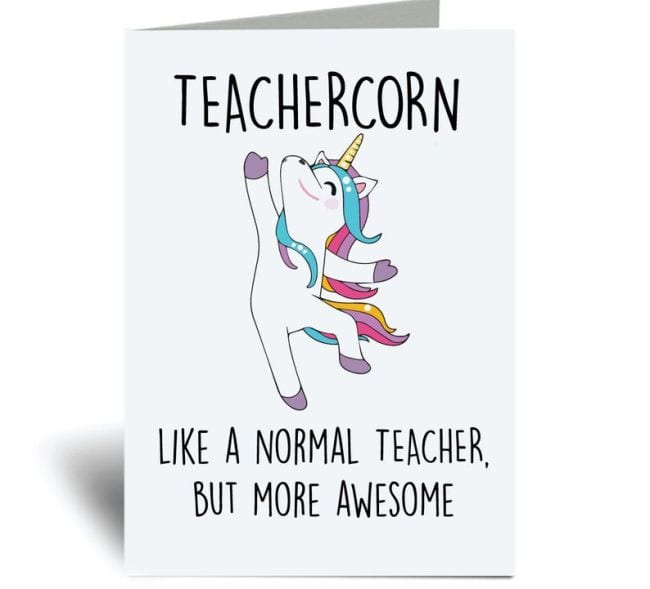 Cross a teacher with a unicorn, and what do you get? The best educator ever!
Buy it: Teachercorn Card/Etsy
7. Color It Yourself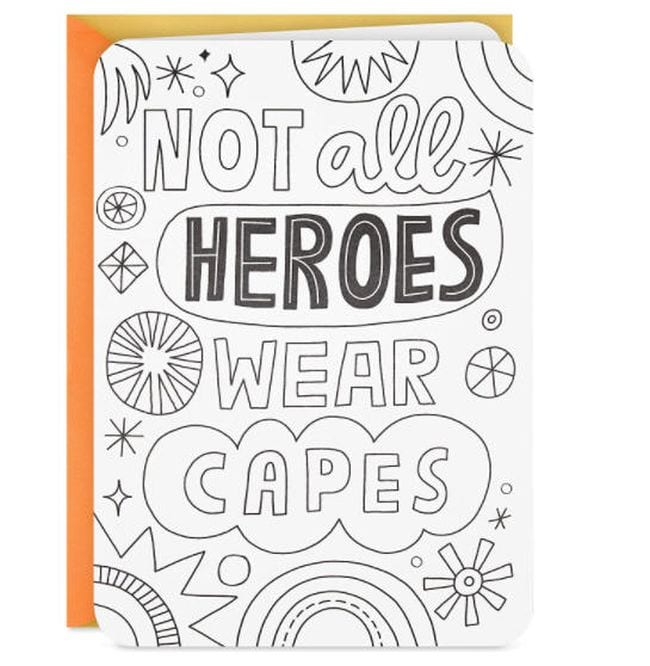 This sweet card is such a cute way to say thanks. Kids can put their personal stamp on it by coloring it before they sign.
Buy it: Hallmark Coloring Card/Amazon
8. No. 2 Year, No. 1 Teacher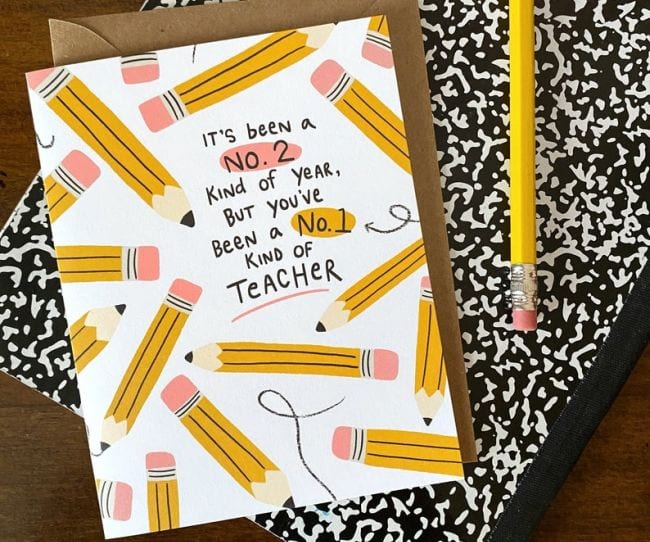 Congratulate a teacher on surviving a tough year with this smart card. Number 2 pencils may be best, but teachers rank number one in our book!
Buy it: No. 1 Teacher Card/Etsy
9. Agree to Disagree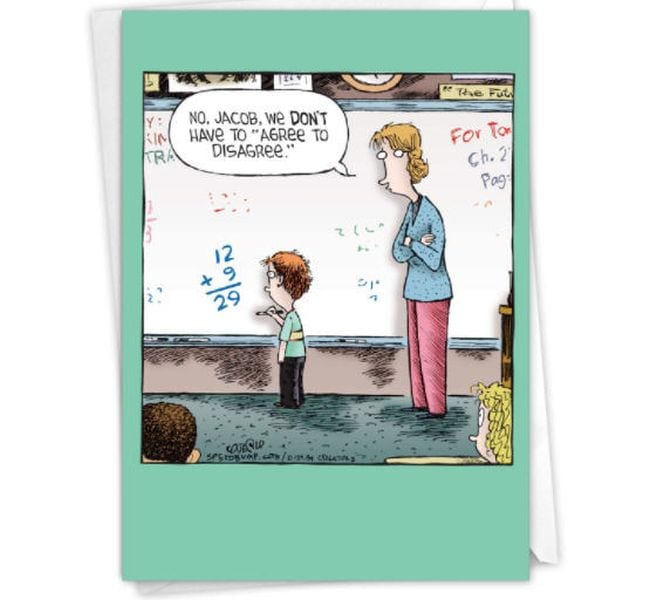 Give them a giggle with this funny comic. The inside reads, "Everyone agrees you're a great teacher. Thanks for being mine!"
Buy it: Agree to Disagree Card/Amazon
10. Teachers Plant Seeds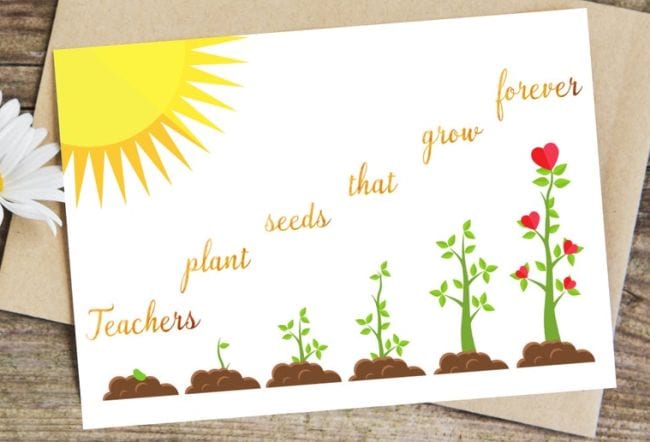 For an inexpensive teacher thank you gift, tuck a packet or two of flower seeds in with this charming card.
Buy it: Teachers Plant Seeds Cards/Etsy
11. Winnie-the-Pooh Believes in You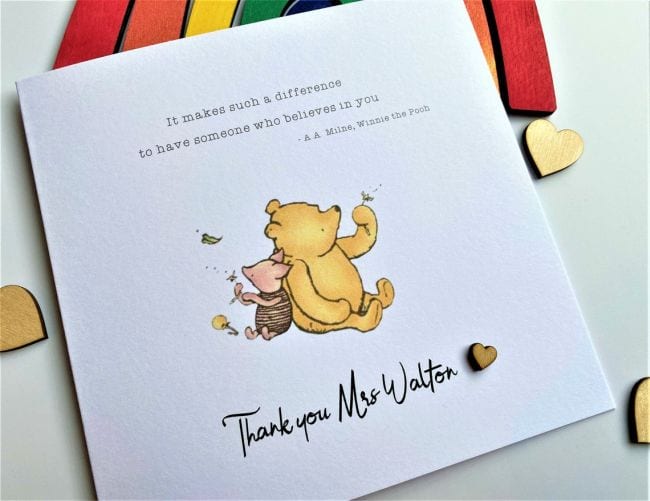 Pooh always has such words of wisdom to offer. Have this card (with dainty wooden accents) personalized for your recipient.
Buy it: Winnie-the-Pooh Card/Etsy
12. ISBN Thinking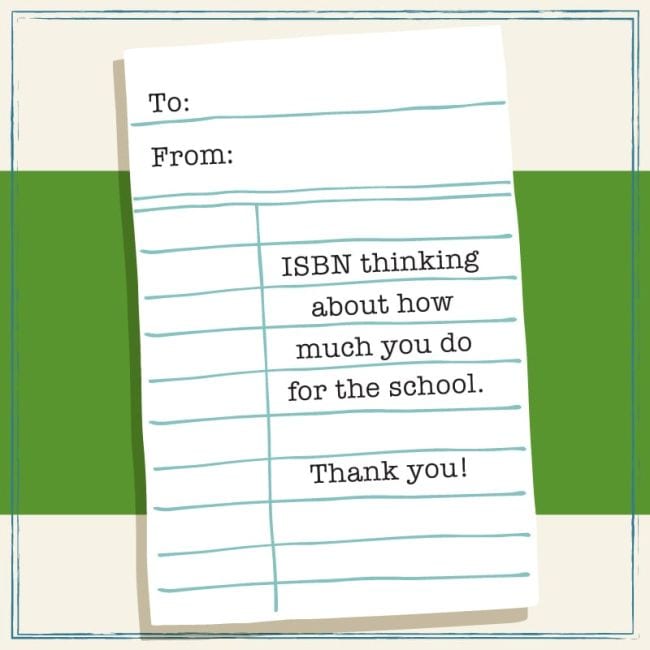 Here's a joke for the librarians and other book-lovers! Get this free printable card here, along with others, to thank your school's unsung heroes like cafeteria staff and custodians.
13. Day at the Beach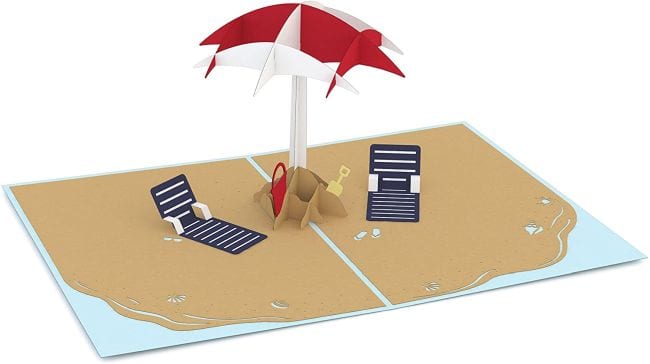 Every teacher is in constant need of a vacation. Give them a day at the beach with this Lovepop card, even if it's only in paper form.
Buy it: Day at the Beach Card/Amazon
14. Teacher Report Card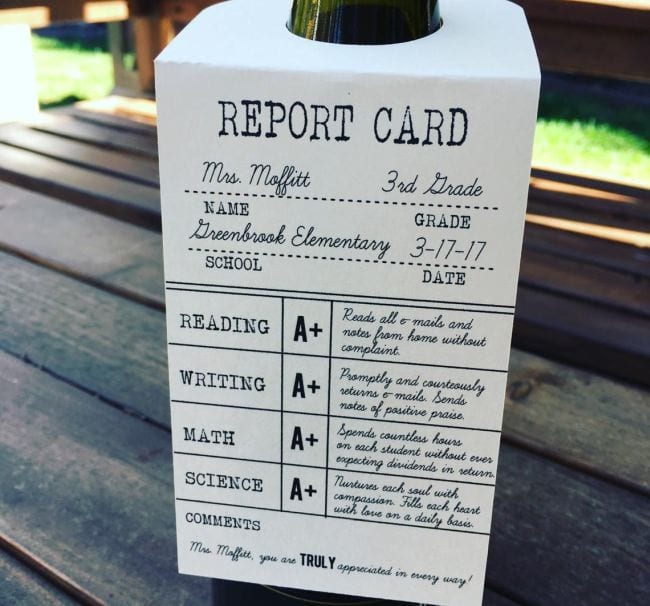 It's your turn to give a report card to the teacher! This one is designed to hang from the neck of a bottle of wine, too.
Buy it: Teacher Report Card/Etsy
15. Patience and Caring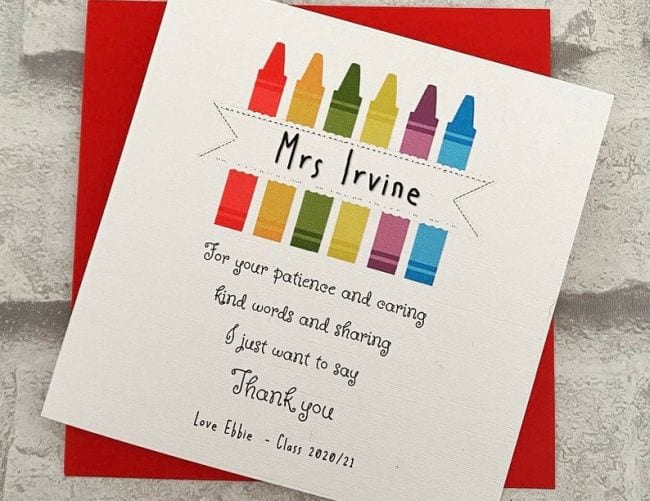 Sometimes all you need is a simple message to say thanks. Have this card personalized to make it extra special.
Buy it: Patience and Caring Card/Etsy
16. Pop Up Books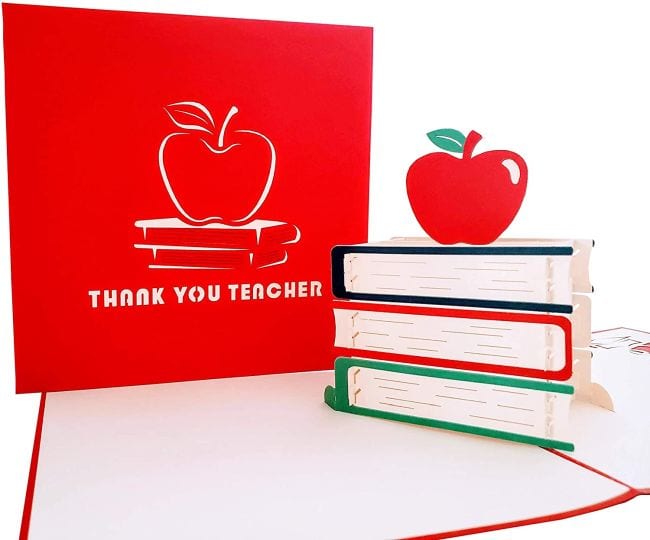 Here's one more pop-up card to add to your list! This one features a stack of books topped with a little apple for the teacher.
Buy it: Pop Up Books Card/Amazon
17. Gift Card Holders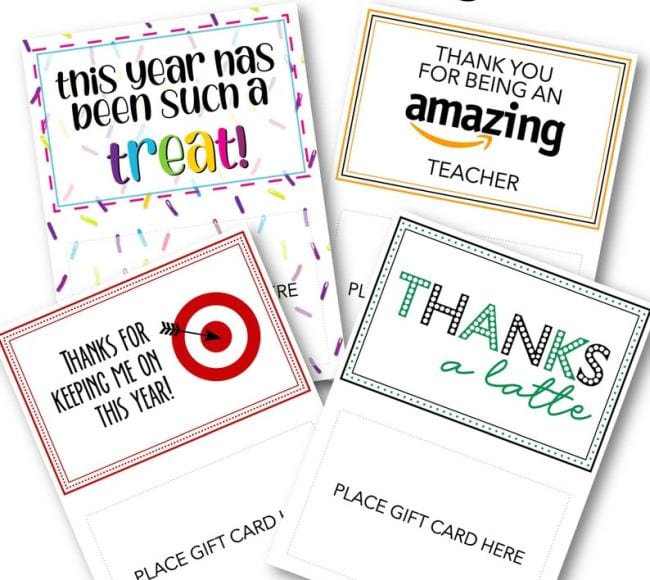 Giving your favorite teacher a gift card? These holders are customized for some of their favorite places, including Amazon, Starbucks, and Target.
Buy it: Gift Card Holders/Etsy
18. Hallmark Assortment Pack
If you need a whole bunch of terrific cards for teachers, try this assortment from Hallmark. You get 8 cards for less than two bucks each.
Buy it: Hallmark Assortment Pack/Amazon
What's the best card you've ever received as a teacher? Come share on the WeAreTeachers HELPLINE on Facebook.