Out with the old and in with the new! After a very unique 20-21 school year, it's time to get our classrooms back to the way we like them. Because shopping for fresh, new school supplies never gets old, our list of kindergarten supplies includes just about everything you'll need to outfit your classroom … no matter the time of year!
(Just a heads up, WeAreTeachers may collect a share of sales from the links on this page. Thank you for your support!)
Organize essential supplies for grab-and-go usage with a rainbow of 3-compartment (1 large, 2 small) caddies. Comfort grip handles plus impact-resistant plastic ensure that those precious supplies stay organized. 
Make life all the easier with your very own in-classroom thermal laminator. We've gathered the top laminator picks so you can easily reinforce documents or make instructional items tear and spill-proof.
Create your own classroom-sized calendar with this pocket chart featuring 45 clear pockets for holding headliners and days. Includes 68 calendar pieces.
[contextly_auto_sidebar]
Along with a calendar, it's best to have a classroom schedule so students know the plan for the day. This pocket chart comes complete with 10 write-on/wipe-off schedule cards, 5 blank cards, and 1 title card.
Rugs can bring a room from drab to fab with bold patterns, bright colors, and cool, cozy vibes. Plus, many classroom rugs do double duty by helping with assigned seating.
Once you have your carpet, you might need to get some carpet spots! These make it easy for kindergarteners to find their very own number to sit on for reading time or activities. Check out our favorite options here.
Your kids can build CVC words with these colorful magnetic letters.
One of the most widely used math manipulatives in the world, Unifix cubes represent units and link in one direction to help teach kids patterning, grouping, sorting, counting, numbers, addition, subtraction, multiplication, division, and measurement. We also have over 20 creative ways to use math manipulatives in the classroom.
As you build out your room and reading centers, you'll definitely want to consider bookshelves. We've gathered the best shelves for every space, including some super cute ones for the kindergarten classroom.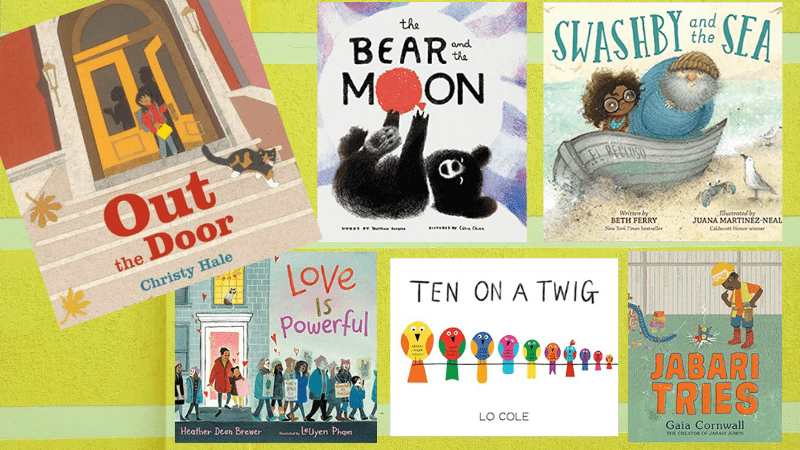 You've got the shelves, now it's time to fill them with books! We've gathered the best kindergarten books to fill your classroom.
Showcase sentences in action with this 28" x 28" durable, nylon pocket chart. Seven see-through pockets with reinforced grommets make it easy to create a mini-paragraph with your kindergartners.
With so many new devices being in school this year, you may not have a way to store your devices. This is my favorite way to store iPads and Chromebooks. No tangled cords and it's easy for the kids to put their devices away.
Speaking of tech, you need to have a few Square Pandas in your classroom if you have iPads. My kids are consistently in love with learning with the Square Panda  year after year.
14. Multicultural construction paper
Kindergartners will feel included with this multicultural set of construction paper.
Classroom management is extremely easy with the use of a wireless doorbell. Voiceless management with the click of a button. Check out all the colors here.
1″ spacing for little hands plus graphics in blue, green, and red promote the feeling of success as children learn to form letters correctly.
Step right up to your whiteboard and use these bright, vivid, non-toxic, quick-drying, smear-proof, dry erase markers to make your mark this school year. Browse our top choices for dry erase markers for the classroom!
If you're creating a theme for your classroom, or just want to brighten a corner or wall, why not consider string lights as a way to add a pop of light and personality? Here are our top string light sets!
Board games are perfect for supplemental learning. Not only do students learn how to get along and take turns, but they can also reinforce math and literacy skills! Check out our favorite board games, including Camelot Jr. and River, Roads & Rails.
Blocks are an important part of the kindergarten classroom. Students can learn to stack and build. Kids can use their imagination to create worlds around them. They can learn about shapes and volume. They can even learn to share with others!
Kinetic sand is so much fun to play with (just let it ooze through your fingers) and is a great item to have on hand. Students can write letters and numbers in the sand or even dig for buried treasure. Just check out our list of over 20 satisfying ways to use kinetic sand in the kindergarten classroom!
More and more schools are integrating technology, even at the kindergarten level. Make sure you have a classroom set of these colorful, resistant headphones. They'll provide a comfortable fit for little ears thanks to plush circular cups and an adjustable headband.
Plastic folders keep little one's first academic masterpieces safe. Look for heavy-duty folders with double reinforced edges that can withstand a year of kindergarten learning. Colorful and moisture and tear-resistant, these folders each hold up to 135 sheets of letter-size paper.
Even kindergartners can journal! The wide-ruled format (11/32-inch) of these kindergarten-ready composition books promotes neat, even lines for kids learning their ABCs. Each notebook boasts 100 sheets of paper.
Kids can easily and safely cut through layers of paper, foam, and poster board thanks to these scissors' blunt-tip design. Softgrip, cushioned handles with a textured non-slip surface on the finger loops guide little hands toward correct handle use.
Ready to spark more fun in the classroom? A wireless microphone helps even the quietest kiddos want to share and talk about their work.
Just imagine all the artistic masterpieces your kindergartners will create with this classroom set of classic, colorful crayons! One of our favorite kindergarten classroom supplies, these crayons are separated into individual sections by color in the storage box, keeping coloring time better organized.
Kids love to get creative with color, but kindergarten teachers want to keep the color where it belongs and they want to easily remove it where it doesn't! Washable and non-toxic, these markers are now made with an ultra-clean formula that washes easily from skin, clothing, and walls. Like the crayons above, this classpack features storage sections, each separated by color, to keep markers organized.
Non-toxic, easy to use, and washable with soap and water, glue sticks make it easy to put two and two together. Stock up on a classroom set of these giant sticks so your kindergarten kids can create imaginative projects galore.
No teacher wants sticky messes—or worse—to linger on classroom surfaces. Lysol Disinfectant Spray and Disinfecting Wipes kill 99.9% of viruses and bacteria.
Because wiping runny noses and drying tears are part of every Kindergarten teacher's unofficial job description.
We've got lots of posters over on our Free Printables page, and they're just the thing to brighten your classroom walls. You can find our reading posters pictured above here.
Kindergartners will learn the excellent habit of sharing this school year. Keep track of classroom supplies and prevent them from getting lost in the shuffle with adhesive name labels.
Are we missing one of your favorite kindergarten classroom supplies? Head over to our WeAreTeachers Dealsgroup on Facebook to share your faves!