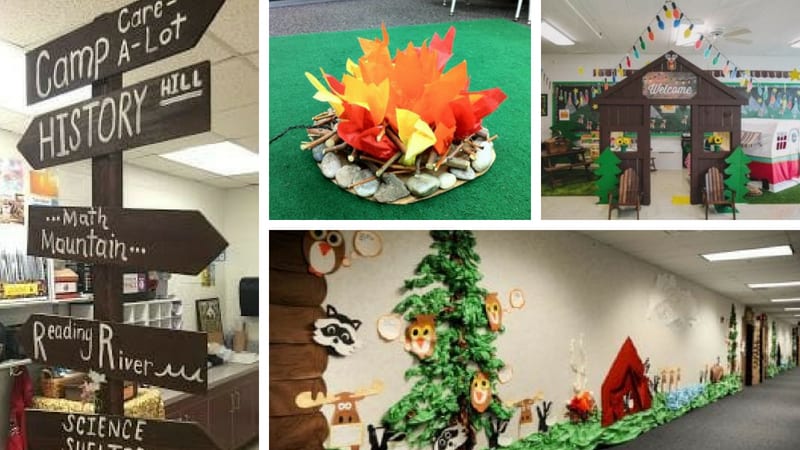 A camping classroom theme can bring the spirit of adventure into your learning space. You'll definitely have a lot of fun coming up with decor ideas! Need some inspiration? We've got you covered with these adorable props, bulletin boards, books, and products to set up your camping classroom theme!
(Just a heads up, WeAreTeachers may collect a share of sales from the links on this page. We only recommend items our team loves!)
1. Go From Classroom to Campground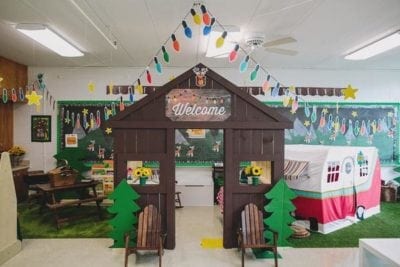 Check out how this teacher transformed this storage closet into a  totally decked-out camping-themed classroom!
Source: School Girl Style
2. Start a Glowing Campfire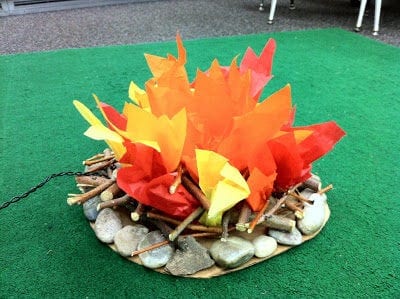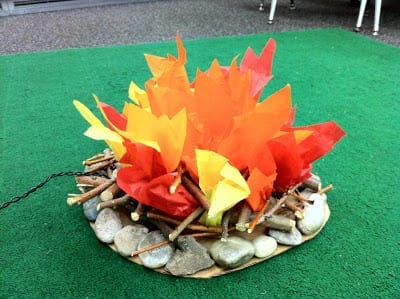 This classroom campfire idea actually glows when you turn off the lights!
Source: The Teacher Wife
3. Huddle Around a Pool Noodle Campfire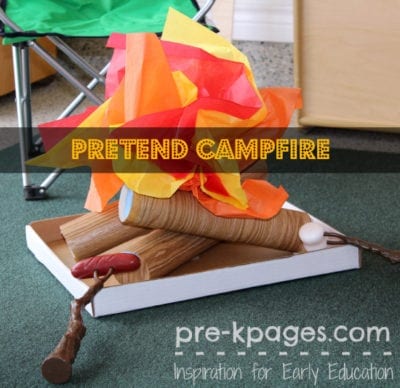 This classroom campfire is made from pool noodles. Want to try it yourself? We love these pool noodles from Amazon because they're black and already have the firewood look!
Source: Pre-K Pages
4. Recreate This Campfire Craft for Kids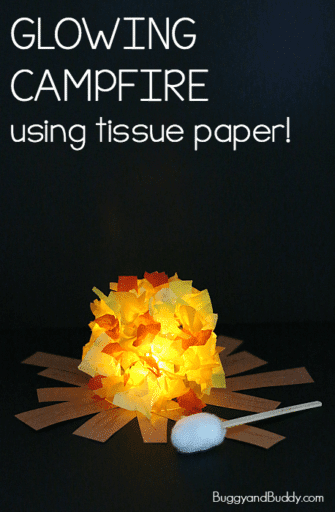 You'll need electric tea lights and tissue paper for this fun DIY campfire.
Source: Bug & Buddy
5. Try an Inflatable Campfire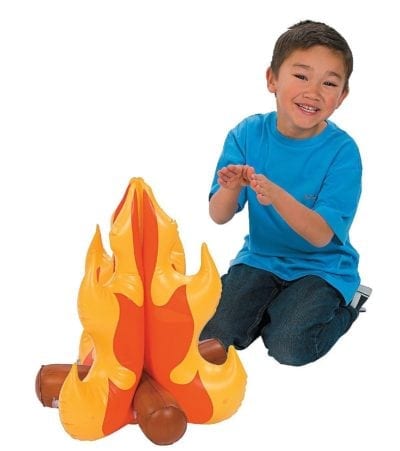 Not crafty? Get yourself one of these inflatable campfires!
Buy It: Campfire/Amazon
6. Cuddle Up to a Plush Campfire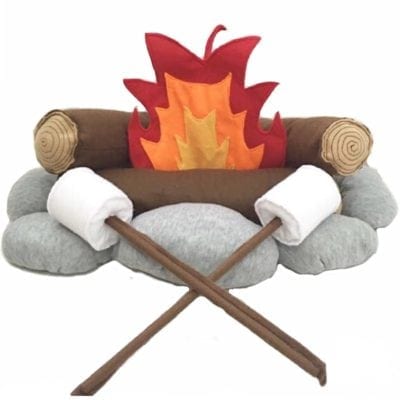 This plush campfire is adorable, and younger kids could incorporate it into their pretend play.
Buy It: Plush Campfire/Amazon
7. Hang a Camping Signpost

Add one of these adorable printable signposts on your bulletin board!
Source: Pinterest/The Library Patch
8. Make This DIY Classroom Tent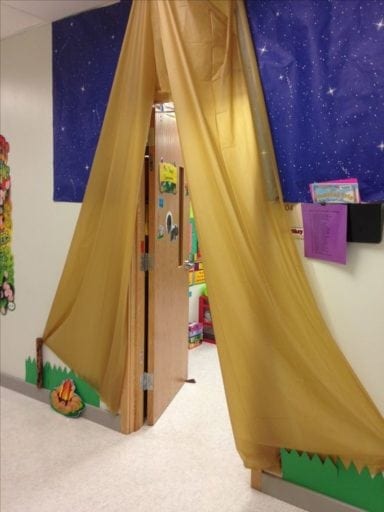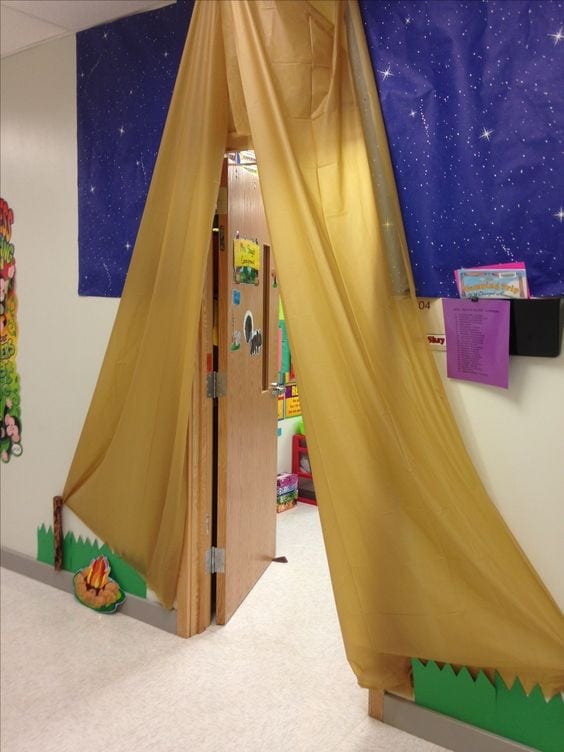 Hang a couple of cheap plastic tablecloths from the door frame, and voila! You've got a tent!
Source: Pinterest/Victoria Shay
9. Climb in This Pop-Up Camper
This pop-up camper tent is adorable, and my kids would have so much fun with it.
Buy It: Camper/Amazon
10. Build This DIY Camper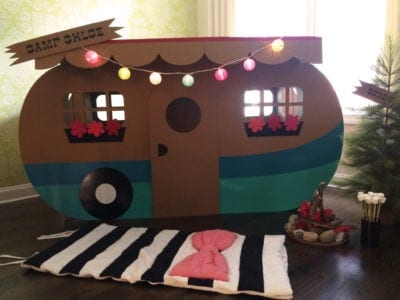 How cute is this easy-to-make camper?
Source: Project Nursery
11. Crawl in This Colorful Tent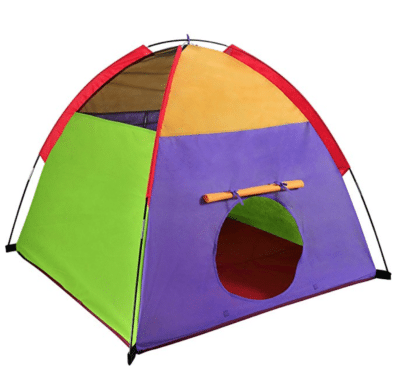 This fun, affordable tent is one of our favorites!
Buy It: Tent/Amazon
12. Unwind In A Camping Chair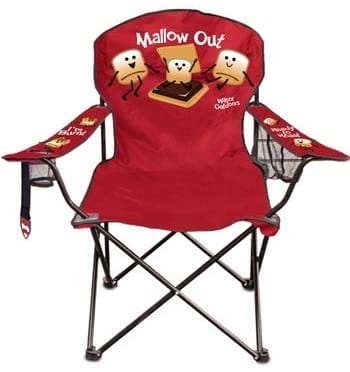 Who can pass up these adorable s'mores-themed camping chairs for your reading corner? (Psst: We've got even more reading corner ideas.)
Buy It: Camping Chair/Amazon
13. Read in a Camp Corner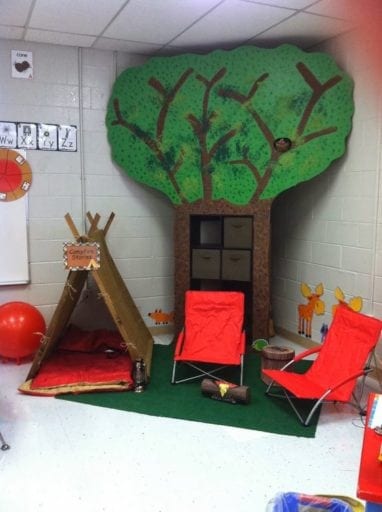 The red in this reading corner makes the whole thing pop! My kids would be lining up for a turn with the sleeping bag inside the tent.
Source: Mrs. McDonald's Classroom Ideas
14. Get Lost in a Cardboard Forest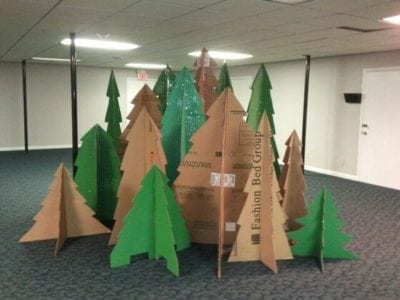 We can totally see setting up a couple of these cardboard tree cutouts in the reading corner!
Source: Pinterest/Misty Young
15. Raise Pillars of the Community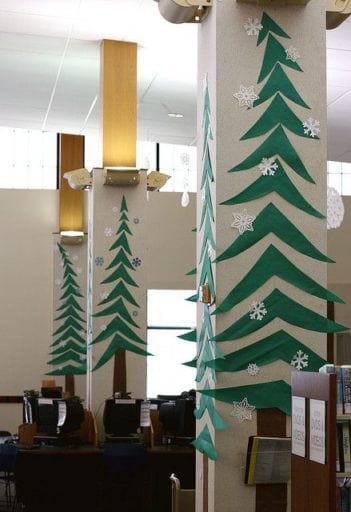 Got pillars in your classroom? Some green butcher paper is a great way to spiff them up.
Source: Pinterest/Lester Public Library
16. Explore a Woodland Hallway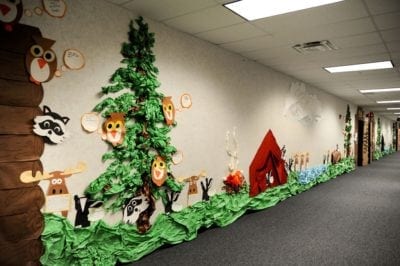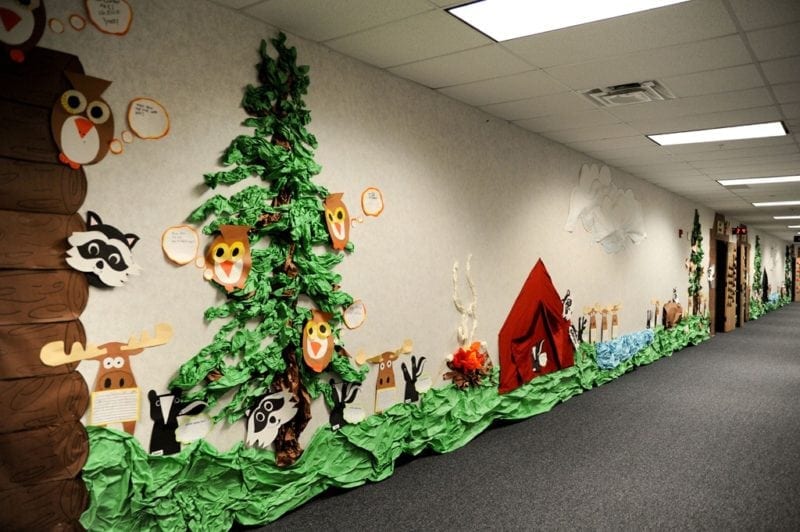 The owls and other woodland creatures completely bring boring hallways to life!
Source: Cara Carroll
17. Decorate a Camper Bulletin Board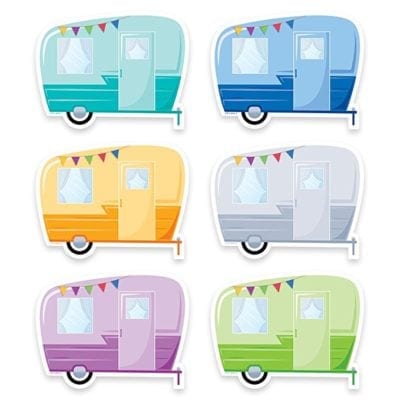 These camping-themed bulletin boards are so much fun!
Buy It: Bulletin Board/Amazon
18. Set Up a Cozy Bulletin Board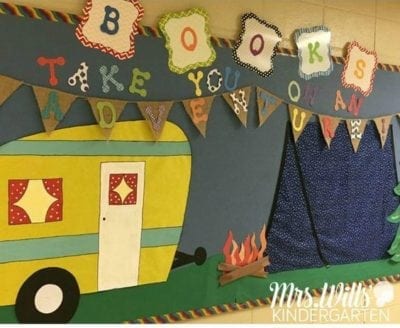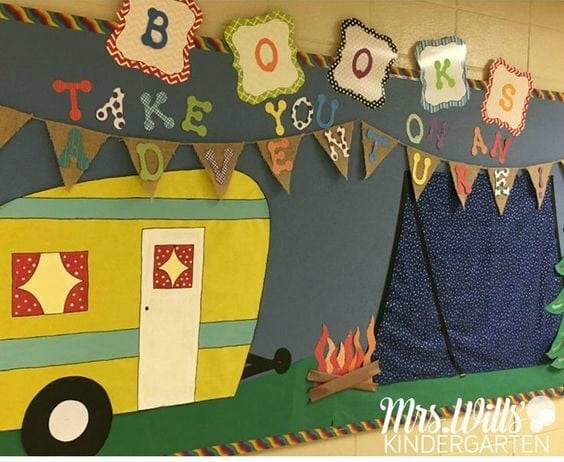 We love this multimedia board has real fabric on the tent!
Source: Mrs. Wills Kindergarten
19. Fire Up Your Classroom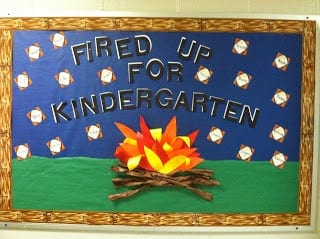 This campfire bulletin board can be adapted for any grade level and fits right in with the campfires above.
Source: McDonald Grade 4
20. Welcome Curious Campers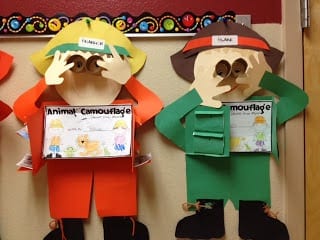 Students can help make these fantastic campers!
Source: Buzzing About Second Grade
21. Don't Feed the Bears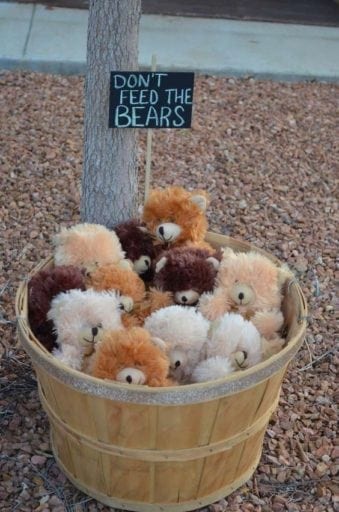 Inspire dramatic play with this cute bucket of bears!
Source: Catch My Party!
22. Light Up Camping Lanterns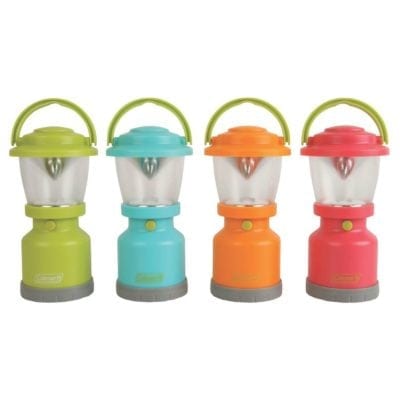 How about some cute lanterns to read by?
Buy It: Lanterns/Amazon
23. Grab a Fishing Pole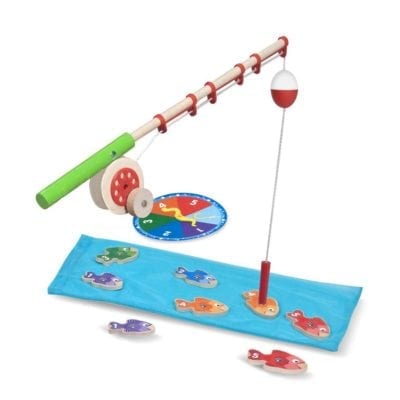 This fishing game fits the classroom camping theme perfectly.
Buy It: Gone Fishing/Amazon
24. Read Camping Classroom Theme Books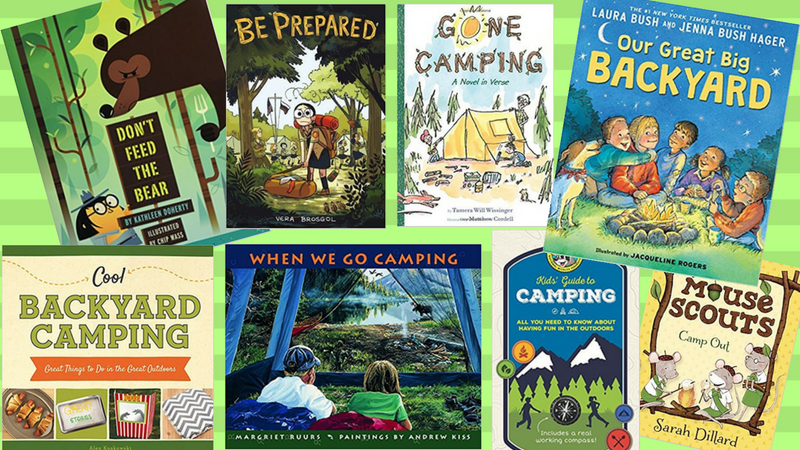 Every camping theme classroom needs a well-stocked library of camping themed books!
25. Head to the Bear Cave
Make one little bear face for each of your students!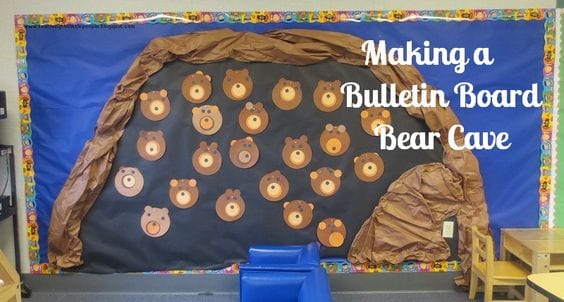 Source: The Barefoot Teacher
26. Read Together Under the Stars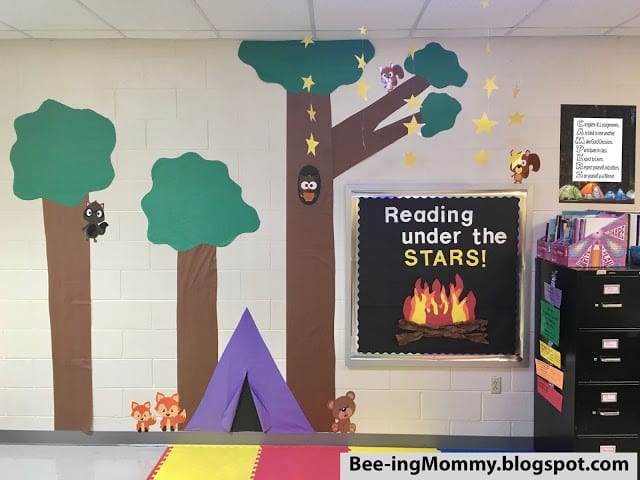 Source: Bee-ing Mommy
27. Knock on a S'Mores Door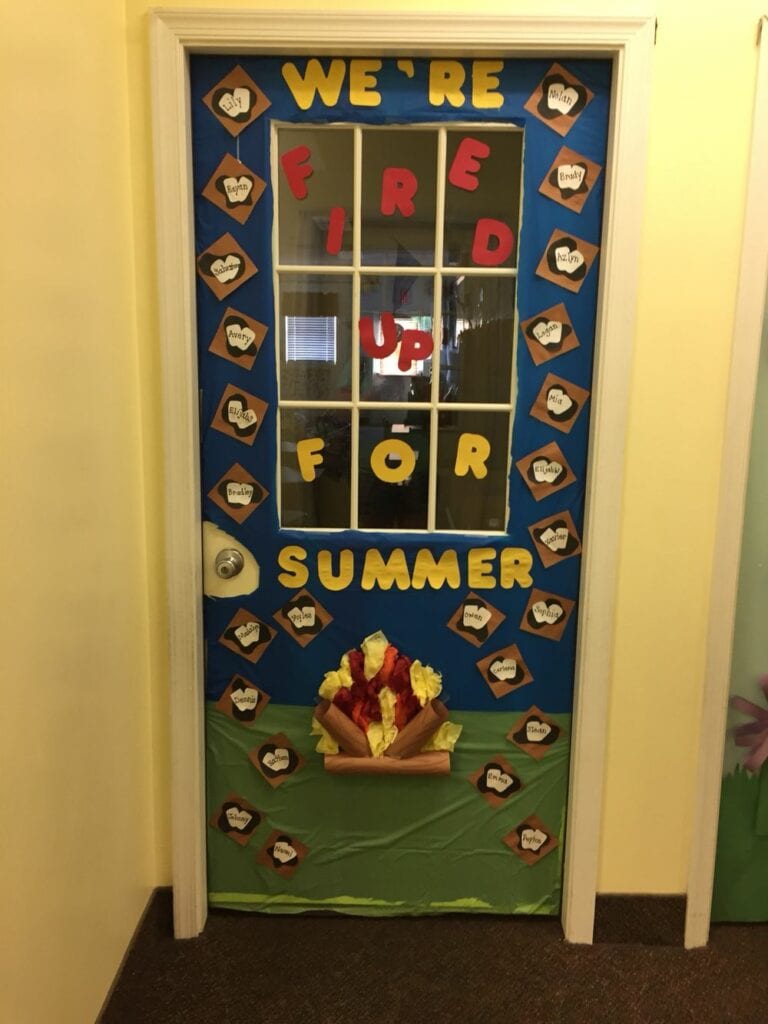 All the fun of s'mores without all the stickiness!
Source: Pinterest/Nicole Ingenbrandt
28. Create Camp Read-A-Lot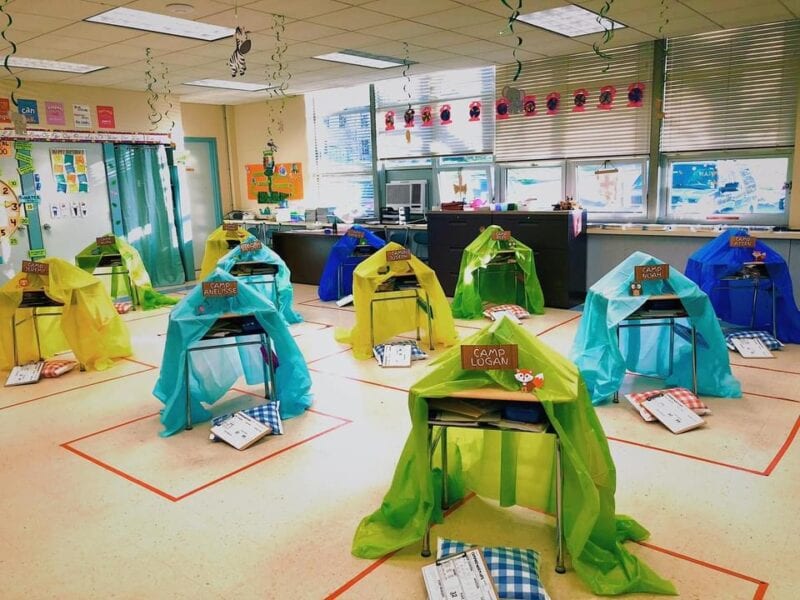 These little reading pods are functional and adorable!
Source: Lucky Little Learners
29. Escape to a Log Cabin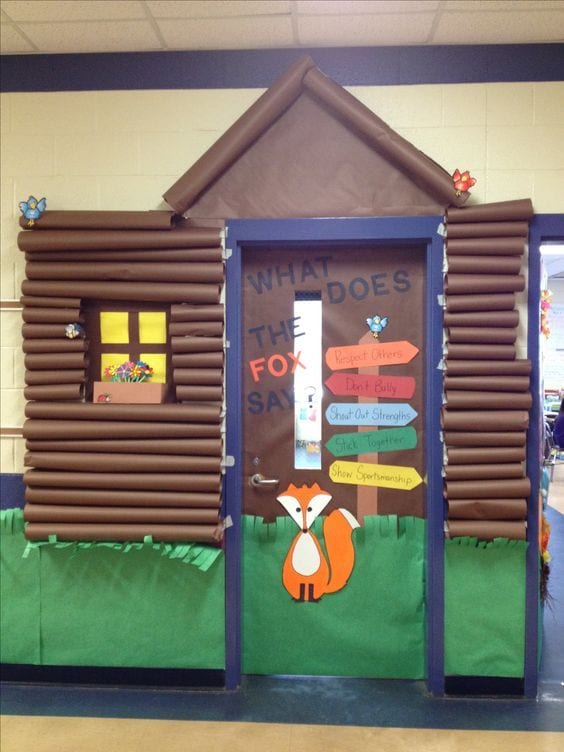 Not feeling tents? Go for a log cabin!
Source: Pinterest/binged.it
30. Find Your Happy Place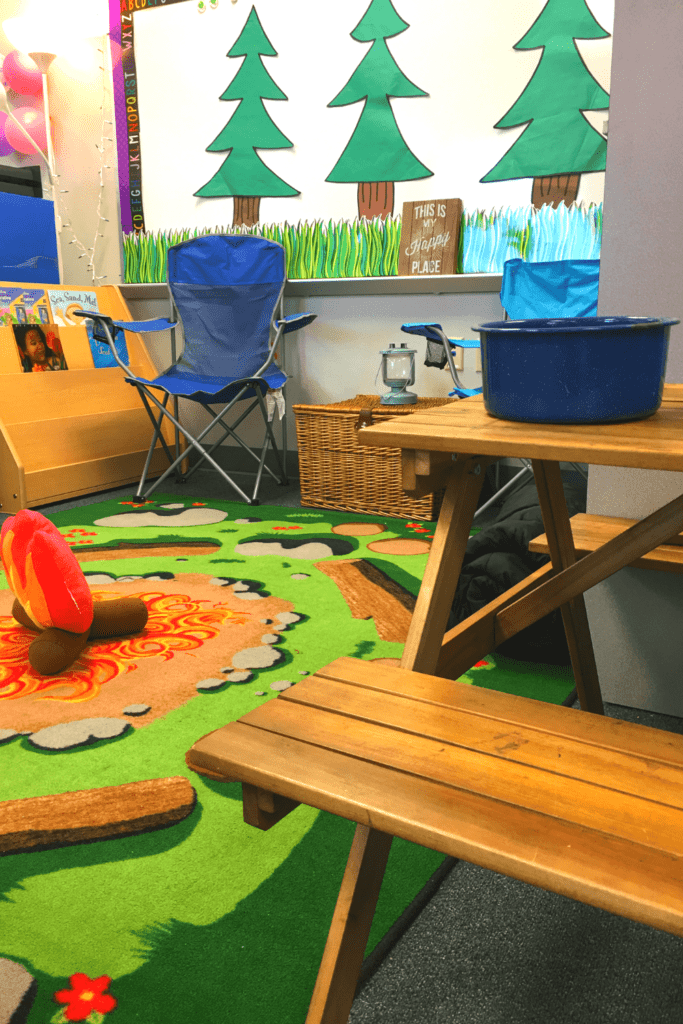 Create a happy place, and you'll have happy campers in the classroom!
Source: Chalkboard Chatterbox
Have any more camping classroom theme ideas? We'd love to hear about it in our WeAreTeachers HELPLINE group on Facebook.