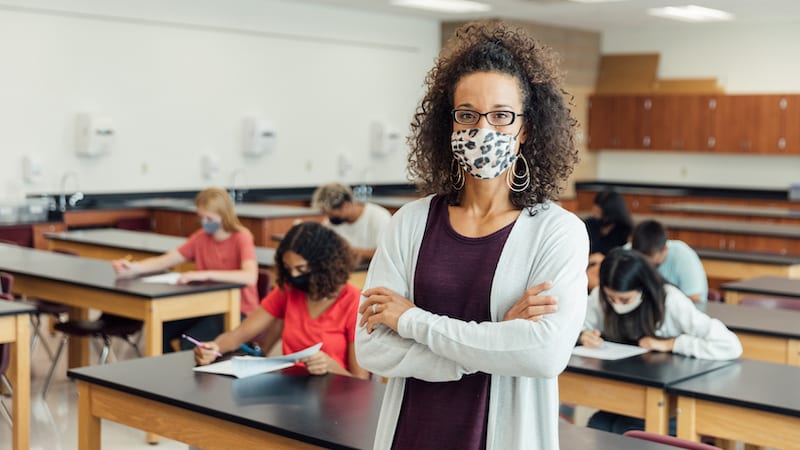 As a teacher, I have seen several memes going around social media that suggest we are all "first-year teachers again." While we are undoubtedly experiencing a lot of firsts with hybrid and distance learning, I believe we can use the tools we already have to make this school year successful and memorable.
We know how to build strong relationships
One of the best things we do as teachers is to build strong relationships with our students. We can still do this, and in the face of the pandemic, we can maybe do it better than ever. In the past, you fostered strong relationships with students by creating a safe classroom environment, focusing on building a classroom community, allowing students to express their interests, and being aware of student needs. The great news is that you can still do many of these things virtually; you may just need to make small adjustments. One way is to set up virtual office hours to help build one-on-one relationships. You should also continue to hold morning meetings. Students need the consistency and normalcy that it brings.
We know how to set clear rules
Establishing and maintaining clear routines is important for any classroom. We do this every single year, and this year will not be any different. Regardless of if you are teaching in person or online, set clear rules for your students. Just like in the classroom, you need to let students know your expectations and give them time to practice. Be clear and consistent. Have online meeting norms. Create procedures for how students can share or answer questions and how they should complete or hand in their work. Remember, smooth classrooms don't happen overnight! Check out our tips for classroom management, whether online or in-person.
We know how to be flexible
Remember, you are a teacher. Flexibility and creativity run through your veins. Use these skills to help you make this a great school year. It's okay not to have all of the answers. It's okay not to know the best way to deliver your lessons. Be flexible, try things out, and don't be afraid to use the creativity that you use every year to make school fun and exciting. Make fun and engaging lessons that you can do in person or online. Try out a new technology platform like Seesaw. You are still teaching the content, just in a new way. Check out this article on how to make online learning fun!
We know how to "let it go"
One of the most important things we need to remember is that "you are enough." Don't try to do it all! When you scroll through social media and see the perfect lessons and perfect Bitmoji classrooms, know it is okay not to create them . Every teacher has their own style. Whether you are teaching in the classroom or teaching online, this isn't going to change. One teacher might be really interested in technology while another prefers the more traditional route. That is okay. Do what works best for you. Don't try to learn it all. At the end of the day, a clear and effective lesson is more important than a picture-perfect Instagram post.
We can use this time in a meaningful way
I believe this school year will lend teachers the time we have always needed. The time to differentiate instruction to meet the needs of more students. The time to assess, meet with students one on one, and have smaller class sizes in order to get more done. Well, look at this school year as a gift. Although students will be in the classroom less, we can still deliver quality instructions to small groups and individuals. Smaller class sizes mean we can take the time to differentiate our lessons and have more meaningful one-on-one learning time with each student. Check out 5 Differentiation Strategies You Should Try.
Remember, you have lots of tools in your teacher toolbox. Many of the tools you have will work under any circumstance. Don't let yourself get overwhelmed or think that you have to start from scratch. This isn't your first year! Use the tools you already have to make hybrid or remote learning successful. You've got this!
You know more than you think! What other tools do you know you have? Share in our WeAreTeachers HELPLINE group on Facebook.
Plus, we need to be more flexible now than ever with our students!