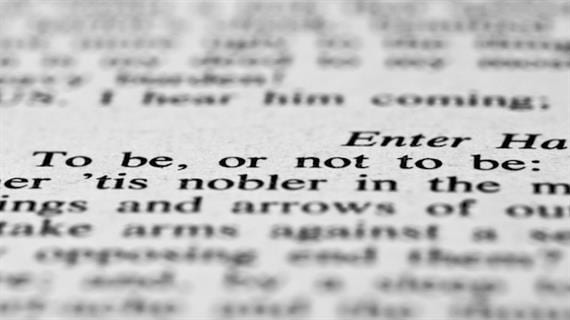 We think some of the Bard's most famous soliloquies might have read a bit differently had he ever spent time in a classroom.
And so Hamlet thinks . . .
To teach or not to teach – that is the question
Whether it is nobler in society to sling the careers of great fortune
Or take arms against the sea of troubled kids–
And by engaging them, mend them. To try. To teach –
To pour your heart – upend
The stereotypes and thousand casual shots
The profession is heir to. 'Tis a condemnation
Devoutly to be wished. To teach, to seek –
To reach – perchance to dream: ah, there's the rub,
For if we teach of dreams what defeats may come
When we have struggled in this eternal toil,
Must give us cause. There's the respect
That makes calamity of such a cause for life.
For could you bear the whips and scorns of society,
State tests so long, the proud parents contumely,
The pangs of single-sided love, the law's betrayal,
The insolence of state office, and the burns
That patient merit of the hardworking takes,
When he himself, hopeful and quiet, stakes
A greater mission? Who would society bear,
To grunt and sweat under this weary life,
So that the generation after them,
The untrusted youth, from whose fate
Our nation turns, triumphs with skill,
And makes us better bear the ills we have
Made, uncovering a life we know not of?
This contradiction makes trouble for us all:
Teach our native youth with resolution
Just quicker, better, with the fickle support you've got.
This enterprise of great pitch and moment,
In this regard our future hangs in the sky,
So choose this fate with conviction.