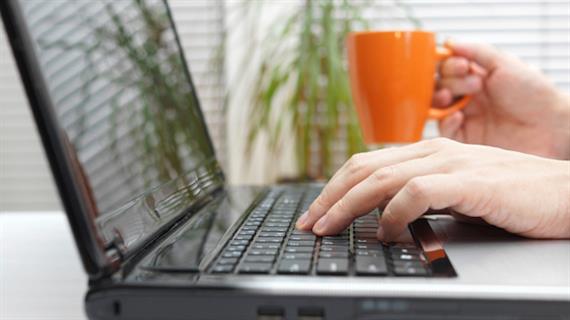 This post is the first in a series about the decision to teach online rather than in a traditional classroom.
The first 6 years of my career were spent in a traditional classroom teaching high school English. I loved most everything about it: quirky students, the opportunity to make Shakespeare exciting and accessible, my family of colleagues—in short, I enjoyed going to work each day. My math teacher husband and I spent many a Happy Hour engrossed in intelligent dialogue about fascinating topics such as best practice and individualized instruction. (Only fellow educators can appreciate that!) Never in a million years did I believe something else would come along and trump my passion for teaching.
Then I got pregnant.
Holy Godiva dark chocolate, people! Talk about passion! The second my baby boy was in my arms, all previous notions of returning to work full-time were out the balloon-draped window. Leave my little angel? I think not!
Then I got bored.
Judge if you must, but newborns aren't the most riveting little humans, ya know? Between feedings and baths and all the snuggles this new Mom could get, I found myself missing the intellectual stimulation education had always provided me. Yet I didn't want to leave my baby, especially because the husband and I were already in talks about getting pregnant again! (This is how you know I'm certifiably insane, right?!)
So I did what any dedicated mother would do: cried. Was it wrong to want a career and be a full-time mom? Did it make me selfish? A terrible parent? Who were these people who accomplished this epitome of multi-tasking, and how could I pick their brains?
During a 2am feeding frenzy, baby in my arms, laptop on my nightstand, I literally searched "Can I teach from home?" To my surprise, a few hits came back with established online schools and their submission process. I immediately fired off my resume, and in less than 24-hours, I was contacted by a lovely woman who wanted to interview me. She asked about the baby overheard fussing in the background, but not because she wanted me to shove a binky in his face; she was genuinely interested in my little man. She wanted to know his name and age, and asked questions about my postpartum well-being. It was then that I realized I was speaking with one of those multi-tasking anomalies; there really were women who were having and eating their proverbial cake! Could I be one of them?

Within a month, I was hired as a part-time online English teacher. I resigned from my brick and mortar school, and began my new career as a frenzied WAHM, Work At Home Mom.
A year into my new gig, I had the chance to apply for a full-time position. The same sweet woman who had inquired about my then-newborn helped me through the process, advising me to never accept the first offer. With her sage advice, I negotiated a salary that has since provided my family a more comfortable lifestyle (read: I have rekindled my love affair with Amazon.com), and she gave me a virtual high five when I signed on the dotted line.
I am once again a contracted, full-time educator; only now, I dole out hearty doses of Shakespeare from the comfort of my own home office and fuzzy slippers. The transition from traditional to online teaching has been, quite possibly, the best decision I will ever make for my family. I'm there for my little kids' firsts, and that used-to-be baby boy? He is starting Kindergarten next year and I have the distinct pleasure of walking him to the bus stop each morning. Grateful doesn't begin to sum up how I feel about the opportunity to stay connected to the world of education while being present for my children. Sure, Mom Guilt kicks in when I have to cancel a dance party with my 3-year-old to take a meeting, but overall, I have the best of both worlds. I have become the Queen Multi-tasker and while some days are easier than others, I wouldn't trade it for the world. Oh, okay: I do miss wearing heels and real pants, but my stained sweats and hoodies will do for now.
In upcoming posts, I'm going to explore some of the frequently asked questions about teaching online, including how it's different than teaching in the traditional classroom, the pros and cons, and the reality of working from home. If there's anything you would like to see in this series, please let me know!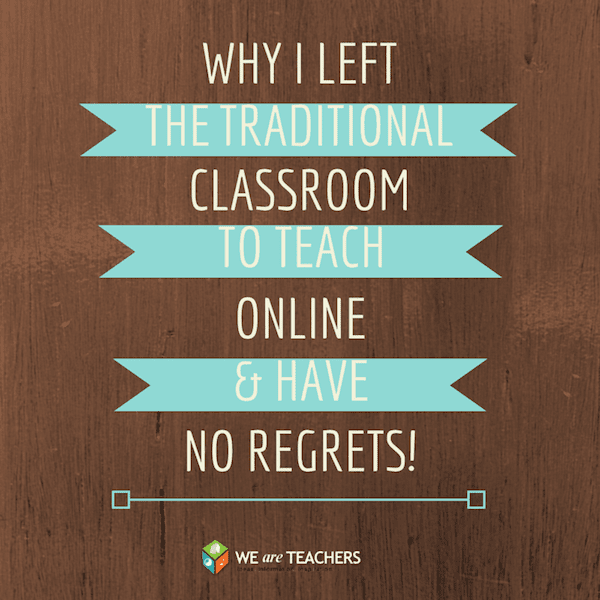 English teacher Stephanie Jankowski loves words, hates math and has a penchant for finding the funny in everyday life. Find more of Stephanie on her blog WhenCrazyMeetsExhaustion.com, Facebook, or on Twitter @CrazyExhaustion