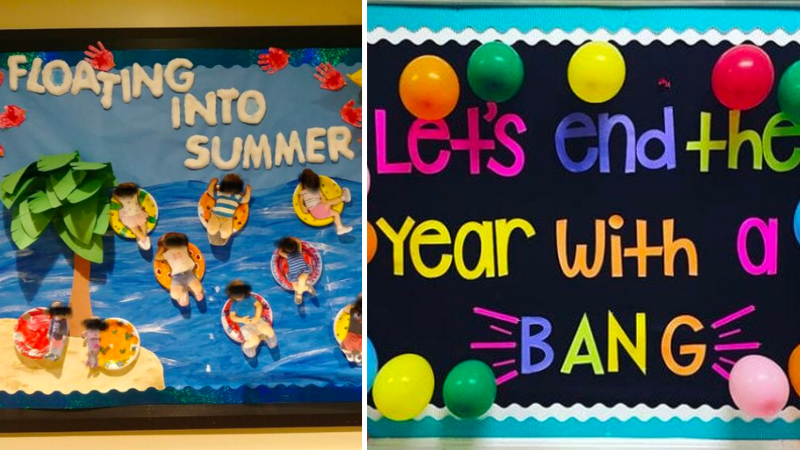 It's almost the end of school, which means summer is on the horizon! There's certainly plenty of excitement about the close of the school year. These summer and end-of-year bulletin boards can help keep students engaged in learning until the very last day.
Want the cheeriest of summer bulletin boards? Here are some basic supplies to get you started. Then check out the list of 20 end-of-year bulletin boards below for inspiration.
(Just a heads up, WeAreTeachers may collect a share of sales from the links on this page. We only recommend items our team loves!)
1. Hang up our memories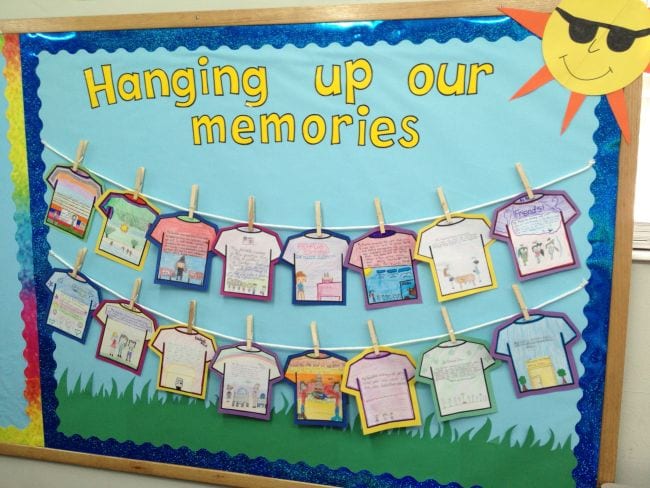 Give each student a paper T-shirt cutout to decorate and fill with their favorite school year memories. Then hang them up for all to admire on this end-of-year bulletin board.
Source: Kayla McKee/Pinterest
2. Our summer bucket lists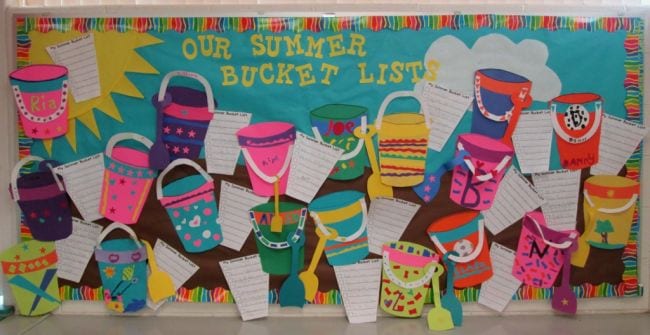 Bucket lists are a popular end-of-year bulletin board idea, and it's easy to see why. Hit the link below for free printable templates, then have kids create colorful buckets and a list of what they want to do over the summer.
Source: Scholastic
3. A pocket full of memories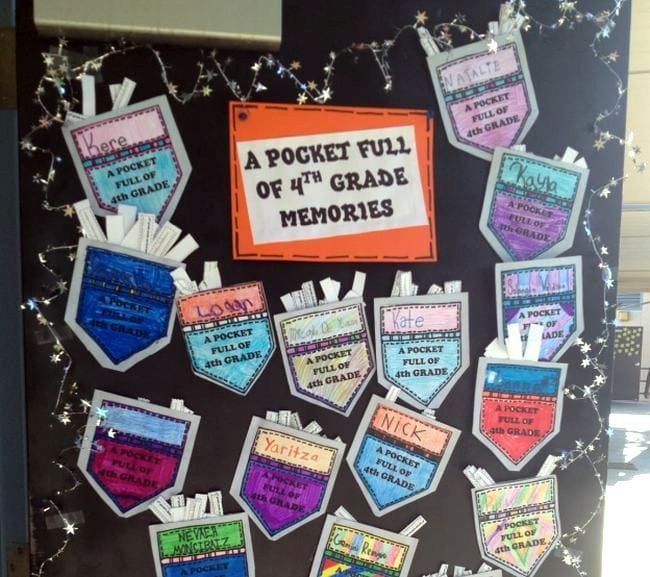 Reflecting on the year is a nice way to wrap things up. Let each student create a pocket, then fill it with slips of paper detailing their favorite memories of days past.
Source: Working 4 the Classroom
4. Let's end the year with a bang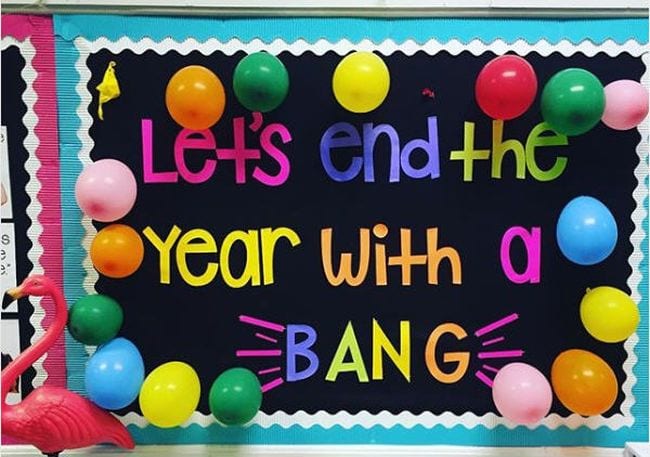 Kids absolutely love this end-of-year bulletin board! Put a student's name inside each balloon. Pop one each day, then spend the day celebrating that student. You can also fill the balloons with fun activities (have class outside, hold a dance party, etc.).
Source: Teach and Inspire
5. This year was toad-ally awesome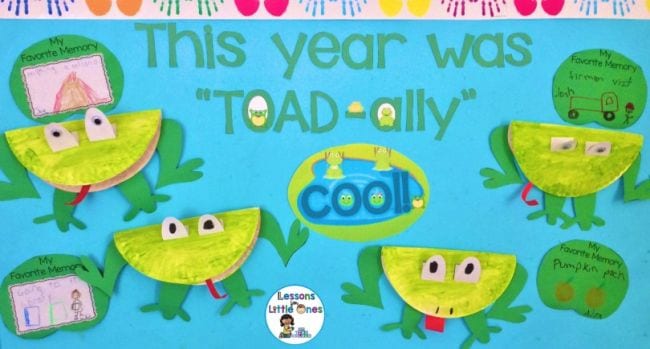 What's not to love about these paper-plate frog faces and lily pad memories? Older kids can write more details about their favorite memory inside the frog's mouth.
Source: Lessons for Little Ones
6. If you still have library books
Oh, those end-of-the-year chores! Help kids remember to return any borrowed books before the last day arrives with this clever kitty.
Source: The Teacher Librarian
7. Adventure is out there!
Inspired by the movie Up, this colorful end-of-year bulletin board shares where each student is heading next. Use it for seniors to show their college or work plans or for younger kids to share what they hope to learn in the next grade.
Source: National Junior Honor Society
8. All the feels about leaving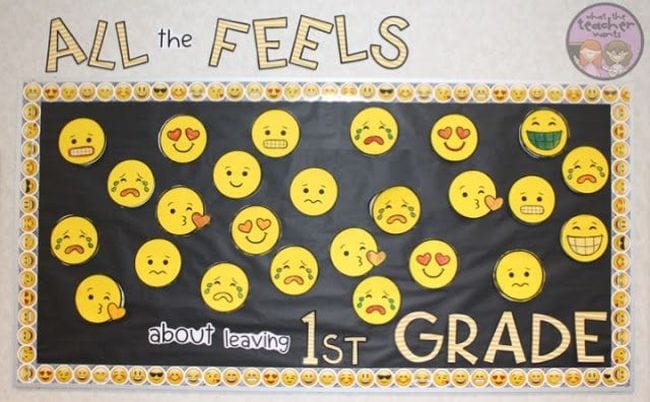 Help kids talk about how they're feeling now that the end of the year is near. Emojis make this exercise fun. Have kids choose the one that suits them best, then write about their feelings on the second circle stapled beneath. See more at the link below.
Source: What the Teacher Wants
9. Just keep swimming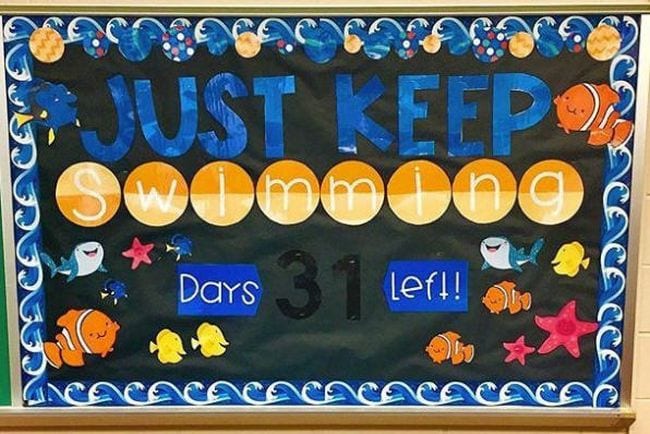 Be like Dory from Finding Nemo, and just keep swimming until you make it to the end! Don't blame us if you walk around singing that little tune all day, though.
Source: Teacher Created/Instagram
10. Count down the days til it's o-"fish"-ally summer
Swim toward summer with this simple but effective end-of-year bulletin board idea. Let the students color in their own fish and help you change the count each day on the mini-blackboard.
Source: Ashley Hook/Pinterest
11. Oh, but what if you fly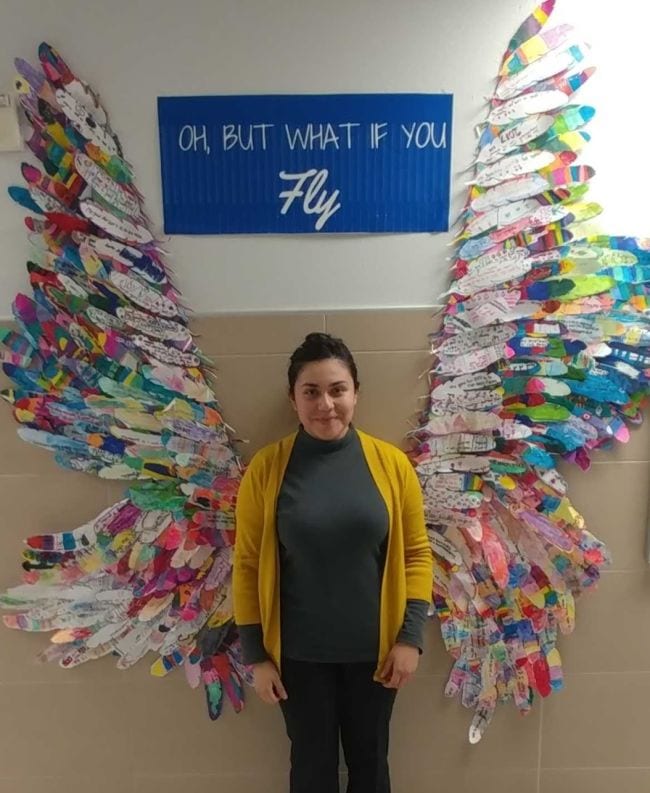 This might take a bit more space than a regular bulletin board, but it's definitely worth the effort. Made by students, each feather features their hopes, dreams, and wishes for the future. Assemble them into a giant pair of wings so students can pose for social media–worthy photos.
Source: Bee in the Bookends
12. Stay on target until the very end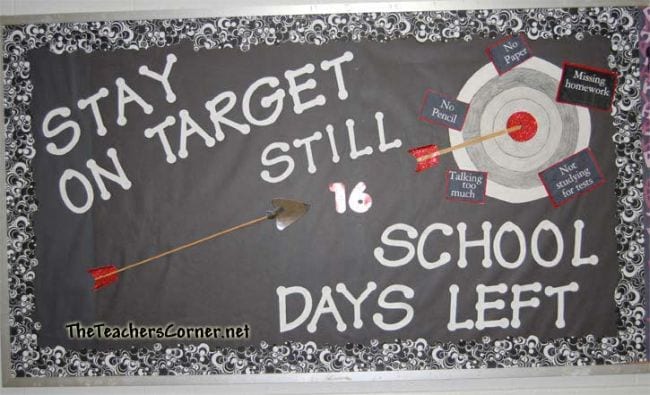 It's so easy to get distracted as the final school days arrive. This board reminds kids they still need to do their work and be prepared for class right up until the last day.
Source: The Teacher's Corner
13. We R2 excited for summer!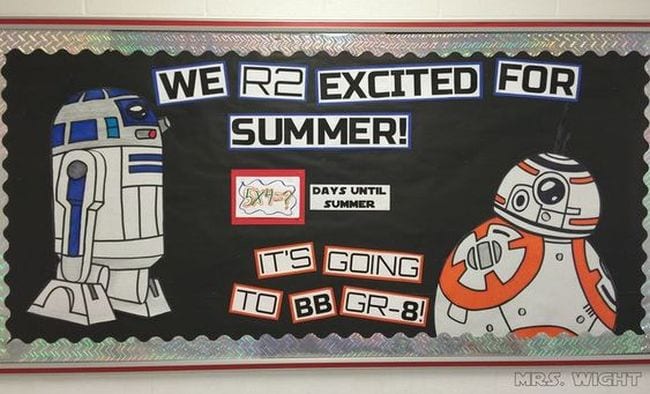 This is definitely one of our favorite end-of-year bulletin boards. We love the math facts in the middle helping to count down the days.
Source: Tracy King/Pinterest
14. Read something cool this summer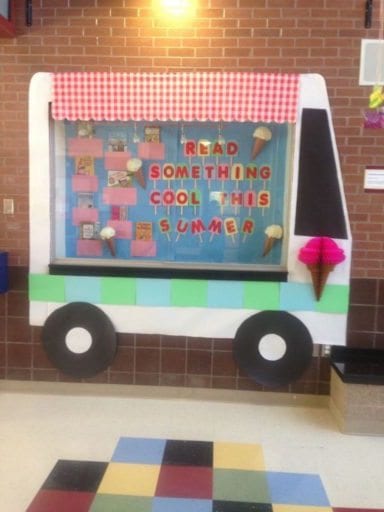 I scream, you scream, we all scream for—books! Tip: Paste two-dimensional ice cream cones (or Popsicles!) on the board and write or attach book titles on the scoops of ice cream. Another variation of this display, which we have yet to see, is to design an ice cream freezer in which each flavor is replaced by a genre or book title (Ex: strawberry = romance, cookie dough = adventure, etc.)
Source: Pinterest
15. Hang in there!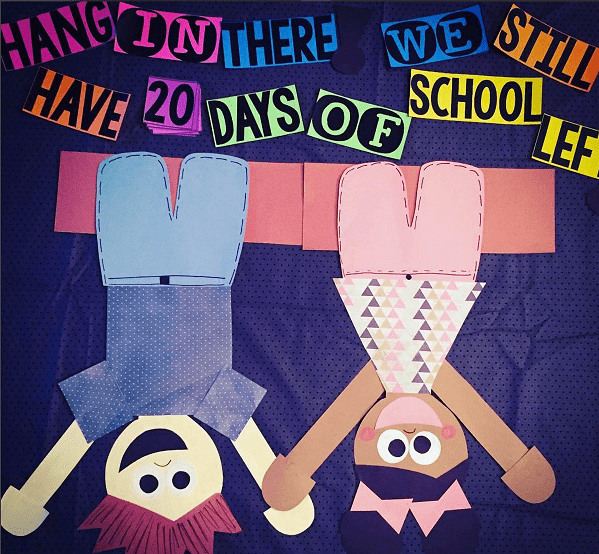 "Hang in there, we still have 20 days of school left" with two kids hanging upside down! What a cute idea for a countdown.
Source: Crafty Morning
16. Inching Our Way Into Summer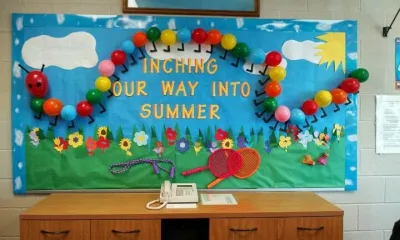 Balloons make up this fun inch worm to count down the days until the end of the year.
Source: Melly Moments
17. Floating Into Summer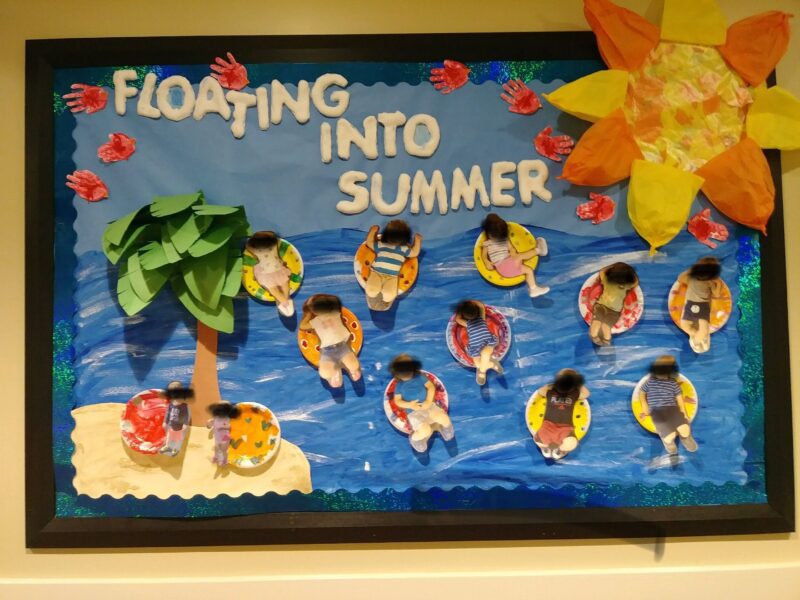 Have your students create top-view self portraits of themselves on floaties for this adorable summer bulletin board.
Source: Michelle Gregg on Pinterest
18. Flip flop into summer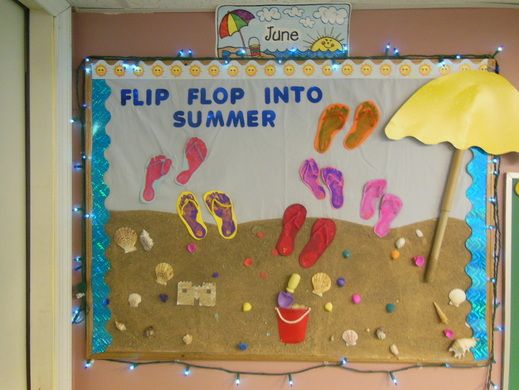 Painted footprints double as an end-of-year gift for parents to follow their child's growth!
Source: Guylaine's Playhouse
19. We came as strangers, we leave as friends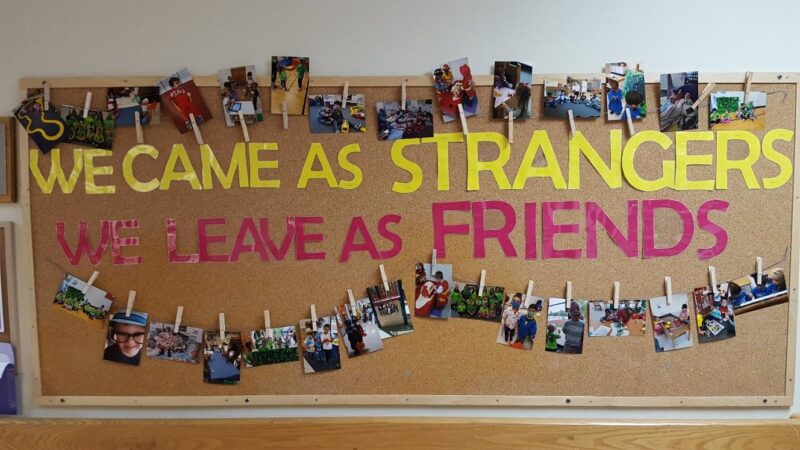 Photos taken throughout the year are displayed in this favorite end-of-year bulletin board idea!
Source: Tanisha Thompson on Pinterest
20. Best Year Ever!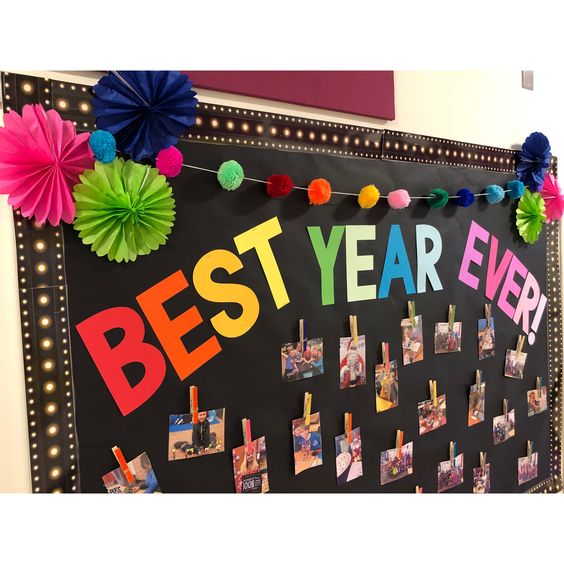 Keep it simple with this colorful display of letters and photographs!
Source: Katie Torres on Pinterest
Have more great summer or end-of-year bulletin boards to share? Come and post them in our WeAreTeachers HELPLINE group on Facebook.