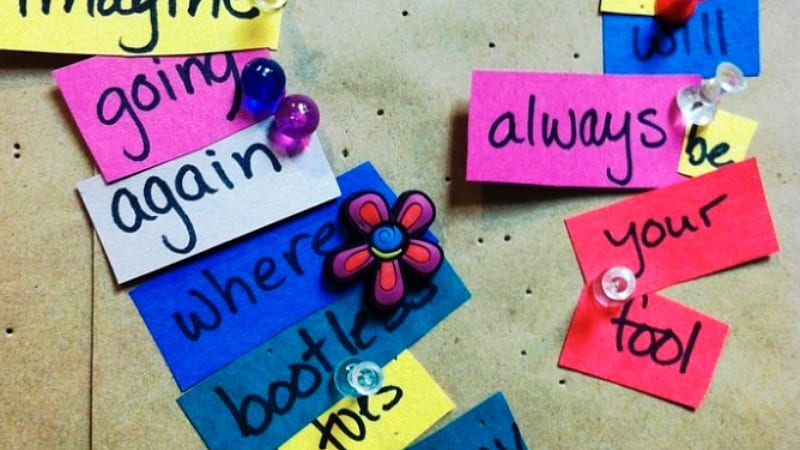 April is National Poetry Month, which means we'll all be dreaming in rhyming couplets pretty soon. Whether you prefer traditional English sonnets or silly limericks, this is the time to pull out all of the poetry stops. Incorporate one (or two or three) of these poetry games for the classroom, and in no time your students will be lining up to read at their own poetry slam.
1. Paint Chip Poetry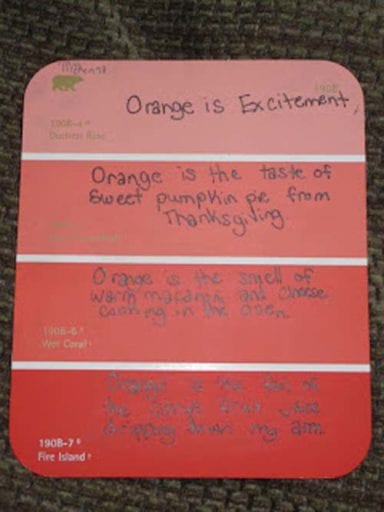 Ideal for fourth and fifth graders, paint chip poetry adds color to your poetry curriculum. This will also challenge your students to think of creative ways to describe colors. Think: an ode to Crayola's purple mountains' majesty or macaroni orange.  
Quick tip: Bring a wide variety of paint chips to class to allow for a more diverse group of color poems from which to choose.
Source: Fabulous in Fifth
2. Doggie Haiku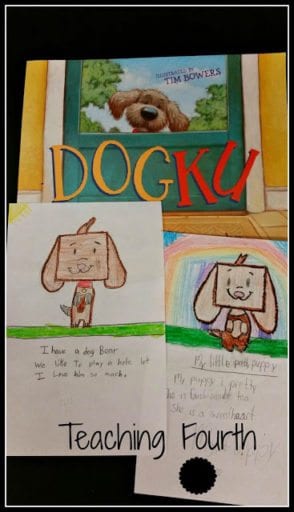 What's more lovable than the story of a dog looking for his forever home? A story told completely in haikus, of course! Inspired by Dogku by Andrew Clements, this project combines everyone's favorite family pet with the traditional Japanese poem form, the haiku.
Source: Teaching Fourth
3. Concrete Poems
Letting students choose their own subject is a quick way to get them excited about the projects. 
Quick tip: Use a light board to help students trace the outlines of their shape.
Source: The Room Mom
4. Pushpin Poetry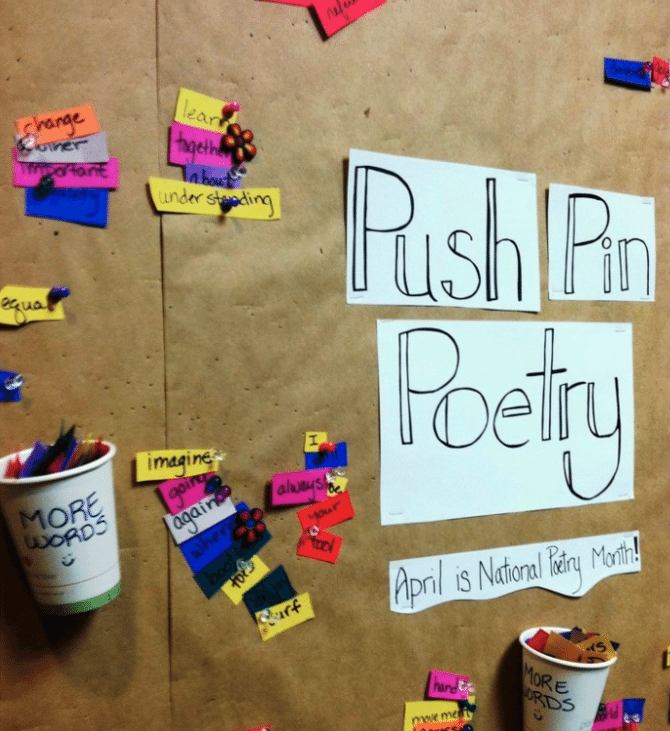 While this poetry craft was featured on a site about crafts for college residence halls, this poetry activity could be easily adapted to any classroom where students can read a few basic sight words. If pushpins sound scary, adapt this to a magnet board, and you'll be good to go.
Source: Residence Life Crafts
5. Ice Cream Poetry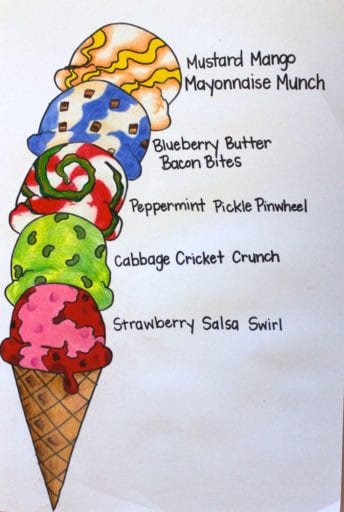 Does mustard mango mayonnaise munch sound appetizing? It just might after reading Jack Prelutsky's poem "Bleezer's Ice Cream." Students are sure to crave a little ice cream after writing their own silly ice cream poems. 
Source: Creative Curriculum
6. Poetry Journals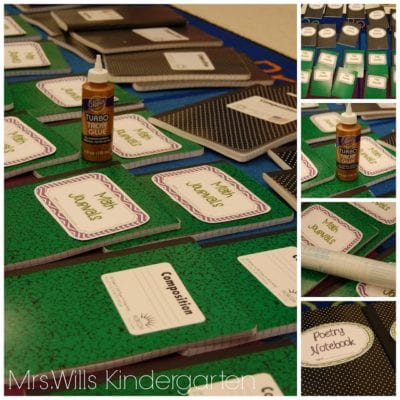 With a free printable, a composition notebook, and a little glue, your students will have their very own poetry journals. Say goodbye to dozens of loose sheets of handwritten poems! 
Source: Mrs. Wills' Kindergarten
7. 3-D Tunnel Haiku Books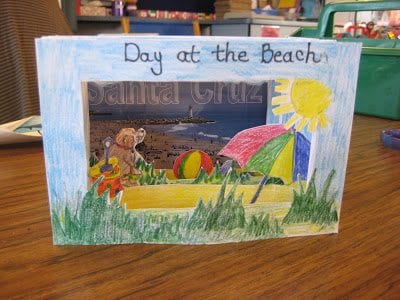 Haikus are definitely fun to write, but a 3-D tunnel haiku is next level awesome. Ideal for fourth grade and up (or younger grades if you have enough adult volunteers to help), these complex-looking books require little more than index cards, scissors, glue, and crayons or markers. 
Source: Kids Teach Art
8. "Hey, Diddle, Diddle" Puppets 
Nursery rhymes are often children's first taste of poetry—and for good reason: The memorable rhymes and silly content grab their attention and amuse them. This activity will allow younger students to act out one of the most popular nursery rhymes.
Source: All Kids Network
9. "Jack Be Nimble" Jumping Game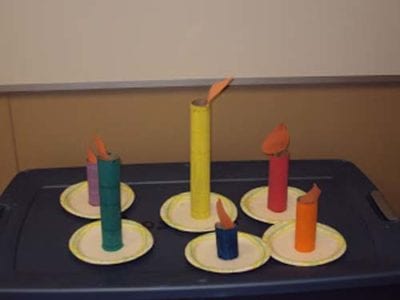 Another craft inspired by a nursery rhyme, the "Jack Be Nimble" activity gets kids jumping, literally. This might be a good activity to try mid-morning when students are naturally ready to stretch their muscles and move around a bit. 
Source: Preschool Wonders
10. Opposites Attract

Who knew that opposites could be so … connected? Linked by just one word, this poetry activity challenges students to think outside the box and find the one similarity between even the most polar of opposites. The beginning and end of the poem focus solely on one topic (in this case: the ocean and the desert). The middle line of the poem highlights the one similarity between the pair and acts as a transition (in this case: sand). Keep in mind that this activity is better suited for grades three and up.
Source: Joy in the Journey
11. Humpty Dumpty Wall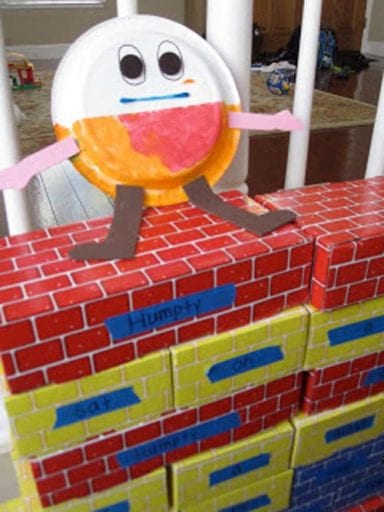 What's not to love about the Humpty Dumpty wall? It's part art class (making Humpty), part construction (building the wall), part literature class (assembling the bricks in the right poetic order), and part demolition fun (knocking down poor Humpty's wall). As a bonus, children will learn the classic Humpty Dumpty nursery rhyme in the process.
Source: Toddler Approved
12. Letter Sounds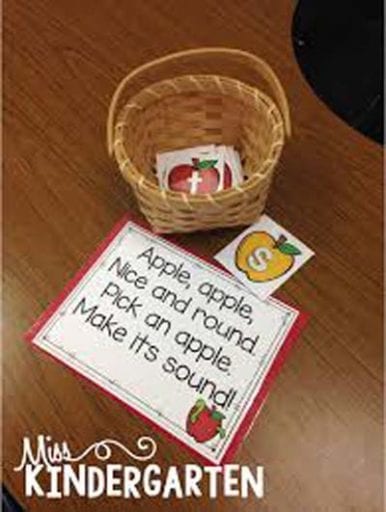 Some poems help us discover deep truths about life or love, but this poem keeps it simple: It poetically teaches preschoolers and kindergartners the sounds of the alphabet. Not too shabby for a poem! 
Source: Miss Kindergarten
13. Elementary School Poetry Slam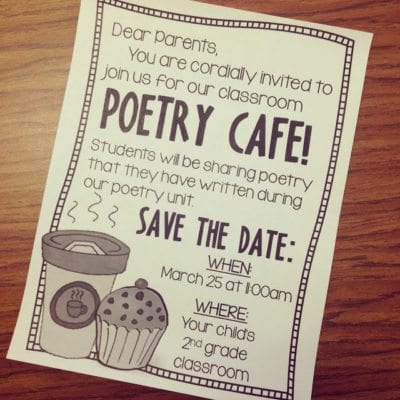 How fun is this! Creating your own poetry slam would be the perfect way to end your poetry unit and let your students show off their creations. 
Source: The Primary Peach
14. Poem in Your Pocket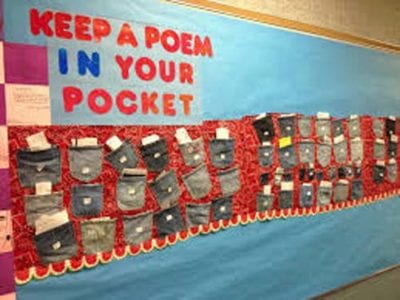 There are many ways to implement the keep-a-poem-in-your-pocket activity, but the premise is the same. This activity centers on sharing (rather than writing) favorite poems. Students spend time reading and exploring poems during independent reading time.  Then each student places their favorite poem in a pocket. During the month, each poem is read aloud for the entire class to enjoy.
Source: Pleasures from the Page
15. Found Sock Poetry Game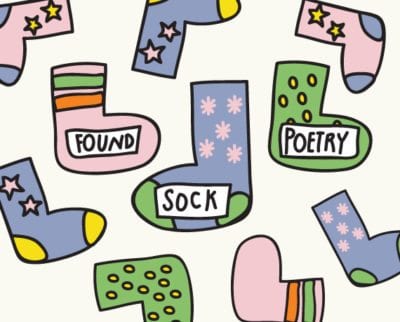 When mismatched laundry meets poetry, you get the found sock poetry game. All you need is a laundry basket of (clean) socks, masking tape, a marker, and your imagination. 
Source: PBS
16. Teach Acrostic Poems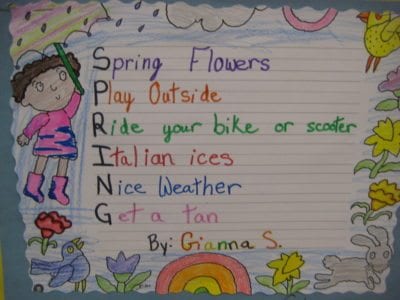 Acrostics are a good choice for students who are just starting to write their own poems. On the My Poetic Side blog, Scott provides examples of acrostics, reasons why students might need acrostics later in their educational career, and tips for writing acrostic poems. If it's good enough for Edgar Allan Poe, it's good enough for us. 
Source: My Poetic Side
17. Cinquain Curriculum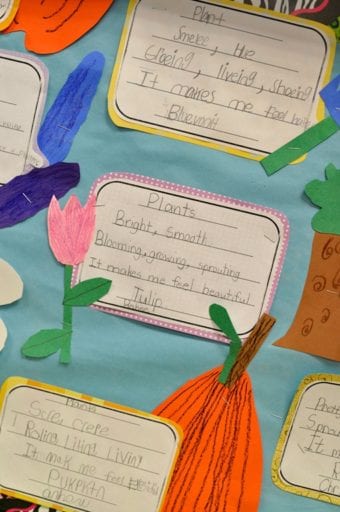 What is a cinquain, and how do you teach it to a first grader?! This post is filled with all sorts of freebies and templates for teaching cinquains to young students. 
Source: The First Grade Parade
18. Anchor Chart Learning 
A poetry unit isn't complete without covering the many types of poems. While you could just toss these terms up on the whiteboard, it's much more visually pleasing to see a colorful chart like this hanging in the room. 
Source: Teaching with a Mountain View
19. Teaching Limericks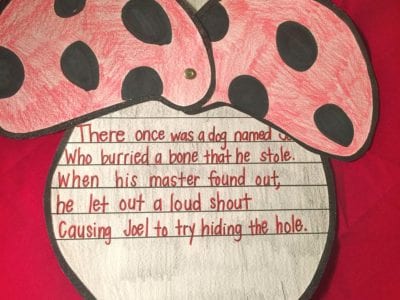 Limericks are silly (and sometimes borderline nonsensical) poems, but there's nothing silly about this cute ladybug limerick template. By the end of this lesson, your students will be limerick-writing pros.  
Source: Scholastic 
20. Haiku Hacks
Do you find that your students need a little help remembering the rules for haiku writing? These tips will help them remember how many syllables are in each line of a haiku! Download the Google slides (see link below), and you'll have an interactive haiku lesson plan at your fingertips.
Source: The Techie Teacher
21. Delicious Rhyming Couplets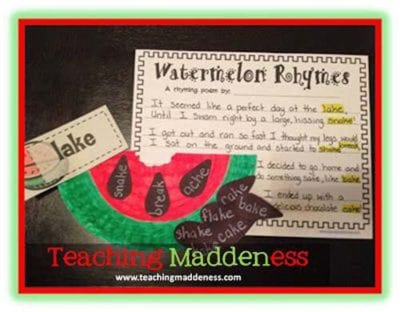 Take a bite out of this poem! It might not be summer yet, but these watermelons will brighten your classroom. All you need is paper plates, markers, a white crayon, and black construction paper. Students are given a key word, and they create rhyming couplets based on their key word. Students then display their rhyming "seeds" on the watermelon.
Source: Teaching Maddeness
22. Football-inspired poetry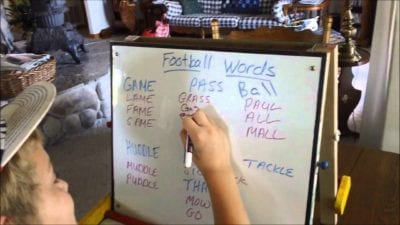 This rhyming activity is the perfect go-to for a class full of sports enthusiasts! Sub out football and use any sport that your class is wild about: hockey, basketball, or lacrosse—it's all about fusing their passions with poetry. 
Source: YouTube
Share your poetry games for the classroom with others teachers on our WeAreTeachers HELPLINE group on Facebook.
Plus, check out some of our top poems to share for middle school students and elementary students.