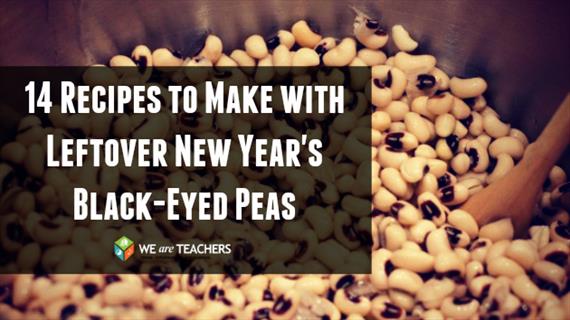 I didn't grow up with the New Year's Lucky Black-Eyed Pea tradition, but a few years ago on a quiet New Year's Eve night, I decided to start it in my own own home. I also decided it was the perfect night to organize my pantry…but that's another story about my extraordinary life for another day.
Once I cooked up all those peas (actually black-eyed peas are in the legume family) and my husband and I had a few bowls each, I realized, that was a whole lotta' beans for just us two. So I started thinking up a way to use them. That's when I created my Lucky Black-Eyed Pea sliders….and that's when my love affair with the homely little black-eyed pea began. The recipe is always one of my most popular posts this time of year, because apparently quite a few people have the same dilemma I had on January 2nd. What do you do with all these leftover black-eyed peas?
Of course, to take advantage of these yummy recipes, you'll have to start with some Black-Eyed Peas. You can totally used canned black-eyed peas or the pre-soaked kind you can often find in the produce section this time of year, but I kind of enjoy having a pot simmering away on New Year's Eve Day. They are super simple and cheap to make yourself too. Here's a few recipes to get you started.
Crockpot Black Eyed Peas with Ham Hock from Moms With Crockpots
Vegetarian Black-Eyed Peas from Mama Likes to Cook
Best Ever Black-Eyed Peas from What Will We Do Today? (Made with Guinness and Tomatoes–this recipe sounds so yummy, you may not have any leftovers)
Here's my personal Easy Black-Eyed Pea "Kind Of" Recipe:
Follow the Quick soak method on the bag of a pound of black-eyed peas. Rinse and cover them with water (about an inch above the beans). Toss in 3 cloves of chopped garlic, half an onion (not chopped), a couple sprigs of green onions, and a leek (cut lengthwise but keep the root end intact and rinse well between layers). Heavily season with salt and Cajun seasoning. Bring to boil, lower heat to simmer, tilt lid, and simmer until tender. It only took mine about 30 minutes to cook through but still hold their shape and color nicely (good for recipes like salsas and salads). Finish with a sprinkle of smoked salt.
After you've had your obligatory bowl or two, try one of these 14 recipes to transform your leftover black-eyed peas into something else delicious!
​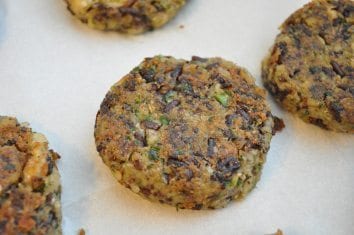 Mash & Fry 'Em (or Bake 'Em)
Lucky Black-Eyed Pea Sliders from We Laugh, We Cry, We Cook pictured above.) These are the veggie burger sliders I came up that started my love affair with both black eyed peas and staying home to cook and snuggle in on New Year's Eve.

Fried Black-Eyed Peas from AllRecipes. Fried bacon, mashed with black-eyed peas and fried again. Well, need I say more?
Dip Into Them
Cowboy Caviar
In Texas, where I'm from, Cowboy Caviar is a stand by on the appetizer table. It's a mix of southern, Mexican, and Cajun flavors, with ingredients like green onions, corn, cilantro, vinegar, black-eyed peas, avocado and hot sauce. There's nothing quite like the sweet, tart, tangy dip on top of a salty tortilla chip. Everyone has there own little twist on the recipe. This version by Housewives of Frederick County calls for Zesty Italian Dressing instead of hot sauce. I tend to make the ones that call for Tabasco, though, like this version by Amanda's Cookin'.
This Black-Eyed Pea Salsa sounds quite a bit like Cowboy Caviar too, with it's own twists and no avocados. Instead of tortillas chips, Simply Recipes pairs it with a simple Cheese Quesadilla.
This Creamy Black-Eyed Pea Dip from MyRecipes will stay on your chip a little better, since most of the beans are pureed in the blender.
The Pioneer Woman bakes her cheesy dip in her recipe for Zannie's Black-Eyed Pea Dip (pictured above).
Add Them to a Salad
This Black-Eyed Pea Salad from SimplyRecipes with feta cheese, black olives, sun-dried tomatoes, and spinach is an unexpected and totally delicious way to incorporate some Black-Eyed Peas into a healthier New Year's Resolution.

Simmer Them in a Soup
Rather than cooking up lucky black-eyed peas and lucky collard greens separately, this Black-Eyed Pea and Collard Greens Soup recipe from Whole Foods combines them into one warm and flavorful dish.
This hearty soup by Chef G. Garvin (pictured above) is chock-full of herbs, vegetables, and sauteed andouille sausage.
For a meat free option, try AboutFood's Italian Vegetarian Black-Eyed Pea Soup (kind of like a minestrone).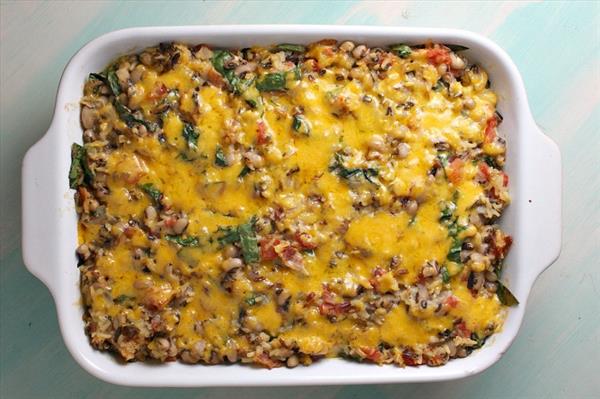 Bake Them into a Casserole
I'll admit, I've never even thought of putting Black-Eyed Peas into a casserole until today, but Mama's Black-Eyed Pea Casserole from Food Network sure does look like the perfect way to turn the poor unloved Black-Eyed Pea into a dish even your teenagers will devour. Ground beef, cheese, cream of mushroom, cream of chicken, enchilada sauce, tortillas. I mean, come on. It's hard not to love a pea swimming in that. Taste of Home has a simpler casserole that isn't layered, but has a lot of the same flavors, but fewer ingredients and steps, and Recipe Girl has a similar recipe without as much meat, cheese, and cream, and with more veggies (pictured above).
What's your favorite way to eat your Lucky New Year's Black-Eyed Peas?