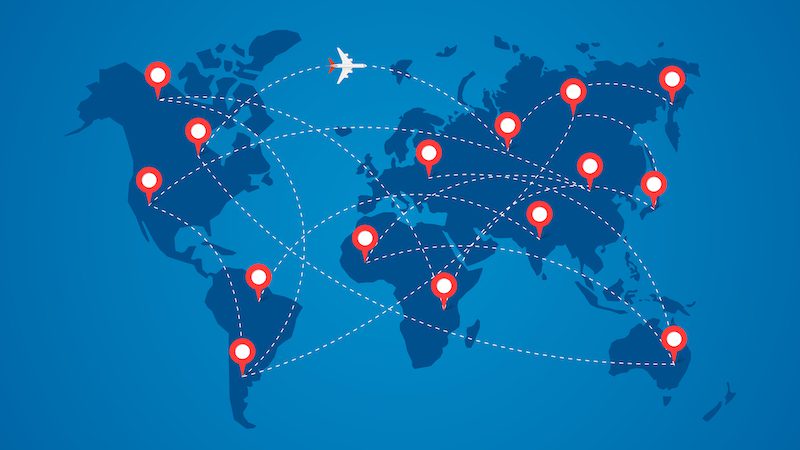 Over the last two years, we've lived through lockdowns and quarantines. Staying close to home, embracing local adventures, and extra time with family time have become the norm. Now that international travel is returning, though, many are eager to dust off their suitcase and passport. It's not that simple, however, for principals and administrators looking to create school travel policies.
How are schools handling international travel? Much like other aspects of the pandemic, there does not seem to be a unified message or approach. There are no universal school travel policies, and where you live will largely determine your experience. Let's look at the issue and at what some teachers in our Facebook community had to say.
The borders have reopened
Earlier this month, the United States lifted travel restrictions from a long list of countries, including Canada, Mexico, and most of Europe. Long-delayed trips and family reunions can resume after almost two years of separation. Traveling to Canada or Mexico? You'll need to be fully vaccinated. Heading somewhere else? You'll still need to be fully vaccinated, but you'll also need a negative COVID-19 test.
Keep in mind that your vaccine records will be matched against your identification (if they don't match up, you could face a fine of up to $35,000 per violation). The CDC will also spot-check travelers for compliance, and collect passenger information to improve contract tracing efforts. So, while travel has reopened, it won't be like it was before the pandemic. At least not yet.
The impact on school travel policies
Right now, there is very little uniformity in how schools are handling the pandemic. The same is true for travel. A guide created by the New Jersey Department of Education states: "While there is no statewide travel advisory or mandate in place at this time, schools are encouraged to have a policy for exclusion for students and staff that is consistent with CDC COVID-19 travel recommendations."
What does this mean? The CDC COVID-19 Travel Guidance for Families document recommends delaying travel if you're not fully vaccinated. If you can't get vaccinated, taking a viral test 3-5 days after travel and self-quarantining for a full seven days after traveling (even if you test negative) is also suggested. No way to get tested? You should stay home for 10 days.
The vaccination program for children 5-11 is in full swing, and depending on how many families choose to vaccinate their kids will likely impact how schools address travel. At the beginning of the year, many schools made their guidelines clear. While Massachusetts schools cannot require a negative COVID test for a student's return to class after travel, Chicago Public Schools took a different approach.
Asymptomatic vaccinated CPS students don't need to test or quarantine unless they develop symptoms, but unvaccinated students will need to self-quarantine for seven days after a negative test or for 10 days if they don't take a test. This difference in post-travel requirements may lead more families to choose vaccination for their kids.
Last year, some schools closed their doors between Thanksgiving and winter break to avoid any COVID outbreaks for those who traveled. We haven't seen many schools making a brief shift to virtual learning, but with staffing shortages and the lifting of travel restrictions, only time will tell.
What teachers are saying
We wanted to know more about what's happening right now, so we asked teachers about their school travel policies and mandates. Want to weigh in? Share your thoughts and experiences with our Facebook community!
"We have none." —Karen F.
"Yeah, if it's a personal visit, we can't mandate anything upon return. But it's worth mentioning that our county numbers are worse than just about anywhere out of country right now." —Madeline S.P.
"Most have to pass a COVID test to get back into the USA. So, they are back in class the next day back." —Linda B.