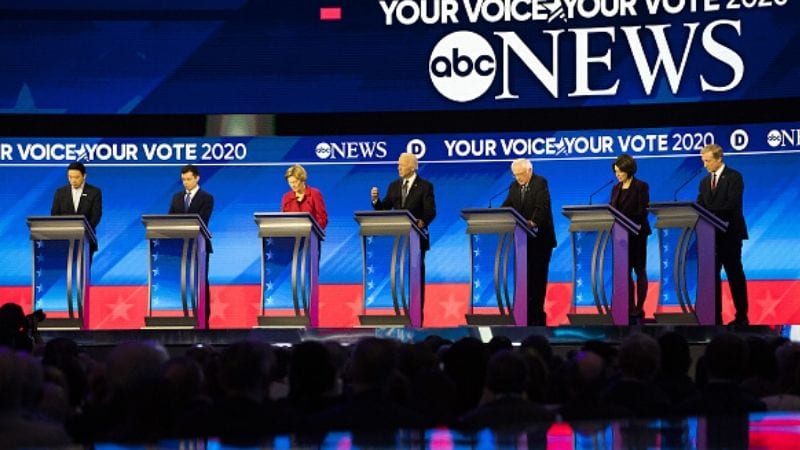 The race for the president is in full swing. Before you head to the polls, know where the presidential candidates stand on education issues like teacher pay to school safety.
Note: WeAreTeachers does not endorse any particular candidate or political party. Our goal is to provide you information so you can make an informed decision. For each candidate, we've provided key messages brought to the voters. We also showcase additional education ideas and policies that the candidate has taken the time to support.
* This article was posted in February 2020. Candidate platforms develop as the campaign continues.
Where the Democratic Presidential Candidates stand on Education Issues …
Joseph Biden
Former Vice President | Former Delaware Senator
Talking Point: Biden's education plan calls for an increase in federal spending for districts and schools that serve low-income children. He wants to triple the money the federal government sends to low-income schools from $16 billion to $48 billion. The cash would be used to pay teachers, increase access to Pre-K, increase rigor (for example, adding more advanced placement classes), and meet other needs.
Universal Pre-K
Pay raises for teachers
Renewal of desegregation work by the Department of Education through grants to help schools diversify
Gun control measures and infrastructure spending to make schools safer
Michael Bloomberg
Billionaire Media Executive | Former Mayor of New York City
Talking Point: Bloomberg has been a supporter of charter schools and is expected to continue his support for charters in his platform. His presidential campaign platform is to make it a "national priority to increase student achievement, college preparedness, and career readiness."
Pete Buttigieg
Former Mayor of South Bend, IN | Military Veteran
Talking Point: Buttigieg's husband is a teacher, so Buttigieg touts understanding the challenges that teachers face each day. The major tenets of his plan are to triple funding for Title 1 schools, create a $10 billion equity fund to close opportunity gaps between high- and low-income districts, and increase mental health care in schools.
Universal Pre-K
Launching an Education Access Corps to prepare and retain teachers for Title 1 schools
Increasing the percent of teachers and leaders of color
Increasing pay for early childhood educators
Support for teachers unions
Providing after-school programs and summer learning for all students
Increased accountability for charter schools
Putting policies and funding in place to reduce desegregation
Tulsi Gabbard
Hawaii Congresswoman | Military Veteran
Talking Point: Gabbard's platform involves providing resources and accountability to ensure equal access to quality education.
She also supports:
Resolving student debt
College for all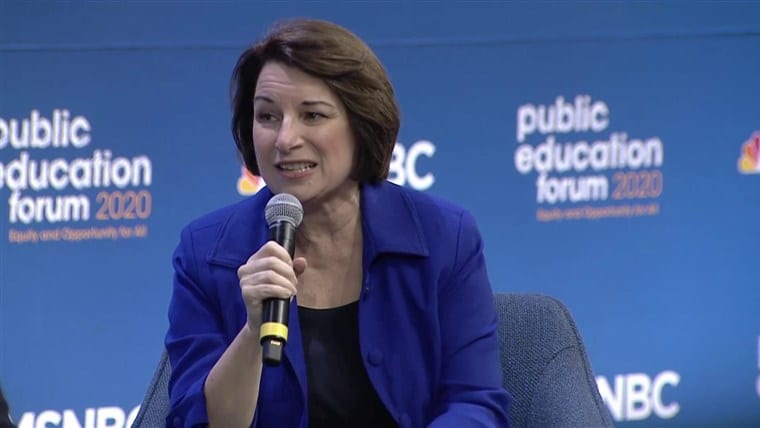 Amy Klobuchar
Minnesota Senator | Former Attorney
Talking Point: Klobuchar wants to establish a Progress Partnership to provide states with matching federal funds for implementing specific programs. The programs and incentives would focus on school improvement and her plan would require that states increase teacher pay, ensure that high school curricula prepare students for success, and create an infrastructure improvement fund.
Increasing teacher pay
Incorporating after-school programs into schools
Reviewing the current education funding formula to ensure equal disbursement of funds
Funding for STEM programs
Funding for disability programs
Blocking private school voucher expansion
Addressing the disproportionate punishment of students of color in education
Restoring protections for LGBTQ individuals in education
Deval Patrick
Former Massachusetts Governor | Executive at Bain Capital
Talking Point: Deval's education platform focuses on reducing student debt and increasing public school funding.
He also supports:
Funding for charter schools
Free community college
Reducing student debt
Bernie Sanders
Vermont Senator
Talking Point: Sanders' focus is on reducing racial and economic segregation, making teaching a desirable profession to attract strong teachers, and creating positive learning environments. This involves increasing and funneling funding into programs that desegregate schools, increasing funding for Title 1 schools, and increasing funding for teacher training programs, particularly in HBCUs.
Increasing teacher pay and establishing a starting salary of no less than $60,000
Strengthening IDEA and increasing funding to support the act
Eliminating federal funding ($440 million) for charter schools
Year-round free universal school meals with incentives for locally sourced food
Gun violence prevention laws
Rebuilding, modernizing, and encouraging green school infrastructure
Increasing federal funding for community strategies to desegregate schools
Implementing Title IX and policies to protect LGBTQ students and immigrant students from harassment
Tom Steyer
Billionaire Former Hedge Fund Executive
Talking Point: Steyer wants to ensure that every child has the opportunity to attend good schools and achieve higher education or work goals without worrying about cost. The Right to Learn is one of his five "Rights."
He also supports:
Addressing the current level of student debt
Strengthening the public school system
Elizabeth Warren
Massachusetts Senator | Former Harvard Professor
Talking Point: Warren's plan is focused on increasing federal spending for public schools, confronting desegregation, and ending federal support for charter schools. Warren wants to quadruple Title 1 spending through state funding and changing funding formulas that determine monies for low-income districts. Her plan identifies school integration as an improvement strategy and would encourage Title 1 schools to use funds to promote integration.
Increasing teacher pay
Eliminating federal funding ($440 million) for charter schools
Using federal funds to encourage authentic assessments in schools
Increasing federal funding for IDEA grants
An Excellence in Education grant program to support after school programming and other school and community needs
Where the Republican Presidential Candidates stand on Education Issues …
Donald Trump
President | Former Reality TV Star | Real Estate Developer
Talking Point: President Trump's education platform has focused on school choice, preparing students to compete in a global economy, modernizing student aid, and holding colleges and universities accountable.
Less federal spending on education
Less federal spending on teacher training and grants to support schools
Arming teachers and revoking school discipline policies put in place by the Obama administration
Merging the Departments of Education and Labor
Joe Walsh
Conservative Radio Show Host | Former Illinois Congressman
Talking Point: Walsh is opposed to the Common Core standards and focuses on "market-based" education reforms, including charter schools, vouchers for students to attend private schools, and homeschooling.
He also supports:
School choice
Implementing performance pay for teachers
William Weld
Former Massachusetts Governor | Former Federal Prosecutor
Talking Point: Weld is in favor of abolishing the Department of Education as a way to reduce the size of government. He prefers to let states take control of education rather than having a national standard.
He also supports:
School choice, including charter schools and homeschooling
Repealing the renegotiation of student debt
We hope these points make it clearer where the presidential candidates stand on education topics. You might also be interested in teachers who have ran for office and what gets teachers out there to vote.