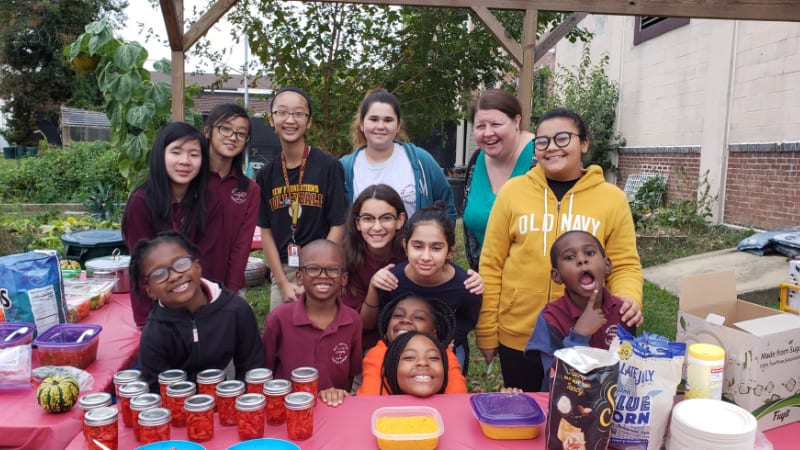 Brought to you by The Allstate Foundation
The Allstate Foundation champions SEL and service-learning programs to ensure youth reach their full potential and have the power to build the just, equitable and healthy world we all deserve. Learn more >>
Service-learning projects are a great opportunity to connect student learning in the classroom with real-world experiences in the community. They give students an opportunity to grow their leadership and communication skills, become engaged citizens and grow as individuals. Service-learning projects can help teens gain a better understanding of themselves as they explore and develop ways to contribute to their communities. They can develop self-confidence and an enhanced commitment to public service. The benefits are clear. Practically, however, creating meaningful service-learning opportunities for our students that fit into the school curriculum and calendar can be very challenging. Here's how to start service-learning at your school:
In a recent report by Civic, 86% of teachers said that they would like to offer more service-learning opportunities. Only 16% of teachers reported that their school had community service tied to classroom learning. That number is growing slowly but steadily.
We recently asked four educators who work in schools with a strong commitment to service-learning to share their best advice on incorporating service-learning projects in a way that is sustainable and works for staff and students.

Make service-learning projects easy and sustainable
We know that not every school has a dedicated service-learning leader. And not every one of us has the time to create and produce a large-scale project. Keeping projects small and manageable is a great way for students to get involved and ensure that a project is sustainable.
"The goal of service-learning is to get students oriented to the idea that their actions can impact the world around them," Mari Lim Jones, an elementary school teacher and now the Director of the Deeper Learning Hub at the High Tech High Graduate School of Education in San Diego, California, says.
"If that's your goal, you can scale that project down to whatever you need."
Jones says that all service learning starts simply by digging into a problem with students. Ask questions such as, "What's a problem you're seeing in your community? What do you notice? What do you wonder?" Allow the students to be the information gatherers in their community. Then give them a chance to think about how to solve the problem.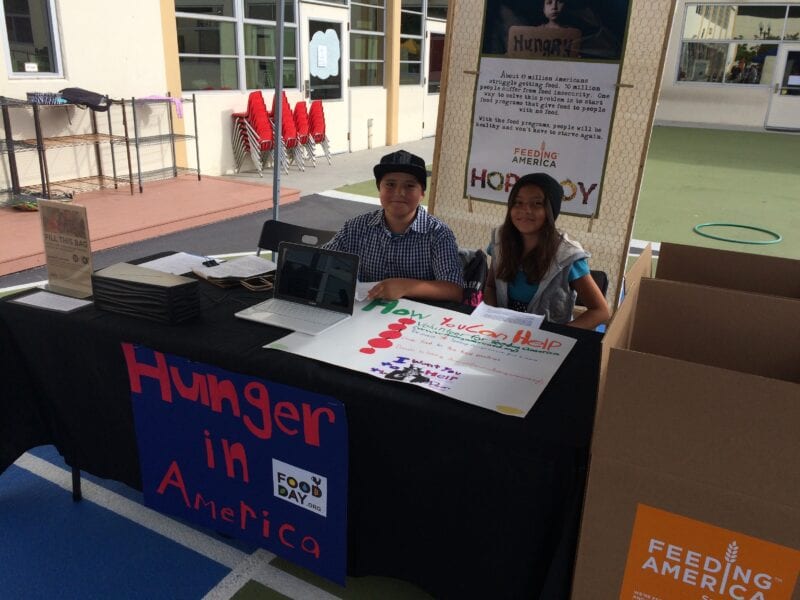 Service-learning opportunity
In one of Jones' 4th grade classes, students examined different ways to think about food from an environmental standpoint, a health standpoint and a socioeconomic standpoint. Students then created a "food day" to inform their community about aspects of food and how to make better decisions about the food they eat. Students then collected food and donated it to Feeding America.

Service-learning opportunity
Second grade teachers from High Tech Elementary in San Diego, Marissa Adams and Rhea Manguil, encouraged their students to take on the role of scientists and investigate bees in the ecosystem. The result? Students became advocates for the bees! They wrote and performed plays about the bees. Then, they wrote letters to the city of San Diego about the bee population being threatened. They planted over 200 bee-friendly plants. Then, they built beehives to donate to a honey farm in Mexicali, California that supports local families and schools.
"After building beehives to send to Mexicali to help a community of women and children there, students felt a sense of accomplishment and contribution to a problem that they realized is affecting us all," Rhea Manguil said.
Include all students in service-learning projects
Denise Griffin teaches at Southmoore High School, a rural high school in Moore, Oklahoma. Her students have severe multiple disabilities.
"Service-learning allows students to feel connected to their communities and encourages a sense of self-worth and value. This is especially important in teens," Griffin says. "Also, self-awareness and self-advocacy skills relate to transition services for individuals with disabilities."
Service-learning opportunity
Griffin created a project called "Creative Connections." Her students make greeting cards, craft kits and art projects for members of their community. "The goal is to add a little color to someone's day and make them smile," she says.

Service-learning opportunity
Griffin is also part of a service-learning book club that discusses how to make a charitable cause, such as a food drive, more sustainable and meaningful. "Our goal is to expand on the service being provided and involve younger students in discussions around healthy food choices while older students can research why food drives are necessary."
Griffin says her projects are sustainable because she's developed strong community partnerships and has involved the groups in the process. From monitoring and reflection to evaluations and finally, the celebration.

Work with organizations in your community
When service-learning projects work in conjunction with local organizations, students learn to engage with the people where they live. They learn about not only serving others but also addressing needs in their own communities.
Jen Denzin teaches English and psychology at Saline High School, a suburban school in Saline, Michigan. The service-learning project she organized with her students was born out of a need they identified during the COVID-19 pandemic.
Service-learning opportunity
Denzin's students partnered with the Saline Senior Center via weekly phone calls. Students also wrote cards for the seniors, acknowledging important days such as birthdays and holidays.
The center reported that residents longed for conversation during the lockdown. So, her students began making calls to the seniors. Initially, the calls were intimidating for students, but ultimately, they all said their days were "made brighter" after the conversations.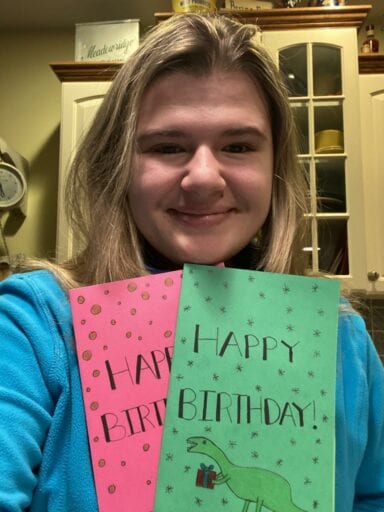 "In most cases, our students learn more about themselves and the people they serve than they ever anticipated. And the reflection of this learning helps us continue to provide meaningful opportunities throughout our community," Denzin says.

Integrate service-learning projects into lessons
Tiffany Searles is the Director of Community Engagement and Communications at New Foundations Charter School, a K-13 in Philadelphia, Pennsylvania.
"Student disengagement and drop out is often fueled by the lack of connection of what students are learning in the classroom to what they need to know in their lives outside of the classroom," Searles says. "The integration of service learning helps students find meaning in their curriculum and builds their sense of purpose and confidence as they build real-world skills, connections and relationships."
Service-learning opportunity
Searles' students partnered with Judi's House, a community-based nonprofit that supports grieving children and families. Students researched how to support children and families after the loss of a loved one. They put together a project that allowed participants to share words of encouragement, using songs and making friendship bracelets. They helped families at Judi's House know they were not alone during this difficult time.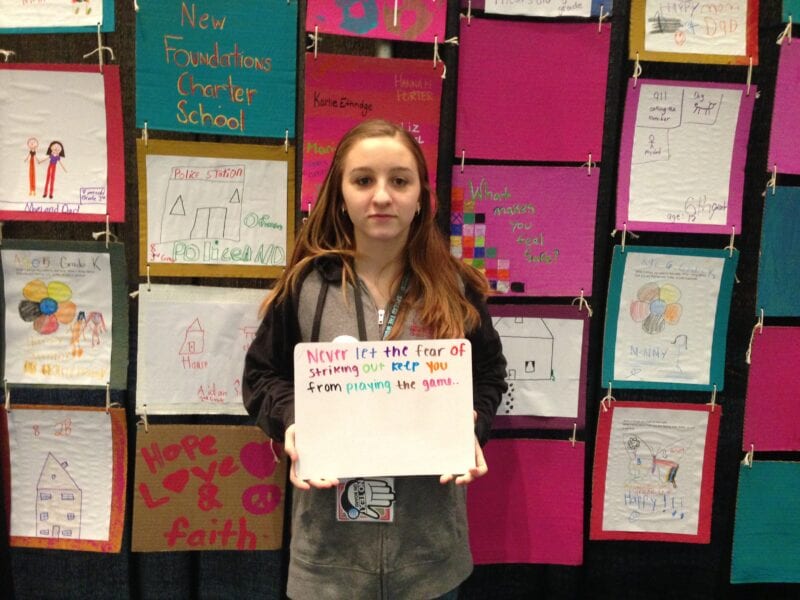 Service-learning opportunity
The middle school students  at New Foundations Charter School learned that their community is a "food desert." They grew vegetables in the school and community garden, created care packages with recipes for their community members, and then hosted a garden party with a food preparation demo which helped to give their community access to fresh vegetables and informed them about quick, cheap and easy recipes they could prepare in their homes.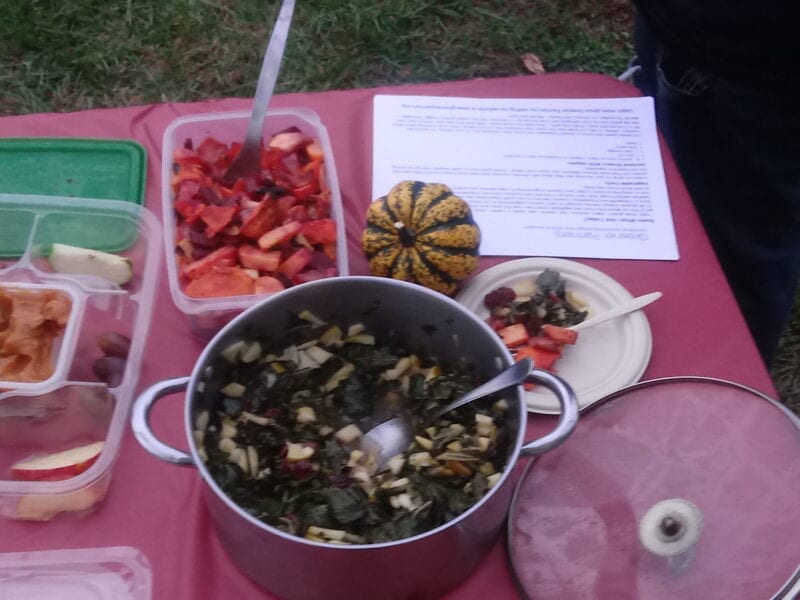 For more on service learning and SEL, check out these resources.