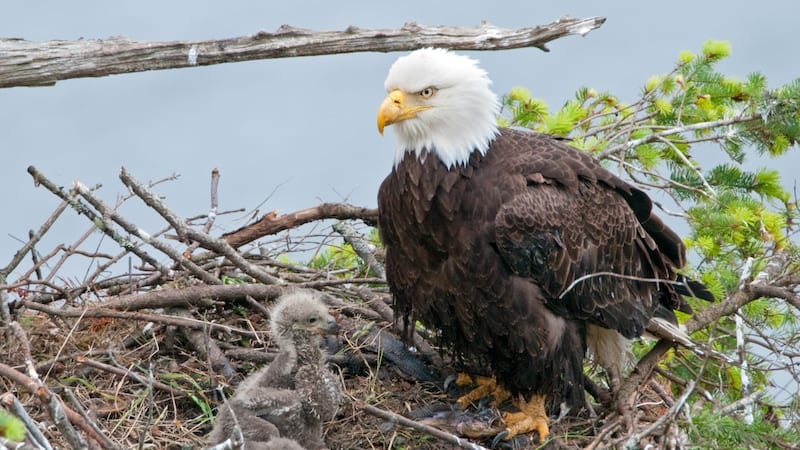 Is there anything more majestic than an eagle in flight? More adorable than a fluffy eagle chick asleep in a nest? We think not. To help you fine-tune your nature livestream time in the classroom, we've rounded up our favorite eagle cams for kids:
Big Bear Bald Eagle Cam
This nest is located at Big Bear Lake in California. It is about 145 feet up in a Jeffrey Pine tree. The nest is the current home to local bald eagle pair, Jackie and Shadow.
*A reminder for sensitive viewers (adults and kids alike) that these cameras show real life in real time. Many followers of this particular livestream were heartbroken recently when they witnessed an eaglet pass away shortly after it began to hatch.
Southwest Florida Eagle Cam
This is one of four livestreaming webcams trained on a bald eagle nest in a Slash Pine tree in North Fort Myers, Florida. Camera #1 (what you're looking at) is six feet above the bald eagle nesting tree and is even equipped with night vision!
Northeast Florid Eagle Cam
The Hamlet is home to bald eagle pair Samson and Gabrielle and eaglet Legacy. What a name! We can't wait to watch her fledge.
DNR Nongame Wildlife Eagle Cam
Get up close and personal with the bald eagles on this live feed from the Minnesota Department of Natural Resources. This nest currently has two eggs laid in February, so any day now!
Pittsburgh Hays Bald Eagle Camera
This nest is located five miles from downtown Pittsburgh, Pennsylvania, along the Monongahela River, and sports two new hatchlings (as of March 23). The cam is sponsored by the Audubon Society of Western Pennsylvania, and guess what? They have lesson plans.
National Arboretum Eagle Cam
Appropriately, given the location, the eagle pair that reside here are named Mr. President and The First Lady (Mr. P and TFL, affectionately.) Since they first made this their home in 2015, they've successfully fledged seven eaglets!
Bald Eagles of Centerport
All the way from New York! In the last 24 hours, two eaglets hatched. You can watch mom and dad feed them, but be warned. Dad recently caught a bunny.
Avon Lake Eagle Cam
Your kids will get a kick out of this feed because this eagle pair (Stars and Stripes, naturally) are nesting outside an elementary school in OHIO. Two eggs in this nest! There are three cams, but this view is our favorite.
Duke Farms Eagle Cam
Seriously, our hearts can't take all these fluffy chicks. Duke Farms in New Jersey is home to these cuties, and they also have tons of resources for teachers. We don't know what a virtual eagle kit is, but we want one.
ND-LEEF "In-Nest" Eagle Cam
ND-LEEF stands for Notre Dame Linked Experimental Ecosystem Facility, and it's here that viewers are on "pip watch." They're on the lookout for pips, small holes that eaglets make with the egg tooth at the end of their beaks… a first sign of hatching!