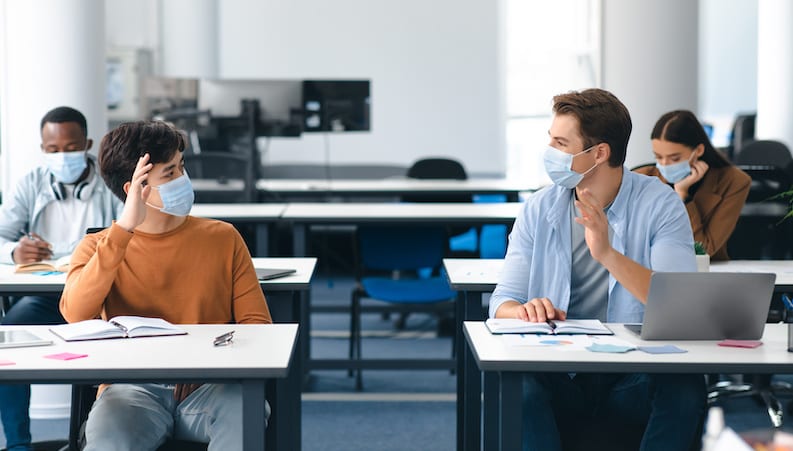 Brought to you by Adobe
The Adobe Education Exchange is the free learning platform and community, with workshops, classes, and resources, all designed by educators for educators, to ignite creativity in the classroom. Learn More. 
I teach high school social studies, and I've been searching for another way to teach peer editing. That's why I was excited to check out Adobe's Time For Feedback Project. (My students and I loved it!). This project not only helped me revamp how I teach giving and getting feedback, but it also gave my students a chance to be thoughtful and creative. It's just one of so many projects that you can find from Adobe. Here's how it works, what you get, and what you can expect.
It's easy to get started:
Adobe's Time For Feedback Project provides a clear and detailed lesson plan that you can use in any class or subject area. The PDF handout has lesson objectives and step-by-step instructions, which makes it easy to get started. Plus, you can add everything to your Google Drive, which makes it easy to edit and customize the handouts.
How it's organized:
Big Question.
Timing.
What You'll Do.
Learn and Explore (15-20 minutes).
Reflect and Share (60-80 minutes).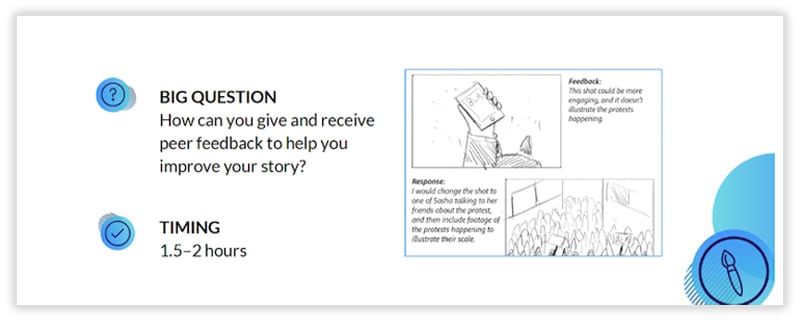 It's a comprehensive lesson plan:
Adobe's Time For Feedback Project not only has the lesson objectives, the big question, and step-by-step instructions, but also all the tools you and your students need to dig in. Some of these tools are videos from Pixar and Khan Academy. These videos are just one example. You can use this lesson with any topic.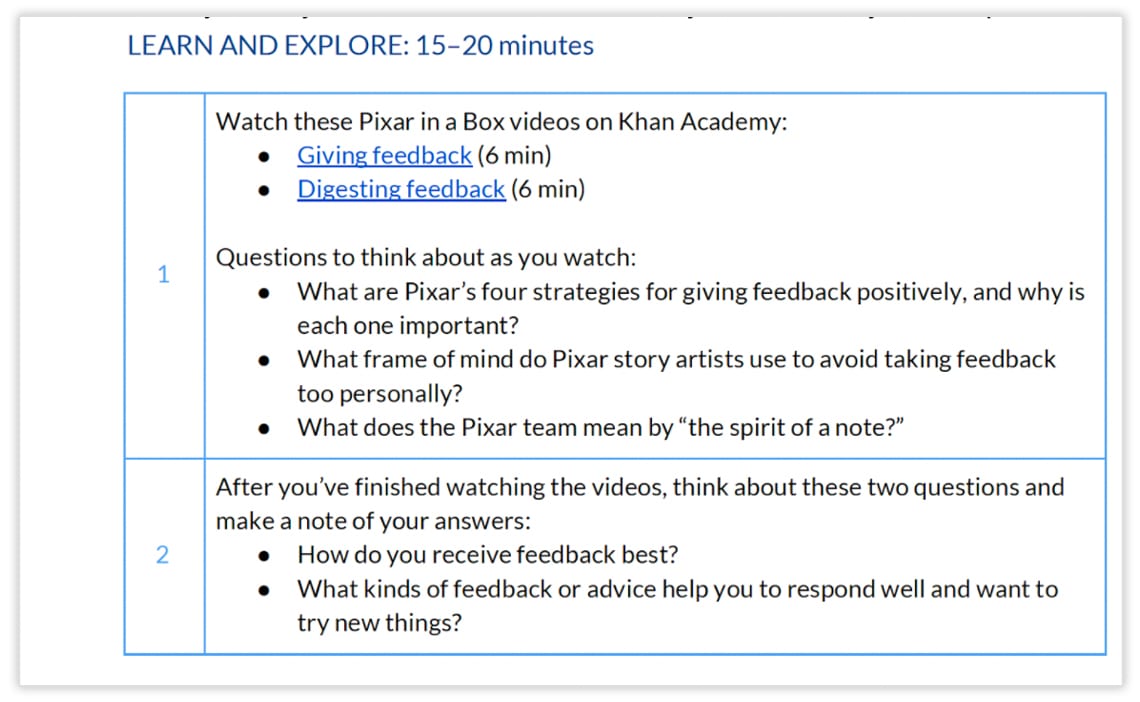 What's included:
Videos (this lesson uses two awesome videos from Pixar in a Box through Khan Academy that discuss and model giving and receiving feedback from peers).
Questions that hold students accountable and get them thinking.
Tutorials for Adobe Spark and Photoshop in this lesson.
Examples of student work.
Sentence starters (my favorite part of the whole lesson!).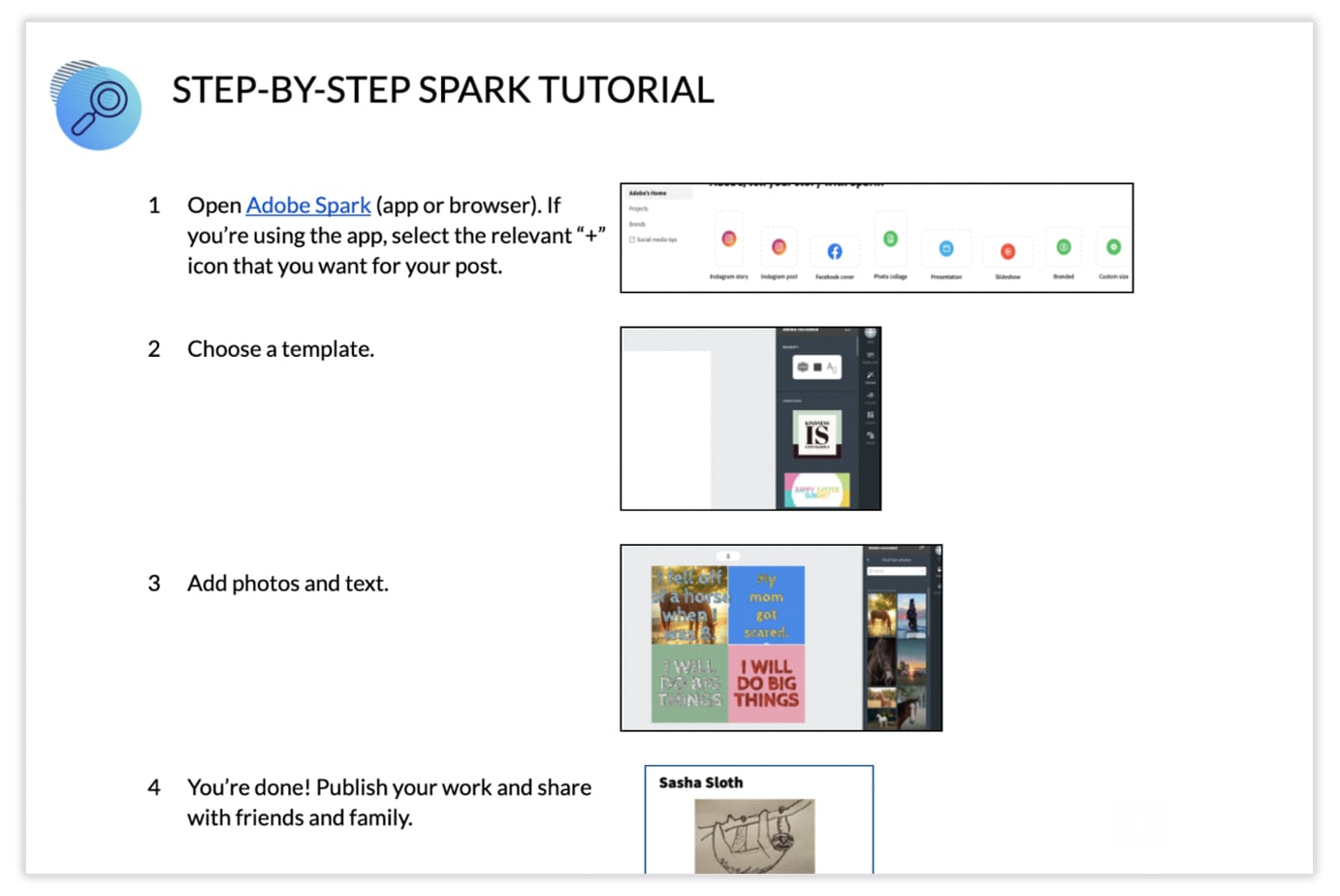 Some ideas for how to use it:
Include it in any subject or unit
Whether reflecting on a book for English class, problem solving in math class, or practicing new vocabulary in a language class, feedback will always be an essential part of any class. This lesson plan can fit seamlessly into any class project. And it's a great way for students to work in pairs to get to know each other and support one another, in person or in a Zoom breakout room.
Teach empathy and active listening
Having students use "I" statements when they peer edit each other's work teaches empathy. Learning to take a break from the editing process and return to their work with fresh eyes helps students become introspective. Being receptive to feedback teaches active listening skills. And tackling the easier edits first can help students feel more accomplished and motivated to keep going.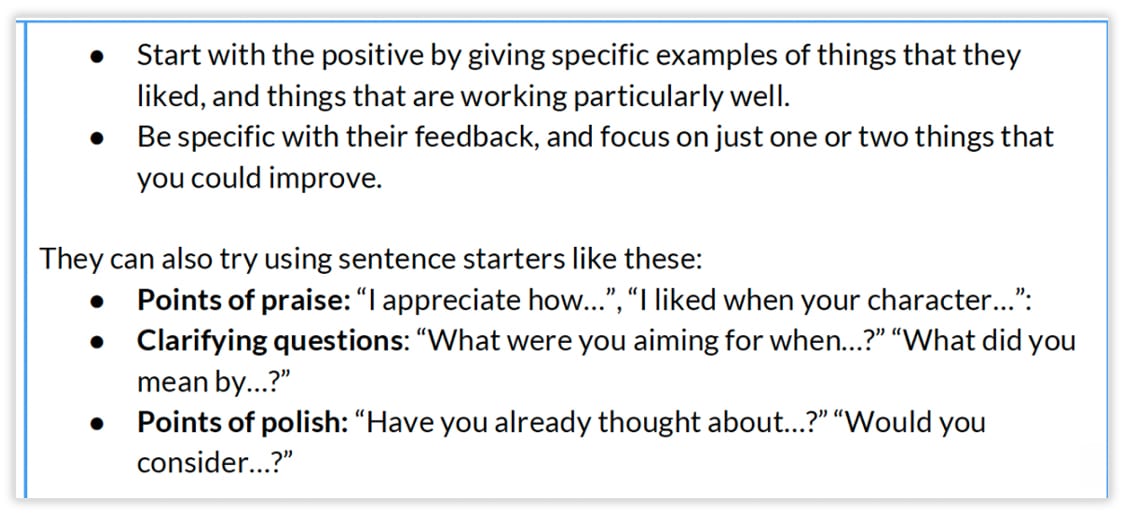 Give students an opportunity to practice giving and getting feedback
While the emphasis of this lesson is on how to give and receive peer feedback, the sky's the limit for what students can make for their storyboards. Using Adobe Spark or Adobe Photoshop, students can create a beautiful and impactful video or social media graphic that inspires and motivates. And with the feedback they receive from their peers on their storyboards, they can really make their work shine.
I'm so glad that Adobe's Time For Feedback Project has finally given me a meaningful way to make peer editing a positive experience for my students, and I can't wait to check out their other projects.