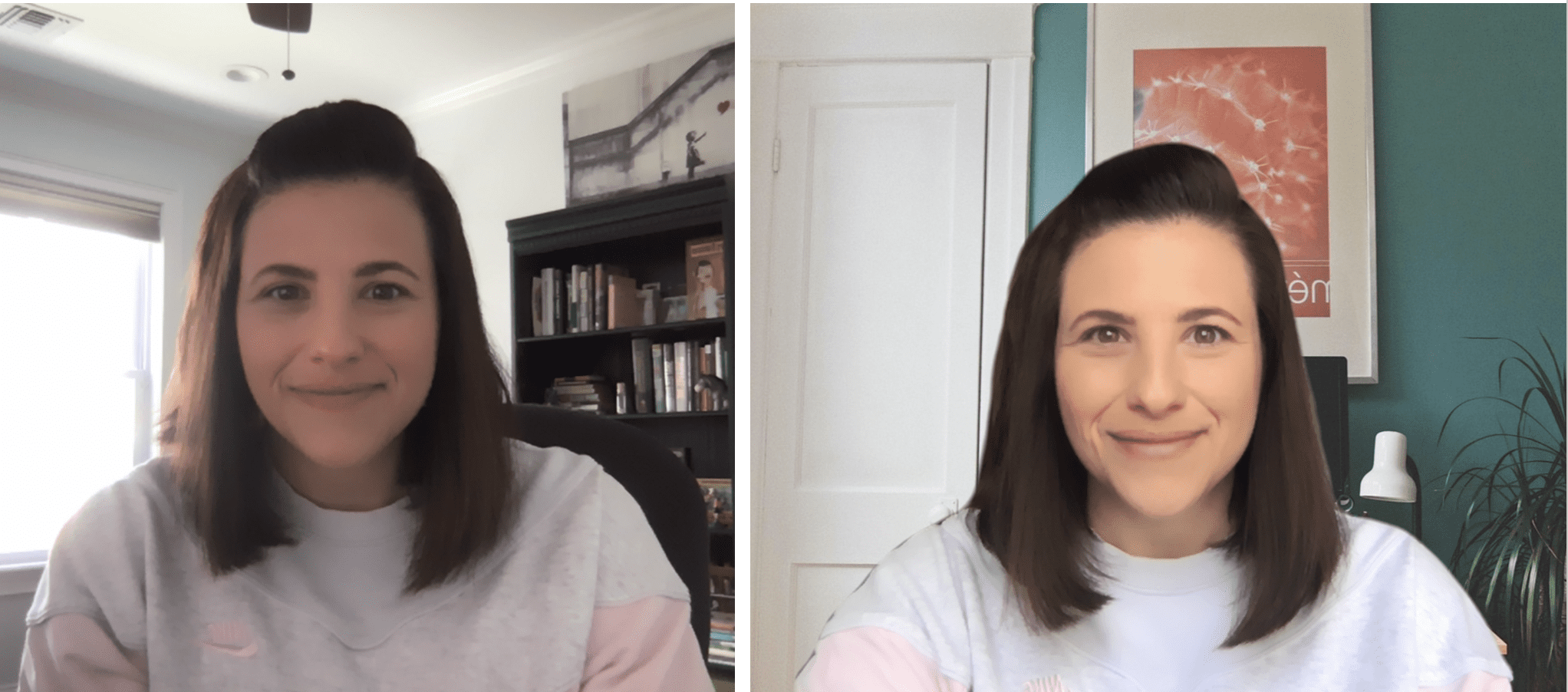 Video chats and meetings seem to be the new way of life now that we are all working and learning from home. Here are some tricks and tips for video chats that will have you looking better on camera immediately!
Just a heads up, WeAreTeachers may collect a share of sales from the links on this page. We only recommend items our team loves!
Lighting Tips
Lighting is the first step to determining where you want to sit while taking your video call. Natural light is recommended as it illuminates your skin and adds a natural glow. Find a quiet room or nook in your house that has windows. Open the shades and let the light shine in! Your light should always be in front of you to help eliminate any shadows.
Don't have a quiet space with natural lighting? No problem. Invest in a ring light or position a desk lamp in front of your computer for great lighting. Remember, adjust your screen's brightness as it can be a bright source of light too. If the light from your lamp is too bright or glaring, try positioning it toward a wall so it bounces back on your face.
Background Tips
You've found the best lighting, but make sure to set up your space so that is neat and not too distracting! Open your camera on your laptop before you join your virtual meeting. See what's visible in the background and check that you are comfortable sharing this space with your fellow attendees. Double-check that your wall decor is work-appropriate!
Don't have the time to pick up the pile of laundry on the floor? No fear, virtual backgrounds are here! I am personally a huge fan of these Golden Girls inspired backgrounds.
Positioning Tips
Ever open your phone's front-facing camera and you get quite an unflattering view? Yeah, chin first isn't my best angle. Raise your camera so it is head-on and at eye level. Your virtual attendees should be looking at you directly, not up or down.
Keep in mind that your desk or table will most likely be lower than your face. If you are using a laptop, you will need to boost it higher. Grab some books and stack until you find the perfect height, or you can try one of these niftystands.
Sound Tips
While sound might not necessarily make you LOOK better, it will most certainly increase the quality of your video chat. We may not have total control of the noises around us, but a good pair of headphones can help. It's best to find a pair of headphones that have a mic, because more often than not, this mic will be better than the one that is builtin to your computer. Most video conferencing tools allow you to test your mic in their settings. So grab a few pairs of headphones and test out which one sounds best.
Be smart about muting yourself. Are your dogs going crazy because you got a package delivery? Or maybe your kids are laughing at their favorite movie in the room next to you. If you don't have to talk, consider muting your microphone. Just remember to unmute when you need to chime in!
Beauty Mode Tips
Don't feel like putting on makeup today? Running late and don't have time to freshen up? Some video chatting tools, like Zoom, have a "touch up my appearance" mode that you can enable. Personally, once I found this feature, I never turned it off!
For an added boost of video quality, and a flawless look, also enable HD.
Professionalism Tips
While many of us go from our morning-sweatpants to our night-sweatpants, we should still stay professional. It can be tempting to push your video call to the background on your screen and start browsing the internet or answering emails. Try your best to stay focused and remain centered with your camera.
Body language speaks volumes to your fellow video chat attendees. Sit up and try not to hunch, keep eye contact, nod to acknowledge others who are speaking, keep hands away from your face, try to stay away from tense facial expressions, and smile!
Lastly, try to hold off from eating your lunch until your video call is over. And if you absolutely must eat, make sure to keep your mic muted.
Bonus Tips
Need to get up and move around during a video chat? Turn your camera off before you leave, and turn it back on once you return. Before you join the virtual meeting, make sure you load a work-appropriate profile image. This will display when your camera is off.
If you need to share your desktop during the video chat, make sure you have that item ready to go. Clear your desktop of any extra tabs, tools, or open documents that should not be shared.
Do you have your own tips for video chats and looking your best? Come share them in our WeAreTeachers Helpline group on Facebook!
Want to up your virtual working and learning game even more? Check out these web conferencing trainings and tutorials.
Plus, 10 Must-Haves for Your New Home Classroom & Working Space.