March is National Reading Month, and lots of schools celebrate with an annual Book Character Costume Day. Teachers and kids choose their favorite protagonists (and antagonists!) and dress to the nines to show off their love of reading. These are some of our favorite literary costume ideas for teachers, with tips on how to bring each one to life.
Just a heads up! WeAreTeachers may collect a share of sales from the links on this page. We only recommend items our team loves!
1. Charlotte and Wilbur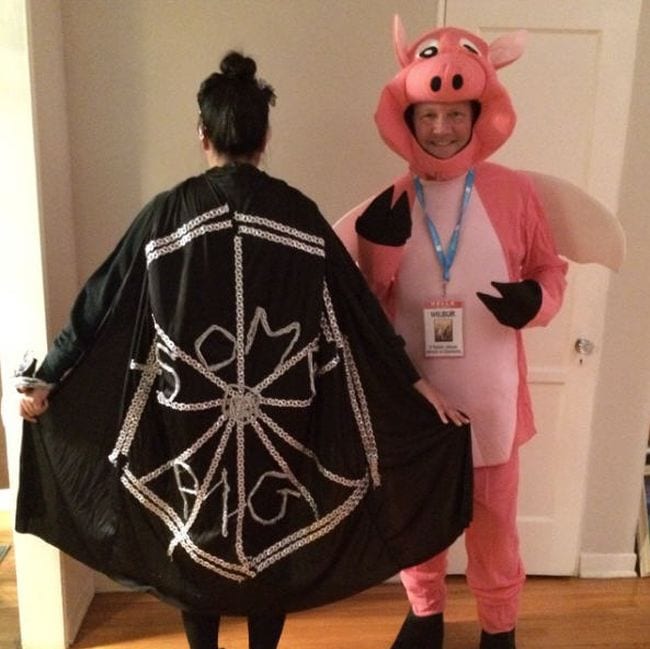 Grab your co-teacher and plan this awesome costume idea. You can make your own cape from scratch like @krishaleanne, or buy this spiderweb poncho and use a fabric marker to add your favorite Charlotte phrase. Don't forget the pig ears, nose, and tail for Wilbur!
2. Corduroy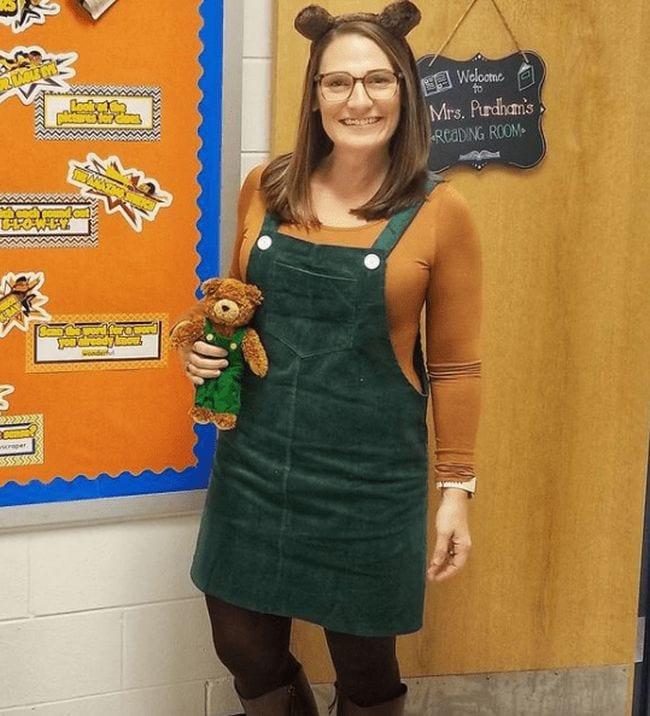 This cute and cuddly book character costume is really easy to pull together. Match a green corduroy jumper with a brown shirt, then don a pair of teddy bear ears, and you're good to go, just like @jess.and.cece_thefrenchie.
3. Miss Frizzle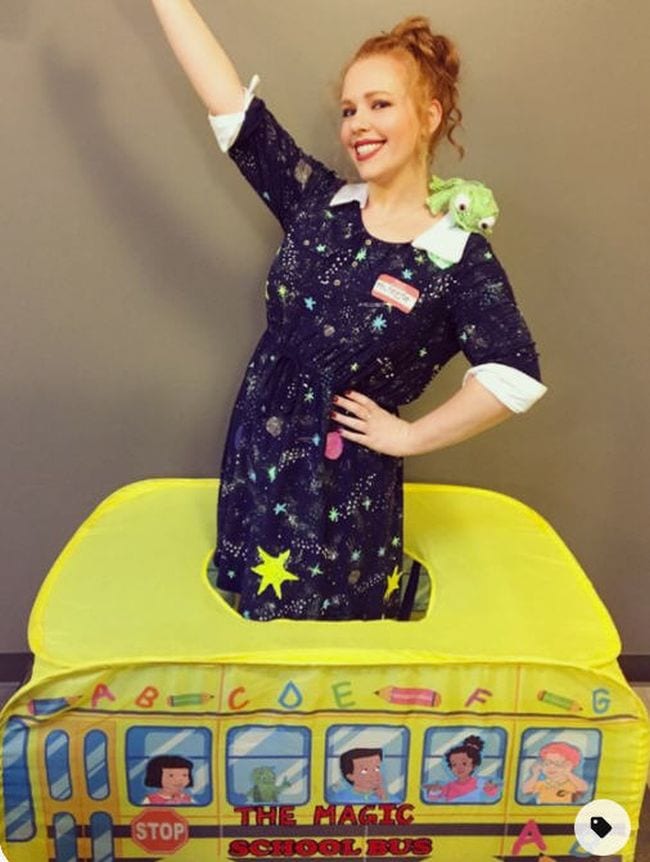 Miss Frizzle is easily one of the most popular book character costume ideas for teachers. We adore this version from Ginger & Ivory! You can get everything you need online: space-themed dress, red Miss Frizzle Wig, stuffed lizard, and the finishing touch: a pop up school bus! For more dress ideas, check out our full list!
4. Captain Underpants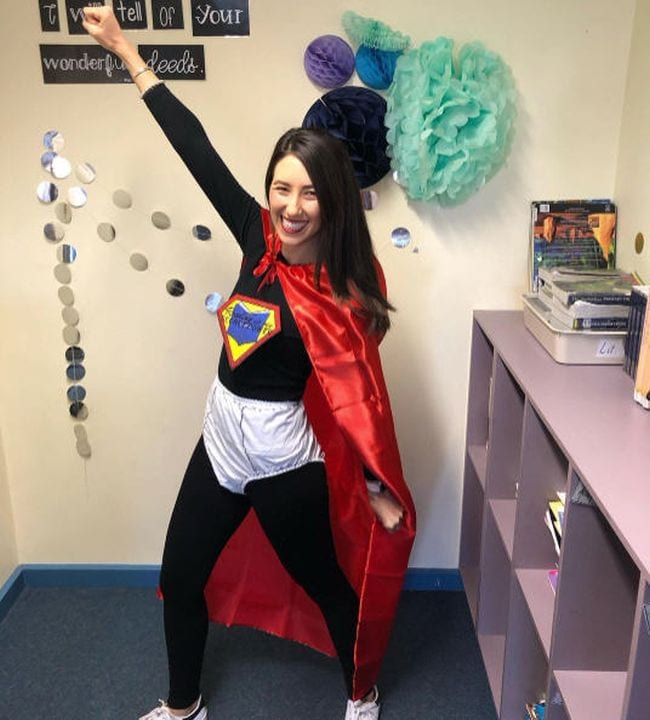 This one is sure to crack your students up! Here's the superhero cape you'll need. (We'll let you track down the underpants on your own!) Thanks to @littleapplelearning for the idea.
5. Laura Ingalls Wilder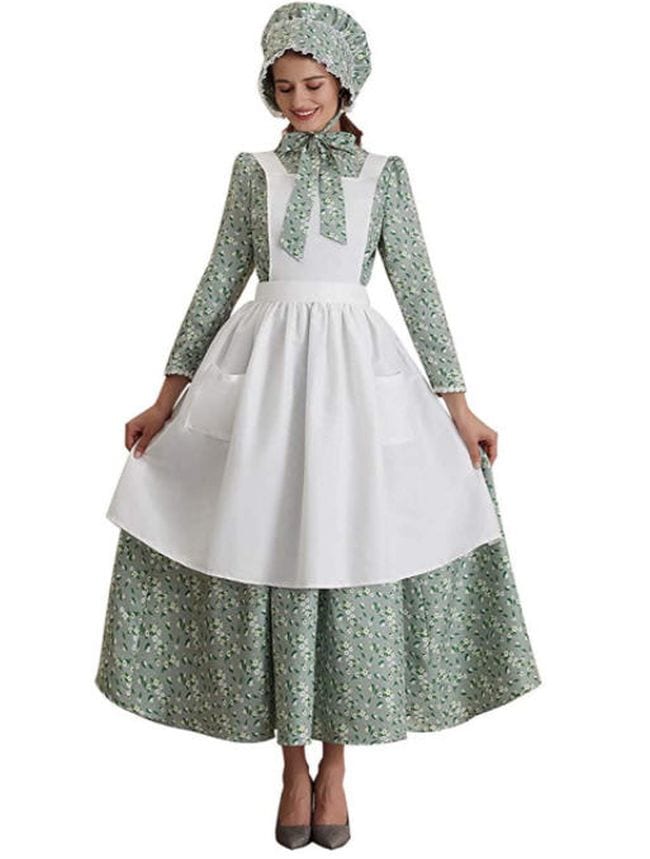 Travel back to pioneer times with this complete costume set. It comes in multiple sizes and colors, too.
6. Amelia Bedelia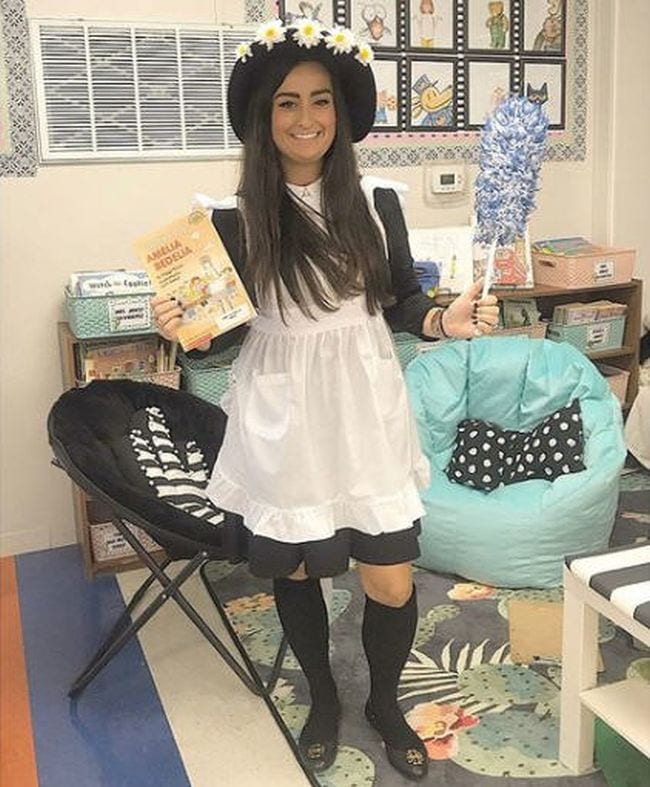 Here's another easy book character costume you can put together in a snap, via @cma1291. Add a ruffled bib apron to a black dress, glue some dollar store daisies to a black hat, and bring along your fanciest feather duster.
7. If You Give a Mouse a Cookie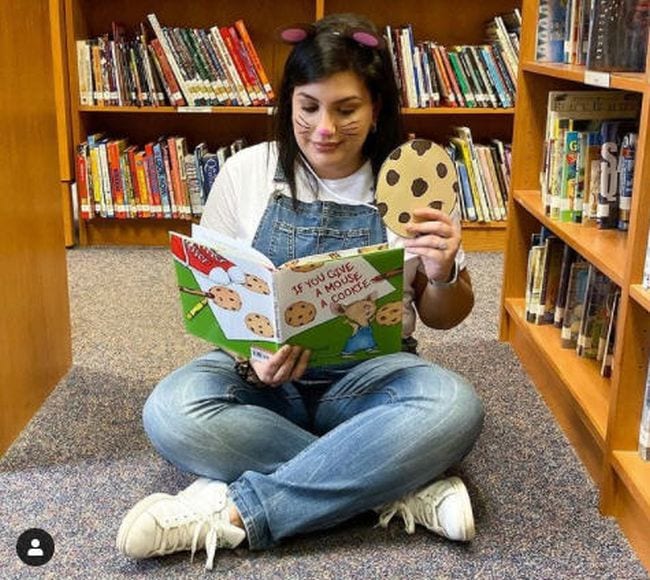 If you've got some denim overalls, you've got most of what you need for @blushlovepeony's If You Give a Mouse a Cookie costume. Make or buy a pair of mouse ears and giant cookie, then paint whiskers and a pink nose on your face (or face mask).
8. The Very Hungry Caterpillar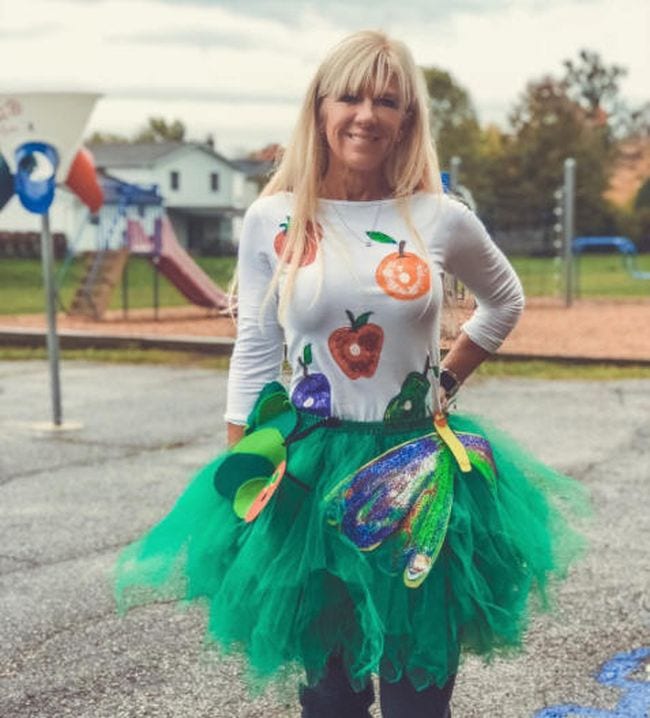 If you love The Very Hungry Caterpillar, you'll want to give @thebeachclassroom's costume idea a try. Buy a green tutu here, then use fabric markers or paint to cover a t-shirt with fruit and other foods. Yum!
9. William Shakespeare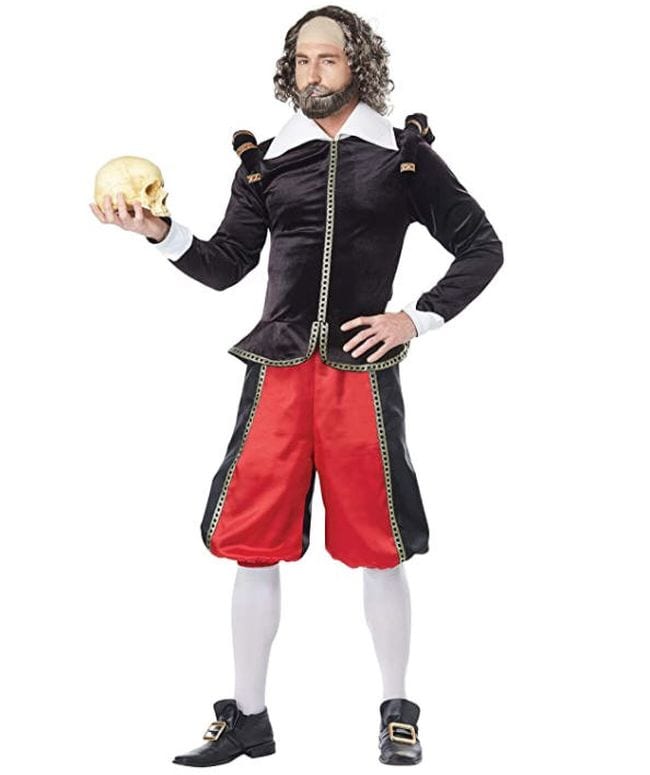 There are plenty of book character costume ideas to steal from Shakespeare, but why not dress as The Bard himself? Grab the costume set here (skull not included—maybe the biology lab can loan you one?).
10. Pippi Longstocking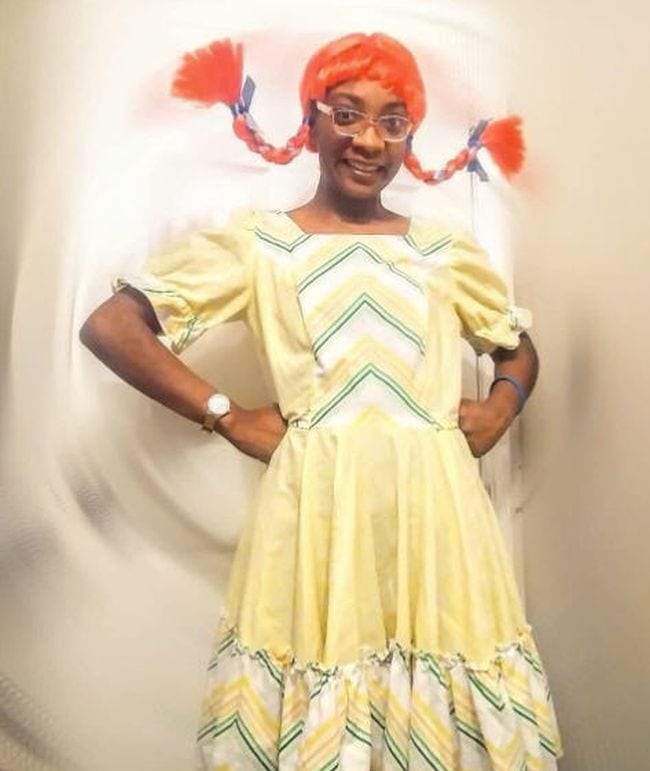 As @costumehabit shows us, Pippi Longstocking is a quick and fun costume. Find a cute peasant dress you like, add this crazy braided red wig and some freckles, and don't forget your pet monkey!
11. Max from Where The Wild Things Are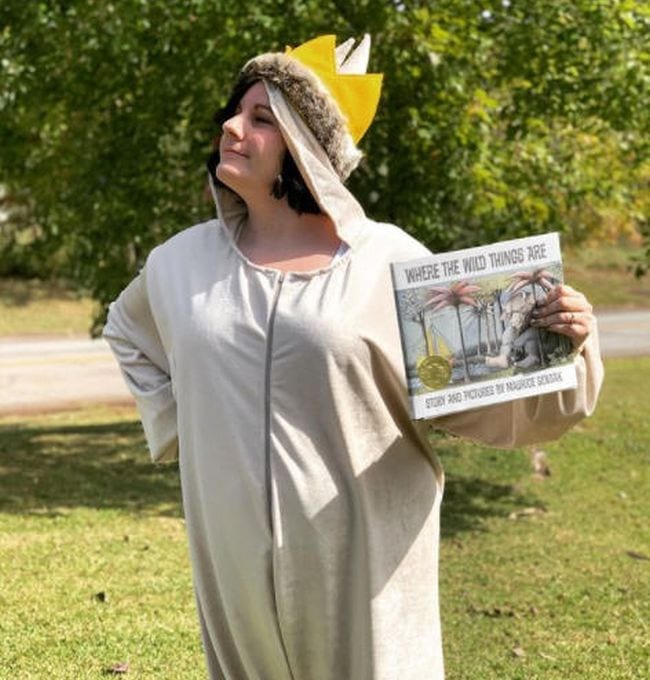 Finally, an excuse to buy that grown-up onesie you've been craving! Here's an adjustable furry crown to make your costume complete, just like @kblovestoread.
12. Sherlock Holmes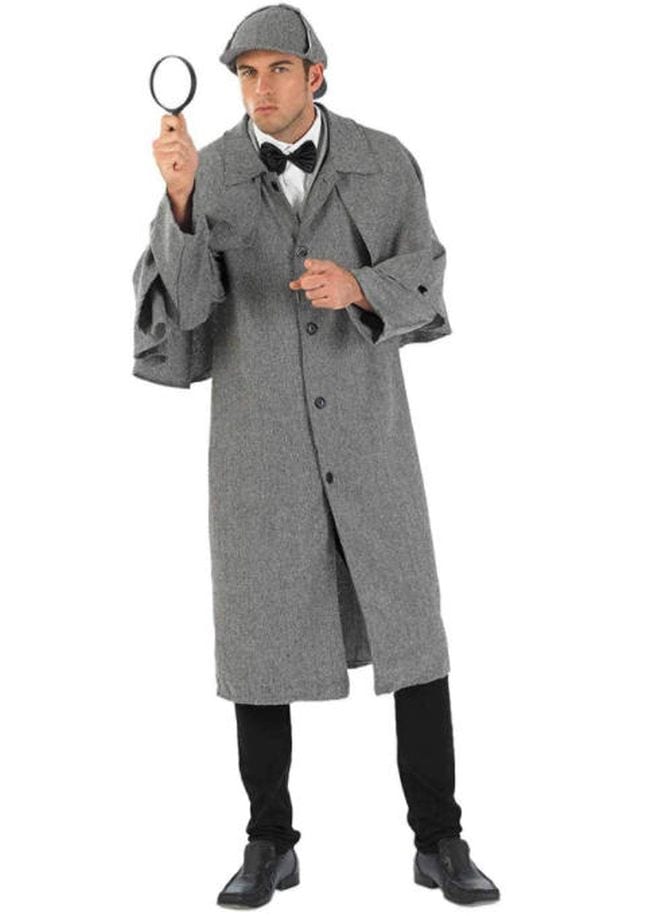 Need a good book character costume? Elementary, my dear Watson! You get the coat, hat, bowtie, and magnifying glass with this costume set.
13. Rainbow Fish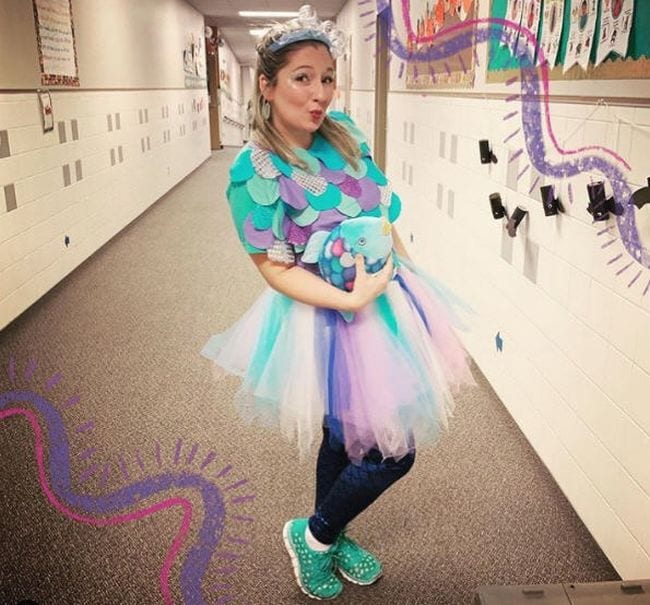 The Rainbow Fish is a really popular book character costume for those who love to DIY, like @ctarinstitute. Cut out and attach fabric scrap scales to an aqua t-shirt, then slip on a pretty pastel tutu.
14. Coraline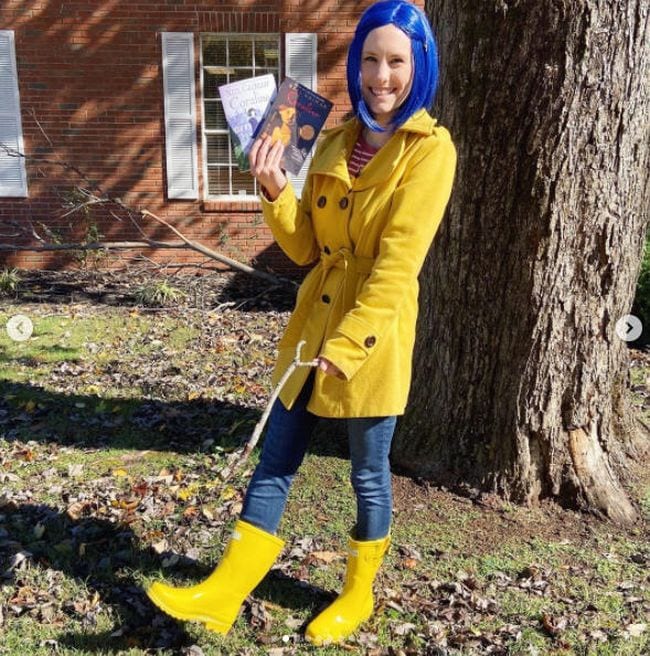 Slip through the secret door with a Coraline costume like @abooklikeyou's. Here are the blue wig and yellow rain boots you'll need.
15. Viola Swamp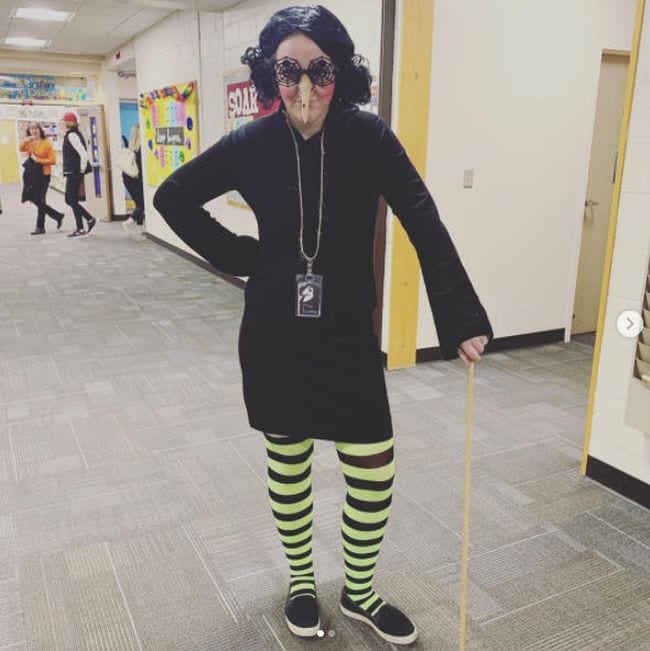 Miss Nelson is missing! Maybe Viola Swamp (aka @secondgrade.shenanigans) knows where she is. Put on these black and yellow striped stockings and long witch nose to see if you can find out.
16. Olivia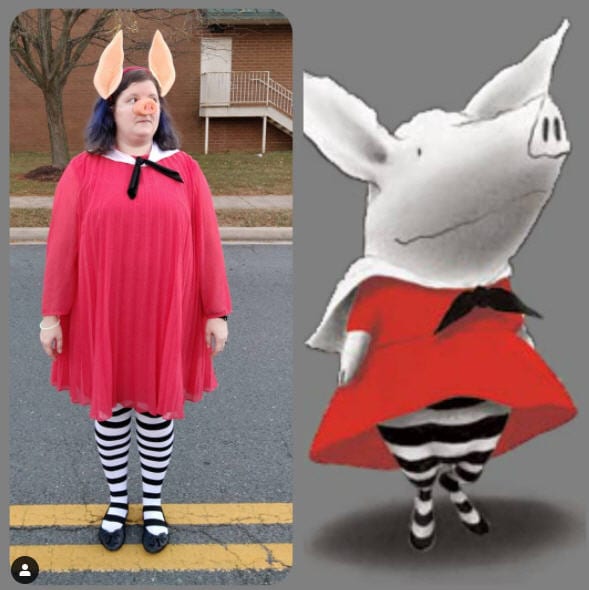 Speaking of striped stockings, how adorable is @fernaunder's Olivia costume? We found the striped tights and pig accessories; you supply your favorite red dress.
17. The Man With the Yellow Hat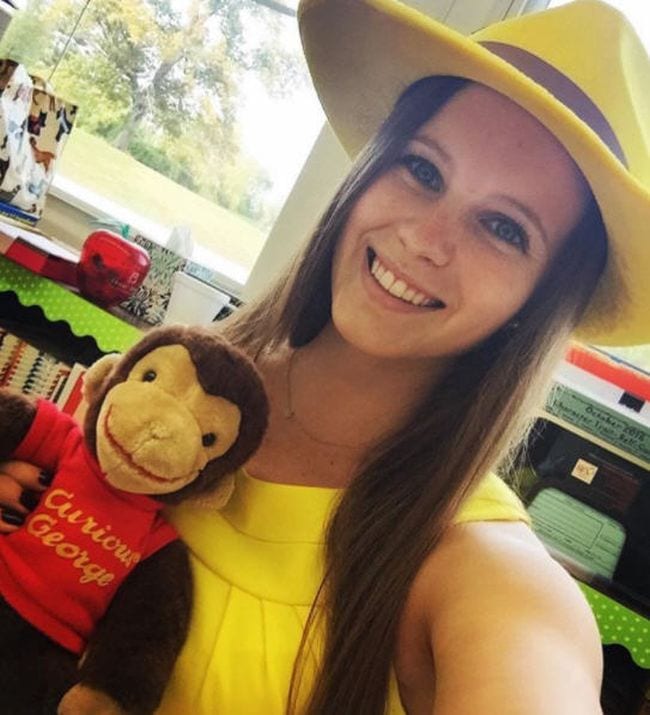 If you love that famous mischievous monkey Curious George, this is the costume for you! You can buy a full The Man With the Yellow Hat costume set, or just find a fabulous yellow fedora like @averymerryprimary's. Grab yourself a Curious George stuffed animal sidekick, and you're ready to go.
18. One Ring to Rule Them All
Who says your favorite character has to be a person? @bslaz dressed up as The One Ring from The Lord of the Rings, and we're totally loving it! Here's a big gold inflatable pool ring; you'll have to add your own Elvish inscription.
19. Chicka Chicka Boom Boom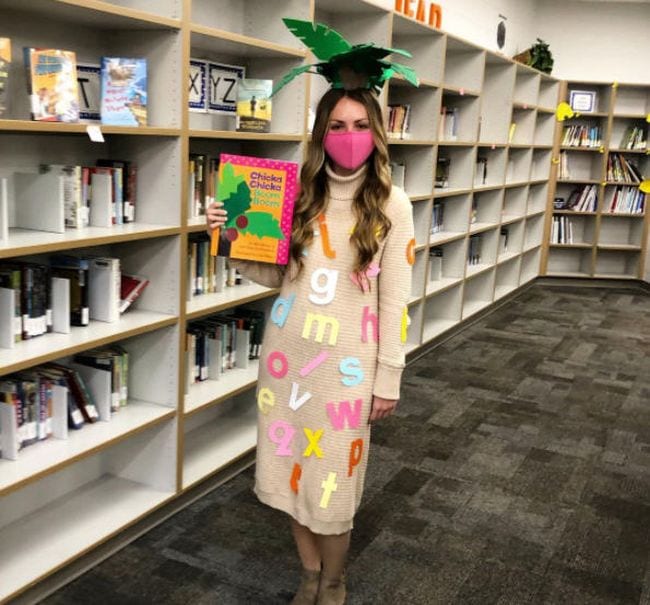 @justalittlelibrarian has one of the cleverest book character costumes we've ever seen! Want to make your own? Dress in brown, then add some large felt alphabet letters and a cute palm tree headband.
20. Hester Prynne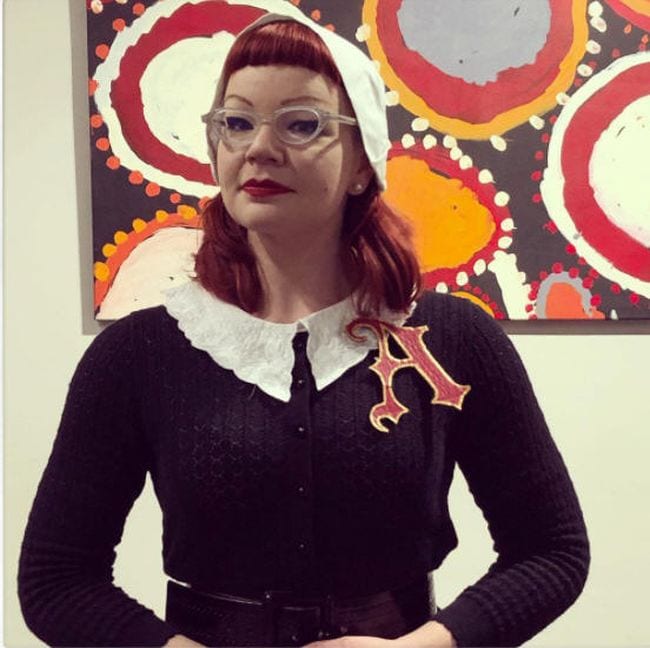 The Scarlet Letter A will help your high school students identify this book character costume in a flash. Here's a bonnet, collar, cuffs, and apron to add to your own black dress. (Thanks for the idea, @sarafloss.)
21. Moaning Myrtle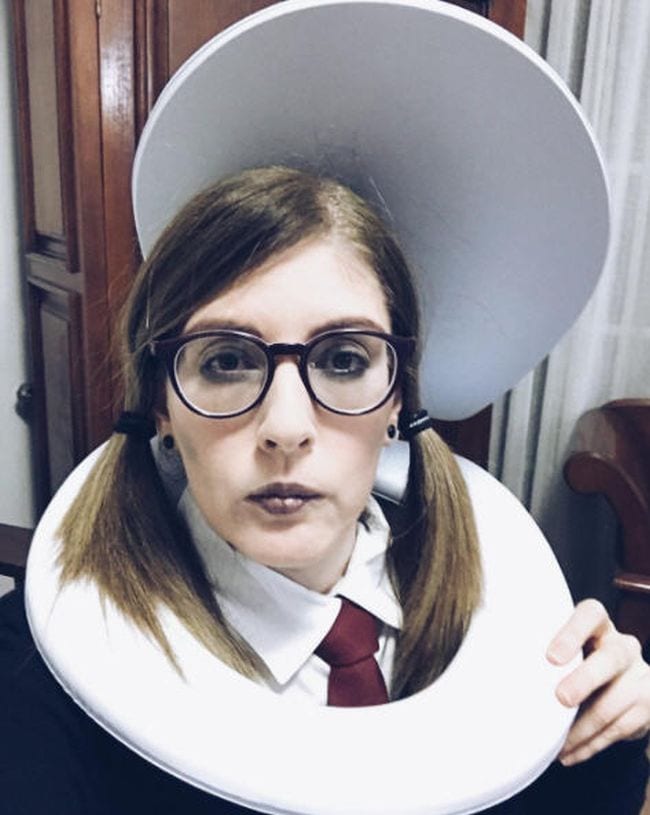 There are lots of Harry Potter costume ideas out there, but @cvaldiz might have the best of them all. The toilet seat makes her Moaning Myrtle getup spookily spectacular!
22. Cloudy With a Chance of Meatballs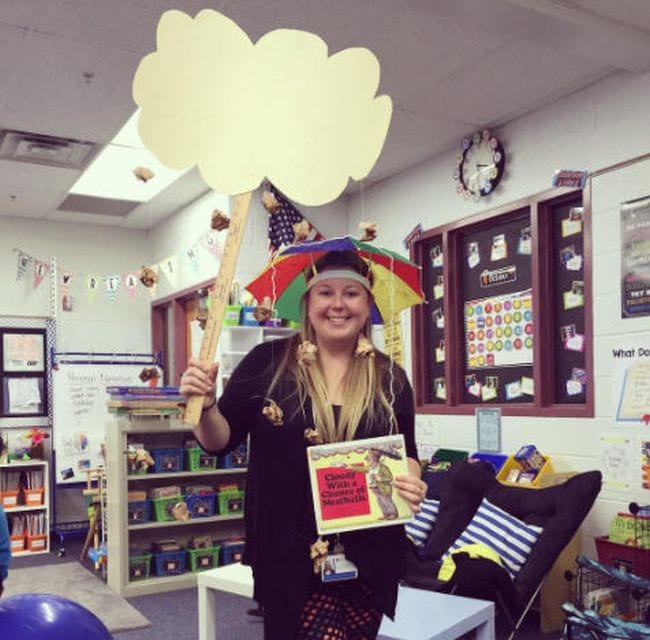 What's the weather forecast today? If you're like @acissejmae, it's Cloudy With a Chance of Meatballs! You can buy the umbrella hat here; you'll have to make your own clouds and meatballs.
23. Mary Poppins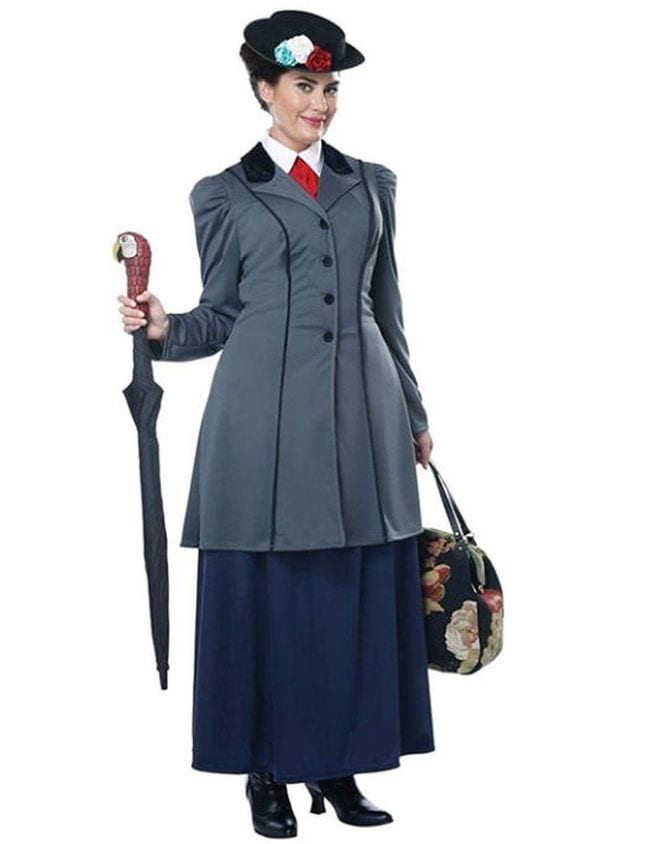 Most kids know Mary Poppins from the popular movies, but she was a book character first! This costume set has everything you need to be practically perfect in every way.
24. The Old Lady Who Swallowed a Fly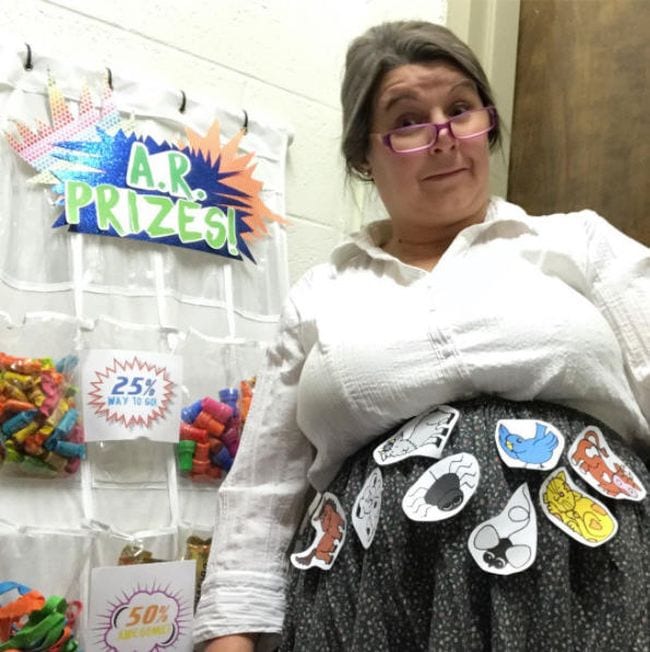 We got a real chuckle out of @cre8ivesky's clever costume! Print and pin a spider, fly, cat, and more to your stomach, slip on an Old Lady wig, and you're done!
25. Camilla Cream
Uh oh! Looks like @peaceloveteach4th has A Bad Case of the Stripes. You can have one too with this face paint set (or this rainbow-striped face mask).