Let's face it: Teachers have a lot of stuff to keep track of … and that's not even counting students! It might seem like a messy classroom is inevitable, but we promise you it's not. Keeping your classroom clean and organized is more important than ever, so we rounded up the best messy classroom solutions to help you out.
1. Create a teacher cart
Teachers absolutely love rolling carts. Take a look around Instagram and Pinterest, and you'll see so many ways to use these carts to keep messy classroom spaces in check. These may come in especially handy this year as some schools are choosing a plan that keeps students in one room while the teachers travel from class to class. Check out our 15 ways teachers use rolling carts in the classroom!
2. Try Tidy Tubs
Here's something we bet you've never considered: How many trash cans does your classroom have? Probably just one, plus maybe a recycling bin, right? No wonder so much trash seems to wind up all over the floor by the end of the day! Invest in small "Tidy Tubs" for each table or to spread around the room, and have one student empty them all into the main trash at the end of the day. (Be sure to use these only for things like scrap paper or pencil shavings; germy items like used tissues or chewing gum should go straight into the main trash can.)
[contextly_auto_sidebar]
3. Use a roller bag to its fullest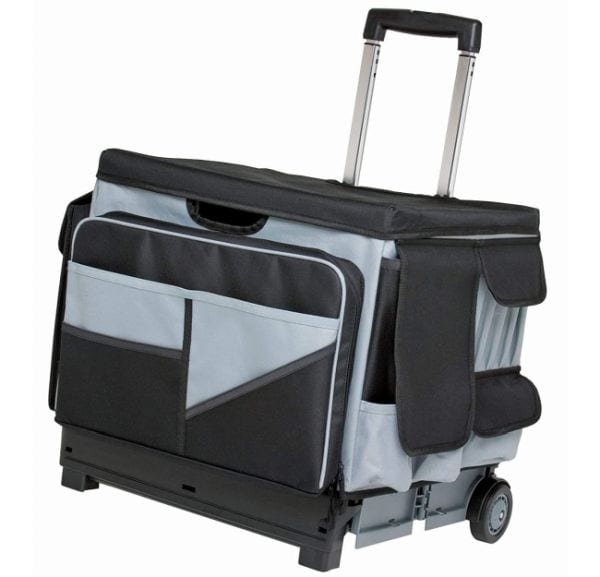 Do you take a lot of stuff to and from work? These 15 roller bags help keep you (and your classroom) organized. These workhorses carry everything you need, without weighing you down. We've found options in every price range and style, so there's something here for every kind of educator.
4. Use your dishwasher to sanitize
Even if you try to give each kid their own set of math manipulatives or other learning toys, these items still need to be deep-cleaned regularly. It turns out that your dishwasher might just be the easiest way to do it. Corral small items in lingerie bags, colanders, or steamer baskets, then let the dishwasher work its magic. It will sanitize messy classroom toys in no time!
5. Organize anchor charts
Anchor charts are fantastic tools that you can reuse from year to year. They accumulate fast, though, and they aren't all that easy to store. We've gathered ten ways for smart teachers to store their anchor charts. Tips include using pants hangers, a clothes rack, or even binder clips!
6. Embrace the power of the milk crate
Remember those milk crates you used to build bookshelves in your dorm room? They're also terrific tools for taming a messy classroom. This year, it will be especially important for every student to have separate spaces for all their stuff. Milk crates are an inexpensive solution, and they can serve multiple purposes in the classroom. Check out some of our favorite ways to use them here.
7. Divide (papers) and conquer
How is it that the world itself is becoming more "paperless," yet teachers seem to be surrounded by piles of papers at all times? We don't know, but we do know that this rolling 10-drawer cart has become a favorite of teachers for just that reason. Many use it to organize handouts and lesson plans for the week.
8. Organize student mail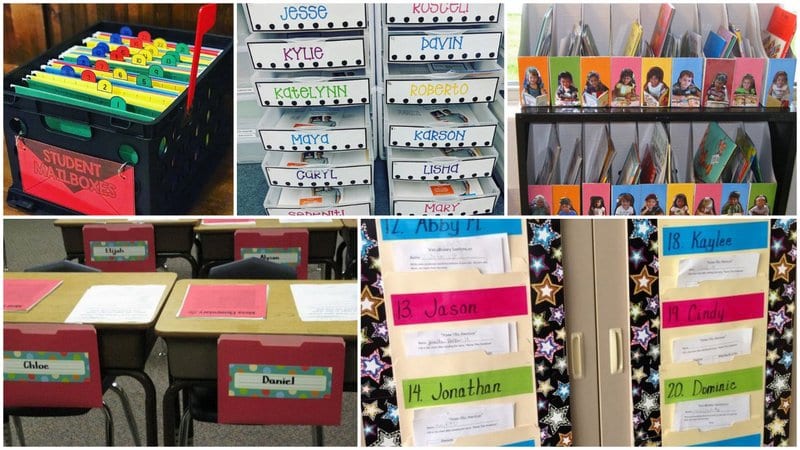 Passing out papers and collecting them can create quite the mess! Student mailboxes keep the hassle to a minimum, plus they teach kids the responsibility of checking their boxes each day. Mailbox options run the gamut from more expensive models that will last for years to inexpensive and DIY options to fit more modest budgets. We've rounded up all our favorite student mailboxes ideas here.
9. Assemble a teacher toolbox
Sometimes the worst part of a messy classroom is the teacher's desk itself. If you know just what we mean, then it's time to put together a Teacher Toolbox. Get all those supplies out of your desk drawers and into a hardware storage box instead. Now your desk drawers are free for more important things, like the supply of emergency chocolate!
10. Organize cords with binder clips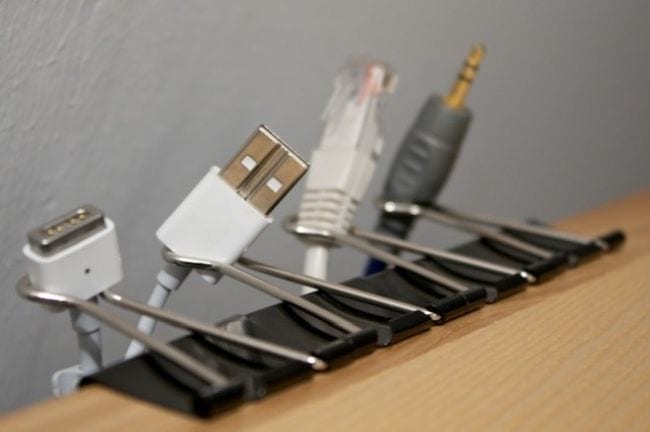 With our high-tech classrooms comes high-tech messes! Organize those cords with this ingenious hack: binder clips! Also, find 20 more binder clip hacks for your classroom.
11. Use an apron
Let's face it. It's not always the classroom that gets a little messy. Our desks do too! Keep everything you need on hand with an apron. Scissors? Check. Pens? Check!
12. Organize the turn-in bin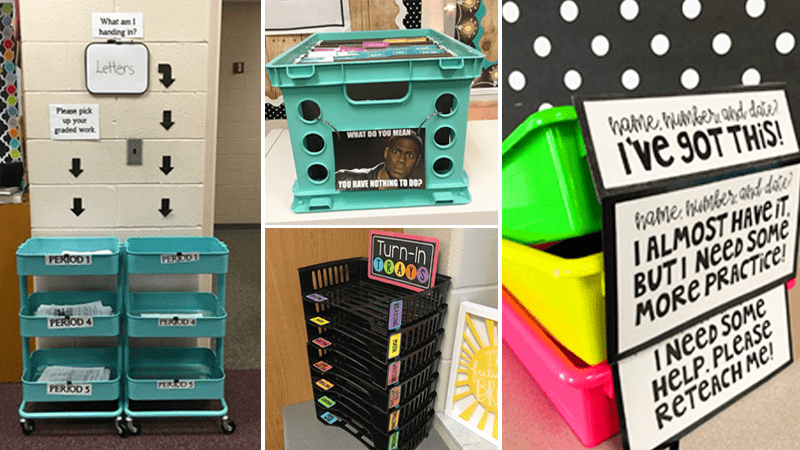 Classroom organization can quickly take a turn for the worse when you start adding student papers to the mix. Keep it under control with one of these amazing turn-in bin ideas!
13. Implement classroom cubbies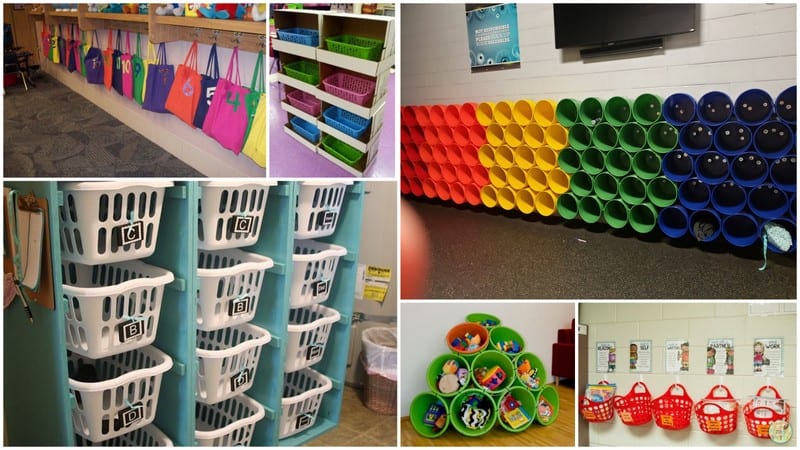 These creative classroom cubbies solutions fit pretty much any budget and skill level, so your classroom will be Marie Kondo-ed in no time!
14. Create desk holders
Are your students' desks lacking in space? Why not help them keep stuff off the floor with these desk holders? All you need are zip ties and plastic cups!
15. Put bag hooks on the backs of student chairs
Another way to finally clear up the clutter on the floor! These hooks are easy to install and easy to use.