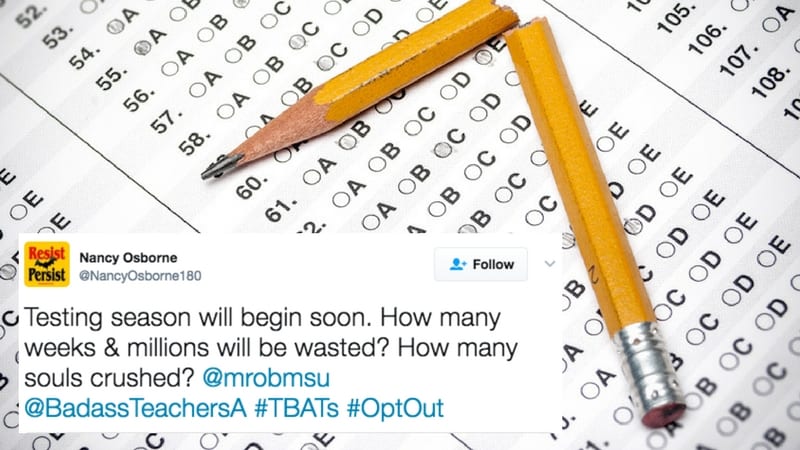 Testing season is upon us, which means students all over the country are covering their classroom walls, sharpening their No. 2s, and showing us their academic prowess…or something like that. These teacher Tweets about testing give us a glimpse of what high stakes tests are really like for teachers and kids.
1. On missed opportunities:
One more day of focusing on one more test means one more day of failing to help one more kid find one book that matters most.

— Kylene Beers (@KyleneBeers) March 24, 2017
2. On good mornings:
Good morning to everyone except the creators of standardized tests

— miss glitter (@GlitteryTeacher) March 28, 2017
3. On teacher ambition:
"No one went into education in order to prepare kids for standardized tests." – @connollm1 #empower17

— Sean Junkins (@sjunkins) March 26, 2017
4. On kindergarten standards:
A4: If there were no standardized tests, Kinders would play a lot more and not be forced to read like first graders. #oklaed #colchat

— ?Bethany Hill ? (@bethhill2829) March 20, 2017
5. On creativity:
@drewprice11 teaching within standards does not prevent creativity but standardized tests do not always promote creativity. #oklaed #COLchat

— Jack Reed (@jlreed2011) March 20, 2017
6. On who's doing the grading:
Students: know those high-stakes standardized tests you are forced to take? Keystones? PSSAs? Etc? Look who's grading them. ? https://t.co/wYdYBbQiuQ

— Chris Baker (@bakerhhhs) March 19, 2017
7. On skills we'd rather test:
Awareness. Empathy. Understanding. Skills NOT on standardized tests, but I want to score "advanced". How abt you? https://t.co/hLLUZ8VB5A

— Mrs.Tucker (@RHHS_MrsTucker) March 18, 2017
8. On the side effects of testing:
keep hearing about rising rates of anxiety/depression and then we focus on standardized tests and datafication @philmcrae @albertateachers

— davidstawn (@stupidtalk) March 17, 2017
9. On feeling trapped:
R3 Too many Ts feel trapped by curriculum, standardized tests, expectations, evaluations, admin who don't support/model creativity #inelearn

— Chantell Manahan (@leadlaughlearn) March 17, 2017
10. On good news:
Standardized tests cancelled! Education returns!#GoodNewsIn5Words

— Christopher Barnes? (@TheMrBarnesShow) March 15, 2017
11. On privilege:
Nothing better predicts how kids will do on standardized tests than where they sit along the spectrum of poverty and privilege

— Laura Hosto (@LHosto) March 15, 2017
12. On adulthood:
Standardized tests are a measure of student achievement … but they measure very little of what makes for successful adults. pic.twitter.com/AzWu0c5dld

— Danny Steele (@SteeleThoughts) March 14, 2017
13. On race:
Hey @AP, I have a secret: this is how most standardized tests work! Racism by another name… https://t.co/Q9xBqwv5jR

— Will Ehrenfeld (@WillEhrenfeld) March 12, 2017
14. On the real aim of education:
No mention of standardized tests. @SirKenRobinson pic.twitter.com/VlHCZtDvOK

— Big Tech Coach (@bigtechcoach) March 10, 2017
15. On "incentives":
When a school has to bribe students to take a test, it says more about the school than any test score ever will #GoBeyondZ #OptOut2017

— Bianca Tanis (@BiancaTanis) March 28, 2017
16. On scrutiny:
Testing season will begin soon. How many weeks & millions will be wasted? How many souls crushed? @mrobmsu @BadassTeachersA #TBATs #OptOut pic.twitter.com/cbhL8wRL63

— Nancy Osborne (@NancyOsborne180) March 13, 2017
17. On right and wrong:
"We feel strongly that abusive testing of our students that is neither diagnostic or prescriptive is wrong"- @giantschick89 #optout https://t.co/cO68CkfiXD

— Tom McMahon (@TMcMahon23) March 10, 2017
18. On what keeps us up at night:
Day One of testing is here… barely slept, migraine, stressed beyond belief, and worried AF for my babies. Sounds about right. ?

— saidthe3gradeteacher (@missgrade3teach) March 28, 2017
19. On what we remind our kids:
A3: We have a testing mantra. We start every test session chanting "I am more than a test score!" #gnchat pic.twitter.com/HieVmRtf6K

— ?? Teacher (@I_teach_Pandas) March 15, 2017
20. On heartbreak:
I love teaching. I hate breaking hearts & destroying confidence with constant testing. It's so hard to sew hearts… http://t.co/m8ASZGcJeS

— Badass Teachers Asso (@BadassTeachersA) September 13, 2015
21. On our love for the job:
How many teachers are still excited about teaching? That should be one of the #1 questions we ask – followed by how many kids hate testing?

— Just Let Me Teach (@JustLetMe_teach) May 14, 2015
22. On the culture we've created:
#macul17 We have built a culture of thinking the smart kids as the academic kids…all based on testing results. – Sir Ken Robinson

— Mary Ledford (@SuperStars2ndGr) March 16, 2017
23. On lost money and time:
I cry for the lost opportunities for students due to all the $ and time and $ schools spend on testing instead of kids.

— Alice Keeler (@alicekeeler) March 29, 2017
24. On relentlessness:
3rd day of testing, these kids can't even see straight at this point smh poor kids

— IssaRay (@iLuv_LadyRay) March 30, 2017
25. On zombies:
Today is the beginning of what I call #undeadlearning, where kids turn into testing zombies and no real learning takes place. #STAARtesttime

— Carl Hooker (@mrhooker) March 28, 2017
26. On beating the grownups at their own game.
We've already taught the skills needed, right? Why not "gamify' testing? Kids, this is a game. Go, beat the adults at their game.#sunchat

— Karl Ubelhoer (@MrU_ishere) March 19, 2017
27. On even less time for the bathroom.
Day 1 of state testing begins today. Get me out of here. No planning time, no recess, no lunch w/o kids today. When can I go to the ??

— Christie ? (@cmcdoug12) March 28, 2017
28. On the impact on teachers AND kids.
These ELA state testing sessions are blowing my entire life so I can only imagine how my students feel.

— sxo (@blackgrlcrowned) March 29, 2017
29. On what springtime means for schools:
Nothing says spring like Online State Testing… Good luck students! pic.twitter.com/26FAIF0fEh

— Paul Hieronymus (@LKWDTechRanger) March 29, 2017
30. On prayer requests:
Please pray for teachers this week! A full moon, daylight savings time, State testing, and no break in sight! #helpme!

— Aubrie Hamer (@AubrieHamer) March 13, 2017
31. On what our jobs look like:
"Wonderful teachers should never let themselves be drill sergeants for the state." JONATHAN KOZOL #teaching #testing #edchat pic.twitter.com/1gytOdtW4M

— Lisa Canova (@CanovaLisa) February 21, 2017