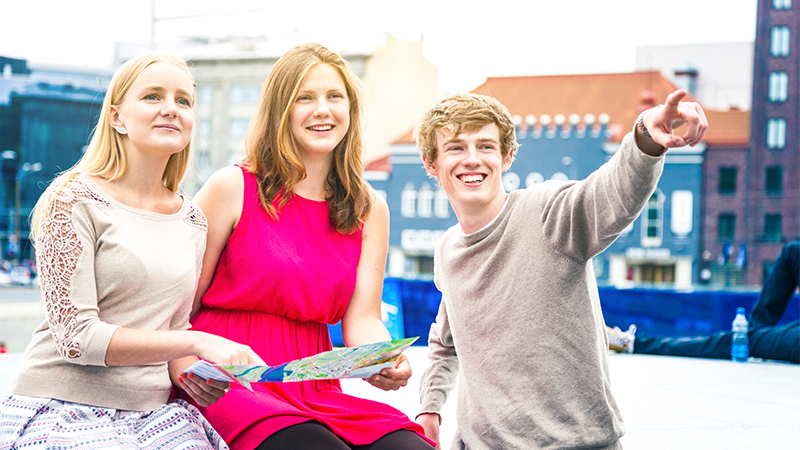 Get the best intensive native-language experience for your students without the expense of an overseas trip by booking with Immersion Tours. View More >>
More
Foreign language teachers know that students gain the most skills when they have to use a new language exclusively. The inability to speak in English forces the mind to dig around and figure out new ways to get a point across. Language immersion makes the structures and patterns of the language more familiar, and it better prepares students for real conversations.
Many teachers look for ways to give students language immersion experiences but find most of them far too expensive and time consuming. We researched awesome ways to give U.S. students an intensive language immersion experience, without spending an arm and a leg. We'll start small and work our way up to the most immersive reality.
You don't have to take your students anywhere to get them talking about things in the language they are learning. VoiceThread is a media player with a highly interactive discussion space. Teachers or students upload images and other media. After the media is added, students will record comments about it. They will engage in an ongoing conversation about what they see and what others thought about it. The conversations will be recorded and can be replayed.
Check out the project Les Cantines du Monde, in which students researched photos of typical school lunches from around the world then commented on them in a foreign language.
2. Change Your Students' Digital Devices to the Target Language
Easy-peasy. Navigating a phone or laptop in a target language forces your students to use that language every time they pick up their favorite device. Eventually, they'll learn the key words needed to get to text messages, contact lists, emails, and Facebook, and they'll find that they're using their device as quickly and easily as they did in English!
3. Purchase an Online French-Language Program
With FluentU, you can have your students watch authentic French videos with interactive captions. All videos are subtitled in French and have English translations. Is there a French word you don't know? Click to see in-context definitions and clear examples.
4. Communicate via Skype
Why not find a class in another country who you can Skype with? The American Council on the Teaching of Foreign Languages has all kinds of tools on its website at actfl.org, including ways to locate someone looking for a class in your state. As soon as you've made a connection with a promising school, your students and theirs will be ready to talk.
One of the cheapest, simplest ways to connect is with Skype—a free, online, video-enabled calling service. To get a Skype account, visit Skype, download the free software with the click of a button, and enter a username and password. It's just like creating an email account.
When you know the Skype username of the teacher or classroom you're connecting with (and a time they're available), all you have to do is a quick double-click for instant video conferencing.
5. Take a Field Trip to Chinatown
In most major cities, you'll find ethnic enclaves where people from other countries have opened stores and restaurants that cater to their compatriots. You might find a Little Italy, Chinatown, or Mexicali, for example. This is where you can take informal classes, order food in another language, participate in street fairs, and practice a foreign language right in your own backyard.
6. Work With ELL Students
More than likely, your school has students enrolled whose first language is not English. They are known as English-language learners (ELLs) and, while they need to work on speaking the English language, they might love the opportunity to speak their native language with a student who is learning it. Seek out your ELL teachers and ask if your students might get together with their students to chat.
7. Create a Language Lunch
Have students meet once a week at a designated table during lunch. The only requirement is that they speak only the foreign language being learned. Students will soon come to love days like French Fridays and may even consider bringing French food on those days.
8. Check Out Reddit for Foreign Language Articles
First, you'll want to make an account on Reddit and subscribe to a subreddit where people speak or study your target language. For example, if you're learning French, you might want to subscribe to the subreddit reddit.com/r/learnfrench.
On a subreddit, you'll find great articles in your target language, along with comments from users. You'll also come across memes, GIFs, and fun images. Not only will you learn how other countries and cultures use media, you'll also learn about their favorite humor, popular culture, and current events.
9. Host a Group of Foreign Students
When a group of foreign exchange students comes to stay with families in your town, make sure your students are hosting. Have your students create a tour of their town and the surrounding areas entirely in their guests' native language. During the time the exchange students are visiting, make sure your foreign language students are paired up with visiting students.
10. Organize a Language Immersion Tour in a Nearby City
Believe it or not, this type of language immersion program is totally within reach for your budget. If the foreign language you teach is Spanish, consider Puerto Rico.
For those looking for an amazing French language immersion program, head to Quebec City. There you'll find more than just a way to practice the language. Educational tour company Immersion Tours allows students to touch history and practice French in a francophone environment.
Immersion Tours staff use daily activities to teach students new French words and expressions. They encourage students to interact and ask questions in French. Each time they notice students using a French word or attempting to use a new word learned during one of their outings, participants are rewarded with a special coupon. Students collect coupons throughout the duration of the tour. At the end of the trip, prizes are drawn—students with the most coupons, naturally, have much better odds of winning a prize.
A language immersion trip like this could make the difference between students who simply took French lessons in school and students who speak French fluently upon graduation.
Learn more about French language immersion trips with Immersion Tours.
Go Now >>