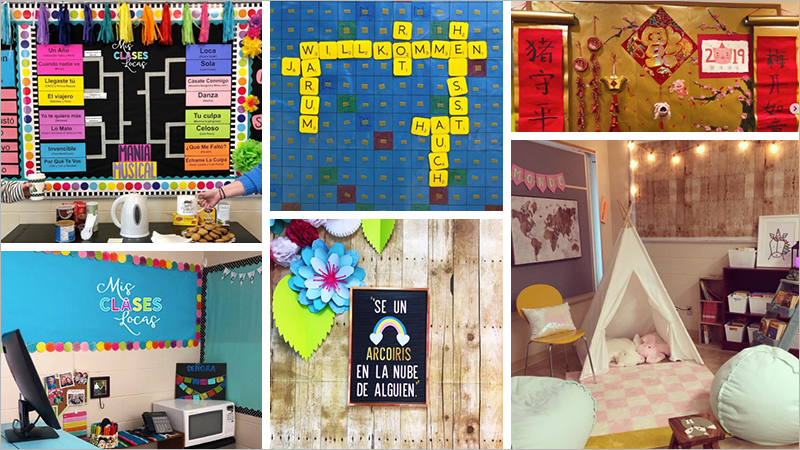 Brought to you by ACTFL
Looking for more ways to be inspired in your world language classroom? ACFL membership gives you access to discounted professional development, top-notch career resources, plus networking and mentoring opportunities—all designed exclusively for world language teachers. Learn more.
More
When it comes to beautiful and dynamic classrooms, world language teachers definitely bring their A-game. From HGTV-style reading nooks to genius interactive bulletin boards, we know you're going to be inspired, no matter the subject or grade you teach. Here's a roundup of 15 of our favorite Instagram-worthy world language classrooms.
1. DIY Standing Teacher Desk
What's the best thing about this Spanish teacher's standing desk? The industrial tech students at her school made it!
2. Cozy Reading Corner
Can you think of a student who wouldn't want to cozy up with a book in this French classroom's made-for-HGTV reading nook?
3. Assessment Day Cookies and Cocoa
High school Spanish students calm their nerves with tasty treats before speaking assessments.
4. Fashion Show Speaking Assessment
This high school Italian teacher brings creativity to speaking assessments with a student fashion show.
5. Words with Friends Bulletin Board
This German teacher's Words with Friends–inspired interactive bulletin board is genius.
6. Next-Level Inspirational Quotes
This teacher's letter board quotes are stunning. And Maya Angelou's quote is just as inspiring in Spanish as it is in English.
7. Colorful Conjugation Booklets
These bold and bright booklets get Spanish students excited about conjugating verbs.
8. Adaptations of Classic Games
Students have fun working on their Spanish-speaking skills with this colorful adaptation of Jenga.
9. Chinese New Year Bulletin Board
This Chinese teacher and her students counted down the days until the Lunar New Year in style.
10. Rose Gold Microphone
This soft-spoken Spanish teacher uses a glamorous rose gold microphone to amplify her voice during class.
11. Colorful Frames for Focus
Help students focus on your criteria for success with these pretty frames. Put one on each student's desk, like this Spanish teacher did.
12. Fabulous Flexible Seating
There are plenty of comfy places to sit and speak Spanish in this classroom.
13. Great Game Storage
Colorful plastic cases are a perfect way to organize and store games, like this fun sentence-building activity used by a German teacher.
14. Anchor Chart Hanger Hack
Wall-mounted hangers make organizing and swapping out anchor charts easy for this French teacher.
15. Organized Writing Center
Warm up the laminator and pick up some inexpensive Command hooks and metal rings to create a perfectly organized writing station, like this Spanish teacher did.
Want to give your world language classroom an Instagram-worthy makeover? Check out these free inspirational posters.