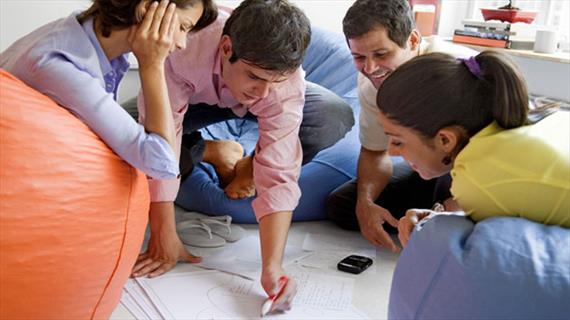 The idea of teacher collaboration just makes sense: why be an island when you can get together with like-minded professionals and share ideas and glean knowledge from each other? But, it's easy to get caught in a collaboration rut—a place where you're simply trading ideas and then heading back to your classroom to implement lessons that are less-than-your-best. But we want more for you—and that's why we've pulled together five easy ways to help you collaborate better.
Go outside of your normal circles. Sure, the teachers at your school and in your grade or subject level are a great place to start, but don't limit yourself there. Not only can you change things up by joining forces with a teacher from a different grade level or school, but you can also going online to a site like Educator Studio where you can share lesson plans and learn from teachers around the country.
Don't be afraid to adapt. When you're contemplating other teacher's ideas, be willing to take parts of lessons or ideas and modify them to fit your needs. For example, this lesson that utilizes storyjumper.com to teach young writers how to develop composition skills was intended for 1st and 2nd graders, but could easily be adapted to work for older students.
Stay up on the latest professional development. A great collaborative discussion often involves teachers who are all educated on best practices in the classroom. So, be your best for your colleagues—and yourself—by enrolling in professional development and continuing education courses that fit your personal interests and needs.
Learn from techie teachers. It's virtually impossible to stay up-to-date on new technology—which is why other teachers can be a great source of information and know-how as you integrate technology into your lessons.
Collaborate with your students. After reading an article on how award-winning teen scientists can exemplify meaningful learning, we realized that students can be powerful advocates for what they need and want in the classroom. Ask them what works for them, discuss the way they learn and investigate which types of lessons work best for their individual needs—and then work to create lessons and activities that align with what you learn.
Question for you: What online tools help you to best collaborate with other teachers?