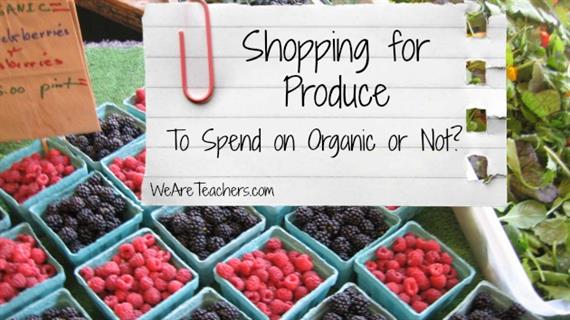 Have you noticed that more and more stores are adding organic produce options? Even in our small town, we now have a grocery store with a well-stocked organic produce section and its own mini–health food store within the main store. The day it opened, I went and just stood in awe of the bright, colorful, vast selection of fruits and vegetables, now available just five minutes from my home. No longer did I have to drive 45 minutes to Whole Foods if I wanted organic kale or pasture-raised eggs. The only problem with having such a variety available is that with more choices comes more decisions. Now that I could get organic cabbage or regular cabbage, organic cauliflower or regular cauliflower, I had to know when it was worth the higher price tag and when I could save money and buy conventional.
Every year, the Environmental Working Group evaluates produce samples for pesticide residues. From the results, they release the EWG's Shopper's Guide to Pesticides in Produce, highlighting the Dirty Dozen and the Clean Fifteen. The Dirty Dozen is a list of fruits and vegetables that have the highest amount of pesticides. The Clean Fifteen have the lowest.
Because I'm a girl who loves lists and clear boundaries and I have a limited budget, I've printed off this guide and keep it in my kitchen where I make my grocery lists. When I add an item to my grocery list, I check it against the EWG Shopper's Guide. If it's on the Dirty Dozen list, I put an "O" next to the item on the list to remind myself to buy organic if it's available. If it's on the Clean Fifteen, I put an O with a line crossed through it, so I can quickly see while shopping that I definitely don't need to spend extra money on the organic option. If an item falls in the middle, I do a quick price comparison. Sometimes, for things like carrots, the difference may be just a few pennies. In that case, I'll buy organic. If the cost is much higher for organic, I'll buy conventional.
Of course, there are other reasons to buy organic, like environmental reasons, or to "vote with your dollars" to support organic farmers, and the taste and quality of ingredients is often better with the organic varieties. Still, some choose to buy local over organic if they can choose only one. Please keep in mind that conventional produce is certainly better than no produce at all. There is no "right" way to eat or shop, but if you're overwhelmed by the options in your produce section and want to limit your family's exposure to chemicals and pesticides, this is a simple way to get started. If you're sticker shocked, try to only buy fresh fruits and veggies in season. Out of season, check the frozen section for better deals on organic produce. Stock up and freeze things like organic berries and peaches when they are in season and on sale.
The EWG's 2014 Dirty Dozen™
Apples
Strawberries
Grapes
Celery
Peaches
Spinach
Sweet bell peppers
Nectarines – imported
Cucumbers
Cherry tomatoes
Snap peas – imported
Potatoes
Note: Leafy greens (kale and collards), ranked 16, and hot peppers, ranked 13, didn't make the list this year, but the EWG recommends buying them organic in their new list, the Dirty Dozen Plus, because of the "unusually hazardous" types of pesticides found on them.
The EWG's 2014 Clean Fifteen™
Avocados
Sweet corn
Pineapple
Cabbage
Sweet peas
Onions
Asparagus
Mangoes
Papayas
Kiwi
Eggplant
Grapefruit
Cantaloupe
Cauliflower
Sweet potatoes
If you sign up for their email list, the EWD will send you a PDF printable of the lists. Or you can bookmark this link on your smartphone so you can access it while you're out shopping.
____________________________________________________________
Rachel Randolph is a mom to a busy toddler boy and a wife to an even busier high school football and baseball coach. She is co-author of "We Laugh, We Cry, We Cook," a food memoir written with her mom, and their upcoming book "Nourished: A Search for Health, Happiness, and a Full Night's Sleep" (Zondervan, January 2015). She also blogs at www.TheNourishedMama.com and www.laughcrycook.com.