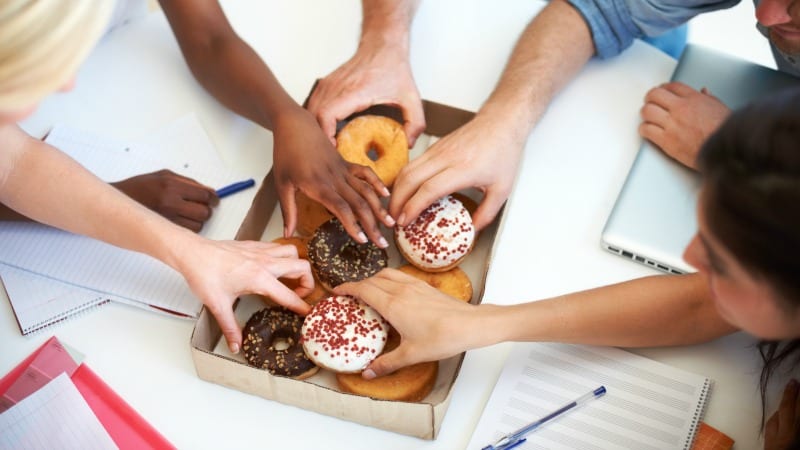 When I got my first job as a high school English teacher, it was quite a change from the 10 years I had previously spent in the restaurant industry. While teaching requires some physical activity, the pace is much less physically demanding than that of a restaurant worker. Combined with the constant presence of sweets and treats in the teacher workroom, the delicious appreciation gifts from students, and easy access to the not-so-healthy vending machines, within a year, I'd gained 15 pounds! Many of my fellow first-year graduates suffered the same fate. In fact, according to a WeAreTeachers poll, over 75 percent of new teachers reported weight gain.
With hard work and determination, I managed to reverse the numbers on the scale. By paying close attention to the tips below, I lost all of the weight, and kept it off for years (until I became a mom of three, but that's a story for a different post).
1. Engage in regularly scheduled self-care.
The first three years of teaching are the most difficult. It's easy to get lost in your new identity and the demanding business of teaching. New teachers frequently suffer from chronic sleep deprivation as a result of spending massive amounts of overtime at school and at home planning and grading. Lack of sleep in and of itself can cause weight gain. The late-night snacking that accompanies the at-home work just exacerbates the issue. Add in all of the first-year stress and your metabolism can take a real hit. So, make sure to give yourself downtime to destress, get enough sleep at least a couple of times a week and on the weekend, and try to limit the late-night binges.
2. Make exercise an agenda item in your daily planner.
Exercise is an important part of self-care. As much as it feels like a four-letter word to me (I used to say I only run if something is chasing me), I've found exercise to be essential. Go for a walk outside on nice sunny days. Do some yoga class to relax. Lift weights to release stress.
If you can find a partner or group at school, exercise is also a great way to make work friends. Join a school-based exercise group to keep you accountable and give you more resources for moral and practical support.
3. Step away from the snack table!
Beware the many junk food temptations that can be found any given day throughout the school. Well-meaning groups and individuals shower schools with goodies all the time. Fundraisers frequently lure teachers with cookie dough, candy, and other tempting treats. It is easy to find yourself sneaking little snacks throughout the day.
Repeat after me: I do not have to sample ALL of the food in the teacher workroom; I do not have to eat cake for every teacher's and/or child's birthday; I can save holiday candy to use as motivators in the classroom.
Eating all of the treats was my biggest problem. I would just have a bite here, a nibble there—I didn't even realize how much I was eating.
To get control over this situation, I had to completely cut myself off from eating anything I didn't bring from home and I started using a calorie tracker to keep myself accountable.
Have you had a similar experience as a new teacher? What did you do to prevent or reverse unwanted teacher weight gain?
Looking for more support? Check out our Facebook page, exclusively for new teachers!
Join our Facebook group WeAreTeachers—First Years! to connect with other new teachers, and learn more about how you can navigate your classroom and life.