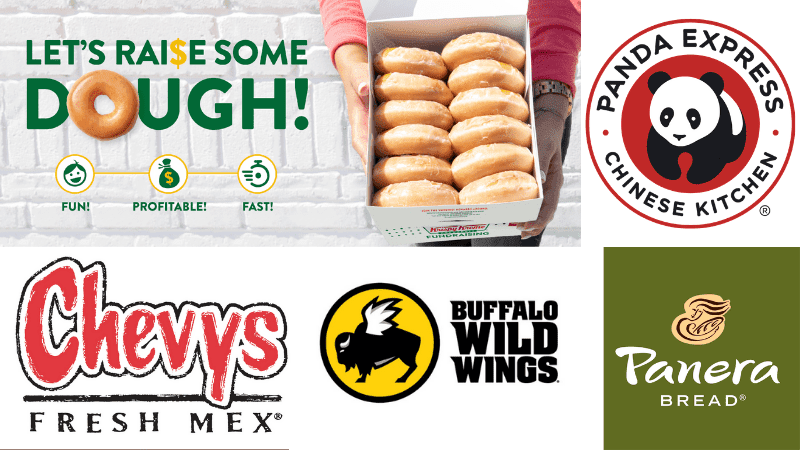 The easiest fundraisers for schools are ones that compel community members to purchase something that they already intend to buy—like dinner. Hey, everyone eats! Some restaurants go above and beyond when it comes to supporting their local school community. Here are some of our favorite restaurants that offer school fundraisers.
1. Chipotle
Chipotle helps public and private K–12 schools by hosting in-restaurant fundraisers, making for a fun night out with the fam that also supports your school. Best of all, your school will receive 33 percent of the proceeds brought in by your supporters (pre-tax), meaning if your supporters bring in $300, they'll send you a check for $100! The application for your event or donation request can be filled out completely online, too, making it easier than ever to set up your fundraising festivity. Be sure to allow at least three weeks for a response to your request. Chipotle fundraisers are now online, too: Every fundraiser gets a unique code, and when your supporters enter the code online for pickup at your local Chipotle, 33 percent of event sales will be donated directly to your school!
2. Bertucci's
Dining for Dollars is Bertucci's program for giving back to schools and nonprofits. On the night of your event—typically a Monday, Tuesday, or Wednesday evening—guests present the Dining for Dollars flyer, and 15 percent of the check goes to your school. Contact your local Bertucci's manager to get planning.
3. Chevy's Fresh Mex
It always feels like a party is happening at Chevy's Fresh Mex with fresh Mexican food on the menu and the energetic atmosphere in the air. Bring your fellow supporters to your favorite participating Chevy's and enjoy tasty eats and drinks. Fifteen percent of all food and drink sales, including to-go orders generated from your organization, will be donated back to you! Call the manager of your local Chevy's to see if they participate.
4. Panera
Panera offers dine-in fundraising events—your school will receive 25 percent of the sales gathered at the event! Or opt to fundraise by offering school families Panera's Family Feasts, a new program offering families the chance to pick up or enjoy a delivered meal for a great price—and help your organization too!
5. Boston Market
Everyone's a winner, winner, chicken dinner when you fundraise with Boston Market. Schools can host restaurant nights to earn 15 percent of all pre-tax sales generated from the event, sell gift cards for a 12 percent profit, or order catering from Boston Market and share the profits from meal tickets sold. Learn the details of all avenues Boston Market offers to schools.
6. Chuck E. Cheese's
Every elementary student's favorite birthday party place is also a super solution for school fundraisers! In fact, more than $14 million has been donated through Chuck E. Cheese's school fundraising events. Chuck E. Cheese's provides promo materials and 10 free game tokens for each student, makes sure Chuck E. Cheese himself visits the school the day of the event, and even offers free meals for the teachers who attend. Best of all, 20 percent of profits will be donated to your cause with $3,000+ total dollars spent, 15 percent donated with under $3,000. Fill out the online event request form and immediately get started planning your school fundraiser.
7. Houlihan's
Houlihan's is known for its freshly made American cuisine and a chic but casual sit-down atmosphere. Many of its 100 or so locations participate in "dine to donate" fundraisers with local schools. All requests are handled at the grassroots level, so reach out to the general manager at your local Houlihan's.
8. Panda Express
Scheduling a fundraiser where families love to dine = more participation = more raised for your organization, and Panda Express is a proven family favorite. Invite friends and family to dine-in or take-out, and Panda will donate 20 percent of the event sales to your school or organization. Schedule your next fundraiser with Panda Express's easy online application.
9. Buffalo Wild Wings
Schools are the big winners in Buffalo Wild Wings' Eat Wings, Raise Funds programs that have donated more than one million to local nonprofits. A portion of the sales from your community's restaurant-night event will be donated to your school. To apply for an Eat Wings event, fill out the online application.
10. Little Caesars
Fundraising is easy-peasy with Little Caesars: School families can order Little Caesars® Pizza Kits — each kit contains all the ingredients to make delicious pizza and snacks at home in less than 10 minutes — with proceeds benefiting your school. School group orders can be placed online, over the phone with the dedicated Customer Care Team (888-4-LC-KITS or 888-452-5487) and via fax. The best part is that your school keeps the profit immediately!
Want more? Here are 27 more restaurants that do fundraisers:
We also definitely recommend checking out sites like GroupRaise for even more options in your area!
Did we miss one of your favorite restaurants that do school fundraisers? Come and share in our WeAreTeachers HELPLINE group on Facebook.