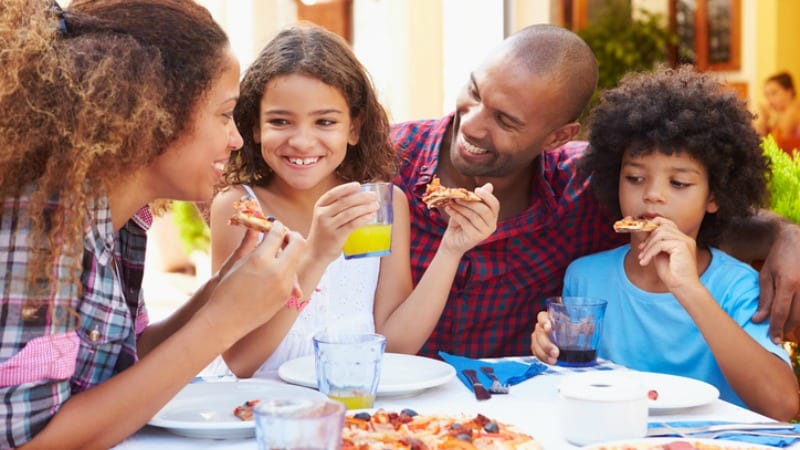 The easiest fundraisers for schools are ones that compel community members to buy something that they are already buying … like dinner. Hey, everyone eats! Here are some of our favorite restaurants that do school fundraisers. Whether these restaurants are open to profit sharing on designated restaurant nights or will provide a special school rate for catering of events, your school or PTA/PTO can reap the benefits while everyone enjoys some delicious chow. Check out our list of school-fundraiser-friendly chains below, and contact the restaurant managers of the locations nearest you.
1. Chuck E. Cheese's
Every elementary student's favorite birthday party place is also a super solution for school fundraisers! In fact, more than $14 million has donated through Chuck E. Cheese's school fundraising events. Chuck E. Cheese's donates 15 percent of the proceeds of school fundraiser events on-site, as well as promo materials, 10 free game tokens for each student, a visit from Chuck E. Cheese himself at school the day of the event and even free meals for the teachers who attend. Fill out the online event request form and immediately get started planning your school fundraiser.
2. Bertucci's
 Dining for Dollars is Bertucci's program for giving back to schools and nonprofits. On the night of your event—typically a Monday, Tuesday or Wednesday evening—guests present the Dining for Dollars flyer and 15 percent of the check goes to your school. Contact your local Bertucci's manager to get planning.
3. Chipotle
Chipotle helps public and private K-12 schools fundraise in-restaurant fundraisers for schools, donations in-kind for events, and scrip gift card programs. Best of all, the application for your event or donation request can be filled out completely online! Be sure to allow for at least six weeks for your request.
4. Potbelly Sandwich Shop
Potbelly Sandwich Shop locations have three different ways schools can fundraise. You can host a restaurant night and receive 25 percent of the sales gathered at the event. The stores will also create a special shake in your school's honor and donate 50 cents of every shake sold during a given time frame. Potbelly also participates in scrip gift card fundraiser programs. Learn more about these fundraising options.
5. Chevy's Fresh Mex
It always feels like a party is happening at Chevy's Fresh Mex, with the fresh Mexican food on the menu and the energetic atmosphere in the air. Participating Chevy's locations give back up to 20 percent of the earnings from school restaurants night fundraisers. Call the manager of your local Chevy's to see if they participate.
6. California Pizza Kitchen
The haute pizzeria restaurants California Pizza Kitchen take pride in supporting schools through fundraising, offering 20 percent of sales generated by the school community back to the school. You can request your local fundraiser via this online form.
7. Boston Market
Everyone's a winner, winner, chicken dinner when you fundraise with Boston Market. Schools can host restaurant nights to earn 15 percent of all pre-tax sales generated from the event, sell scrip gift cards for 12 percent profit or order catering from Boston Market and share the profits for meal tickets sold. Learn the details of all avenues Boston Market offers to schools.
8. Houlihan's
Houlihans is known for its freshly-made American cuisine and a chic but casual sit-down atmosphere. Many of its 100 or so locations participate in "dine to donate" fundraisers with local schools. All requests are handled at the grassroots level, so reach out to the general manager at your local Houlihans.
9. Chik-fil-A
The "eat more chikin" fast food chain is famous for its willingness to partner with schools for fundraisers both in-store and on-site at schools. However, all Chick-fil-A school fundraisers are approved at the local level, so reach out to your nearest location to see which programs it supports for schools.
10. Buffalo Wild Wings
Schools are the big winners in Buffalo Wild Wings' Eat Wings, Raise Funds programs which have donate more than one million to local nonprofits. A portion of the sales from your community's restaurant night event will be donated to your school. To apply for an Eat Wings event, fill out the online application.
Want more? Here are 22 more restaurants that do fundraisers: