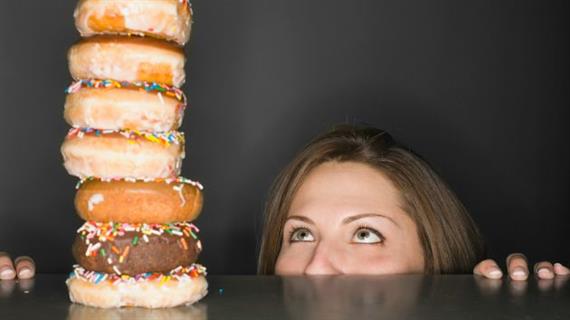 Going back to school can be an emotional time, full of anxiety, stress, and transition. There are new rules, new faces, new expectations, and an even bigger workload than last year.
(I'm talking about for teachers.)
Back-to-school tends to bring out the worst in us health-wise. To soothe your fears that you aren't the only one wrestling with this transition, a very gracious, very kind teacher (who will remain anonymous) has offered up her back-to-school food journal with the hopes that you will feel less freakish and alone.
Sunday, August 30th
Okay, self. Teacher in-service starts tomorrow. You've been so healthy all summer—going to the gym, going on walks, eating lots of fruits and vegetables. You are a lean, mean, sunkissed goddess. This will be the year that you don't act like you've never seen food before during back-to-school. THIS IS YOUR YEAR!
I've packed tuna, reduced fat crackers, veggies, and berries for lunch tomorrow. And I'm going to eat it.
Monday, August 31st   
Today when we were given our lunch break, everyone wanted to go get pizza. I couldn't say, "No thanks, I'd rather eat the can of tuna I bought alone at my desk," so I went along. I mean, in-service only happens once a year… after today I probably won't ever have a chance to be with all of them for a long lunch! I only ate a piece of pizza and a salad. And the bread that came on the salad. Surely supermodels have a cheat meal every once in a while, right? I'll have half a sweet potato and some fish for dinner.
Tuesday, September 1st
I blame today on this morning. My team leader brought in coffee for us—one of those almost-ice-cream coffee drinks with whipped cream and chocolate shavings. What was I going to do, tell her no thanks, deliciousness isn't really my thing? After that sugar rush and crash, the day was pretty much lost, so I went ahead and got a burger for lunch. But hey, no fries! Small steps. Tomorrow I'll get back on track.
Wednesday, September 2nd  
My team is trying to give me heart disease. I appreciate the gesture of donuts, but don't they know I'm physically incapable of not eating glazed cake donuts if they're in front of me?! Then I ended up unintentionally working through lunch, so by the time I realized I was hungry I was actually starving, and I ate half the bag of cherry sours I had meant to use with my students to construct models of the solar system.
Did you hear that, food diary? I ate HALF THE BAG.
Thursday, September 3rd  
"Okay, yesterday was bad, but today is going to better," is what I said to myself on my way to work. Exactly four hours later I was eating a Philly cheesesteak  and cookies for lunch. Plural. Cookies.
I can see the horizon, food diary. And it looks bleak.
Friday, September 4th  
I WORKED UNTIL SEVEN. THEN I ATE ALL THE FOOD EVER.
Next week. Next week I will return to food normalcy.
Monday, September 7th
Another bad food day. But wait, I know! Tomorrow I'll work out after school!
Tuesday, September 8th
WHY WOULD I EVER GO TO THE GYM WHEN I AM ON MY FEET ALL DAY?!?!
Sunday, September 13th
Bought myself a compartmentalized lunch box today with one container for salad, another for boneless skinless chicken breast, another for grapes, another for brown rice, and another small container with a lid for, I don't know, hummus or something. Packing my lunch will be so easy now!
Monday, September 14th
I cannot think of a reality in which I would want to put anything but cheese in all five containers.
Thursday, September 24th
Oh, lean, mean, sun-kissed goddess, where have you gone?
Saturday, September 26th
Dinner tonight was brownies and wine.
(It is leftover from last night's dinner.)
What's your back-to-school vice? If you remain perfectly sane, stress-free, and healthy during back-to-school, let me know so I can refer you to a doctor for a cranial exam.
Love, Teach teaches English at the middle and elementary level and writes about it at loveteachblog.com. You can follow her on Facebook or Twitter (but she's really bad at Twitter). She definitely can't relate to this post at all, and only eats kale smoothies with chia seeds.