By guest blogger Sandy Kendell
Finding online resources for ourselves and our students is a huge part of the work we do as modern educators. Whether you are pulling together ideas for teaching writing with technology or authoritative websites for your students' study of genetics, finding ways to organize all of the information and sharing it with others is a critical step in making all of your online detective work pay off.
One great way to organize and share online resources is with a free tool called LiveBinders. LiveBinders bills itself as "Your 3-ring binder for the web," and this digital tool functions much like a binder might. LiveBinders allows you to collect websites, or anything else stored anywhere online, such as a PDF posted to a website or a public document in a Google Drive, and organize them in tabs within a virtual binder cover. To share all of the resources you organize in a LiveBinder, you only have to send or post a single link for your intended audience to open, and they instantly have access to all of your carefully collected resources in one location.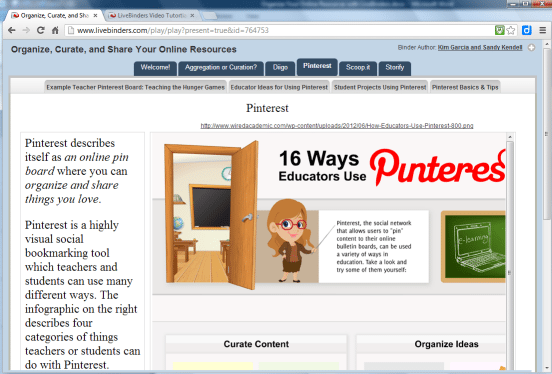 The best way to understand the concept of a LiveBinder is to access one and explore navigating through it. You can take a look at this binder which a colleague and I collaborated on for a recent conference presentation, or this binder with resources for Kindergarten students. You can also go to the LiveBinders website and search for public binders using the Search For box at the top right of the home page. You don't need an account to search for or view public binders.
There are a couple of things I love about using LiveBinders. First, no matter what project I'm collecting resources for, I can access it and work on it from my home or school computer. Second, when I'm presenting a topic to an audience of any age, we all stay together in one central location while still accessing content from all over the web. Incidents of "I'm lost, how do I get back to your information?" are greatly reduced.
Here are just a few ways you might use a LiveBinder in teaching and learning:
Collect resources on a teaching practice or strategy you are interested in, such as project based learning.
Collect resources for parents to use at home with their children.
Publish a portfolio of your work.
Ask students to create portfolios of their work. (Students must be 13 years old and have an email address in order to create an account on the LiveBinders site.)
Post resources for students to use during a unit of study.
Assign students the task of collecting quality resources as part of a project. Ask them to justify the quality of the resources they collect. This will help develop their digital literacy.
Create a group project for students to collaborate on.
LiveBinders loves educators, and they've posted more ideas on their website.
To create a LiveBinder, the only skills you need are an ability to copy a web page address and paste it in the LiveBinder, upload a picture file, and type explanatory text. Your first step will be signing up for a free LiveBinders account, and your second step should be to view the video tutorials the LiveBinders folks have put together. You don't have to view all of the videos, but I would definitely suggest these three videos to get started: LiveBinders Overview, Tabs and Subtabs, and Bookmark While You Browse.
I bet after you view a few binders, you'll have a few ideas about how they might be helpful for organizing and delivering content to your students or colleagues, or even just for yourself! Please share your idea for using a LiveBinder, or even link back to a Binder you create, in the comments below, so we can all learn from each other.
Note from the WeAreTeachers staff:  WeAreTeachers is working to create "My Binder", an online, virtual binder where teachers can store and organize the lessons, resources and ideas they find on our site.  We'd love to hear your ideas and insights on this type of tool.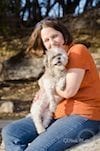 Sandy Kendell is an Educational Technology Specialist in her 20th year in education. Her areas of interest include mobile learning, online blended and distance learning, social media in education, digital citizenship, and educator professional development. She hopes to build bridges between thinkers in the cloud and teachers in the classroom. You can connect with Sandy on Twitter where she is @EdTechSandyK or read more of her thoughts on education and technology at her EdTechSandyK Blog.