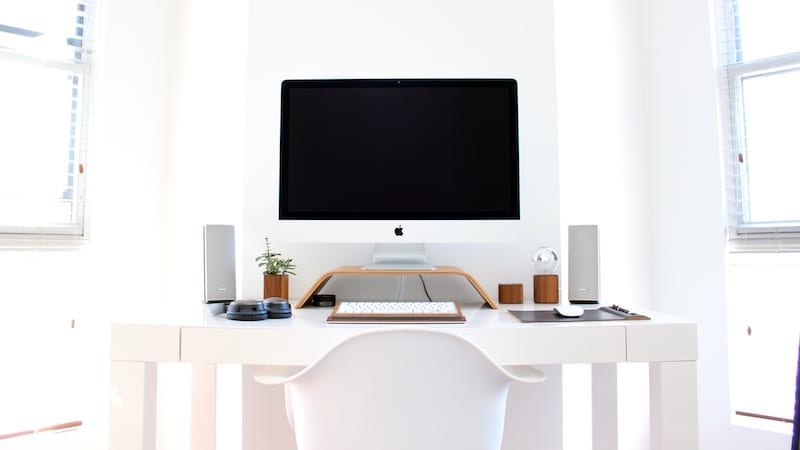 You know those days when your brain just feels like a fried egg? Everything is a distraction, your to-do list is multiplying and if you spend one more minute sitting at your desk, you know the walls will close in. But that rut—though exasperated by end-of-the-year burnout—isn't a dead end. It's just a sign that your workspace needs some freshening up. The good news is the smallest changes can make the biggest impact to boost productivity. Try one or try them all—and feel free to share with your team so every day they too will feel ready for anything!
1. Eliminate manic Mondays.
Set up a time every Friday to organize your desk before you leave for the weekend. Add it to your calendar so it's not forgotten. "This is the number-one rule for an improved workspace," says Taylor Spellman, interior designer and co-host of Yours, Mine or Ours on Bravo. "You want to walk into a space you're proud of on Monday morning." File the icons on your desktop, delete and organize emails, empty the recycling bin on your computer, and empty the shredder and garbage—everything you need so you can get right to work with no distraction after the weekend.
2. Lighten up.
Make sure you have warm lighting. "Those office space overhead fluorescent lights are harsh on the eyes," says Spellman. "Go to your nearest T.J. Maxx or HomeGoods and pick up a decorative lamp to serve the dual function of softer lighting and stylish decor." And if you can, turn your desk toward a window—seeing nature can help you mentally recover from day-to-day stresses and improve your well-being.
3. Meet your match.
Create inspiration by purchasing sets of office supplies and accessories that match. "Yes, the old college mug is a great way to hold random pens from the dry cleaner and your dentist's office," says Spellman. "But the aesthetic of a set of your favorite pens in a beautiful holder that coordinates with your other supplies combines fashion and function. The monochromatic look of matching office supplies can give you a clean slate to create from every day."
4. Get personal.
Frame that note from your mentor or the classic family photo of you sitting at your grandfather's desk. Spellman says to think about what inspires you to do the work that you do and highlight it in the space. "And you can also take it one step further—I have a massive vision board in my office that my entire team can see," she explains. "The visual of the work you're creating and what you aspire to achieve can really help on a tight deadline."
5. Stand up.
Standing desks are all the rage as using them can significantly boost cognitive skills like problem-solving and memorization. But if ditching your sitting desk isn't possible, you can get a converter to place your computer at eye level when you choose to stand. Just standing rather than sitting for an hour a day makes huge changes in your mental and physical well-being!
6. Hydrate in style.
Staying hydrated is essential in fighting off lethargy, so keep a large bottle of water on your desk at all times. "A glass bottle is the best as it's a nicer aesthetic and, of course, it's eco-friendly," recommends Valerie Streif, senior advisor with career management firm thementat.com. "Feel free to jazz your water up with lemon or orange. A citrus flavor keeps your brain alert and active."
7. Create "open spaces."
If possible, find an area that you can designate as a "collaboration zone." This can be a great place for your team to brainstorm, do low-focus work together, or even blow off some steam with games or magazines. When you or your employees need a change of scenery, this is a nice option that also encourages teamwork and creativity.
8. Find your color.
Choose colors that best suit the kind of work you'll be engaged in. Yellow is associated with higher levels of productivity. Blue and green enhance performance on tasks that require creativity. Red enhances performance on tasks that require attention to detail, and gray is a neutral element that can be incorporated to promote concentration. Buy your supplies in these colors or even hang art that matches the aesthetic you're going for.
From ergonomics to Zen, your workspace design does matter when it comes to boosting productivity, reducing stress and staying healthy.
Join our Facebook group Principal Life for more conversation about and insights into the challenges of school leadership.