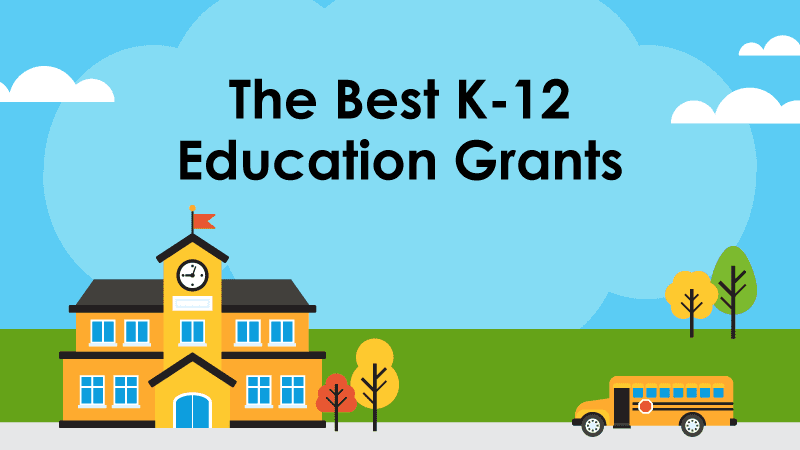 Companies offer grants and schools can definitely use them! Here is our big list of school and classroom education grants, separated by category so you can find the ones that best work for your school.
(Want to submit your grant for us to review? Send details, including the grant amount and deadline, to resources@weareteachers.com!)
Jump to a section below:
General Education Grants
What It Is: Create a fundraiser that allows others to donate toward goals like new school resources or classroom projects. Get crayons, books, cleaning supplies, technology, and more to help students get back to learning.
Award: Varies
Deadline: Ongoing
What It Is: The foundation makes Store-Based Giving Grants in the areas of building academic achievement and life skills in economically disadvantaged youth. Academic achievement support includes programs with a focus on literacy, STEM, tutoring, stay-in-school efforts, and college readiness. Life skills support includes programs that focus on mentoring, financial literacy, leadership skills, after-school programs, and career readiness.
Award: Varies
Deadline: Ongoing
What It Is: ConocoPhillips offers Charitable Investment Grants in the areas of education, the arts, health and safety, natural resources, civic and social services, and disaster relief.
Award: Varies
Deadline: July 31
What It Is: Mini-Grant programs give teachers and librarians a unified, flexible way to meet Common Core goals—and offer students a fun experience, a sense of achievement, and a source of pride.
Award: Varies
Deadline: Fall
What It Is: Classroom grants can be used for a variety of projects and materials, including but not limited to books, software, calculators, math manipulatives, art supplies, audio-visual equipment, and lab materials.
Award: $500
Deadline: October 1/March 1
What It Is: In 2021, they awarded $1 million to benefit K-12 public and nonprofit, private schools through 99 grants. Categories included physical improvements, material needs, teacher support, and community engagement. (Note: Open to K-12 public and private schools within Casey's 16-state footprint: IA, IL, IN, AR, NE, MO, KS, KY, MI, MN, ND, OH, OK, SD, TN, WI)
Award: $3,000-$50,000
Deadline: November 30
.
What It Is: Providing after school enrichment, tutoring, or vocational training for low-income individuals and families in the United States.
Award: $250-$2,500
Deadline: December 31
STEAM Education Grants
What It Is: The Dell Technologies Grants Support Program helps get your technology projects funded. As a free service, the Grants Program provides customized reports and consultations regarding on-going, annual technology grants that align with your project.
Award: Varies
Deadline: Ongoing
What It Is: Mini-grants are awarded to girl-serving science, technology, engineering, and mathematics (STEM) focused programs to support collaboration, address gaps and overlaps in service, and share exemplary practices.
Award: $1,000
Deadline: Ongoing
What It Is: The foundation awards grants and supports programs that have a particular focus on STE< education and around empowering women in the United States and in India.
Award: $5,000-$50,000
Deadline: Ongoing
What It Is: For education grants, Verizon Foundation funding is intended to support, among other things, projects that promote Science, Technology, Engineering and Math ("STEM"), including, for example, summer or after school programs, teacher training, and research on improving learning in STEM areas through use of technology. New applications are by invitation only.
Award: Varies
Deadline: Ongoing
What It Is: AEP has a special interest in science, mathematics, technology, the study of energy and a sustainable environment, and energy efficiency.
Award: $100-$500
Deadline: February 28
What It Is: The ACS-Hach High School Chemistry Classroom Grants support ideas that enhance classroom learning, foster student development and reveal the wonders of chemistry.
Award: $1,500
Deadline: June 1
What It Is: In

 partnership with

Osmo Cares, the charitable arm of award-winning STEAM brand

Osmo

, announces one-time mini-grants consisting of

$2000

worth of Osmo for Schools' educational technology. A total of

20

in-kind mini-grants will be awarded to schools in time for the Fall 2021 semester.

Award: $2,000
Deadline: July 17
What It Is: The Gravely & Paige Grants provide funding to elementary and middle schools in the United States to promote STEM innovation in the classrooms with emphasis on academic programs.
Award: Up to $1,000
Deadline: July 31
What It Is: A clear connection to science, technology, engineering, or mathematics (STEM) with an emphasis on Aerospace must be included in the grant proposal.
Award: Varies
Deadline: August 31
What It Is: Funding ranges from $1,500 to $24,000 and is available to help math teachers, prospective teachers, and other math educators improve the teaching and learning of mathematics.
Award: Up to $24,000
Deadline: November 1
Literacy Education Grants
What It Is: Believe in Reading awards grants to existing and provably successful literacy programs.
Award: $1,000-$10,000
Deadline: Ongoing
What It Is: Provides books for school/educational libraries for disadvantaged students.
Deadline: February 16
What It Is: The Diane Lapp & James Flood Professional Collaborator Award recognizes an ongoing professional collaboration between two or more people who regularly contribute to the professional knowledge base of literacy educators.
Deadline: March 15
What It Is: Schools, public libraries, and nonprofit organizations who help students that are below grade level or having trouble reading are eligible to apply.
Award: $4,000
Deadline: May 21
What It Is: The Lois Lenski Covey Foundation awards grants to organizations that operate a lending bookmobile that travels into neighborhoods populated by underserved youth. For preschool through 8th grade.
Award: $500-$3,000
Deadline: September 1
Arts Education Grants
What It Is: The Max and Victoria Dreyfus Foundation awards grants to organizations for whom a small amount of money can make a big difference. The Foundation will consider requests to support schools, museums, cultural, and performing arts programs.
Award: $1,000-$20,000
Deadline: Ongoing
What It Is: Money toward the following instruments: violins, violas, cellos, double basses.
Award: Varies
Deadline: Ongoing
What It Is: The Mockingbird Foundation, Inc. offers competitive grants to schools and nonprofit organizations that effect improvements in music education for children.
Award: $100-$10,000
Deadline: January 15
What It Is: For projects within schools serving all children that integrates the arts into educational programs. The purpose for this grant is to aid and support teachers who wish to establish or maintain an effective learning tool using the visual arts within the school day.
Award: Up to $1,000
Deadline: September 30
Education Grants for School Grounds
What It Is: Get sports equipment for your school!
Award: Equipment from their catalog.
Deadline: Ongoing
What It Is: Through their Garden Grant program, schools and non-profit organizations turn outdoor spaces into powerful hands-on learning gardens that connect kids with food, spark their curiosity and support classroom curriculum.
Award: $3,000
Deadline: March 31
What It Is: The American Heart Association works with schools to find local sponsors to help fund the installation of raised bed gardens in schools.
Award: Up to $1,000
Deadline: October 29
(Don't see your company or grant on the list? Submit it to us to review! Send details, including the grant amount and deadline, to resources@weareteachers.com!)