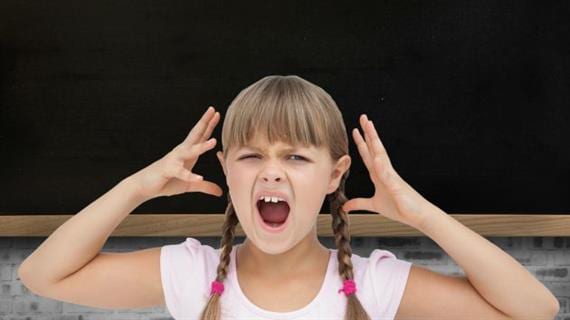 We all have days when teaching is pure bliss. We're alive with passion, our students are engaged, and it's as if the whole world is filled with bright, shiny, happy faces.
Then, of course, there are those other days. I'm talking about those days when it seems we're stuck inside some sort of grown-up version of Judith Viorst's picture book, Alexander and the Terrible, Horrible, No Good, Very Bad Day.
A few months into my first year as a kindergarten teacher, I was having what I call an "Alexander Day." It began when unexpected traffic caused me to run late, and I didn't have a cell phone to call anyone. I was the only kindergarten teacher in the small school, and my room was separate from the other classrooms. I had visions of the kids being alone or running wild.
Once I finally made it school, things went downhill. The rain prevented us from going outside for recess. (Goodbye planning time!) Someone dumped the buttons at our math center, scattering everywhere. And the lesson I planned fell flat, leaving the kids confused and cranky. By the way, this was all within the first two hours of the day!
Feeling cranky myself, I gathered the students to read. As the kids were getting their books and finding spots on the floor, one of my little guys came up to me. "Mrs. V, why do you keep making that sound?
"What sound?" I asked him.
He responded with an impersonation of me, letting out the biggest, saddest sigh you've ever heard from someone who still needs a booster seat and help with his zipper.
I honestly didn't know if I should laugh or cry. Did I really spend the better part of the morning sighing so much that the kids had taken notice? Obviously I had.
At this moment, it hit me. In college, I'd learned how a teacher's attitude can have a huge impact on his or her classroom. I realized right then and there that it was true. My energy was their energy. And in the same way a smile could be contagious, a single sigh (or, in this case, multiple sighs) could bring down a whole class.
We were clearly way past the, "Let's all take a deep breathe" stage. So we did the next best thing. We started the day over.
"I think we all got up on the wrong side of the bed," I told the kids. "Grab your coats and backpacks."
I sent them in the hall and told them we were starting the day over. They giggled, and I smiled as I listened to them conspire and be joyful with novelty.
"Ready?" I asked them. They all nodded.
I closed my classroom door, and conjured up my biggest smile. Next, I swung the door open and greeted my kids one by one. "Good morning! Nice to see you! I'm so glad you've come to school today! Are you ready to learn?"
My students happily got into the spirit. "Good morning, Mrs. V! Guess what happened on the way to school! What are we going to do today?"
Everyone put away their things and we sat down to begin our "new day" the same way we started every day—going over the calendar. Only this time, we were relaxed and excited. The rest of our day proved to be equally fun and productive, and was filled with minimal sighing.
My students and I utilized this technique a handful of times throughout the rest of the year. Most of the time, it worked like a charm. Other times, it didn't quite do the trick. But hey, some days are like that—even in kindergarten!