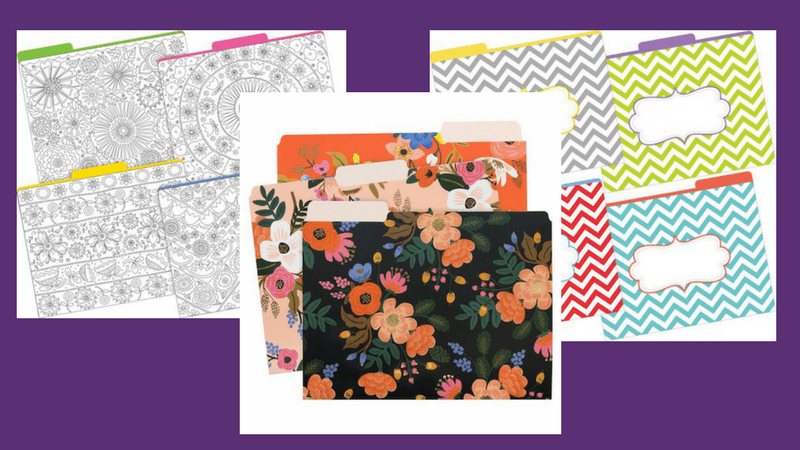 While in my heart of hearts I know that more **stuff** doesn't actually make me more organized, buying fun office supplies can be a great trick for at least making me **think** I have my life together.
If you could use an organizational pick-me-up too, here are some of our favorite teacher file folders from Amazon.
(Just a heads up, this post contains affiliate links, which means WeAreTeachers may collect a share of sales from this page. All opinions are my own.)
1. Navy Dots
Pretty and preppy. 3 for $8.99.
2. Floral
Pricy, but reviews say these hold up to tote bag abuse. 3 for $18.99.
3. Pep Talk
When your morning coffee doesn't energize you, let your file folders do it instead. 9 for $5.99.
4. Set a Goal
Maybe I will actually do this if my file folders remind me. 10 for $19.28.
5. Days of the Week
File your daily lesson plans with a side of sass. 6 for $9.00.
6. Chevron
Matches most classroom themes on Pinterest. 12 for $13.29.
7. Cityscapes
When you want to give that stack of grading a little urban flair. 12 for $11.99.
8. Contents Upfront
I may never be organized enough to list what's in a file folder on front, but maybe you are? 30 for $20.49.
9. Paint Splatters
My morning latte spills will blend right in. 6 for $17.95.
10. Coloring Book
OK, these could be seriously good for boring faculty meetings. 12 for $17.34.
11. Translucent
They're inexpensive, and you can see what's inside. Works for me. 5 for $1.53.
12. World Maps
The perfect place to stash those geography quizzes. 10 for $22.98.
13. Dogs
These would make me happy every time I look at them. 12 for $28.50.
14. All Year Round
Handy for storing lesson plans or handouts by month. 12 for $16.89.
15. Owls
Whoo, whoo, whoo's the most organized teacher you know? 6 for $4.99.
16. Cuddly Creatures
These are a little bizarre if you read the text up close, but they're also pretty cute. 4 for $8.99.
17. Graphic
For you super-**stylish** teachers out there. 6 for $11.99.
18. Quotation Marks
The perfect understated folder for an English teacher. 9 for $10.75.