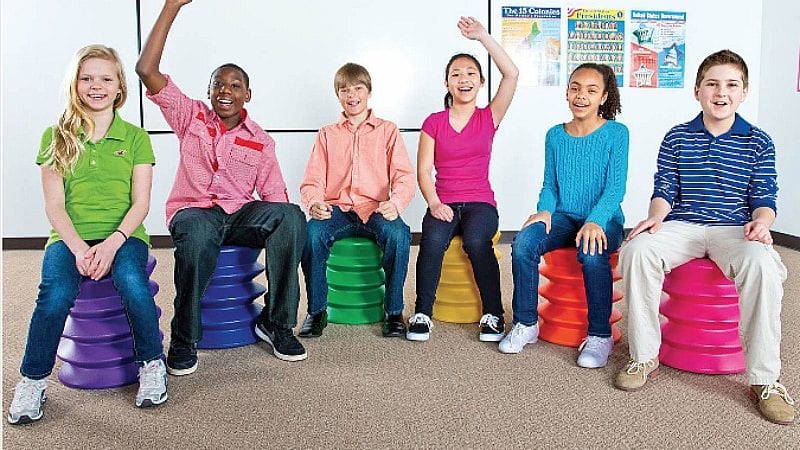 Classrooms are way more appealing to kids when they look fun, and the colorful stools and stability balls that populate classrooms today do just that. They also let kids pick where they want to work and give them an opportunity to move around just enough to help them stay engaged.
More and more schools are incorporating flexible seating options into their classrooms, with positive results. Joe Russell, Principal at Washington Elementary School in Wauwatosa, Wisconsin, says, "There's also a lot research showing a correlation between the subtle movements that flexible seating allows and an increase in student focus and engagement. It may seem counterintuitive, but the more kids are allowed to wiggle, rock and bounce, the more their brains pay attention."
Washington introduced flexible seating options in 2016, and the students and teachers instantly loved it. "It makes classrooms more accessible for students, increases student engagement, and opens the room to a variety of learning styles—there are places to collaborate, lounge, work silently and individually," says Joe.
Here's a list of some of the coolest and most recommended flexible seating options to consider for your own classroom, and at a variety of price points, too. Happy shopping!
Just a heads up, WeAreTeachers may collect a share of sales from the links on this page. We only recommend items our team loves!
Stability Balls – Best Flexible Seating Options
Also known as yoga or exercise balls, these giant balls allow kids to gently bounce while seated and encourage good posture. If you're considering them for your classroom, choose ones with a base or feet to prevent them from rolling away.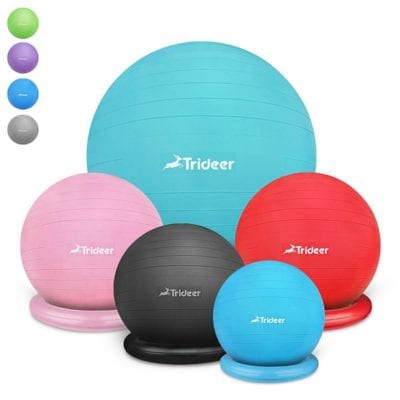 Kids can bounce and roll side-to-side on this durable, latex-free ball. The inflatable ring helps keep in its place. Recommended for third grade and up, as the smallest ball accommodates heights of 4'8." (around $27)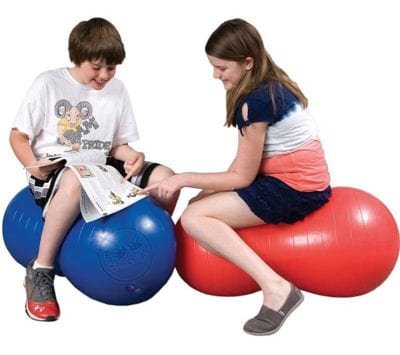 A perfect saddle seat for elementary through high school students. Its shape provides extra stability and lets kids rock back-and-forth or side-to-side. ($34.99-42.99)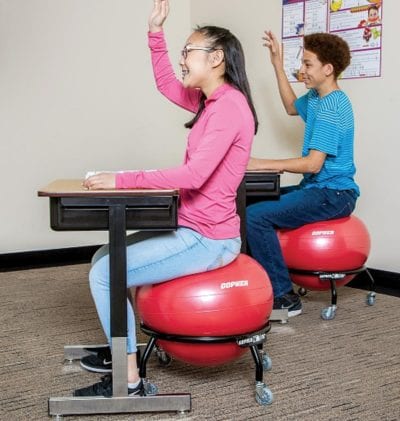 The quiet wheels on this ball chair make it easy to love and even easier to move. The wheels work well on any floor, including carpet. Better get more than one as these look completely irresista-ball! ($69.95)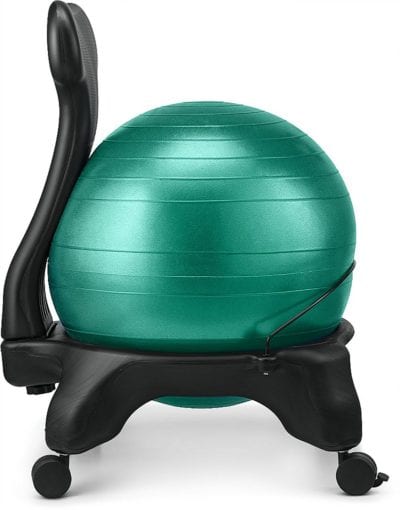 Get all the benefits of a ball chair and a back rest for the days when you need a little extra support. Best for middle and upper grades as it's about 22–25 inches high. ($79.95)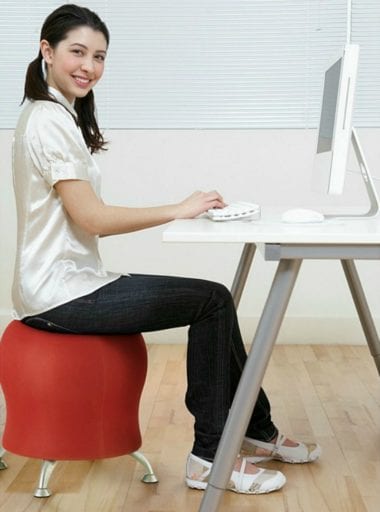 Ball chairs get a sleek, modern look with a colorful polyester (spot clean only) or black vinyl covering and removable legs that glide across floors. When fully inflated, chair measures 23" high. This one comes with a pump so you can re-inflate it anytime. ($104.43)
Stools – Best Flexible Seating Options
Equipped with a slightly curved bottom, these colorful stools allow kids to rock side-to-side and back-and-forth to help their bodies release some energy.
This award-winning stool lets kids gently sway, tilt and fidget. Its specially designed base allows movement, yet prevents tipping. Pick from a variety of colors and sizes. ($49.99 & up)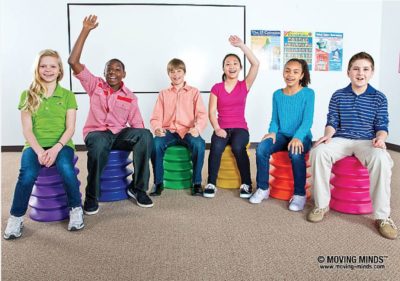 Who could resist sitting on one of these? The accordion-style base compresses slightly to allow continuous small movements forward, back, and side-to-side. Available in three sizes and multiple colors. ($75.95)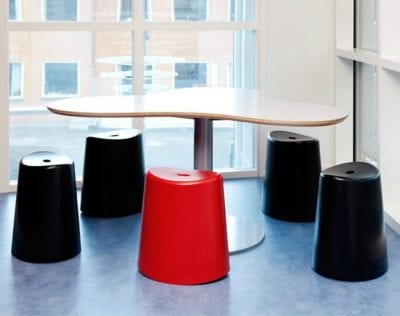 This flexible seating option features a curved base that rocks from side-to-side or front-to-back to promote productive movement. ($86.95)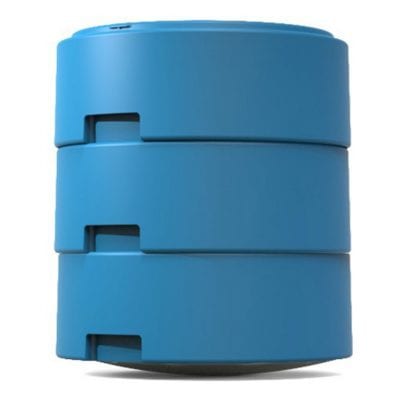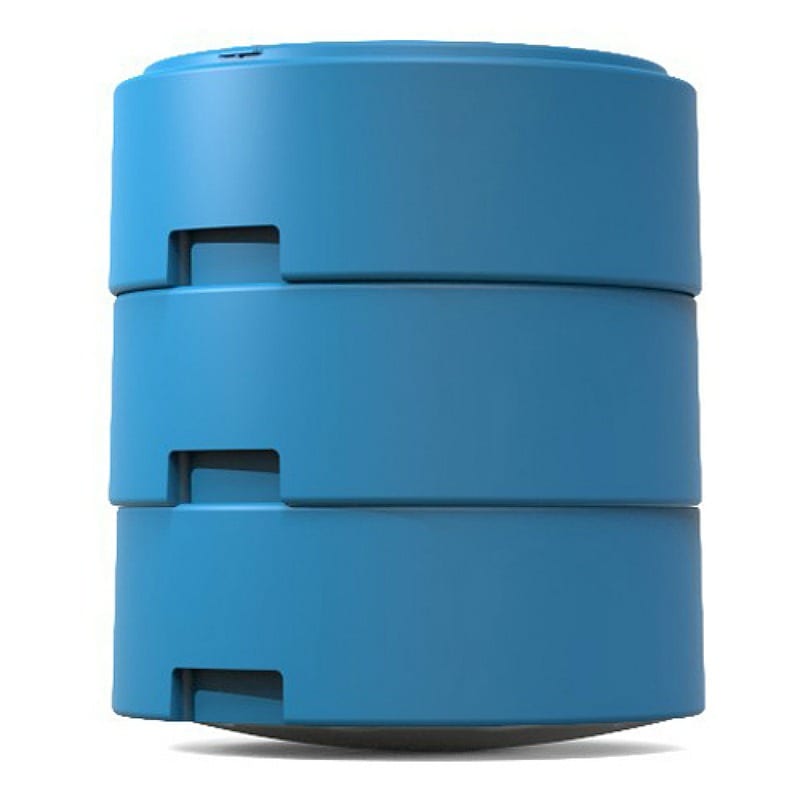 It's 3 stools in one with this rocking, twisting seat that can be stacked tall or broken apart into 3 smaller stools. Want a static bottom instead of one that rocks? Just flip it over. Each set of three stools only comes with one curved base (movement disc), so be sure to order more if needed. ($145–185 for set of 3)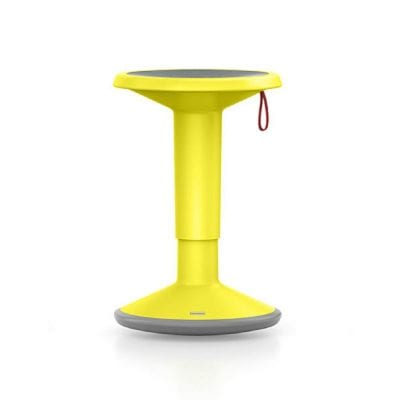 Just pull the strap to change the height of this stool. Its wobbly base lets kids twist and rock, too. ($199.00)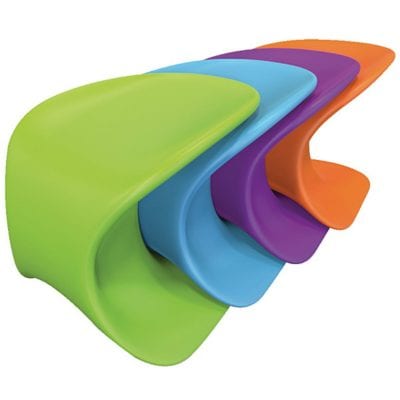 Not only do these streamlined stools tuck into each other for storage, the seat surface has a forward lean that promotes upright posture and keeps legs lightly engaged for active seating. ($219.00)
Alternative Chairs – Best Flexible Seating Options
Neither stool nor ball or traditional chair, these seating options are 100 percent fun.
Sit comfortably on the floor anytime, anywhere with this adjustable cushioned seat that's ideal for ages 8 and up. At the end of the day, lay them flat and stack them up. Happily, the fabric cover is removable and machine-washable. ($49.99)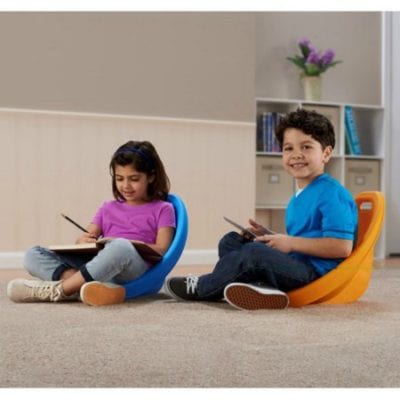 Teachers love scoop rockers! Set these on the floor and kids are ready to rock and recline as they work independently or in a group. ($51.46)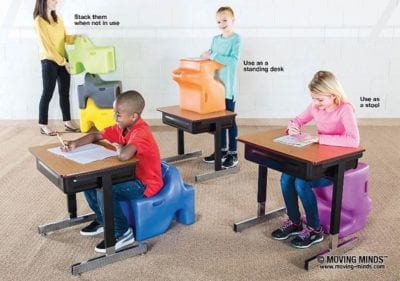 Sit on this versatile stool to provide a gentle rocking motion, turn it for a static stool, or turn it again to create a workspace. Recessed handles with nobs makes them easy to carry and give hands something to fiddle with. Recommended for ages 6-9. ($125)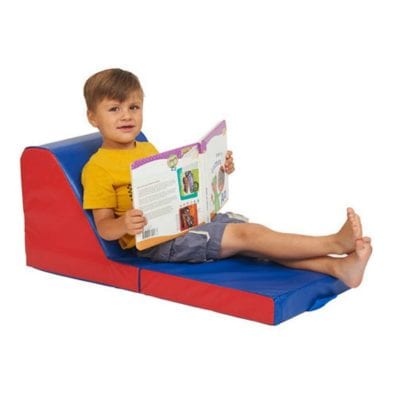 Kids will love reclining on this lounge during story time or independent reading. Besides being waterproof and lightweight, it folds up for easy storage or to transport to another spot. ($181.95 for 2)
Desk Alternatives – Best Flexible Seating Options
Walk away from regular desks and try an option that offers more versatility and room to move.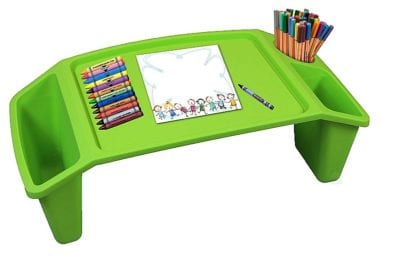 Put this sturdy plastic desk anywhere, along with all the supplies kids need to complete their work. Size: 23″ W x 12″ D x 8″ H. ($15)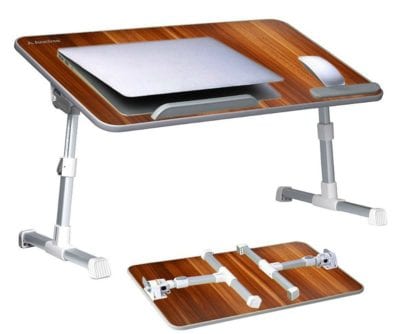 This multipurpose work surface tilts, easily adjusts heights and folds flat for storage, turning any spot in the room, even the floor, into a work space. Has a built-in ledge to keep computers, tablets and books in place. Size is 23.62"W X 12.99"D. ($44.99)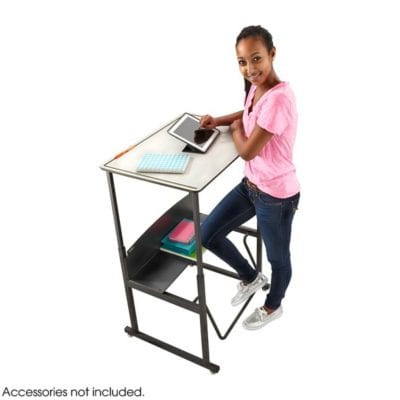 Give kids a break from sitting with a stand up desk with built-in storage. This one comes with a swinging footrest bar that lets students redirect excess energy and engage in continuous motion.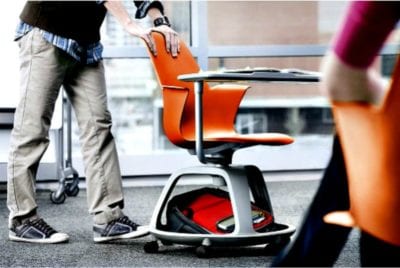 It's a chair and desk in one that can scoot around the room as needed. The armrests are the perfect place to hang back packs, the storage tray below holds everything else and the work surface is designed for right- or left-handed students. ($458.00)
Accessories – Best Flexible Seating Options
Whether you want to tip-toe into the land of flexible seating or you need some extras to round out your flexed-out space, these products are just the thing.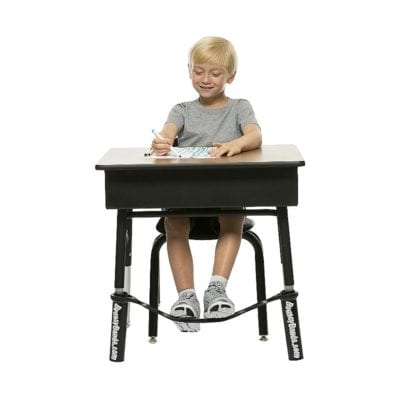 Slide this easy-to-install elastic band onto desk legs to let active kids quietly keep their feet moving so their mind can focus. ($14.95)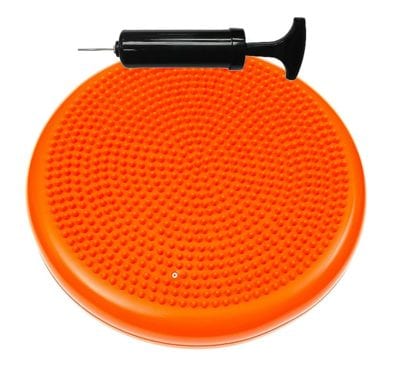 Got a kid that can't sit still? They'll love this seat cushion that allows movement without disruption. Of course, everyone will want to try it, so better get a few! ($16.39)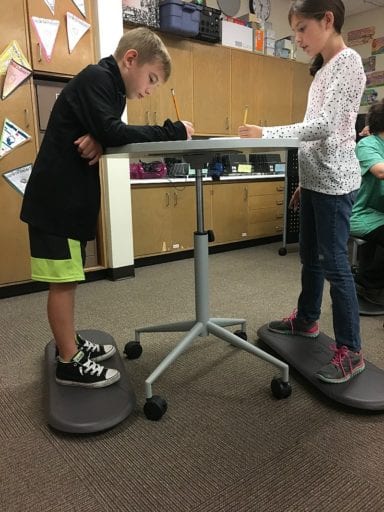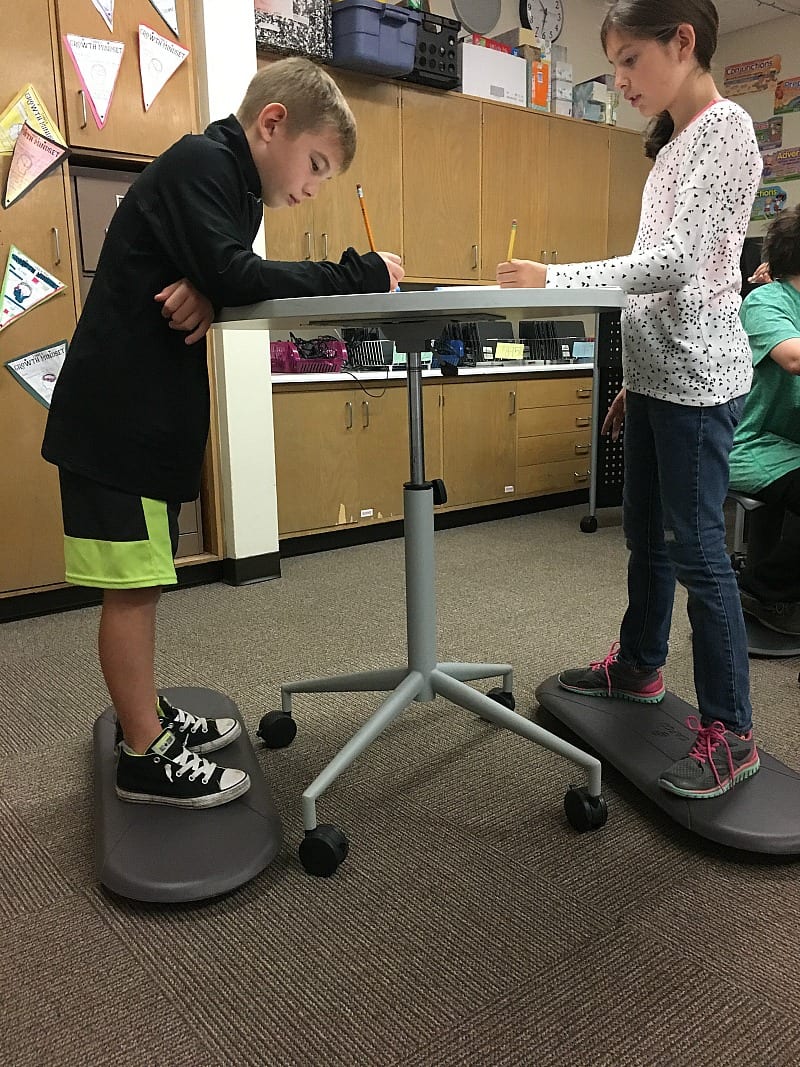 It's the perfect partner for standing desks or counter-height work stations. The curved base allows for side-to-side and forward-back motion while providing plenty of stability. It's lightweight and comes with handles so moving from place to place is a cinch. ($119.00)

Strap these inflatable cushions onto chairs and ta da!, you've got an active seat. The cushion's slight instability engages students' core muscles and allows them to wiggle while they work. The ultra-grippy bottom prevents the seat from sliding around on the chair. ($189 for 6)
What are your favorite flexible seating options for the classroom? Please share in the comments, and we'll add to this list!