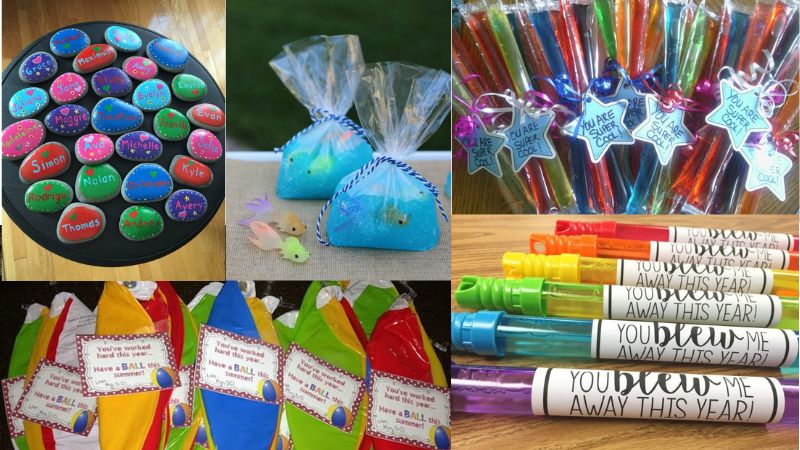 It's the end of the year, and you want to give special parting gifts to your students. But you don't want to break the bank. We pulled together some end of year student gifts that you can DIY for a dollar or less each. These tokens give students something to remember the year, plus they're a fun way to celebrate accomplishments.
(Just a heads up, WeAreTeachers may collect a share of sales from the links on this page. We only recommend items our team loves!)
1. Throw some shade
You can pick up inexpensive sunglasses at the dollar store. Plus this website has a free printable, making it a super easy student gift.
Buy it: kids sunglasses/Dollar Tree; adult sunglasses/Dollar Tree
2. Give 'em s'more
This gift will definitely come in under $1 each when you buy the supplies in bulk. You can create your own printable, or get one from Etsy.
Buy it: s'more gift tags/Etsy
3. Owl miss you
These super cute owls will give your student a personalized treat. You can use any number of things for the body of the owl. Twix candy bars will help make this fun treat come to life!
Buy it: assorted Twix/Amazon
4. Time to get crazy
End of the year student gifts should be put to use, and you know your students will love these crazy straws! Create your own design or download it from this awesome Etsy store.
Buy it: crazy straw printable tags/Etsy; loop silly straws/Amazon
5. Chalk it up
There are several ways you could give chalk as a DIY end of year student gift, and this is one of our favorites. Buy chalk in single packs or in bulk from the dollar store along with chalk bag toppers from Etsy.
Buy it: chalk/Dollar Tree; chalk bag topper notes/Etsy
6. Last-day bookmark
This is a project you can hand out on the last day. Make a bookmark out of paint samples … so simple and so cute!
7. Freeze pop bouquets
These come in as one of the cheapest gift options. Get a 100-pack of ice pops for under $10! They are a great gift that truly says, "Enjoy your summer!"
Buy it: freeze pops/Amazon
8. Celebrate your smart cookies
You've required healthy snacks all year, so now it's time for a little treat. Students will love individually wrapped Oreos or Chips Ahoy cookies.
Buy it: Oreos/Amazon; Chips Ahoy/Amazon
9. Practice your painting skills
Wow, what a special gift! This one just requires a little bit of paint and artsiness. Tell them it's a lucky stone or call it a reading stone to help them remember to read all summer. There's no need to hunt for perfectly smooth stones outdoors. Just pick up a pack of these craft rocks.
Buy it: craft rocks/Amazon
10. Have a ball
You will be one of their favorite teachers EVER with this DIY idea! These beach balls come out to under $1 each.
Buy it: beach balls/Amazon
11. Blow some bubbles
Nothing says summer like a fresh container of bubbles! You can get bubble wands at Dollar Tree at only $1 for two. This is an end of the year student gift that's hard to pass up!
Buy it: bubble wands/Dollar Tree
12. Summer sweets
Inspire students to start a lemonade stand or make a cool drink to kick start the summer. Use crazy straws from the dollar store and attach to Kool-Aid packets for a fun gift.
Buy it: Krazy Straws/Dollar Tree; Kool-Aid/Amazon
13. Jump into summer
Encourage healthy habits and challenge them to jump rope every day! Tell them that you'll do it, too. (Now you have to actually follow through.) Jump ropes from Amazon or Dollar Tree come out to a dollar or less each!
Buy it: colorful jump ropes/Amazon; hologram handle jump ropes/Dollar Tree
14. Add some bounce
You can buy bouncy balls in bulk, making this option an easy and cheap gift for a large classroom.
Buy it: bouncy balls/Amazon
15. Stay hydrated
This is a really special DIY gift you can create with $1 water bottles and a little creative customization with an acrylic pen.
Buy it: water bottles/Dollar Tree; acrylic pen/Amazon
16. Fun in the sun
These DIY dollar sponge water balls are genius. Kids will have so much fun with them this summer. Better yet, show your students how to make it themselves so they have a fun craft to do this summer.
Buy it: sponges/Amazon
17. All aglow
Did you know you can get up to 25 glow sticks in one package from Dollar Tree? This gift is too inexpensive not to create.
Buy it: glow sticks/Dollar Tree
18. Poppin' summer
Just popping in with a quick note! You can buy popcorn packages in bulk, making this a project you can DIY for less than 50 cents each.
Buy it: popcorn/Amazon
19. Slime 'til the end
Did slime drive you bananas this year? Probably. But now you can give students a gift they're going to LOVE. DIY this slime along with your students or purchase it on Amazon for $0.50 apiece! Add some mini plastic fish for just a few cents more per student.
Buy it: slime/Amazon; plastic fish/Amazon
Want more teacher articles like this? Subscribe to our weekly newsletters.