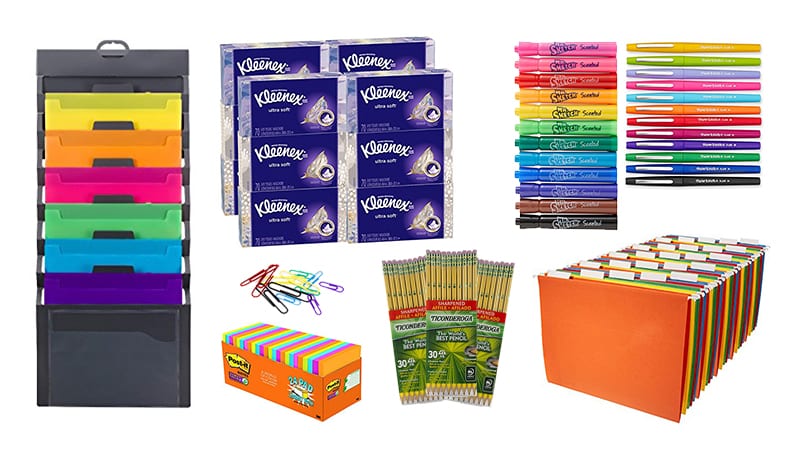 Every educator has their must-have supplies for their classroom (and themselves) to make it through the school year . We've rounded up our favorite Amazon teacher supplies, from basic classroom supplies to sanity savers that make your day-to-day easier. See if your favorites made the list or find a few new goodies to add to your rotation. And check out some of our other favorite Amazon perks for teachers here.
Just a heads up, WeAreTeachers may collect a share of sales from the links on this page. We only recommend items our team loves!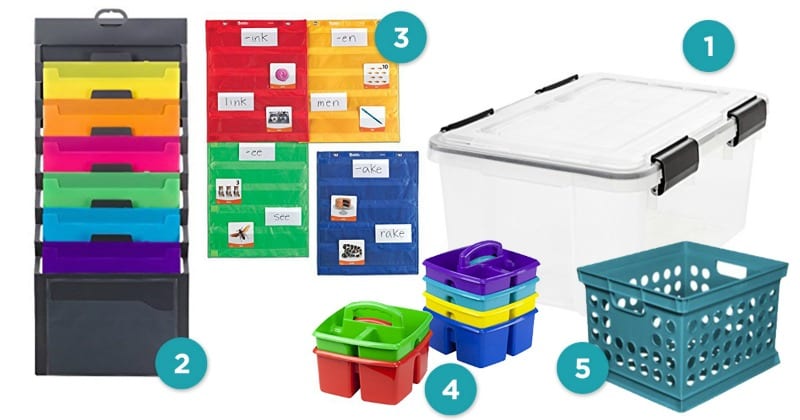 ORGANIZATION – Best Amazon Teacher Supplies
1. Plastic bins
Here's a home for supplies, binders, unit lessons and anything else that needs to stay together.
2. File folder organizer
For the files you need daily or weekly. Hang this by your desk for easy access and to keep curious minds away from it.
3. Magnetic pocket charts
These come in a variety of sizes and have an endless number of uses. The magnets on the back let you hang them on filing cabinets or white boards.
4. Caddies
Small buckets and bins like these keep pencils, markers, glue and other items grouped together in one spot and easy to access.
5. File crates
Not every file will fit in a drawer. This is for the files you don't need daily access to or to hang files your students need to get at.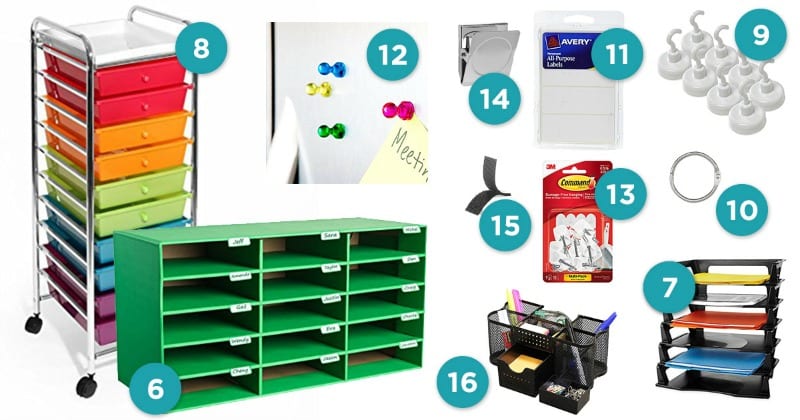 6. Classroom paper organizer
Perfect for primary grade teachers, this storage shelf provides each student with their own slot. All their take-home papers live there until they move them to their backpack.
7. Paper in/Paper out
Students need a designated place to turn in their work and you need a spot for handouts to send home. These plastic baskets work great.
8. Stuff holder
Classrooms contain a bunch of people and a bunch of stuff for all those people. Having designated spots for all that stuff is a must, and lots of little drawers really help.
9. Magnetic hooks
Hang up laminated prompts, note cards on rings, clipboards and more.
10. Binder rings
Keep related laminated sheets or note cards together, then hang them from one of your magnetic hooks (#9).
11. White labels
Smack these on to folders, books or anything else that may need a label, ID tag or description attached to it.
12. Magnets
Hang posters and papers on filing cabinets or white boards with no mess or holes left behind.
13. Command hooks
No need to put holes in the walls for the custodian to get upset about. Just stick these on instead.
14. Magnetic clips
With strong magnets on the back and heavy-duty clips, you can hang even the heftiest of anchor charts.
15. Velcro fasteners
Another easy-peasy way to hang and attach things, and swap them out, too.
16. Desk organizer
You'll always know where to find your own pens, paper clips and Post Its.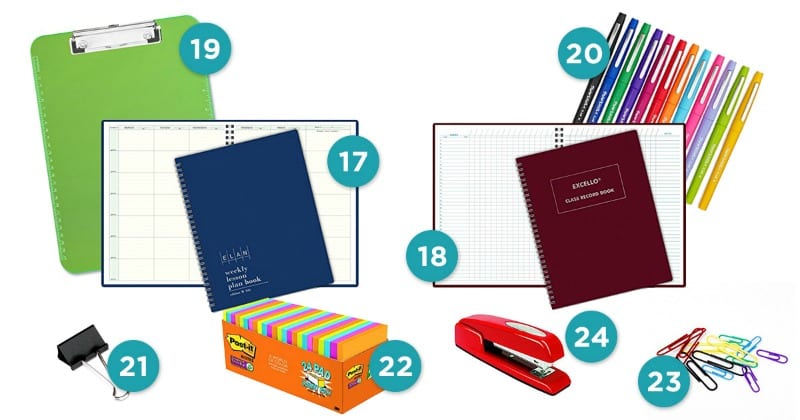 17. Paper lesson planners
For those who like their plans on paper instead of (or along with) digitally.
18. Grade book
Recording grades with pen and paper is still the preferred way of doing it for many teachers.
19. Clipboard
Keep your needed papers together in one spot and with you as you wander around the classroom or in the halls. A brightly colored one makes it easier to find after you set it down.
BASIC SUPPLIES FOR YOU – Best Amazon Teacher Supplies
20. Flair pens
You've got a lot of grading to do and notes to make, and this colorful assortment of felt-tip pens is a teacher favorite. See some of our other favorite pens here.
21. Binder clips
Use them as place holders in lesson plans or textbooks or to hold open notebooks.
22. Post It notes (in every size and color)
For notes to students, notes to stick on charts, notes for coworkers, notes for parents or reminders to all of the above.
23. Paper clips
For when a staple feels too permanent, and multicolored just for fun.
24. Stapler
Like Milton in Office Space, teachers know the significance of a great stapler. And of course, this one flips open for bulletin boards.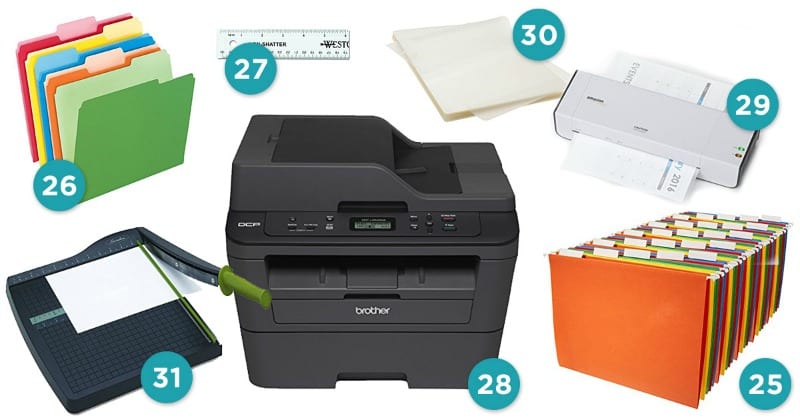 25. Hanging file folders
Keep all those papers sorted and in their designated place.
26. File folders
Whether you're a classic-manila fan or love to color code, those hanging folders need some of these need matter what.
27. Clear ruler
For drawing straight lines on overhead graphs during math or any other time. Since it's clear, students can still what's going on beneath it.
28. Personal printer
No need to dash to the office for a few copies. This wireless laser printer and scanner can do the work for you in your classroom.
29. Laminator
This is a splurge that quickly becomes worth it. It's one less trip down to the office, saving you some time or from waiting in the laminating line.
30. Laminator pouches
That personal laminator is no good without these. They work for letter-sized paper and smaller.
31. Paper cutter
Quickly slice through multiple sheets of paper from the comfort of your own classroom.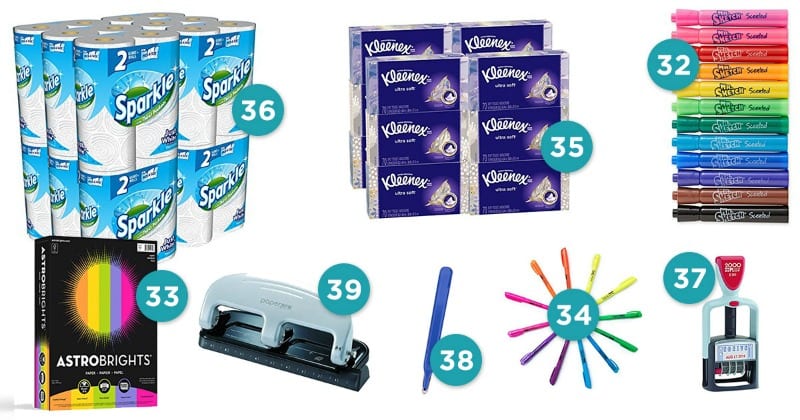 32. Chart markers
For anchor charts or any other kind of chart you need, these markers are highly visible and smell great, too.
33. Colorful card stock
Perfect for so many classroom needs and projects.
34. Highlighters
Draw attention to text for yourself, a student, co-workers or parents.
35. Kleenex
Because sniffles are rampant any time of year.
36. Paper towel
Because spills and messy hands are rampant, too.
37. Self-inking date stamp
So you don't have to write it repeatedly and to provide documented evidence of homework due dates.
38. Staple remover
Free bulletin boards of old staples quickly and without damage.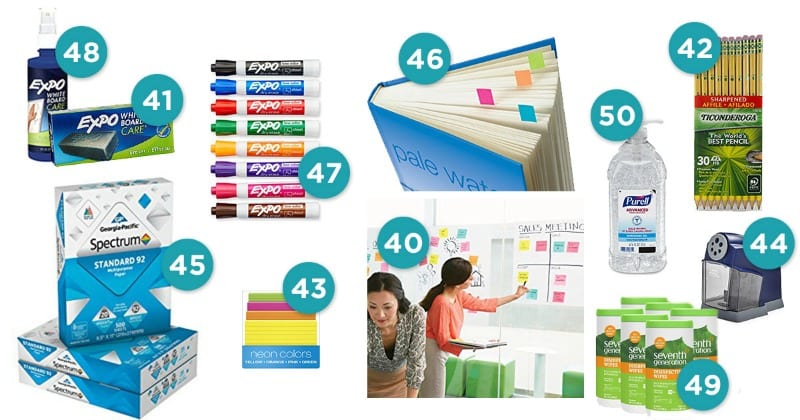 39. Three-hole punch
Now almost anything can go in a three-ring binder.
40. Self-stick easel pad
It's like a giant Post-It. Use them to make charts or lists that need to be temporarily displayed in the room.
41. Dry erase board eraser
Clear the board for the next round of great ideas or inspiring lessons.
BASIC SUPPLIES FOR THE CLASSROOM – Best Amazon Teacher Supplies
42. Pre-sharpened pencils
You'll always need more pencils, and you're one step ahead when they're already sharpened.
43. Index cards
Once they're filled out, these become study tools, ice breakers, games or a great place for notes.
44. Pencil sharpener
If you're pro-electric pencil sharpener, this one's tops. Of course, it needs to come with a set of classroom pencil sharpener rules so kids aren't using it every five minutes.
45. Printer paper
For printing on your personal printer or anytime you need a blank sheet of paper. 
46. Sticky note flags
Use these to mark pages in books or lesson plans.
47. Dry erase markers
These are low-odor and chisel tip for maximum enjoyment.
48. White board cleaner
Erasers work well to clear white boards, but a spray-on cleaner can make it look like new.
49. Wet wipes
Quickly clean dirty desks, tables and non-carpeted floors.
50. Hand sanitizer
Let's face it—trekking to the sink for hand washing isn't always feasible, so use this to help keep colds and flu at bay.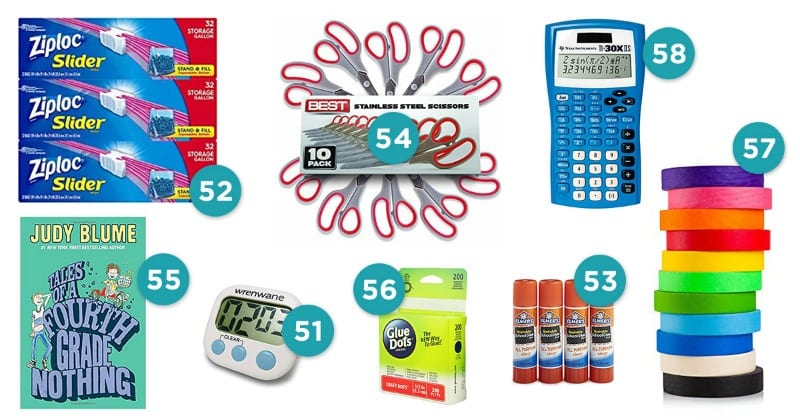 51. Timer
Keep kids and yourself on track with a simple timer that's not your smartphone. 
52. Ziploc bags
For leftover snacks, flash card storage and more.
53. Glue sticks
Glue that sticks and washes off.
54. Scissors
Get a bunch of extras cause they always seem to disappear.
55. Kids' books
Depending on the grade you teach, you may need lots and lots of these and at different reading levels.
56. Glue dots
An easy, mess-free way of permanently attaching things. An awesome alternative to glue sticks.
57. Colored painter's tape
Colored painter's tape is a great way to create boxes and charts right on the white board or to hang things up in a snap without damaging walls.
58. Calculator (s)
Maybe it's just for you, or for your students, too, depending on what grade and subject you teach.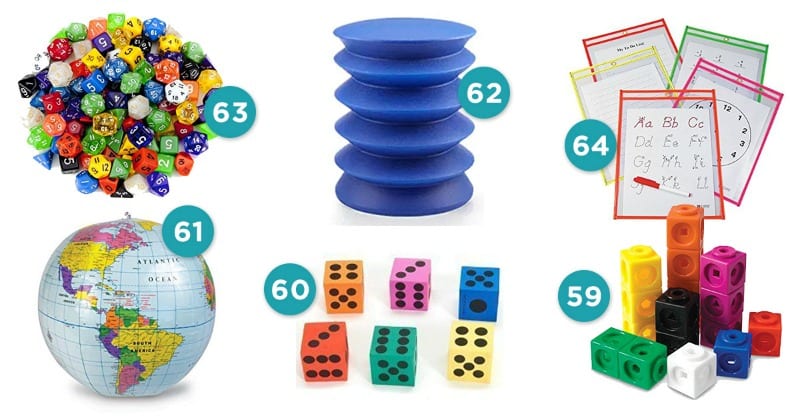 59. Snap cubes
These can be used to make three-dimensional graphs, as counters or for grouping. 
60. Foam dice
They're quiet while students roll them during math lessons!
61. Inflatable ball
Toss this around to designate the speaker during class discussions, for a quiet game of brain-break catch or during geography lessons.
62. Flexible seating options
For kids that need to keep moving to stay focused and to give students some choice in the room.
63. A bunch of colored, numbered dice
A blessing for any math center.
64. Dry erase pockets
No need to print zillions of copies when students can use one sheet over and over thanks to plastic covers and dry erase markers. These are great for writing, math and on-the-spot assessments.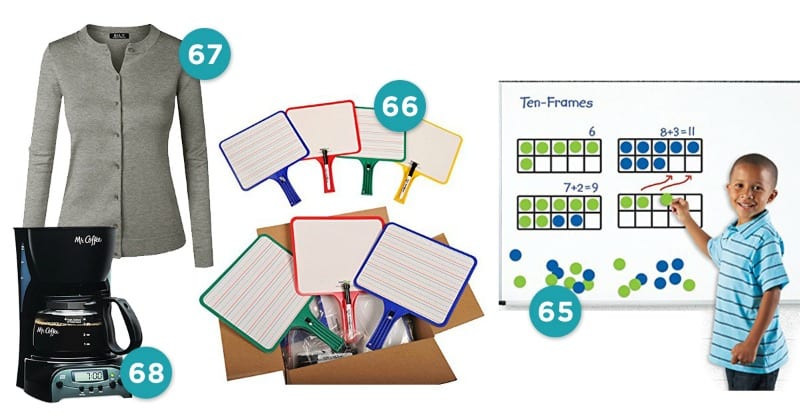 65. Magnetic ten-frames
Large and easy to see, these are perfect for demonstrations, math centers or as a classroom math tool.
66. Individual dry erase boards
Pass these out to students instead of paper for them to solve math problems, do group work or during class discussions.
PERSONAL CARE – Best Amazon Teacher Supplies
67. Leave-at-work sweater
For when the heating system acts up. For our favorite teacher t-shirts you can buy on Amazon, click here.
68. Personal coffee maker
It's hot and fresh anytime you want it.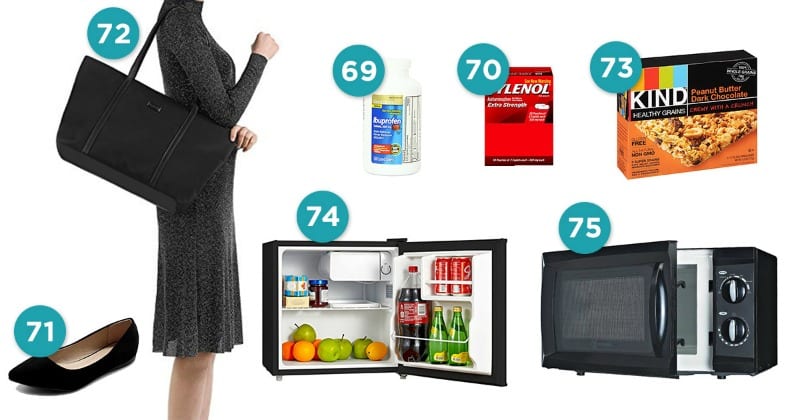 69. Ibuprofen
Keep your own stash for sick days or headache days.
70. Tylenol
It never hurts to have different options when self-medicating.
71. Extra shoes
In case the ones you picked in the morning turn out to be a bad choice or your closet light is broken and you leave wearing one brown shoe and one black shoe.
72. "That bag"
The one that magically holds all your stuff—papers, laptop, gym shoes, your lunch, etc.
73. Snacks. Like an entire drawer-full.
No need to go to the store. Just have them delivered right to school.
74. Mini fridge
Lunch, snacks and drinks stay cool till you have a 10-minute break to scarf them down while working.
75. Microwave
Now it's even easier to eat at your desk!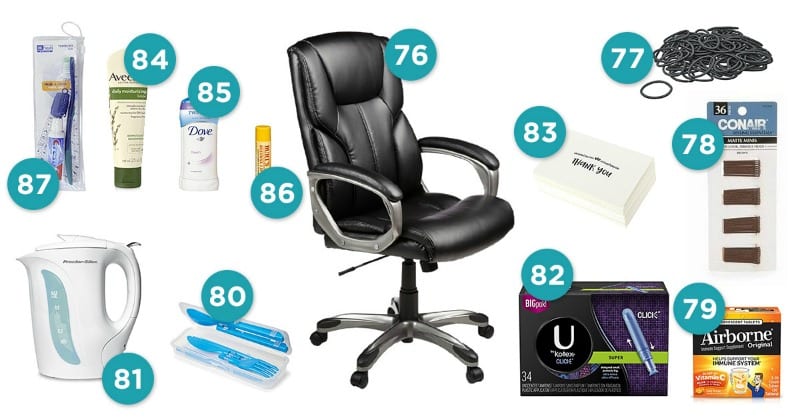 76. Comfy desk chair
You may not get to sit down often, but when you do, make it count with a soft place to land.
77. Hair ties
For those moments when you need it out of your face and off your neck.
78. Bobby pins
Get bangs out of your face or keep loose strands tucked in.
79. Airborne
Try to stay healthy cause planning for a sub is hard.
80. Washable utensils
Sure there are extras in the teacher's lounge, but yours will always be at the ready.
81. Electric kettle
Have hot water for tea or instant soup in minutes.
82. Tampons
No explanation needed.
83. Thank you cards
Nice to have on hand to acknowledge gifts or favors.
84. Hand lotion
Lots of hand washing and sanitizer use dries skin out. This can help.
85. Deodorant
In case you forget that morning or it's time to reapply.
86. Lip Balm
For anytime lips feel chapped or dry.
87. Toothbrush/floss/mouthwash
Your job requires you to talk a lot. Sometimes right by peoples' faces. Nuff said.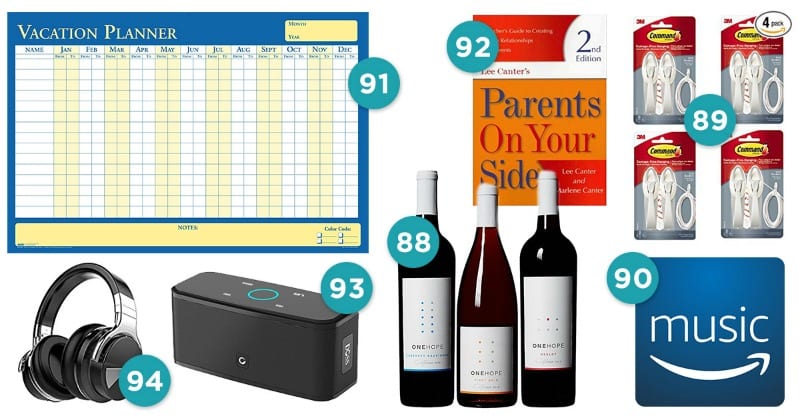 SANITY SAVERS – Best Amazon Teacher Supplies
88. Wine or beer
A glass to celebrate a well-done day of teaching.
89. Cord organizers
With the computer, fridge, laminator, lamp, microwave, etc. all living around your desk, you've got lots of cords to contain.
90. Motivational playlist
Get yourself and/or your students ramped up or chilled out with help from free streaming music with an Amazon Prime membership.
91. Vacation
Beyond essential, time off helps teachers recharge and relax. Make the most of your vacation by filling this planner to the max or leaving it completely blank.
92. Supportive parents
If you're having trouble connecting with parents, try this book or chat with your principal and co-workers for tips.
93. Bluetooth speaker
Share playlists with the class right from your phone.
94. A quiet moment
Maybe it's two minutes before your students land in your classroom or two minutes before you walk in the door at home. If you have to force that quiet before the first bell rings of while your car is parked in the driveway, try these. They also have a built-in mic for hands-free phone calls and provide great sound when listening to music.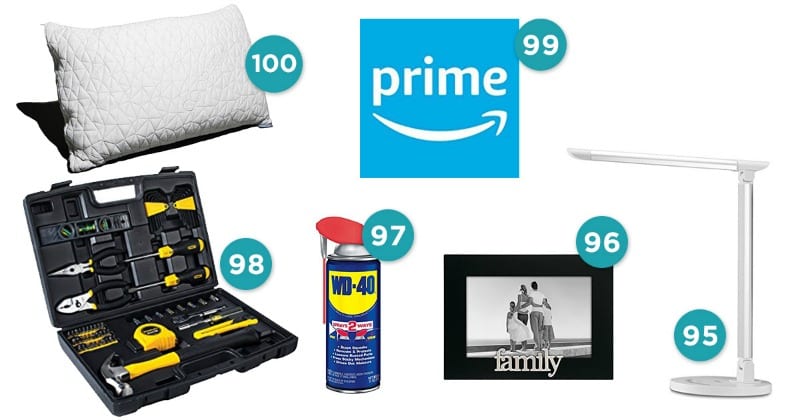 95. Lamps
Whether it's to give your desk some extra light or create a more cozy atmosphere in the classroom, a lamp is a great tool to have.
96. Personal photos
Put photos up of friends or family and you. It's a great way for students to learn about you, remember you have a life outside of school and brighten your day. 
97. WD-40
Squeaky chair or desk? Take care of it quickly and prevent distractions with a spray of this.
98. Basic tool kit
For those unexpected times when you need to tighten a screw driver or get at something tiny with a needle nose pliers.
99. Amazon prime membership
Free shipping + ordering almost anything online = totally amazing.
100. A good night's sleep
Help yourself have the energy to educate lots of kids by getting enough rest. A top-rated pillow can do the trick.