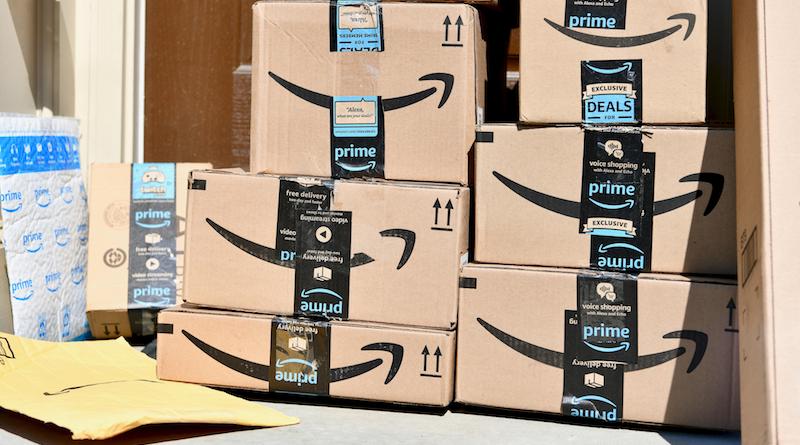 What DID teachers do before Amazon Prime? With everything from streaming services to two-day deliveries for pretty much everything, Amazon comes to the rescue for so many things. But do you know about ALL of the amazing Amazon perks for teachers? Read on for more!
1. Amazon Prime Free Trial
Unfortunately, Amazon does not currently offer Prime discounts for teachers. However, your first 30 days of Amazon Prime are free . Get all the benefits at no charge, and you can cancel any time … even on Day 30. You'll get super-fast free shipping on millions of items, video streaming of popular movies and TV shows, over two million songs for all your devices, Amazon Unlimited reading on any device, and all those awesome perks for educators listed above.
2. Amazon Prime Student
Working on your advanced degree and in possession of a .edu email address? Even better! You qualify for Amazon Prime Student for six months! Get all the fabulous Prime goodies, such as free two-day shipping, Prime Video, Prime Music, referral bonuses, unlimited photo storage, discounts, and other special offers. After the initial six-month free trial, the cost is just $49 a year—half the price of a regular Amazon Prime membership.
3. Amazon Ignite
Amazon Ignite connects educational content creators with Amazon customers. You can join for free and sell your original teaching resources—like printables, lesson plans, and classroom games—as digital downloads. It requires an invitation (but you can request one by submitting your information), but it is definitely a way to make supplemental income!
4. Amazon eBooks for Education
Finding and distributing e-books to your students' devices is made easy with Amazon eBooks for Education. Rather than purchasing (and storing!) 35 individual copies of Where the Red Fern Grows, you can simply sync the book, or any other of the millions of content choices in the Amazon library, to your students. It is easy to create groups for different classes and reading groups, too.
5. Amazon Education Publishing
Make your original education content and products available to educators on the Amazon marketplace through Amazon Education Publishing. You can publish and sell books, ebooks, audiobooks, and videos while retaining your creative control and owning your copyright. For every purchase, you will earn royalties.
6. Amazon Smile
Register your school and your PTA/PTO with Amazon Smile and with every purchase your school community makes, Amazon donates 0.5% of the price back to your school. PTA/PTOs can sign up too!
7. Amazon Business for Education
Administrators, sign up for Amazon Business for Education and get tax-exempt purchasing, discounts, and free two-day shipping on orders of $49 or more! You can enroll multiple teachers, admins, and staff, and create approval workflows and purchase orders for easy tracking.
8. Amazon Affiliates
If you have a blog or a popular social media presence in which you recommend products for readers, be sure to sign up for an Amazon Associates account. For every purchase your readers make using your affiliate links, you can receive a commission anywhere from 4 percent on books to up to 10 percent on downloads. Your commission will be directly deposited monthly.
9. Amazon Web Services (AWS) Educate
AWS Educate is Amazon's global initiative to provide students and educators with the resources needed to accelerate cloud-related learning. AWS Educate provides students and educators with access to free content, training, collaboration portals, and access to AWS services. With the increasing demand for cloud employees, AWS Educate provides an academic gateway for the next generation of IT and cloud professionals.
Plus, if you're looking for more Amazon picks for teachers, check out some of our shopping guides: