Fourth graders are independent explorers, full of ideas and opinions. They have an impressive skill set and are ready to go deeper. With that in mind, we've gathered together learning links and fun activities that will help kids build skills in literacy, math, science, and social studies—plus some just for fun! This list of 4th grade websites and activities is something kids can easily do at home with their families.
Want more 4th grade websites and activities sent to your inbox every week? Sign up for the newsletter!
Just a heads up! WeAreTeachers may collect a share of sales from the links on this page. We only recommend items our team loves!
Language Arts Activities
Read a good series.
Isn't it awesome when you read a good book and you find out there are more books in the series? Check out 3 series that 4th graders love: Two Truths and A Lie books by Ammi-Joan Paquette, I Survived series by Lauren Tarshis and The Book Scavenger series by Jennifer Chambliss Bertman. For more titles, read 50 Best Books for Fourth Grade.
Write every day.
Encourage your child to write daily in their journal. Check out these fun writing prompts  including: "What is the worst book you ever read and what made it so terrible?",  "Describe an unusual talent, hobby or skill that you possess", and "Write a story about someone your age that includes a giraffe, a mouse, a flying carpet, and a large birdcage."
Listen to reading for fluency.
Audible is offering free audiobooks for kids during school closures. Try Kid Normal by Greg James, Zero G by Dan Wells, or Camp Red Moon by R.L. Stine.
Listen to podcasts.
Listen to But Why: A Podcast for Curious Kids  and then brainstorm all the crazy questions you can come up with. Or listen to Short & Curly, a podcast that examines ethical questions, then write a persuasive essay about an ethical dilemma. For more podcast suggestions, click here.
Work on writing strategies.
Practicing writing skills will help kids be better writers. Have them work on introductions and conclusions, editing and revising, linking words and more.
Math Activities
Play math games.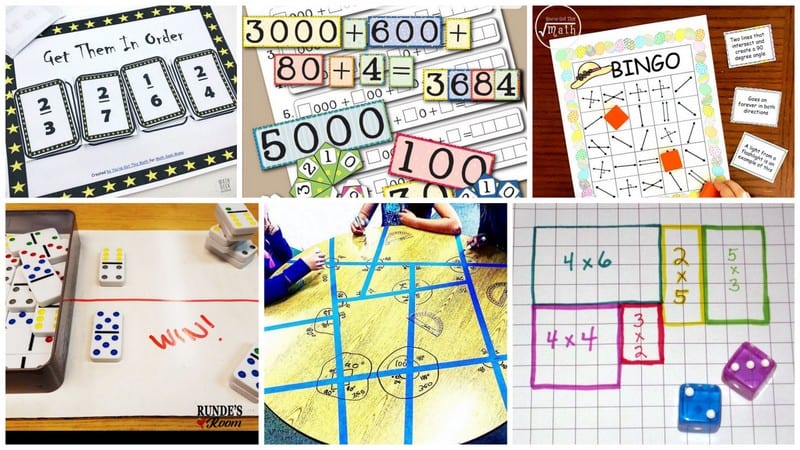 Games are a great way to practice and gain a deeper understanding of math concepts. To work on multiplication skills, play the Factor Game. For equivalent fractions try the math version of Spoons. And to get the hang of angles, tape off your table for a little protractor practice. For more fourth grade websites and activities for math, click here.
Play board games.
Good old fashioned board games like Monopoly, Yahtzee, and Chess also work toreinforce math skills. For more ideas, check out this Big List of Board Games that Inspire Mathematical Thinking.
Play interactive games.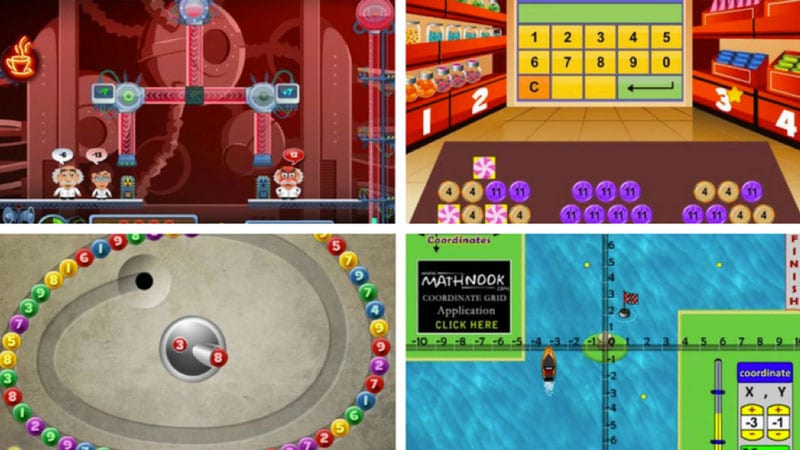 When it comes to 9 and 10 olds, we know how strong the desire to play video games is. Well, you won't feel guilty saying yes to these interactive math games. Try Puzzle Pics, Fruit Splat Multiplication , or  Making Change.
Try brain teasers.
Brain teasers help kids develop critical thinking skills that promote math learning. Check out these super fun visual brain teasers, puzzles, and riddles from MentalUp.
Go old school.
These free math worksheets from EdHelper are your new go-go for math skills practice. Work on fourth grade skills like addition and subtraction, fractions and decimals, word problems, multiplication and more.
Science Activities
Do experiments.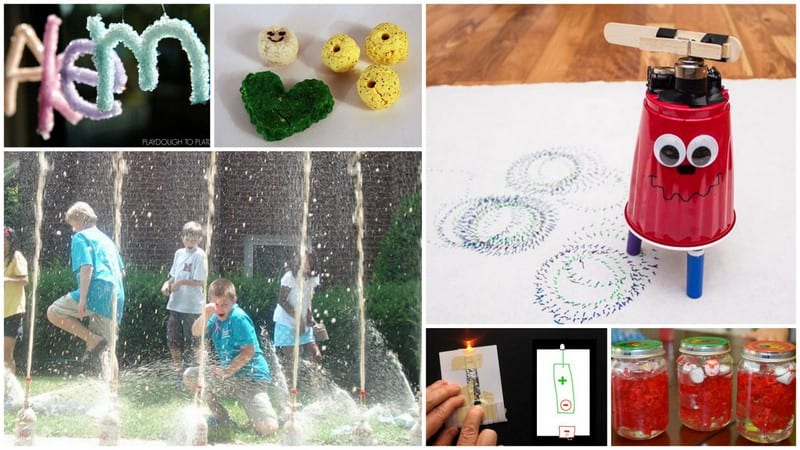 Build a hovercraft using an old CD and a balloon. Brew up a batch of elephant toothpaste.  Or make your own smartphone projector.  For these ideas and more, check out our Best 4th Grade Science Experiments and Activities.
Visit animals … virtually.
Kids can learn a lot from observing animals and we've rounded up some of the best nature webcams. Tune in to a live penguin cam,  peek in on Monterey Bay's live jellyfish cam,  or swim with the sharks.
Celebrate Earth Day.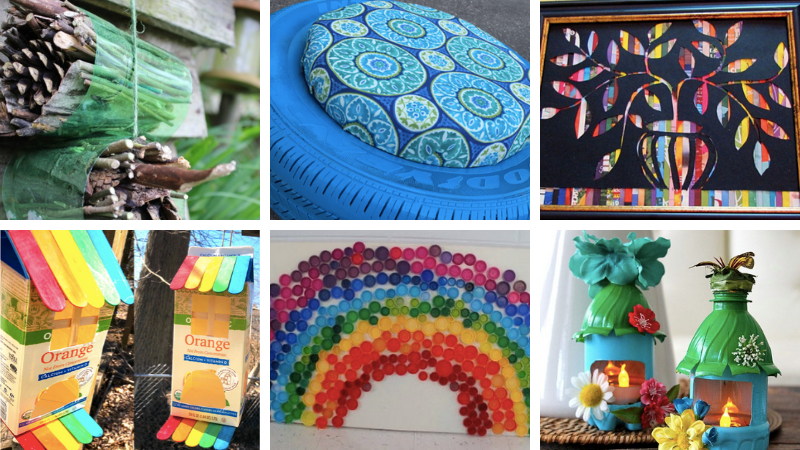 Raid your recycle bin for supplies and construct a bug hotel, make a wind chime from jar lids, leaves, and flowers, or construct your own terrarium. For more amazing crafts and activities, check our our Earth Day roundup.
Go outdoors.
Get outside and learn about the world around you. Construct a dirt battery, build a solar oven, or conduct an egg drop experiment. For these ideas and more, visit our Wet and Wild Outdoor Science Projects and Activities.
Explore the world.
Transport young learners around the globe with these engaging videos, lessons, and games from PBS Learning Media. Visit the Ring of Fire, take a Tour of the Galaxy, watch lions and humans interact peacefully and more.
Social Studies Activities
Bone up on women's history.
Learn all about the amazing accomplishments of distinguished women such as Jane Goodall, Amelia Earhart, Eleanor Roosevelt and more with these free videos, games, and quizzes from Brainpop.
Dive into American government.
These interactive games give kids an inside view of American politics. Learn how laws are made. See what it's like to be a legislator. Learn about the complicated process of running for president. For more, click here.
Peruse the news.
Newsela provides kid-friendly new articles on government, economics, law, U.S. history and more. Read about a new hand washing tool that prevents germs from spreading, fearless women throughout history, or learn more about the geography of North America.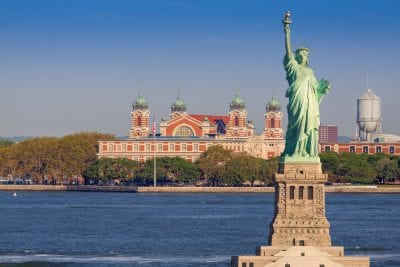 Travel to Ellis Island, visit Colonial Williamsburg, or walk along the Great Wall of China. For more places to travel, head over to our complete list of virtual field trips.
Play board games.
Unplug and play a good old-fashioned board game. This collection of 13 free printable history games tackle topics such as the Bill of Rights, Viking Voyages, and U.S. Presidents.
Just for Fun Activities
Take up an old-fashioned past time.
Sewing is a lost art. Teach your kids the basics with one of these fun projects. Sew a drawstring backpack, design a custom pillowcase, or make your own teddy bear.
Build an obstacle course in your backyard.
Think American Ninja Warrior, but less sophisticated. Challenge your kids to set up their own course using hoses, pool noodles, buckets, balls, ropes, balloons and more. Check out this blog post for a roundup of Best Backyard Ninja Warrior Courses for Kids.
Learn how to do magic.
Amaze your family and friends (virtually) with these clever magic tricks. Instantly turn water to ice, Make an egg fit through an impossibly small hole, levitate cards , and more!
Practice yoga.
Yoga is a great way to recharge, add movement, and practice mindfulness anytime throughout the day. Visit Sanford Fit to move through this flow sequence or download free printable yoga cards.
Learn lessons through everyday activities.
No doubt, your kids are getting used to the idea of online learning, but there are plenty of everyday activities that count as learning too. Planning meals, doing puzzles, cleaning, and organizing. It all counts! Read more here.
What are your favorite fourth grade websites and activities? Please share in the comments!
Plus, don't forget to sign up for our weekly emails to receive more ideas!
And for more incidental learning (and family fun!), check out 21 of the Best Board Games for Elementary kids.